702,000 Overstay Visa Nearly Two Decades after Terrorists Did it to Execute 9/11
Judicial Watch Corruption Chronicles
https://www.judicialwatch.org/blog/2019/02/702000-overstay-visa-nearly-two-decades-after-terrorists-did-it-to-execute-9-11/
BOTH PARTIES HAVE LONG BEEN PARTNERED TO ASSAULT THE AMERICAN WORKER. THE DEATH OF THE AMERICAN MIDDLE-CLASS IS THE RESULT!
Trump's DHS Extends 'Temporary' Amnesty for 300K Foreign Nationals
President Donald Trump's Department of Homeland Security (DHS) Secretary Kirstjen Nielsen is extending a temporary amnesty status for more than 300,000 foreign nationals, a notice from the agency states.
I
n an announcement on Thursday, Nielsen said DHS would not only continue to complywith a preliminary injunction from last year — in which a federal judge in California blocked Trump's rescinding of Temporary Protected Status (TPS) — but that the agency would be extending TPS for hundreds of thousands of nationals of Sudan, Haiti, Nicaragua, and El Salvador through January 2020.
Sudanese nationals have had their TPS extended since 1997, while Nicaraguans have enjoyed TPS since 1998. Likewise, El Salvador's nationals have had TPS since about 2001, and Haitians have had their TPS renewed since about 2010.
Trump sought to end TPS for the more than 300,000 foreign resident population in the U.S., prompting a lawsuit from the American Civil Liberties Union (ACLU). Now, though, Nielsen's decision to extend TPS will allow the foreign nationals to stay in the country until at least January 2020, a reversal of the administration's initial plan.
About 200,000 of the nationals protected by TPS in the latest DHS decision are from El Salvador, while another 50,000 are from Haiti. The remaining more than 50,000 nationals are from Sudan and Nicaragua.
TPS has become a quasi-amnesty for otherwise illegal aliens created under the Immigration and Nationality Act of 1990 (INA) that prevents the deportation of foreign nationals from countries that have suffered through famine, war, or natural disasters. Since the Clinton administration, TPS has been transformed into a de facto amnesty program as the Bush, Obama, and now Trump administration has continuously renewed the program for a variety of countries.
Pro-American immigration reformers like former Kansas Secretary of State Kris Kobach have argued that the TPS program has been abused by the open borders lobby and DHS officials.
At the beginning of 2020, DHS will announce whether the agency will once again renew TPS for the more than 300,000 foreign nationals or terminate their status.
John Binder is a reporter for Breitbart News. Follow him on Twitter at @JxhnBinder.
THE SECRET REPORT ON TRUMP AND HIS PARASITIC FAMILY'S DESIGNS TO FLOOD AMERICA WITH CHEAP LABOR
TRUMP HOWLS ABOUT HAVING TO PAY LEGALS A LIVING WAGE AT SWAMP PALACE MAR-A-STOLEN.
"Our entire crony capitalist system, Democrat and Republican alike, has become a kleptocracy approaching par with third-world hell-holes. This is the way a great country is raided by its elite." ---- Karen McQuillan AMERICAN THINKER
AMNESTY AND OPEN BORDERS: IT'S ALL TO SERVE THE BILLIONAIRE CLASS AND KEEP WAGES DEPRESSED!
STARING IN THE FACE of AMERICA'S UNRAVELING and the ROAD TO REVOLUTION
"It will more likely come on the heels of economic dislocation and dwindling wealth to redistribute."


"Our entire crony capitalist system, Democrat and Republican alike, has become a kleptocracy approaching par with third-world hell-holes. This is the way a great country is raided by its elite." -- Karen McQuillan THEAMERICAN THINKER.com
"The kind of people needed for violent change these days are living in off-the-grid rural compounds, or the "gangster paradise" where the businesses of drugs, guns, and prostitution are much more lucrative than "transforming" America along Cuban lines."
BRUCE THORNTON
There can be no resolution to any social problem confronting the population in the United States and internationally outside of a frontal assault on the wealth of the financial elite.
The political system is controlled by this social layer, which uses a portion of its economic plunder to bribe politicians and government officials, whether Democratic or Republican.
Why do all global billionaires want wider open borders, amnesty and no E-VERIFY?
AMERICA: THE ECONOMY IS RIGGED BY CONGRESS SO THE RICH BECOME SUPER RICH.
The American middle class gets the tax bills for Wall Street's crimes and bottomless bailouts!
Wealth concentration increases in US.
The latest research on wealth inequality by University of California economics professor Gabriel Zucman underscores one of the key social and economic trends since the global financial crisis of 2008. Those at the very top of society, who benefited directly from the orgy of speculation that led to the crash, have seen their wealth accumulate at an even faster rate, while the mass of the population has suffered a major decline.
The past 40 years have seen the consolidation of a plutocratic elite, which has subordinated every aspect of American society to a single goal: amassing ever more colossal amounts of personal wealth. The top one percent have captured all of the increase in national income over the past two decades, and all of the increase in national wealth since the 2008 crash.
"Our entire crony capitalist system, Democrat and Republican alike, has become a kleptocracy approaching par with third-world hell-holes. This is the way a great country is raided by its elite." ---- Karen McQuillan AMERICAN THINKER
AMNESTY WOULD DOUBLE U.S. POPULATION, POVERTY, HOUSING AND HOMELESS CRISIS
*
*
"Critics argue that giving amnesty to 12 to 30 million illegal aliens in the U.S. would have an immediate negative impact on America's working and middle class — specifically black Americans and the white working class — who would be in direct competition for blue-collar jobs with the largely low-skilled Illegal alien population." JOHN BINDER
*
"Additionally, under current legal immigration laws, if given amnesty, the illegal alien population would be allowed to bring an unlimited number of their foreign relatives to the U.S. This population could boost already high legal immigration levels to an unprecedented high. An amnesty for illegal aliens would also likely triple the number of border-crossings at the U.S.-Mexico border." JOHN BINDER
The amnesty plan is
a boon
to Silicon Valley billionaires, big business elites, and outsourcing firms, as they would be able to readily import more lower-paid Indian and Chinese foreign workers to take American jobs that would have otherwise gone to American citizens.
7K Migrants Apprehended in One Week in Texas Border Sector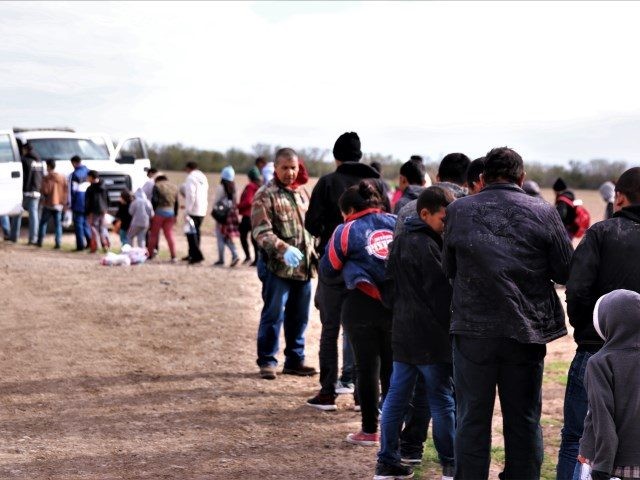 U.S. Border Patrol agents in the Rio Grande Valley Sector reported apprehending nearly 7,000 migrants in a single week who illegally crossed the border from Mexico into Texas.
The Rio Grande Valley (RGV) Sector is ground zero for the influx of migrants illegally crossing the border between ports of entry. The sector accounts for the largest percentage of all migrant apprehensions for all of the migrants apprehended in the nine southwest Border Patrol sectors, according to information provided by Border Patrol officials.
On Wednesday alone, RGV Sector agents apprehended more than 1,300 migrants — marking the second time in as many weeks this milestone has been achieved, officials stated.
Reports indicate that a majority of the migrants apprehended in the RGV sector are family units and unaccompanied minors from Central and South America. The massive number of apprehensions and the associated time required for Border Patrol agents to process and medically clear each of these migrants greatly impacts the sector's resources normally utilized for carrying out the border security mission of the region.
During the first four months of Fiscal Year 2017, RGV agents apprehended 77,549 migrants who illegally crossed the border between ports of entry, according to the January Southwest Border Migration Report. This represents an average of 630 migrants apprehended per day. It also accounts for nearly 40 percent of all migrants apprehended in the nine southwest border sectors since October 1, 2018.
So far this fiscal year, RGV agents apprehended 43,588 Family Unit Aliens (FMUA) and 8,685 Unaccompanied Alien Children (UAC). This represents an increase of 180 percent and 34 percent respectively over the same period in FY2018.
Nationally, Border Patrol agents apprehended 99,901 FMUAs and 20,123 UAC in the nine southwest Border Patrol sectors, officials reported. The families mostly originated from Guatemala (50,593) — followed by Honduras (36,009), El Salvador (9,146), and Mexico (883). Minors also mostly came from Guatemala (9,522) — followed by Honduras (4,833), Mexico (3,007), and El Salvador (2,292).
"At the current rate, the Rio Grande Valley Sector is on pace to reach 240,000 apprehensions for this fiscal year," officials said in a written statement.
Bob Price
serves as associate editor and senior political news contributor for the Breitbart Border team. He is an original member of the Breitbart Texas team. Follow him on Twitter
@BobPriceBBTX
and
Facebook
.
Group of 90 Migrants Cross Border into Texas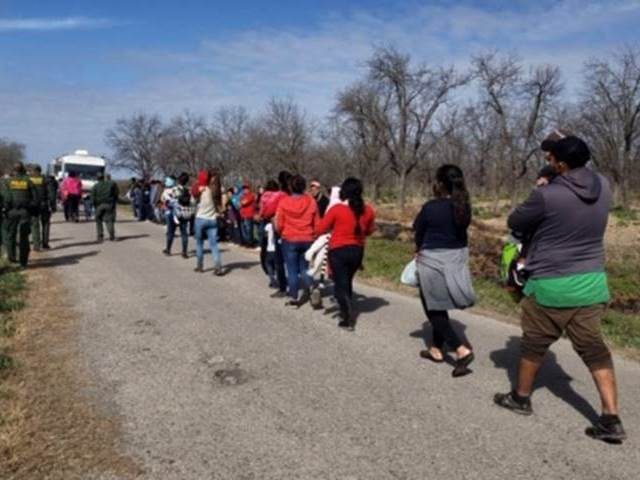 Agents assigned to the Eagle Pass Border Patrol Station encountered a large group of migrant families and unaccompanied minors after they illegally crossed the border from Mexico.
Del Rio Sector agents patrolling near the small border community of Quemado, Texas, on Monday encountered a group of 90 migrants who had just crossed the Rio Grande River from Mexico. Border Patrol officials reported that the migrants were all Honduran nationals. Many of the group were women and children. Officials said the children ranged from one to 17 years of age.
The group surrendered to the agents without incident, officials reported. The agents arranged for a transport bus and took the migrants to the Eagle Pass Station for processing and a biometric background investigation.
"Although groups of this size, until recently, have been uncommon in the Del Rio area, our agents are encountering larger groups of immigrants with women and young children," Del Rio Sector Acting Chief Patrol Agent Matthew J. Hudak said in a written statement. "Our highest priority will always be the safety of all people involved, no matter the situation. However, it is a criminal offense to enter the United States at a place other than a designated port of entry. Those who choose to enter illegally will be arrested and handled accordingly."
Officials said that one of the women reported abdominal pain. She told the agents she was pregnant. The agents rushed her to the Duncan Regional Medical Center where she went into labor and gave birth.
Eagle Pass is the scene where 1,700 mostly Honduran caravan migrants gathered across the river in Piedras Negras to await an opportunity to request asylum in the U.S. Earlier this month, Breitbart News reported that a group of the migrants attempted to rush the border and illegally cross into Texas.
Mexican officials began shutting down some of the shelters for the caravan migrants last week. Officials said many of the migrants moved to west Sonora and Chihuahua where they hoped to cross in the El Paso area. About 300 migrants remain in the Piedras Negras area, officials stated.
Bob Price
serves as associate editor and senior political news contributor for the Breitbart Border team. He is an original member of the Breitbart Texas team. Follow him on Twitter
@BobPriceBBTX
and
Facebook
.
Murders On Texas Soil Linked to Mexico's Gulf Cartel, Says FBI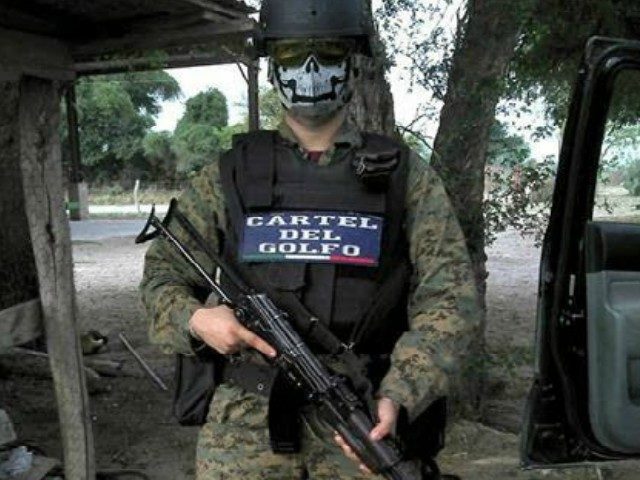 McALLEN, Texas – Federal authorities are offering a reward for a man tied to Mexico's Gulf Cartel for his alleged roles in various murders, kidnappings, and home invasions in South Texas. The fugitive, believed to be in Mexico, is also wanted on various trafficking charges for reportedly moving drugs from the Texas border to Fort Wayne, Indiana.
"We have reason to believe that Mr. Mendez is could be in Playa Del Carmen, Cancun, Monterrey, or Reynosa," FBI Special Agent in Charge Chris Combs told Breitbart News, adding that the reward is also available to individuals in Mexico. "Someone out there knows where he is, we hope that this gives them 25,000 reasons to call the FBI."
Mendez, a native of Mission, Texas, and an alleged member of the Gulf Cartel appeared on the FBI's radar in 2015 as part of a racketeering investigation into the Tri-City Bomber gang (TCB), Combs said during the interview. At the time, Mendez owned a trucking business and investigators believe he used it to move large quantities of marijuana, cocaine, and heroin to Indiana and other areas.
"He may be involved in the trucking business in Mexico or he may also own a nightclub," Combs said.
The criminal indictment alleges that Mendez personally ordered the murder of a man in the Rio Grande Valley on September 24, 2013. The indictment also alleges that Mendez ordered the kidnapping and subsequent murder of another man on April 25, 2014, also in South Texas.
The indictment linked various members of the TCB to numerous home invasions where gunmen searched for drugs and cash, at times assaulting or killing those inside. While not mentioned in the indictment, there have been various cases where gunmen raided the wrong house and injured innocent victims.
GOP Senators Push Green Card Rewards for Indian Visa Workers Who Take College Jobs in U.S.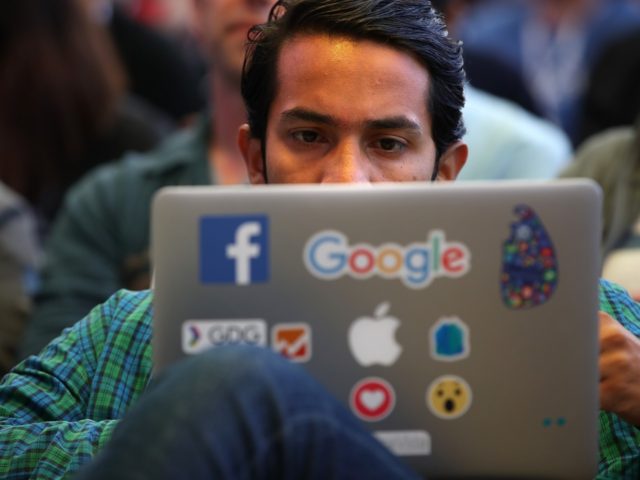 GOP Sen. Kevin Cramer is leading a drive to reward 300,000 Indian visa workers for taking college graduate jobs from at least 200,000 young middle aged or older American graduates.
Via Twitter, the North Dakota Senator is pushing the "Fairness for High Skilled Immigrants Act," which was also championed by former GOP Rep. Kevin Yoder until he lost his 2018 election.
The legislation "is about exactly that: fairness," Cramer tweeted. "The long wait for these green cards is a disservice to legal immigrants and to the potential of the American economy. Let's get this passed."
But Cramer's bill does not offer fairness or safeguards to the many Americans who are losing careers or starter jobs to the imported army of roughly 500,000 Indian workers and recruiters, said Dawn Collins, a former vice-president at J.P. Morgan Chase bank.
Casey and other American professionals were forced out of their software jobs in 2016 to make room for Indians who had H-1B work visas, she said, adding "some people I know still have not found a job … a lot of people took lesser jobs; a lot retired early."
The Americans were pushed out of their jobs when Indians signed up with U.S. and Indian outsourcing companies to take the Americans' middle-class jobs. Their Indians' reward is very low wages — plus the chance of eventually being paid with green cards and citizenship, Collins said.
Cramer's pending bill, she said will greatly worsen the outsourcing problem by encouraging more Indians to take U.S. middle-class jobs.
But young Americans watch the growing inflow of cheap foreign workers, Marsh said, and they are asking themselves "Why should I get into that field?"
Cramer has tweeted his support for the 300,000 Indian visa workers, who are described by Cramer and the legislation as "immigrants." But the visa workers are not immigrants until they get green cards.
Cramer also endorsed an op-ed by an Indian-born legal immigrant who is now helping run a political group for Indian visa workers titled Immigration Voice. The group is advised by Leon Fresco, a D.C. lawyer who served as Democratic Sen. Chuck Schumer's top legal aide in the disastrous "Gang of Eight" amnesty in 2013.
The bill works by lifting the current "country cap" immigration rules. Those rules say that people from one country can receive up to seven percent of the 140,000 green cards sponsored by employers each year. The goal is to add diversity to companies' hiring of foreign workers.
In practice, loopholes allow Indians to double their inflow, with roughly 14 percent of the annual allotment each year. That 14 percent provides green cards to roughly 23,000 Indian workers, spouses, and children each year.
But that annual supply of 23,000 cards is too small for the huge wave of Indian workers who have been sponsored for green cards by U.S. and Indian outsourcing firms. The result is that roughly 630,000 Indian visa workers, spouses, and children are slowly moving through the line for green cards.
The huge population of temporary workers is made possible by Congress, which allows H-1B visa-workers to endlessly extend their six-year stay in the United States once their company sponsors them for green cards. That extension law has been used by the Indian outsourcing companies to greatly expand their supposedly temporary H-1B workforce in the United States to more than 650,000 workers, even though companies can supposedly bring in only 85,000 H-1B workers per year.
Cramer's bill would end the "country caps" and allow the visa workers to get their green cards on a first come, first served basis. In practice, the Indian-run middle-class outsourcing industry is so large that Indians visa workers likely will get nearly all of the green cards for the next several years, alongside a smaller inflow of visa workers from China, the Philippines, and other nations. Applicants from many smaller countries would be forced to wait behind the outsourcing industry's line of several hundred thousand Indian visa-workers and their family members.
Sen. Roy Blunt (R-MO)
Sen. Susan Collins (R-ME)
Sen. Jim Moran (R-KS)
Sen. Tom Carper (D-DE)
Sen. Ron Wyden (D-OR)
Sen. Maria Cantwell (D-WA)
Sen. Cory Gardner (R-CO)
Sen. Tom Cotton (R-AR)
Sen. Tammy Baldwin (D-WI)
Sen. Jeff Merkley (D-OR)
Sen. Michael Bennet (D-CO)
Sen. Kevin Cramer (R-ND)
Sen. Krysten Sinema (D-AZ)
Breitbart News asked Cramer to explain his support for the visa-worker reward legislation.
The Senator's statement said:
The Fairness for High Skilled Immigrants Act meets the needs of my state of North Dakota. Without adding any new green cards, this bill creates a 'first-come, first-served' system and alleviates the backlog caused by arbitrary per-country caps. As we already face a significant labor shortage, losing workers who have come to our state to fill these jobs, but are then forced to leave based solely on where they were born, could be devastating.
Cramer's statement correctly says the bill will not add new green cards. But the legislation will allow the Indian outsourcing companies to reward their workforce with a much larger share of the annual allotment of 140,000 green cards.
Aman Kapoor, one of the founders of the Immigrant Voice group which is lobbying for the country caps legislation, dismissed the evidence that more green cards for Indians will help Indian companies recruit more Indian visa workers to take more U.S. jobs. He said:
That is just your skewed viewpoint about "another wave of Indians to seek outsourcing work". You just made that up. Which study or theory or quote or research of some policy institute do you have to reach that conclusion? You just made that up from thin air about "another wave" just because it fits into your "Indian invasion" narrative. Other than bunch of anti immigrants whose only solution to the backlog is to kick out everyone, you can't cite any credible source to support this "another wave…." theory, can you?
Cramer's offer of green cards to the visa workers would also make his state's labor shortage worse in the short term, because Indian workers who get green cards will likely leave the state's cold climate for jobs in warm and wealthy states, said Collins. For now, many Indian visa workers in North Dakota cannot quit their jobs because their employer can cancel their visa or refuse to file for a green card. Even after an employer files to get a green card for a worker, the employee cannot change jobs until he or she gets the green card. That federal rule creates a huge captive workforce which will work long hours for low wages in isolated places — such as North Dakota — to finally get the green card.
The backlog which Cramer wants to fix may be far smaller than advertised. In June 2018, William Stock, a former head of the American Immigration Lawyers Association, tweeted:
A very hard-to-measure caveat regarding those numbers: 216,000 EB-2 petitions for Indian nationals may be for 100,000 (or 50,000) individuals. USCIS approves multiple petitions for people because they change employers, get promoted, etc. during the decade-long wait for a GC.
Breitbart News asked Stock for evidence of inflated numbers, and Stock replied: "Anecdotally, a significant number of the EB-2 and EB-3 India cases I work on had a prior petition but USCIS and DOS don't release numbers that de-duplicate those cases."
Kapoor dismissed the question raised by Stock. "We don't know what this is referring too … If formal number is far larger and less number of people are waiting in backlogs, then that's great, isn't it? Then your articles sounding alarm about 'Indian invasion' is not relevant or necessary :)"
Indians activists say the green card line also lengthens and shortens as visa workers arrive or leave the United States to get good jobs in India.
Sen. Cramer dodged Breitbart News' question about how his outsourcing legislation helps Americans. His answer instead focused on business' demand for a large supply of workers: "Losing workers who have come to our state to fill these jobs, but are then forced to leave based solely on where they were born, could be devastating."
The bill is also boosted by the universities who help their foreign students get work permits via the OPT and CPT programs. The two programs now get about 100,000 foreign students and 300,000 foreign graduates into the U.S. workforce for up to three years. Many Indians use the OPT program to jump into the H-1B program and then into the green card line.
But Americans strongly oppose legislation which allows companies to hire foreigners instead of fellow Americans. For example, Rep. Yoder's 2018 support for the country caps bill generated opposition from college-graduate Americans, and he lost his suburban district in November.
Cramer suggested that the outsourcing bill would provide more workers to North Dakota companies. But he did not suggest that North Dakota companies could solve their labor shortage by raising wages.
However, North Dakota's energy companies solved their labor shortages in the Bakken oil fields by recognizing the law of supply and demand. They offered higher wages and were able to hire local workers and out-of-state Americans.
Advocates and companies repeatedly claim there is a labor shortage of high skill workers.
However, the Indian workers are a mixed bag. Some get high end jobs at Google and Apple, but many others are so unskilled that they must be trained by the Americans they are replacing. Tests show that immigrants with foreign college degree score far lower than Americans graduates.
Michael S. Teitelbaum, vice president of the Sloan Foundation, opined that there are no general shortages of scientists and engineers.

9

He went even further, to state that there is evidence suggesting surpluses: there are significantly more science and engineering graduates in the United States than attractive positions available in the workforce. Similarly, B. Lindsay Lowell and Harold Salzman have pointed to the disproportionate percentage of bachelor's degree STEM holders not employed in STEM occupations.

10

Looking at the STEM labor market, Salzman and colleagues concluded that, for every two students graduating with a U.S. STEM degree, only one is employed in STEM and that 32 percent of computer science graduates not employed in information technology attributed their situation to a lack of available jobs.

11

In 2014, the U.S. Census Bureau reported that 74 percent of those who have a bachelor's degree in a STEM major are not employed in STEM occupations.

12
Breitbart News asked Cramer if the country caps legislation will be tied to reforms of the many visa worker programs.
"This is a standalone bill," the statement responded.
One victim of the national outsourcing trend is Donna B., who started a software career when her husband divorced her. She is now retired to a small town in Arizona and earns so little money that she is not required to pay off the $50,000 in student loans she owes from her software education in 1989.
Divorced and with five children, "I was 36 years old when I started" in 1989, she told Breitbart News. After her first job in Connecticut, she moved to Arizona by 1993, where she met her first Indian H-1B workers. "They did not mix with any of us and could not speak English," she said.
In 2002, "I had my first layoff and I could not find a job anywhere for four years," she said. In 2002, roughly 200,000 H-1B workers had arrived, and most were working in the technology sector. She applied for a job in Boston to repeat the precise work she had done in Arizona, but "I could never get an interview, I was being stalled and nothing happened."
Many of the job interviews were conducted with Indian recruiters employed by the Indian-run the outsourcing companies, each of which has an economic incentive to fill jobs with cheap Indian H-1Bs, not with Americans, she said. "I've gotten calls and I've gotten emails from Indians [when applying for jobs] … It just goes nowhere," she said.
"Last year I retired, so my retirement is peanuts," she said. "I live in a tiny town called Arizona City, which doesn't have mail service."
The job at Dell [senior director of development.] required weekly trips to the company's headquarters in Texas, which proved a burden, and he left the job in 2011.

His search for the next job was exhausting and fruitless. In 2013, when the PBS program NewsHour visited Connecticut to do a story on older, unemployed Americans,

the episode

centered on an interview with Mr. Weglarz.

"I've applied for 481 jobs," he said on the show. "None of them have panned out. They think that anybody over a certain age is going to be used up."
The Cramer bill offers no protections to Americans. But GOP Iowa Sen. Chuck Grassley is developing a bill that would reform the huge H-1B visa worker program which is pushing many young and mid-career Americans out of starter jobs and out of their professions.
The Cramer statement estimated that there are 500 H-1B recipients in the state.
The SAITJ data is organized by political district, and it shows the number of workers, their job titles, their employers and promised wages for all the 2017 H-1Bs workers in each member's district. The data was used by critics to help defeat Rep. Yoder in 2018.
Nationwide, at least 1.5 million American college-graduate jobs are being outsourced to foreign graduates via the H-1B, L-1, OPT, CPT, J-1, H4EAD, and TN visa programs. That number, however, understates the job-loss impact because many of the Indian visa-workers are also managing teams of workers in India who are doing jobs once held by other Americans.
Cramer also explained his support for the legislation by citing his state's shortage of healthcare experts, saying:
When I was first elected to the House, a radiation oncologist in rural North Dakota- the only one in a 200-mile radius- was unable to re-enter the country due to administrative processing delays related to her visa. Immediately, constituents from several cities throughout the area began reaching out. This is just one of many examples of how losing these high-skilled immigrants- who are already here- can have an extremely harmful for North Dakota. Removing these arbitrary caps will meet the immediate needs of my state while upholding our nation's founding principles of fairness and equality.
If Cramer's bill becomes law, said Collins, many of the Indian visa-workers who get green cards will leave North Dakota for warmer climates.
Those former visa-workers, she said, will be replaced by other visa workers, not by well-paid Americans. The SAITJ data, for example, shows that employers in 2017 tried to hire 55 H-1Bs healthcare workers for North Dakota jobs.
Cramer's extra inflow of visa workers also will help U.S. investors and their U.S.-based outsourcing companies accelerate the outsourcing of U.S. healthcare jobs in many states, Collins said. "They are going after every job – they are going after pharmacists, veterinarians, therapists, and doctors," she said, adding "they've already started."
When visa workers replace American healthcare experts, said Casey, the quality of healthcare drops and the local economy loses revenue. "When wages decrease in local hospitals … people stop buying things," Collins said.
In their 2017 applications for H-1B visas, North Dakota employers promised they would pay 72 percent of the visa workers in the state at "entry level" or at "qualified" pay levels. One-in-six of the 2017 requests promised to pay the visa workers less than $50,000, according to SAITJ. Roughly half of those H-1Bs were to be paid less than $65,000 a year.
Cramer's office did not answer a Breitbart question asking if the Senator would push for legislation that would help train more Americans in North Dakota to become doctors and nurses.
In April 2017, President Donald Trump promised to curb H-1B outsourcing. "Right now, widespread abuse in our immigration system is allowing American workers of all backgrounds to be replaced by workers brought in from other countries to fill the same job for sometimes less pay. This will stop."
"No one can compete with American workers when they're given a fair and level playing field, which has not happened for decades," Trump said.
Indian managers rationally exclude young American graduates from new jobs, and instead hire Indian visa workers, Palmer said. "Indians only hire Indians because they can manipulate them, exploit them, and the young workers just take it because [any job in the United States] is better than being back in a poverty-stricken nation," he said. "They'll work 70 to 80 hours a week … and they won't complain."
Worse, many American firms rely on Indian subcontractors to do introductory jobs, such as software testing and maintenance. The result is that few Americans get starter jobs in the technology sector, Palmer said. "Many Americans are talented but they have little hope of getting a job in the tech fields because they will ask for fair wages."
San Jose, CA, December 1, 2017 – Kotchen & Low LLP filed a complaint today on behalf of a proposed class of employees and applicants alleging that Wipro Limited discriminates against non-South Asians in hiring, promotions, and terminations.

Plaintiffs allege that Wipro discriminates against non-South Asians in four ways. First, Wipro uses fraudulent H-1B visa applications to secure South Asian workers from overseas, and gives preference to those workers ahead of American workers. Second, Wipro gives substantial preference to South Asian applicants when hiring for local positions in the U.S. Third, Wipro consistently promotes more South Asian employees than their non-South Asian counterparts. Fourth, Wipro terminates non-South Asians at disproportionately higher rates. At least 80% of Wipro's employees are South Asian, despite South Asians making up about 12% of the U.S. IT Industry, according to the complaint.

The named plaintiffs are James Philips and Robert Saemian, who are both former Wipro employees who allege that Wipro discriminated against them on the basis of race and national origin.
Hiring Manager Instructions: an Infosys hiring manager admitted "There does exist an element of discrimination. We are advised to hire Indians … because they will work off the clock without murmur and they can always be transferred across the nation without hesitation unlike [a] local workforce."

Talent Acquisition Unit Observations: Recruiters in Talent Acquisition observed that Indians were highly favored, and it was extremely difficult to move non-South Asians ahead in the hiring process. Non-Indians were regularly rejected as being "not a good fit," – an Infosys euphemism for "non-Indian." This discrimination is on-going. In 2016 for example, an Infosys manager in their Talent Acquisition Unit observed that of Infosys' 2,900 hires in the United States, 2,200 (76%) were Indian. She observed a similar hiring disparity in prior years.

Applicant Data Manipulation: Infosys manipulates applicant tracking data in such a way that consideration of non-South Asians and non-Indians is minimized, and the hiring of South Asians is maximized. For example, recruiters have observed that non-South Asian applicants were repeatedly deleted from Infosys' applicant tracking system, forcing one recruiter to keep a separate spreadsheet of applicants on his computer. Recruiters have also observed South Asian applicants, located by Infosys' "sourcers" in India, manually entered into the applicant tracking system despite those individuals not having formally applied, thus streamlining the hiring process. Individuals sourced in this way were moved "to the front of the line" ahead of applicants in the U.S. A recruiter also observed that applications for United States positions were regularly not reviewed, and in 2016, approximately 11,000 to 12,000 were rejected en masse.
Americans also are excluded from jobs because Indian visa-workers sometimes pay Indian employers to get hired in the United States.
nearly 200 workers may have been brought in under the phony applications. The employees were forced to pay [the CEO's] companies a partially-refundable 'security deposit' of as much as $5,000 for the visa filings, regardless of whether they were assigned to any projects that provided them with income.
When asked about Cramer's bill, North Dakota computer science professor Marsh said he wants more young people from his state to get into information technology and other technology sectors.
"Not enough Americans are going into computer science," said Marsh. "We've got all these young Americans, and we should find a way to get them into this discipline."
"I would discourage it," said Palmer, the former Disney computer expert. "Last year, I spoke to a group high school seniors and they asked me about going into technology, and I told them there is no hope of a job unless that you are willing to take low wages."
The outsourcing legislation would remove the so-called "country caps" on the annual allocation of green cards.
Those caps are intended to diversify foreign workers who are imported into the United States.
The country caps are set at 7 percent for each country, large and small. That cap helps people from smaller countries, such as Kenya, Vietnam or Argentina, but is a problem for people from large countries, such as China, India and the Philippines.
The Indian population in the waiting line is so huge because federal law says that visa workers who are sponsored for green-card can endlessly renew their temporary visas once their employer puts them in the green-card line.
This extension rule gives foreign companies a huge incentive to offer green cards to their foreign visa-employees. They can import just a few hundred temporary visa workers each year, and then use the green card line to extend the workers' stays in the United States. For example, Cognizant, an Indian outsourcing firm, put up to 22,000 of its temporary visa workers into the permanent green card line from 2008 to 2017.
The EB-2 line is getting longer for two reasons.
Second, this EB2 backlog did not exist before 2005. But the backlog has been created by the U.S. and Indian firms who are packing their temporary workers into the semi-permanent EB-2 line. So the line grows because more experienced workers are put into the line — and agree to be put into the line! — than can get EB-2 cards each year. An OPT-to-H-1B worker who gets sponsored by a green card in 2019 will be so far back into the overcrowded line that he must wait for 150 years to get the green card, say the Indian activists.
But the visa workers are not being swindled — they arrived as visa workers, they know about the overcrowded line, they know about the country caps, and yet they freely join the backlog while taking the U.S. jobs sought by American graduates.
In short, the backlog was created by the outsourcing companies' promise of benefits they cannot deliver to Indian outsourcing workers, and by the outsourcing workers' willingness to stay in the backlog.
Now the visa workers and the companies want Sen. Cramer and the federal government to change the rules to help themselves — regardless of the impact on Americans, on green-card applicants from other countries, or the nation's ability to run its own information networks, develop new technology or manage its own healthcare, education, and research programs.
The House version of the bill is titled H.R. 1044. It is cosponsored by: