Supporters protesting outside Belmarsh prison speak out in defense of Julian Assange
Sylv is from London and has been protesting outside the Ecuadorian embassy for several years in defence of Julian Assange.
She said, "It is a shame what happened and a real disgrace what the British government and Ecuadorian government are trying to do. They don't care about human rights and they are breaking the law. And [Assange] is not even breaking the law and he ends up in prison so this is a huge injustice."
Sylv said she became interested in Julian Assange and WikiLeaks because of "[w]hat they publish and why they publish it and because they uncover government secrets and we have the right know what is going on. We pay taxes and we have the right to know where the money goes."
She thought the WikiLeaks' publication of material from the US Democratic National Committee [DNC] was important "because no one is questioning what was published and no one is questioning Hillary Clinton and the DNC itself. Everyone was saying straight away where did you get it from and who is the source? Straight away they are questioning the journalist. Why is no one paying attention to what was published—the criminal activities of Hillary Clinton and her gang. No one is questioning it and she is freely walking."
Sylv
Sylv made a homemade placard for the rally reading, "The UK has no sovereignty. The UK must resist this attempt by the Trump administration!—Free Assange!"
She explained that these were the words that Assange said when he was being dragged out of the Ecuadorian embassy by police on Thursday. "I found it very powerful when Julian was taken out and they were important words that he was saying. Even though he was being taken away, he was still fighting, and he was still strong. He has not given up, he is resilient and that is what we need to be. He has always been here for us and we have to be here for him. He has risked his life and for a person to do something like that is a beautiful thing to do. It is very sad about where he is now."
Asked about the implications for democratic rights of Assange's seizure in the middle of London--the home of the Magna Carta and parliament--Sylv said, "That is disgusting. You cannot trust your own government. You cannot really trust the Australian government because they took his passport away. Imagine if this happened to you or me or anyone?"
"There is no democracy if you are doing this to a publisher or a journalist. They [the governments involved] are just hypocrites and liars and they are the ones breaking the law and they are the one who need to be behind bars."
Asked her views on the importance of international solidarity in defence of Assange, she said, "They [people internationally] definitely should be out there, at the US embassies, UK embassies, Australian Embassies. It can happen to any journalist. It happened in Malta with [investigative journalist]
Daphne
[Caruana Galizi]. She was killed because she uncovered the dirty government secrets, the same in Slovakia with Ján Kuciak, it can happen everywhere, it happened in Brazil."
In relation to the role of the Labour Party refusing to demand Assange's freedom, Sylv said, "They are not doing much either. They are trying to silence him, too. There is a power against us and there needs to be a massive change that needs to happen for humanity.
"I want everyone to fight for Julian Assange, I want everyone to be out there and to be vocal and not to hide. Don't trust the mainstream media and their propaganda."
Carolina Graterol
Carolina Graterol, a documentary filmmaker, is a foreign correspondent for BBC World Service (Spanish section) and Telesur.
She said, "I am here with all my friends and activists to complain and denounce the imprisoning of Julian Assange and the possibility that he is extradited to the United States. We are opposing this measure. We think this is an affront against freedom of expression. Freedom of the world depends on Assange's case.
"We know that the government of this country is colluding with [US President] Trump to send Julian Assange to United States, sadly. Seventy members of parliament were in favour of retention of Julian Assange and they are hoping that he gets extradited. We need to denounce and fight against the breaking of the international law. The human rights of Julian Assange have been violated.
"Our society needs to know the truth, how our governments work. Crimes have been committed by our government. Their credibility is seriously being damaged. Journalists around the world are in danger."
Graterol noted that Labour Party Shadow Home Secretary "Dianne Abbott made a passionate speech in the parliament in favour of Julian Assange," but added, "We need to wonder about some MPs of the Labour Party, what kind of line they have… Sadly, at this moment, the conservatives of the Labour Party [who have written a letter to Home Secretary Sajid Javid backing Assange's extradition to Sweden] have a united group. But I think the majority of the people believe in justice and they are on the side of Julian Assange.
"There are a lot of events happening around the world, not just in the UK, in defence of Assange. There are petitions going around social media, gathering lots of signatures against his extradition. We have been protesting for nearly nine years in front of the Ecuadorian Embassy and there are many more people campaigning for his freedom."
Sadie
Sadie, 25, from Matlock, is a jewelry design student. She had learned about Assange's courageous stand through designer Vivienne Westwood, a well-known supporter of the WikiLeaks founder.
"Julian Assange is a truth speaker and all he did was publish information about government corruption, war crimes, torture and it's illegal to arrest him. It's against human rights. It's more of a dictatorship government.
"I was reading a magazine yesterday, the media just slurred him [Assange], they all make him out to be a horrible person. They said he was bullying people in the embassy, he was really dirty. I think it's all b.s., it's more like they bullied him. He was doing the right thing, standing up for people, and especially with those videos [Collateral Murder video] he was showing the Iraqi people their history, why their families have been killed, unlawfully just ploughing down civilians and children in the street when they were doing nothing wrong.
"If he goes to America he could get life imprisonment or the death penalty, and all he's trying to do is protect people and show them the truth of what's happening. All the media are against him. I think he thought England was the only country that was going to help him… The US is after him and Ecuador helped him until it changed direction.
"It's a scary thought that the government is against you… but we need everyone to open their eyes and realise there is a massive problem. Take climate change, it's caused by capitalism. The people in Africa and the poorer countries, they'll be hit first.
"Dianne Abbott made a really good speech [after Assange was seized] and they slated her. All he did was speak the truth about government corruption and this is what happens when you stand up.
"The problems in this country are the same in every single country."
Dominic, 19, is an economics student at Kingston upon Thames University. He attended the protest with his younger brother Matthew.
He said, "I've spent the last few days outside the Ecuadorian embassy. I've been outside the Westminster Magistrate's Court and now here outside Belmarsh prison. Julian Assange has published the most important journalistic documents of the last few decades. We all remember the Collateral Murder video and the documents of the Iraq and Afghan wars that revealed how they [US and UK] killed hundreds of thousands of civilians unnecessarily. We're here to protest Assange being persecuted for that incredibly important journalistic work.
"They've come down on him hard because he's the most effective journalist in the last few decades. He's published concrete documents, none of which have been refuted. They've published thousands of them and none of which have shown to be false.
"The UK government want to hand him over to the US to be tortured, abused and debased possibly for decades.
"The rule of law doesn't protect the people the state want to persecute, it doesn't protect independent journalists, the rule of law is only for the rich. The rich believe they can get away with taking all the money, and we have to get the rich scared again so they'll need to redistribute the wealth."
Rep. Gabbard: WikiLeaks Founder's Arrest Tells Americans: 'Toe the Line, Otherwise …'
(CNSNews.com) – While some U.S. lawmakers on both sides of aisle welcomed news of the arrest in London of WikiLeaks founder Julian Assange, Democratic presidential hopeful Rep. Tulsi Gabbard (D-Hawaii) said that the arrest sends a message to every American: "Be quiet, toe the line, otherwise there will be consequences."

"This is a threat to journalists, but it's also something that threatens every American," she told MSNBC, "because the message that we are getting, that the American people are getting by what's happened here today is, you know: Be quiet, toe the line, otherwise there will be consequences."

In an earlier appearance on CNN, Gabbard characterized Assange's arrest as "some form of retaliation" by a government unhappy with information being released that it does not want made public.

Gabbard, an Iraq war vet, argued that "so much of the information that has been released [by WikiLeaks] has informed the American people about actions that were taking place that they should be aware of."

"So really I think what's happening here is, unfortunately, it is uh, some form of retaliation coming from the government, saying, 'Hey, this is what happens when you release information that we don't want you to release.'"

The U.S. is seeking Assange's extradition from Britain to face charges of conspiracy to commit computer intrusion, relating to alleged attempts to crack a password and so help former U.S. Army intelligence analyst Chelsea Manning to hack into a classified computer at the Pentagon.

An indictment unsealed Thursday noted that in 2010 and 2011 WikiLeaks published online hundreds of thousands of classified U.S. documents downloaded by Manning, including reports dealing with the wars in Iraq and Afghanistan and 250,000 diplomatic cables.

Gabbard told CNN that while the specific hacking allegation facing Assange should be settled in a court of law, "there's a bigger issue at play here."

"There's a reason why the Obama administration chose not to extradite and prosecute Assange, because they understood the danger – they understood the danger of the government coming in and controlling essentially what information is and is not being released."

By contrast, Sen. Tom Cotton (R-Ark.) – also a U.S. Army veteran, with combat service in both Iraq and Afghanistan – welcomed the arrest.

"Julian Assange and Chelsea Manning endangered the lives of American troops in a time of war," he tweeted. "Since Assange is used to living inside, I'm sure he'll be prepared for federal prison."

A similar view came from Sen. Lindsey Graham (R-S.C.), who said he had never regarded Assange as a hero.

"His actions – releasing classified information – put our troops at risk and jeopardized the lives of those who helped us in Iraq and Afghanistan," Graham commented in a tweet.

During the 2016 presidential campaign, WikiLeaks published thousands of stolen emails from the Democratic National Committee and from Hillary Clinton campaign chairman John Podesta. The U.S. intelligence community accused Russia of being behind their theft and release.

Responding to the arrest, Senate Minority Leader Chuck Schumer (D-N.Y.) alluded to that episode.

"Now that Julian Assange has been arrested, I hope he will soon be held to account for his meddling in our elections on behalf of [President Vladimir] Putin and the Russian government," Schumer tweeted.

"I think the guy is just somebody who uses national security information to create chaos and harm and essentially promote the interests of Russia, a dictatorship that squashes dissent," CBS-affiliated WDBJ television quoted Sen. Tim Kaine (D-Va.) as telling Virginia reporters.

Stop the extraordinary rendition of Julian Assange!
The attempt by the British, Ecuadorian and US governments to force the removal of journalist and WikiLeaks founder Julian Assange to the United States is an antidemocratic conspiracy and a brazen violation of international law.
While the US government presents the process against Assange as an extradition, the difference between an extradition and an extraordinary rendition—in which a state carries out an extrajudicial abduction for the purpose of arbitrary detention, torture, and summary punishment—is being effectively obliterated.
The US government is, in effect, applying a similar method to Assange as it used against those it has subjected to extraordinary rendition during the "war on terror." Since 2001, the CIA has abducted hundreds of people, bound them up, flown them across the world to secret CIA "black site" dungeons and subjected them to harsh interrogation and torture. Once the government gets its hands on Assange, it is questionable whether he will ever be seen again.
The process has been accompanied by a campaign of media vilification that seems to have no restraint. Its aim is to transform Assange into a monster so that he can be deprived of his rights.
What the endless media reports ignore is that Assange has exposed imperialist crimes in wars that killed millions of civilians and thousands of US soldiers. He has brought to light horrific crimes that the government and corporate media conspired to keep secret.
While watching the news personalities slander the persecuted journalist and late-night show hosts subject him to degraded and scatological mockery, one wishes to stick a bar of soap in each of their mouths.
The US, British and Ecuadorian government claim that Assange's extradition is proper because the US is indicting the whistleblower only on a single charge of attempting to help Chelsea Manning bypass a password. But in the aftermath of Assange's arrest, the corporate press and politicians have contradicted the official explanation, letting slip the real reason the US wants custody over Assange.
The Washington Post's editorial board wrote: "Mr. Assange's transfer to US custody, followed possibly by additional Russia-related charges or his conversion into a cooperating witness, could be the key to learning more about Russian intelligence's efforts to undermine democracy in the West. Certainly he is long overdue for personal accountability."
The New York Times said, "Once in the United States, moreover, he could become a useful source on how Russia orchestrated its attacks on the Clinton campaign."
After British police dragged Assange out of the Ecuadorian embassy, Democratic Senate Minority Leader Charles Schumer tweeted, "Now that Julian Assange has been arrested, I hope he will soon be held to account for his meddling in our elections on behalf of Putin and the Russian government." The Democratic chairman of the House Foreign Affairs Committee Eliot Engel tweeted that Assange "time after time compromised the national security of the United States and our allies by publicly releasing classified government documents and confidential materials related to our 2016 presidential election."
These statements show that the extradition proceedings are being conducted under false pretenses. The single public charge is a cover. The government is planning to interrogate Assange, compel him to provide testimony and further prosecute him for exposing US war crimes. In the words of Democratic Senator Joe Manchin: "He is our property and we can get the facts and the truth from him."
Assange has no obligation to provide the government with any testimony because he has the Fifth Amendment right not to testify against himself. The media and politicians' statements beg the question: How does the government plan to "get the facts" from him? What harsh measures, practiced in the prisons of Abu Gharaib and Bagram Air Force Base, will be brought to bear?
The proceedings in the days since Assange's arrest show the type of treatment he will receive in any legal proceeding.
The British government, on the invite of Ecuadorian President and imperialist lackey Lenin Moreno, blatantly violated the principle of consular sanctuary by dragging Assange from the Ecuadorian embassy in London. This exposes the statements of the US and British governments admonishing the Saudi government for murdering Washington Post journalist Jamal Khashoggi at the Saudi embassy in Istanbul, Turkey last year as thoroughly hypocritical.
On Thursday, the British district judge who heard Assange's bail request mocked him and laughed when Assange's lawyers requested a fair hearing. "His assertion that he has not had a fair hearing is laughable," said judge Michael Snow. "And his behavior is that of a narcissist who cannot get beyond his own selfish interests." Assange has been sent to Belmarsh, a maximum security prison for terrorists and other high-risk detainees, where half of all prisoners are allowed to leave their cells for only two hours a week.
There is no question that Assange will be denied the right to a fair trial in the US, where the entire political and media establishment has already pronounced his guilt. In whatever "trial" takes place, Assange's lawyers will be regularly denied the right to review evidence against their client on the grounds that it is "classified" for "national security" purposes.
The conspiracy against Assange confirms the absence of any constituency for the defense of democratic rights in the ruling class.
To the leaders of the democratic revolutions of the 18th century, the practices now called extraordinary rendition recalled the dark and crowded dungeons of Charles I and Louis XVI, filled with political prisoners. The bourgeois revolutions in France and the United States abolished arbitrary detention and torture as the hated method of political reaction, upholding the right of due process, habeas corpus, and freedom from cruel and unusual punishment. Under international law today, extraordinary rendition is a crime against humanity according to the Nuremberg principles.
If the ruling class can conduct this operation against Assange without any opposition from the political or media establishment, then any crime is possible. All the while, "left" figures like Jeremy Corbyn go along with the lie, absolving themselves of any responsibility.
As for the British government, its brutal handling of Assange contrasts with its response to Chilean dictator Augusto Pinochet, who fought an extradition request after Spanish judge Baltasar Garzon attempted to prosecute Pinochet in Spain for mass murder. In 2000, the Labour government of then-Prime Minister Tony Blair refused to extradite Pinochet and ordered his release from house arrest at his mansion in Surrey.
"The attempted trial of an accused in the condition diagnosed in Senator Pinochet on the charges which have been made against him in this case could not be a fair trial in any country and would violate Article Six of the European Convention on Human Rights," the Home Office wrote at the time.
While the dictator Pinochet murdered and tortured thousands of workers and socialists after taking power in the September 11, 1973 coup, Julian Assange published evidence of US war crimes. He is hated by the international ruling class because he has done significant damage to the interests of imperialism.
The seven years since Assange was forced to seek refuge in the Ecuadorian embassy have seen the reemergence of the class struggle on an international scale. It is this powerful social force—the working class—that must be mobilized to defend democratic rights and secure the liberation of class-war prisoners like Chelsea Manning, Edward Snowden and Julian Assange.
"So what's going on here? A couple of things. First, Julian Assange embarrassed virtually everyone in power in Washington. He published documents that undermined the official story on the Iraq War and Afghanistan. He got Debbie Wasserman-Schultz fired from the DNC. He humiliated Hillary Clinton by showing that the Democratic primaries were, in fact, rigged. Pretty much everyone in Washington has reason to hate Julian Assange." TUCKER CARLSON
Tucker Carlson: Julian Assange's 'Real Sin' Was Preventing Hillary Clinton Presidency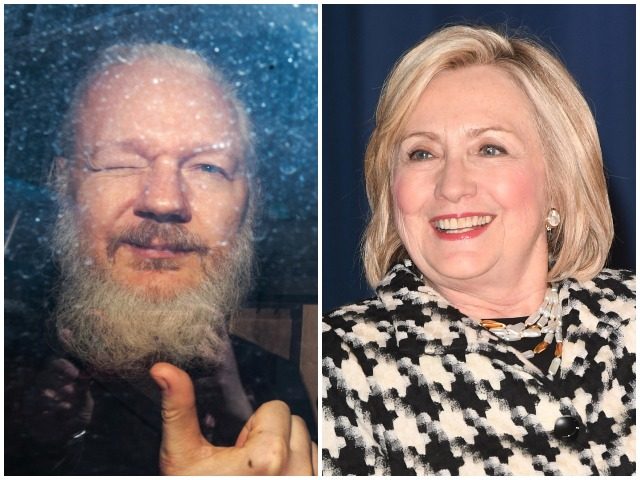 Fox News host Tucker Carlson published an op-ed recently in which he states that WikiLeaks founder Julian Assange's true sin was stopping Hillary Clinton from becoming President.
In an op-ed titled "Assange's real sin was preventing Hillary Clinton from becoming president," Fox News host Tucker Carlson states that the true reason that WikiLeaks founder Julian Assange is being targeted is that he prevented Hillary Clinton from becoming President of the United States. In the op-ed Carlson defends Assange's actions and instead points to Bradley Manning as the source of U.S. security leaks.
In the op-ed, Carlson writes:
If you watched a lot of the coverage of WikiLeaks founder Julian Assange's arrest on television Thursday, you likely came away with the understanding that he is some kind of Russian spy who is in trouble because he stole classified documents from the U.S. government. That is not true. It's factually incorrect, and saying so is not a defense of Assange. We're not here to promote him or excuse any number of things he said over the years that we disagree with quite a lot.

But just so it's clear, whatever his sins, Assange did not steal documents from the United States government. He did not hack the DNC servers. He didn't break into John Podesta's Gmail account. There is no proof that he is working for the Russian government or ever has worked for the Russian government. Assange has never been charged with any of that and wasn't on Thursday, no matter what they tell you.

If you're upset about the theft of classified documents from the U.S. government — and there is reason to be — we already know who did that. A 22- year-old Army private named Bradley Manning, now called Chelsea Manning. In 2013, Manning pleaded guilty to stealing secret material and got 35 years in prison for it. Shortly after that, President Obama commuted Manning's sentence. This allowed Manning to leave jail decades early, go back on television as a commentator, and then run for political office.
Carlson asks, why make such a huge deal over Assange when many other worse criminals have faced far less scrutiny:
So what's going on here? A couple of things. First, Julian Assange embarrassed virtually everyone in power in Washington. He published documents that undermined the official story on the Iraq War and Afghanistan. He got Debbie Wasserman-Schultz fired from the DNC. He humiliated Hillary Clinton by showing that the Democratic primaries were, in fact, rigged. Pretty much everyone in Washington has reason to hate Julian Assange.

Rather than just admit that straightforwardly – that he made us look like buffoons, so now we're sending him to prison — instead, they're denouncing him as, you guessed it, a Russian agent. "Justice should come to Julian Assange for his role in Russian meddling in our election and the sooner the better," said Sen. Richard Blumenthal, D-Conn.

Okay, so once again, just to be totally clear, no one has ever shown that Julian Assange is a Russian agent. The indictment against him does not say that; t doesn't mention Russia at all. But that has not stopped virtually every politician in Washington from repeating Senator Blumenthal's line, including many Republicans. Robert Mueller nearly killed the Russia collusion hoax. Julian Assange is allowing them to keep it alive.
Carlson suggests that the reason to punished Julian Assange is Hillary Clinton:
So why all the hostility to Julian Assange? Assange's real sin was preventing Hillary Clinton from becoming president. Former Democratic staffer and current CNN anchor Jim Sciutto explained it this way: "He is central to several cases. He is central to Russian interference in the election. The U.S. intelligence views him as a middleman, a cutout that he was in effect part of this interference. He's central to questions about what the Trump administration or Trump campaign, I should say, knew prior to the release of those materials, right? What were the communications between Roger Stone, et cetera? It's possible that this has something President Trump himself is not particularly excited about."

It's remarkable to watch this. It's bewildering, actually. There was a time, not so long ago, really, when reporters didn't applaud the arrest of other journalists for publishing information.
Lucas Nolan is a reporter for Breitbart News covering issues of free speech and online censorship. Follow him on Twitter @LucasNolan or email him at lnolan@breitbart.com
Hillary Clinton on Assange Arrest: He's the 'Only Foreigner' Trump Welcomes to the U.S.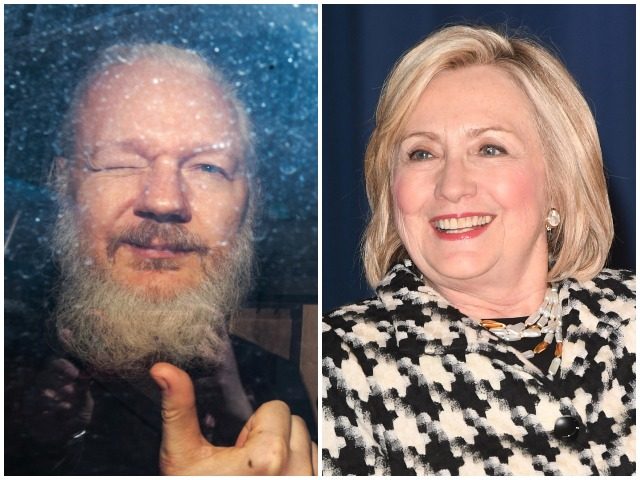 Failed 2016 Democrat presidential candidate Hillary Clinton reacted on Thursday to the dramatic arrest of WikiLeaks founder Julian Assange with a dig at the Trump administration's immigration policies.
Appearing at the Beacon Theater in New York City, the former Secretary of State said Assange must "answer for what he has done." Earlier Thursday, the WikiLeaks chief was
arrested
at the Ecuadorian embassy in London and charged by the U.S. for conspiring with convicted intelligence leaker Chelsea Manning to illegally access a classified Department of Defense computer.
Breitbart TV
The arrest occurred after Ecuador revoked the 47-year-old Australian native's political asylum, which allowed him to reside at the embassy for nearly seven years.
"The bottom line is that he has to answer for what he has done, at least as it has been charged," Clinton said, before adding, "I do think it's a little ironic that he's the only foreigner this administration would welcome to the United States."
In the lead up to the 2016 election, WikiLeaks released thousands of emails belonging to Clinton's presidential campaign chairman John Podesta and the Democrat National Committee.
President Donald Trump downplayed any personal interest in Assange's arrest, telling reporters in the Oval Office that the high-profile case was "not my thing."
"I know nothing about Wikileaks. It's not my thing," the president said when pressed on his repeated praise of the organization during the election.
"I know nothing really about it – it's not my deal in life," he added.
While the president was none too interested in Assange, some former members of Clinton Inc. celebrated his arrest.
Former Clinton aide and Center for American Progress president reacted to Assange's arrest by accusing him of "fascist behavior" and "undermin[ing] democracy."
"It's a great day!" Claude Taylor, a former Clinton staffer who now runs an anti-Trump PAC, declared.