Nearly 9-in-10 illegal aliens who have been recently released into the interior of the United States while they await their asylum hearings are not showing up to their court dates, according to a federal pilot program.
For almost half a year, the Department of Homeland Security (DHS) has ramped up its catch and release of border crossers and illegal aliens, specifically those arriving at the U.S.-Mexico border with children.
Since December 21, 2018, DHS has released at least 190,500 border crossers and illegal aliens into the interior of the United States. Acting DHS Secretary Kevin McAleenan told Congress this month that those foreign nationals are eventually given work permits that allow them to take U.S. jobs while awaiting their asylum hearings.
In testimony before Congress this month, Immigration and Customs Enforcement (ICE) officials said that the agency had recently conducted a pilot program with the Department of Justice (DOJ) to test how many recent illegal aliens would show up to their asylum hearings after being released into the U.S.
The results, an ICE official told Congress, were that about 87 percent of illegal aliens, or almost 9-in-10, recently released by DHS into the U.S. did not show up to their asylum hearings. With illegal aliens not showing up to their scheduled hearings, the ICE official said, the agency is then forced to grapple with attempting to locate and deport each illegal alien, an almost impossible task that strains federal resources.
"That particular population, as we continue to release into the interior hundreds if not thousands of family units into the interior every week, is of grave concern as it relates to these individuals not appearing before immigration judges and now being fugitives," the ICE official said.
In the same hearing, another federal immigration official said that only about 12 percent of border crossers and illegal aliens who complete their asylum processes actually end up qualifying for asylum — a statistic that underscores the enormous fraud and abuse in the country's immigration system.
At current rates of illegal immigration, border apprehensions for the calendar year 2019 are expected to outpace every fiscal year of former President Obama. Meanwhile, DHS officials have said only about 42 miles of mostly replacement border wall barriers have been constructed since President Trump's inauguration.
Leading up to the 2020 presidential election, Americans are vastly opposed to releasing border crossers and illegal aliens into the interior of the country, and GOP voters have said building a border wall and reducing all illegal and legal immigration is their top priority.
About 2-in-3 American voters told Harvard-Harris pollsters last month that they are opposed to catching and then releasing border crossers and illegal aliens into the U.S. while they await their asylum hearings. Likewise, GOP voters, conservatives, and Trump supporters have ranked building a border wall and reducing all immigration as their top priorities.
John Binder is a reporter for Breitbart News. Follow him on Twitter at
@JxhnBinder
.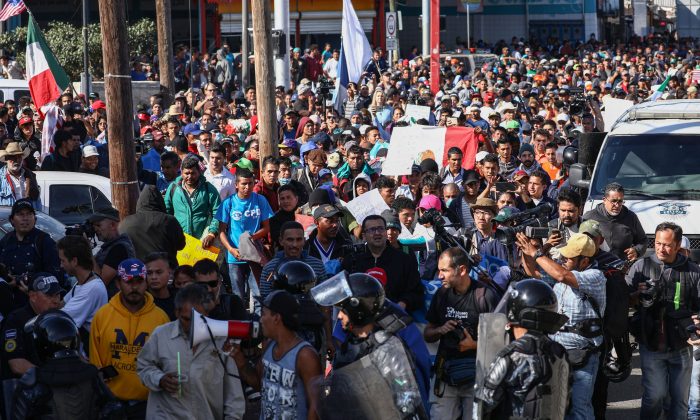 Communism Expert on What's Behind the Push for Open Borders
An interview with Trevor Loudon, author of "The Enemies Within: Communists, Socialists, and Progressives in the U.S. Congress"
May 29, 2019
Updated: May 29, 2019
WASHINGTON—As Congress holds hearing after hearing without any substantive fixes to immigration law, tens of thousands of illegal aliens cross the southwest border every week. Most families don't bother claiming "credible fear" to Border Patrol anymore, knowing they'll be released anyway if they have a child with them.
The Epoch Times sat down with Trevor Loudon, a
communism
expert and contributor to The Epoch Times, to discuss the effects of congressional inaction and the possible reasons behind it.
The Epoch Times: What is really going on?
Trevor Loudon: This is an orchestrated, communist assault on America, to destroy America's borders, to create confusion in America, to overwhelm the system politically. Because America is [the communists'] main enemy, and if you can't bring it down through nuclear weapons, you bring it down through illegal immigration, which is maybe just as effective in the long run.
You can see what 15, 16, 20, 25 million new Democratic voters is going to do to this country. You will lose Texas, you'll lose Florida, you will lose Georgia, Arizona, North Carolina. There will never be, ever, another Republican or conservative president in our lifetimes. You will have a one-party state in America. And that is the plan. That is why they are doing this.
This is Marxist. This is Leninist. And this goes back to American politicians cooperating with hostile foreign powers in the destruction of America. And their No. 1 weapon is illegal immigration and overwhelming the border. That's what they're doing.
If that's not a national emergency, I cannot comprehend what is. What could be more pressing and more dangerous than this?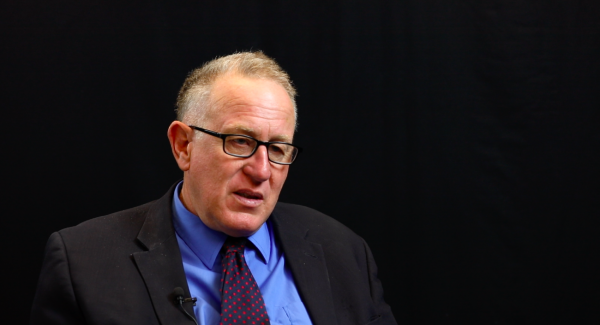 The Democrats, 25 years ago, were the party leading the charge against illegal immigration. They were the party. You look up on C-Span and see speeches by Harry Reid and Bill Clinton condemning illegal immigration in the harshest terms: "This is a national security threat. This is taking the jobs of American workers. This is destroying their livelihood. We must end this."
They sounded like Tea Party guys. And now, they're completely in favor of it, because they have so destroyed their own base among the sort of Pennsylvania union guys, the middle class in this country. They've so destroyed their own base, they have to import new voters. And where are they going to come from? Well, there's a very easy source for that.
Epoch Times: How would border security look under a Democrat president in 2020?
Mr. Loudon: The borders would be dissolved, effectively. There'd be no effective border security. And all the Democrat candidates are united on this—all of them. Not one of them has made a stand against what is happening on the border. They're all for amnesty, they're all for welcoming illegals over the border. So you would see the end of America as we know it, because we would get so many million people coming over. They would be given citizenship and voting rights, and they would vote for the party that let them in.
And so, ultimately, these guys, they want power. These Democrat leaders, they're going to live in gated communities. They're going to be living high off the fat of the land. All the rest of us will be living in poverty and destitution. But that's okay. Every communist dictator lives in prosperity. Every communist dictator has all the luxuries they want. They don't care what happens to us. We're just expendable to them.
And so, they have the same mentality. They want power at any cost. And they know illegal immigration is hurting American workers. They know it's taking jobs from young black kids and black communities. They know it's bringing disease and public-health dangers. They know the open borders are killing 60,000 Americans a year through the importation of fentanyl from China, and cocaine and heroin from South America. They know all that. But they're still willing to go along with it, because power comes first. And this is the road to absolute power for them.
[/epoch_video]
Epoch Times: What is the impact of illegal aliens and non-citizens voting?
Mr. Loudon: MIT says there's 22 million illegals in the country now. Some people said there's 40 million, but MIT is a reputable organization—we'll go with their figure. And we all know, on present patterns, they will vote 80 percent Democrat, at least. Well, that gives the Democrats 15 or 16 million votes just straight off the top. And when you consider that Mitt Romney lost his election by 2.5 million votes and Donald Trump won by 200,000, thanks to the electoral college, and actually lost the popular vote by 3 million.
The end of the Electoral College would make mob rule even more endemic. It would remove one of our very last protections against mob rule. And make it clear, America was never a democracy. It's a constitutional republic, where the will of the majority is tempered by things like the Electoral College, to make sure big population centers don't dominate small population centers.
So the left wants to get rid of that. They want to flood the system with illegals. They want to basically undermine the electoral system so that they rule forever. And as Stalin famously said, "It's not who votes that counts, it's who counts the votes that counts."
So if they are in control of the voting process, they're in control of counting the votes and apportioning out electoral districts, they get rid of the national popular vote. No matter how unpopular they become, no matter how cruel they are, how corrupt they are, and how much the economy crashes, they can never be voted out of power. They will have a permanent blank check on power in this country. And even a die-hard Democrat should be terrified of that situation.
You know, to give one party a monopoly on this country—I don't care if it's the best political party in the world—if you give them a complete monopoly on power for all time, it's a recipe for corruption and tyranny.
Because power corrupts and absolute power corrupts absolutely. I don't care if you had Saint Peter leading the party. It wouldn't matter. You have a monopoly on power, you become corrupt. And everybody in this country should be terrified of that prospect.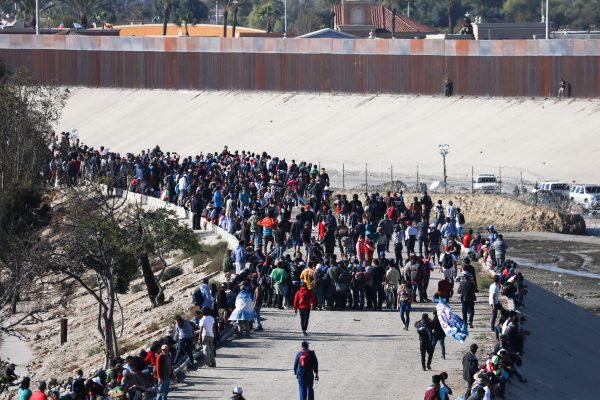 Epoch Times: Why aren't Americans more concerned?
Mr. Loudon: Well, because these people believe they will be the elite. So you've got a whole voting base who has no comprehension of the consequences of what they're doing. They still think they're voting for Harry Truman and JFK. They don't see that this is an either/or situation—that the Democrats are on the verge of an unbeatable, permanent majority.
This is a race against time. What's it going to be, a million this year? One and a half, 2 million next year? Because it will increase as the election, especially if it looks like Trump's going to win again. You know, it will increase, because people want to get across the border while they still can. So, yeah, you've got a major crisis on the border.
We saw a million Muslims driven into Germany recently, with all of the social consequences that that entailed. Well, the pool of potential refugees from Latin America is way bigger than the people who come out of Syria.
How many people live below the border? You're talking a couple hundred million in Latin America. You could have 3, 4, 5 million people trying to get in.
I think President Donald Trump is hoping it'll slow down, but if it doesn't, I think he's going to have to be tough on Mexico. Until he can get control of the U.S. House again, I don't see how he's going to stop this. But he has to.
If I was the president, I would be saying to the president of Mexico: "If you do not stop this flow (and the president of Mexico is a Marxist, AMLO [Andrés Manuel López Obrador], we will shut down trade. We will shut down everything." Because this is an act of war.
See, President Trump's trying to keep the borders [open], he's trying to keep the Texas economy going, because Texas is going to be so important in the election. But it may come to the point where he just has to bite the bullet, and say, "The border is sealed."
But even that's not going to stop the problem entirely because people will still claim refugee status under existing law.
I think the answer must be to put huge pressure on Mexico to stop the problem internally, because they could do it if they wanted to. And by not doing it, they're basically declaring war on the United States—and that needs some tough measures.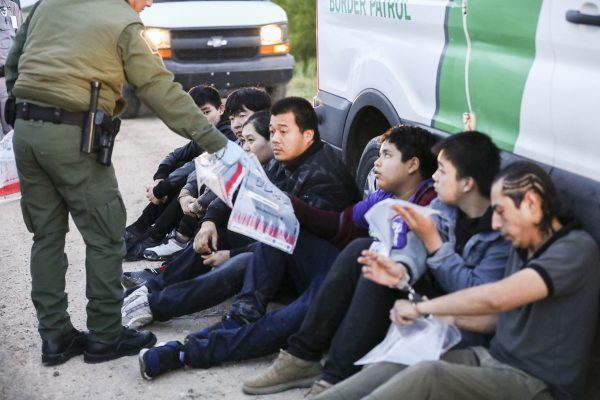 Epoch Times: Border Patrol is expecting to apprehend 1 million illegal aliens this year. Everything is overwhelmed. Does this relate to the Cloward-Piven strategy?
Mr. Loudon: Yes. The Cloward-Piven strategy was originated by two members of Democratic Socialists of America—Frances Fox Piven and her husband. And they came up with the idea in the '60s: How do we get socialism? Well, we overwhelm the systems. We overwhelm the welfare system.
And they went out and—deliberately, in New York—signed up as many people for welfare as they could, to basically break New York's budget. Because, they reasoned, well, when it all comes crumbling down, the only alternative is socialism. Well, this strategy was extended to the voting-rights movement.
But I think, ultimately, it's even deeper than that, you know. This whole move for illegal immigration—amnesty, dissolving the border—goes right back to the Soviet days when the Communist Party USA was working on the border to bring people across, to train up the sort of "amnesty movement" people. I'm talking, back in the '70s, or even before that. And so, with people like Bert Corona, the famous Communist Party member from California who was heavily involved in this.
He had a whole network across the southern border states of Communist Party members and radicals who were fostering this movement because it was designed—there's two aspects of it: One was to fill the southern states with Mexicans and Latin Americans to eventually wrest southern states back [to] Mexico. And also to increase the Democratic Party rolls.
And so, Corona was working with people … I've got a letter from the '70s asking for Corona and Cesar Chavez and others in this network to find promising young Chicano activists to send to Moscow to train at the Patrice Lumumba School, the big training school for foreign communists, to teach them about revolution through promoting Atzlan—the return of the southern states to Mexico.
So this is old and now, it's being supported by [Pueblo] Sin Fronteras out of Chicago, which is run by the Lozano family. They're running a lot of the support networks for the people jumping the border. And they're a Communist Party family—a pro-Soviet Communist Party family—since a long time back.
And then you've got Acorn working down in Honduras. The famous Acorn, which is an extension of the Cloward-Piven strategy, it basically developed out of that. And they worked on voter registration all over the states. But now they are, I believe, also driving the caravans up. And then, I've been told stories about this, but nothing I can prove, that the Cubans are also involved in this, and left-wing forces in Honduras as well.
This interview has been edited for brevity and clarity.
AMERICA: THE RICH GET MUCH RICHER AND THE MIDDLE CLASS GETS BLUDGEONED…. Illegals get the jobs!
*
Why do the billionaire class all want wider open borders and hordes more "cheap" labor illegals? It's all about keeping wages depressed for greater profits!
*
"Today's society benefits those who shaped it, and it has been shaped not by working men and women, but by the new aristocratic elite
.
Big banks, big tech, big multi-national corporations, along with their allies in the academy and the media—these are the aristocrats of our age
. They live in the United States, but
they consider themselves citizens of the world

"

Sen. Josh Hawley
*
*
"This is how they will destroy America from within. The leftist billionaires who orchestrate these plans are wealthy. Those tasked with representing us in Congress will never be exposed to the cost of the invasion of millions of migrants. They have nothing but contempt for those of us who must endure the consequences of
our communities being intruded upon by gang members, drug dealers and human
traffickers. These people have no intention of becoming Americans; like the Democrats who welcome them, they have contempt for us." PATRICIA McCARTHY
Ready for the next 5 million illegals getting ready to enter the U.S. in 2019?
DHS Flying Illegal Aliens to U.S. Cities, Releasing Them into Communities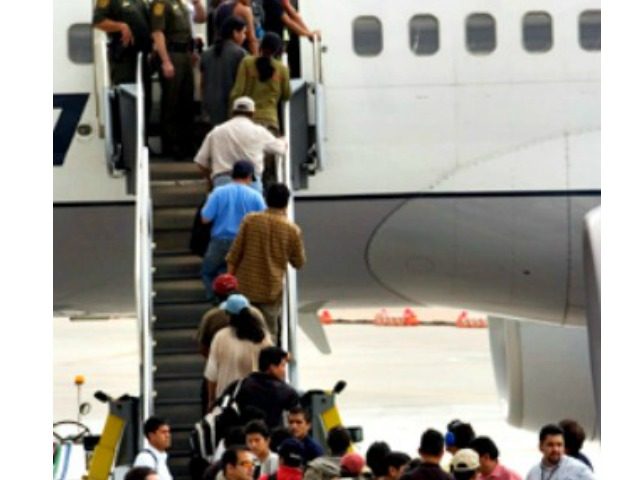 The Department of Homeland Security (DHS) is flying border crossers and illegal aliens into cities across the United States and releasing them directly into American communities, reports claim.
A report by the Associated Press (AP) states that aside from DHS releasing nearly 200,000 border crossers and illegal aliens into about four American communities since December 2018, the agency is flying border crossers and illegal aliens into U.S. cities and then releasing them:
U.S. Immigration and Customs Enforcement has historically ensured that families had travel plans before releasing them, but last year it shortened custody stays in response to the growing numbers of arrivals from Mexico.

They began dropping migrants off in cities along the border at burgeoning shelters and bus stations

. [Emphasis added]

At the same time,

U.S. Customs and Border Protection, which turns over border crossers to ICE after arresting them, has begun flying migrants to other cities for processing and is releasing them directly into communities without going through ICE

, saying their own facilities are at capacity. [Emphasis added]

As numbers have swelled in border cities,

authorities have begun looking farther inland

. [Emphasis added]
Similarly, a report by the New York Times detailed similar cases where DHS has started flying border crossers and illegal aliens into the interior of the U.S. before releasing them.
The Times reported:
Customs and Border Protection officials said they began flying migrant families from overcrowded facilities

in the Rio Grande Valley in Texas to San Diego on Tuesday.

It is expected that as many as three flights, each carrying up to 135 migrants, will be scheduled each week

. [Emphasis added]

The agency also recently started flying migrants five times each week from the Rio Grande Valley to Del Rio, Tex

. Nearly all of the migrants are traveling as families, including some with young children. [Emphasis added]
As Breitbart News has chronicled, DHS has ramped up its catch and release of thousands of border crossers and illegal aliens since the end of 2018. Between May 14 and May 21, DHS released about 7,900 border crossers and illegal aliens into about five American communities — including San Antonio, Texas, Phoenix, Arizona, El Paso, Texas, and San Diego, California.
The catch and release process often entails federal immigration officials busing border crossers into nearby border cities and dropping them off with the hope that they show up for their immigration and asylum hearings. The overwhelming majority of border crossers and illegal aliens are never deported from the country once they are released into the U.S.
Today, there are anywhere between 11 and 22 million illegal aliens living across the country — the majority of which are concentrated in states like California, New York, Florida, Texas, and Illinois.
This past week, Acting DHS Secretary Kevin McAleenan admitted that the agency is merely acting as a checkpoint for border crossers and illegal aliens to make their way into the country. In congressional testimony, McAleenan said his agency is releasing "100 percent" of adult border crossers who arrive with children at the U.S.-Mexico border and giving them work permits shortly thereafter.
By the end of the year, DHS will have released more than 445,000 border crossers and illegal aliens into American communities should catch and release continue — in addition to the projected half a million illegal aliens who are expected to successfully cross the U.S.-Mexico border this year, undetected by federal officials.
DHS did not respond to request for comment in time for this publication.
John Binder is a reporter for Breitbart News. Follow him on Twitter t @JxhnBinder.
Speakers & attendees sought for June 8 DC Protest Against Illegal Immigration
For National Release | May 28, 2019
Raymond Herrera
, California activist and leader of We The People, America, has secured a permit to demonstrate in the southwest corner of Lafayette Park directly across from the White House on June 8, 2019, from 11 am to 4 pm.
Ray is an activist in the anti-illegal immigration movement well known for his successful efforts to stop DHS buses full of illegals in the Murietta Blockade July 1, 2014, (
Video
) in Murietta, CA. (
CNN Coverage
)
Americans for Legal Immigration PAC
activists are joining and supporting the effort and are issuing a call for more activists and group leaders who share the organization's peaceful and racially inclusive principles while opposing Amnesty and illegal immigration to
join the June 8 event.
The current speaker list for the event includes, but is not limited to:
Organizers are currently reaching out to other leaders who oppose Amnesty and illegal immigration to invite them to speak at this event, while at the same time encouraging American activists to converge on DC to hold signs and send a clear message to the White House and Congress.
Topics that will be addressed at this rally include the historic surge of illegals into America, opposition to DACA Amnesty, opposition to new Amnesty bills in Congress such as HR 6, opposition to the new Amnesty law and legal immigration increases Trump signed into law on February 15 in
H.J.Res. 31
,
opposition to Presidential catch and release policies, opposition to welfare and voting rights for illegals, and much more.
Organizers are also in search of more activist videographers and are encouraging all attendees to bring appropriate American flags, signs, and cameras to document the event. This event may be available via live stream on the web on June 8.
For more information about the Stand Up America and Stop Illegal Immigration rally on June 8, please visit
www.ALIPAC.us
.
"Beto O'Rourke's immigration plan, which the presidential hopeful released Wednesday, would open the nation's borders to apparently unlimited waves of unskilled needy migrants and would open the nation's workplaces to cheap workers when companies fear Americans' wages might rise."
This policy of
flooding
the market with cheap, foreign, white-collar
graduates
and blue-collar
labor
also shifts enormous wealth from
young
employees towards older investors, even as it also
widens
wealth gaps,
reduces
high-tech investment,
increases
state and local tax burdens, and hurts children's schools and
college
educations. It also
pushes
Americans away from high-tech careers and sidelines millions of
marginalized
Americans, including many who are now
struggling
with fentanyl addictions. The labor policy also moves business investment and wealth from the heartland to the
coastal cities
,
explodes
rents and
housing costs
,
shrivels
real estate values in the Midwest, and rewards investors for creating low-tech,
labor-intensive
workplaces.
DRUGS AND ILLEGALS POUR OVER BILLIONAIRE BETO "BETOMATIC" O'ROURKE'S STATE OF TEXAS… He wants the borders open wider
"The cartels are starting to push alien traffic out here [where] there's nothing [but] a little, bitty village," Ortiz said. "And why are they doing that? Not because it's a close proximity to a community. No, because the cartels are using that as a diversion so they can tie up our hands so our agents can't get to the narcotics or to smuggled alien traffic."
BILLIONAIRE BETO "BETOMATIC" O'ROURKE'S SABOTATE OF HOMELAND SECURITY… is it a globalist deal with NARCOMEX?
The Democrat Party's secret agenda for wider open borders, more welfare for invading illegals, more jobs and free anything they illegally vote for…. All to destroy the two-party system and build the GLOBALISTS' DEMOCRAT PARTY FOR WIDER OPEN BORDERS TO KEEP WAGES DEPRESSED.
Demonstrably and irrefutably the Democrat Party became the party whose principle objective is to thoroughly transform the nature of the American electorate by means of open borders and the mass, unchecked importation of illiterate third world peasants who will vote in overwhelming numbers for Democrats and their La Raza welfare state. FRONTPAGE MAG
Beto "BETOMATIC" O'Rourke announces his candidacy on the GLOBALIST BILLIONAIRE LA RAZA SUPREMACY DEMOCRAT platform for wider open borders and mucho cheapo labor!
BILLIONAIRE BETO "BETOMATIC" O'ROURKE'S MURDERING UNREGISTERED DEM VOTING ILLEGALS
ICE Releases Hundreds of Migrants in Texas over Christmas
Rep. Beto O'Rourke (D-TX), who lost his Senate bid to incumbent Republican Ted Cruz, is cited in the story as being instrumental in making sure ICE informs city officials of impending releases.
BILLONAIRE BETO "BETOMATIC" O'ROURKE PROCLAIMS AMNESTY FOR 40 MILLION INVADING "UNREGISTERED" DEMOCRAT VOTING ILLEGALS.
No word on America's homeless, housing or jobs crisis for Legals!
UPDATE ON BILLIONAIRE BETOMATIC'S ASSAULT ON AMERICA'S BORDERS AND CULTURE
Beto's solution to the wall issue: let the rest of Mexico jump our open borders and vote democrat for more and no wall will be needed!
IS BETOMATIC A CLONE OF BANKSTER-OWNED BARACK OBAMA, THE LA RAZA SUPREMACIST WHO SURRENDERED OUR BORDERS FOR 8 YEARS AS HE AND HOLDER SERVICED THEIR CRONY CRIMINAL BANKSTERS.
*
"Our entire crony capitalist system, Democrat and Republican alike, has become a kleptocracy approaching par with third-world hell-holes. This is the way a great country is raided by its elite." – Karen McQuillan AMERICAN THINKER.com
Further, nearly 60% think that the next generation will be
worse off
than they are. And few have any faith that the economic outlook for the country will improve in the near or distant future.
There are many parallels between "Betomania" and "Obamamania," and O'Rourke has been called the "white Obama."
He is married to the
daughter of a billionaire
, so if nominated, Democrats would have a hard time attacking Republicans for supporting a billionaire president without being accused of hypocrisy.
"Beto also questioned whether the Constitution was still relevant, which makes one wonder how seriously he would take the oath to "preserve, protect and defend the Constitution of the United States" should he be sworn in as president."
WORDS OF A PSYCHOPATH BARACK OBAMA:
"In his 2006 autobiography
The Audacity of Hope
, then-Senator Obama wrote, "I serve as a blank screen on which people of vastly different political stripes project their own views." That is why Obama won the presidency, and should O'Rourke win too, that is why he will have won"
VIVA LA RAZA SUPREMACY LIKE TEXAS' NARCOMEX BORDER COUNTIES THAT VOTED VIVA BETOMATIC?
BETO O'ROURKE HAS BEEN ENDORSED BY MEXICO. HOW IMPORTANT WILL THE ILLEGALS' VOTES BE?
"In 2018, a volunteer for the Beto campaign urged followers to transport undocumented aliens (ILLEGALS) to the polls."
"Many liberals believe that anyone in the United States – citizen or non-citizen – should be able to vote. If they want to make that argument and change the law to make it happen, they are more than welcome to try. Of course, if they run on that issue, they will get slaughtered at the polls. So instead of going to the American people and working to change the law, they try an underhanded dirty trick to achieve the same goal." APOLO VILLALOBOS
"American elites continue focusing on a global order while ignoring the decline of the United States. A broken America will be unable to meet any geopolitical threats abroad. Any national security strategy that does not begin with securing our own national security at home will be doomed to fail." DANIEL GREENFIELD
Knowing that the wall will become a reality if the President gets the cash brings out the cheap-labor-express, wealthy power brokers like the
Billionaires for Open Borders
: Michael Bloomberg; Rupert Murdoch; other distinguished members of the Forbes 500; and, as Lou Dobbs often
reminds
us, the "globalists, the Chamber of Commerce, the Business Roundtable,
Koch brothers
and Wall Street."
LA RAZA SUPREMACIST BETO "BETOMATIC" O'ROURKE… openly endorsed by Mexico!
O'Rourke tweeted his support for hundreds of undocumented people into American communities.
"Many thanks to volunteers & donors who ensure that we take care of families being released by ICE in El Paso. 200 to be released today. Over 500 tomorrow." BETO O'ROURKE
25 MINUTE VIDEO OF ACTUAL MEX INVASION. Illegals pour over Texas rancher's property.
We've got an even more ominous enemy within our borders that promotes "Reconquista of Aztlan" or the reconquest of California, Arizona, New Mexico and Texas into the country of Mexico….. AND THE ENEMY IS THE LA RAZA SUPREMACIST GLOBALIST DEMOCRAT PARTY!
Beto O'Rourke's Plan Opens Borders for Migrants and Job Seekers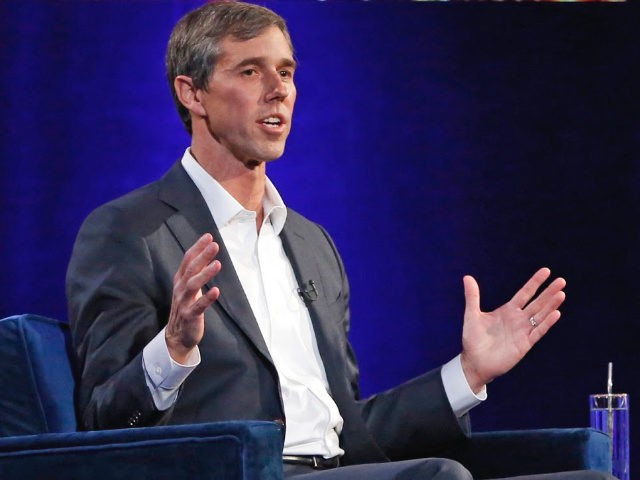 Beto O'Rourke's immigration plan, which the presidential hopeful released Wednesday, would open the nation's borders to apparently unlimited waves of unskilled needy migrants and would open the nation's workplaces to cheap workers when companies fear Americans' wages might rise.
"I think we go a lot further than anyone," O'Rourke told CNN.
O'Rourke's plan downplays the interests of American wage-earners and parents as it promises to aid migrants and investors by "reunit[ing migrant] families … and ensur[ing] they have a chance to contribute more to our economy and our communities — and pursue the American Dream."
The plan would spur migration by giving taxpayer-funded lawyers to migrants who request asylum, by granting asylum to migrants who say they have suffered from spousal abuse or fear of criminal gangs, and by creating a fast-track process for migrants to get through the border and into U.S. jobs.
His plan would revive the 2012 Deferred Action for Childhood Arrivals (DACA) job program and amnesty for younger illegals, would establish catch-and-release as a national policy, would stop construction of a border wall, and would launch an amnesty for the population of 11 million illegals.
The plan does not mention safeguards to prevent tens or hundreds of millions of ambitious migrants from using his pro-migration policy to walk into the United States.
Instead, it suggests that the U.S spend $5 billion in Central America to persuade Central Americans from traveling northwards into the U.S. labor market.
O'Rourke would prioritize family chain migration over the ability of would-be skilled migrants to raise productivity and wealth for all Americans.
The Texas Democrat's plan would also create a new inflow of legal immigrants by allowing "communities" to import their own populations of foreign migrants. The plan does not mention safeguards to prevent migrant communities from importing their own servants, service workers, and teachers, even when Americans want the jobs. The plan:
Establishes a new, first-of-its-kind community-based visa category. Beto's proposal will create a brand new category whereby communities and congregations can welcome refugees through community sponsorship of visas. This program will supplement the U.S. Refugee Admissions Program, which will be rebuilt and restored to align with America's tradition of welcoming vulnerable refugees from around the world.
O'Rourke's plan argues that immigrants grow the economy — but it does not include any evidence that migration or his plan would help grow Americans' wages and salaries or help Americans buy homes to raise their own families. It says:
This [plan] is not just right but also essential to our shared prosperity. Immigrants from every corner of the world — those who came here on student visas and those seeking refuge from persecution — have been a key driver of our economic growth.
The plan does not use the words "wages" or "salaries," but it offers business the right to import more temporary workers for blue-collar jobs. The plan would "ensure that industries that depend on immigrant labor have access to a program that allows workers to legally come here and legally return to their home country with appropriate labor and mobility protections."
The plan would also allow companies and universities to import more college-trained foreign workers for jobs sought by U.S. graduates. The plan says O'Rourke would:
Promote STEM education by granting foreign-born students more flexibility to stay in the U.S. and gain employment after graduating; and Allow foreign-born entrepreneurs and U.S. patent holders the chance to stay in the United States to grow their business, create jobs and raise families that will go on to enrich our country.
Over the last 20 years, U.S. immigration laws have allowed companies to bring in many H-1B contract workers and also to provide green cards to favored workers. That policy has flooded the white-collar labor market with foreign workers, so slowing the growth of salaries for American graduates.
Currently, companies employ roughly 1.5 million foreign contract workers in U.S. white-collar jobs. The programs include the H-1B, L-1, H4EAD, OPT, and O-1 temporary worker programs.
O'Rourke's Twitter account touted support from Todd Schulte, a D.C.-based advocate who runs a pro-migration group founded by West Coast investors. Schulte is trying to preserve and expand the various white-collar and blue-collar visa programs which provide cheap labor to the investors, who include Mark Zuckerberg, whose Facebook company already uses many H-1B workers in place of American graduates.
O'Rourke claims his plan "fully reflects our country's values," but it puts the priorities of foreigners above Americans' normal desire that they and their children get well-paid jobs.
This claim of "our country's values" echoes the "Nation of Immigrants" claims from 1965, which Democrats have almost uniformly adopted in the last few years.
O'Rourke's plan also echoes the progressive claim that racism is the root cause of the United State's economic and racial disparities and is the primary motivator in the nation's immigration policies. This moral fervor began around 2012 and is dubbed "The Great Awokening." Politically, the claim allows wealthy progressives and post-graduate professionals to elevate their perceived social status by smearing many Americans as deplorable racists.
In contrast, President Donald Trump's "Hire American" policy has raised wages for blue-collar and white-collar Americans and has also helped deliver jobs, wages, and self-sufficiency to many Americans who were sidelined by disability, the 2008 recession, drugs, criminal record, or lack of investment in their heartland states.
Each year, roughly four million young Americans join the workforce after graduating from high school or university.
But the federal government then imports about 1.1 million legal immigrants and refreshes a resident population of roughly 1.5 million white-collar visa workers — including roughly one million H-1B workers — and approximately 500,000 blue-collar visa workers.
The government also prints out more than one million work permits for foreigners, tolerates about eight million illegal workers, and does not punish companies for employing the hundreds of thousands of illegal migrants who sneak across the border or overstay their legal visas each year.
This policy of inflating the labor supply boosts economic growth for investors because it ensures that employers do not have to compete for American workers by offering higher wages and better working conditions.
This policy of flooding the market with cheap, foreign, white-collar graduates and blue-collar labor also shifts enormous wealth from young employees towards older investors, even as it also widens wealth gaps, reduces high-tech investment, increases state and local tax burdens, and hurts children's schools and college educations. It also pushes Americans away from high-tech careers and sidelines millions of marginalized Americans, including many who are now struggling with fentanyl addictions. The labor policy also moves business investment and wealth from the heartland to the coastal cities, explodes rents and housing costs, shrivels real estate values in the Midwest, and rewards investors for creating low-tech, labor-intensive workplaces.