424 Migrants Apprehended at Border – 'Largest Group,' Says CBP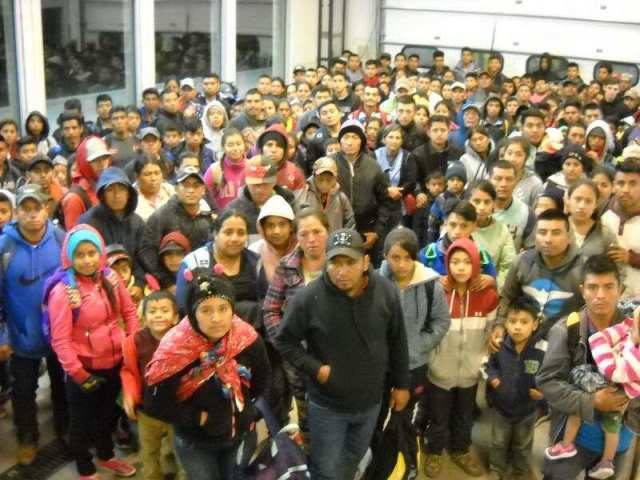 El Paso Sector Border Patrol agents apprehended what they are calling the "largest group of 424 illegal aliens" at the New Mexico border on Tuesday morning. A few hours later, agents patrolling near Antelope Wells, New Mexico, apprehended another 230.
Agents patrolling near Sunland Park shortly after midnight Tuesday morning encountered what they believed to be more than "400 illegal aliens" who had just crossed the border from Mexico. The agents rounded up all of the migrants and began processing them. A few hours later, the count stood at 424 mostly Central American migrants. Border Patrol officials tweeted this is the "largest group" of illegal aliens apprehended by Border Patrol agents.
While the agents processed the Sunland Park migrant group, agents patrolling near the Camp Bounds Forward Operating Base at the Antelope Wells Port of Entry apprehended another large group of Central American migrants. This group, apprehended at about 2 a.m. Tuesday morning, consisted of 230 illegal aliens, officials stated.
El Paso Sector officials said the two groups, like many of the large groups of migrants, consisted of Central American family units and unaccompanied minors.
The El Paso Sector has witnessed a 1,670 percent increase in the number of Family Unit Aliens apprehended during the first six months of this fiscal year, according to the March Southwest Border Migration Report. Agents apprehended 53,565 family units during the first six months of this year as compared to 3,027 during the same period in Fiscal Year 2018. In addition, the sector witnessed a 333 percent increase in the number of unaccompanied minors apprehended — 7,565 in FY2019 vs. 1,746 in FY2018.
Bob Price
serves as associate editor and senior political news contributor for the Breitbart Border team. He is an original member of the Breitbart Texas team. Follow him on Twitter
@BobPriceBBTX
and
Facebook
.
"This is how they will destroy America from
within. The leftist billionaires who orchestrate
these plans are wealthy. Those tasked with
representing us in Congress will never be exposed
to the cost of the invasion of millions of
migrants. They have nothing but contempt for
those of us who must endure the consequences of
our communities being intruded upon by gang
members, drug dealers and human
traffickers. These people have no intention of
becoming Americans; like the Democrats who
welcome them, they have contempt for
us." PATRICIA McCARTHY
Census Bureau: Immigration Driving Half of U.S. Population Growth
Immigration to the United States is now driving nearly half of all population growth in the country instead of increased birth rates, the U.S. Census Bureau finds.
The latest Census Bureau estimates on the U.S. population reveal that about 48.5 percent of all population growth is driven by the country's mass illegal and legal immigration policy, where more than 1.5 million foreign nationals are admitted to the country every year.
Axios
analysis by Stef Knight
details
the growing share to which immigration is increasingly driving population growth across the U.S. Since 2011, for example, the level to which immigration has accounted for overall population growth has increased more than 13 percent.
According to the Wall Street Journal analysis, about nine percent of U.S. counties are growing solely because of immigration. This concludes that about nine percent of counties have regional birth rates that do not exceed the annual number of deaths in the area.
Similarly, the Wall Street Journal notes, more than half of all population growth in states like Florida, Ohio, Virginia, Kansas, and Michigan, among others, is because of immigration.
Though pundits have claimed that the country's admittance of 1.2 million legal immigrants a year is necessary to increase birth rates, researchers have found that the growth of the immigrant population has little impact on birth rates.
Center for Immigration Studies Director of Research Steven Camarota discovered in his latest study this year that "immigrant fertility has only a small impact on the nation's overall birth rate," citing that immigrants in the U.S. raise the nation's birth rate for all women by two births per 1,000 women.
"Immigration has a minor impact because the difference between immigrant and native fertility is too small to significantly change the nation's overall birth rate," Camarota noted in the study.
At current legal immigration levels, the U.S. population is set to hit an unprecedented 404 million residents by 2060 — including a foreign-born population of 69 million.
The U.S. does not have to rapidly increase its total resident population and foreign-born population, as legal immigration moratoriums have been implemented in the past to give time for new arrivals to properly assimilate to American life. Halting all immigration to the country would stabilize the population to a comfortable 329 million residents in the next four decades.
John Binder is a reporter for Breitbart News. Follow him on Twitter at @JxhnBinder.