Joe Biden: If I'm Elected President, 'We're Going to Cure Cancer'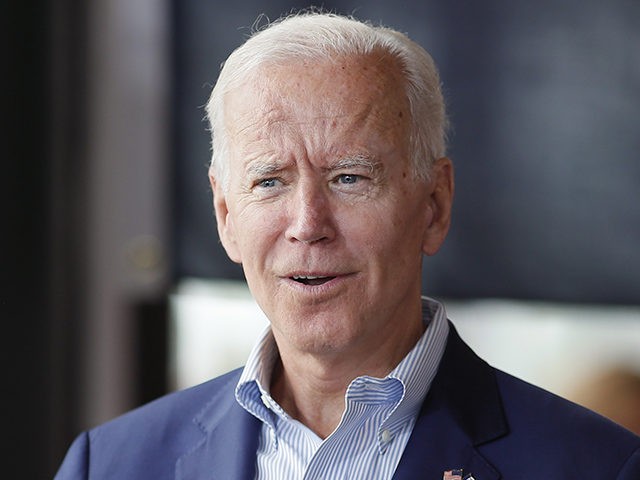 Former Vice President J

oe Biden made a campaign promise to "cure" cancer if elected president in 2020 during an event in the state of Iowa on Monday afternoon.

"I've worked so hard in my career, that I promise you, if I'm elected president you're gonna see the single most important thing that changes America, we're gonna cure cancer," Biden told supporters in Ottumwa.

Biden has made eradicating the deadly disease a primary focus since his son, Beau Biden, lost his fight in 2015 with Glioblastoma, an aggressive form of brain cancer. While vice president, he oversaw the Obama administration's "Cancer Moonshot" — an initiative aimed at achieving a "decade's worth of advances in cancer prevention, diagnosis, and treatment, in five years."

After leaving the White House, Biden oversaw the Biden Cancer Initiative with a mission to "develop and drive implementation of solutions to accelerate progress in cancer prevention, detection, diagnosis, research, and care, and to reduce disparities in cancer outcomes."

He is no longer a part of the initiative since running for president.




THE MANY FACES AND CROOKED DEALS OF JOE BIDEN:




"Along with Obama, Biden, Pelosi and Schumer are responsible for incalculable damage done to this country over the eight years of that administration." PATRICIA McCARTHY
Best-selling author Peter Schweizer explains the foreign influence peddling scandal engulfing Joe Biden's 2020 presidential campaign in a new video series produced by the nonpartisan Government Accountability Institute (GAI).
Joe Biden once spoke about jailing employers who hire "illegals," said sanctuary cities shouldn't be allowed to violate federal law, and argued a fence was needed stop "tons" of drugs coming into the country from "corrupt Mexico." JACK HELLNER
"I'm proud of my record," Biden told
local media
in Iowa.
Despite declaring himself a defender of American union workers, Biden's first fundraiser for his 2020 presidential primary campaign was hosted by a slew of wealthy donors, including attorney Steve Cozen, whose law firm specializes in helping corporations bust up labor unions, as Breitbart News's Matt Boyle
reported
. JOHN BINDER
14,500 American workers displaced in Wisconsin

43,600 American workers displaced in Michigan

2,600 American workers displaced in West Virginia

26,300 American workers displaced in Pennsylvania

34,900 American workers displaced in Ohio

34,300 American workers displaced in New York

6,500 American workers displaced in Iowa

24,400 American workers displaced in Indiana

34,700 American workers displaced in Illinois
VIDEO: Money Trail from Foreign Oligarchs to Hunter Biden Bank Accounts Exposed
Best-selling author Peter Schweizer explains the foreign influence peddling scandal engulfing Joe Biden's 2020 presidential campaign in a new video series produced by the nonpartisan Government Accountability Institute (GAI).
Schweizer, who is the president of GAI, explains in the video the key findings from his 2018 bestselling book
Secret Empires
regarding the
financial deals
Hunter Biden's private equity firm secured in Ukraine and China while his father, former Vice President Joe Biden, was negotiating U.S. foreign policy with those countries.
"New documents shed light on just how much money [foreign] oligarchs were sending to the Biden family while he was vice president," Schweizer states in the video. "We have a glimpse of this not because the Biden family has disclosed it, but because documents that came out in a court case offer access to financial records involving Hunter Biden."
"By looking at just this one account, we know what was flowing into the account and what was flowing out while Joe Biden was vice president," he continued.
"Flowing in over an eighteen month period was $3.1 million from the Ukrainians. There was $142,000 that showed up from a Kazakh oligarch, and then there was a mysterious $1.2 million from a limited liability company that nobody seems to know where it exists [and] that funneled the money to a small Swiss bank that has been implicated in international money laundering," Schweizer said.
"Flowing out of the account is hundreds of thousands of dollars into the personal banking accounts of Hunter Biden himself. $142,000 to a luxury auto dealership. Another $182,000 to a luxury watch company. This is all just from one account," he stated.
Rebecca Mansour is Senior Editor-at-Large for Breitbart News and the host of Breitbart News Tonight on SiriusXM Patriot channel 125, which broadcasts live weeknights from 9:00 p.m. to midnight Eastern (6-9:00 p.m. Pacific). Follow her on Twitter at
@RAMansour
.
Democrats Block Emergency Funding for Border Crisis
Democratic Senator Pat Leahy bluntly told GOP Senators that Democrats are blocking $4.5 billion needed to manage the Central American migration emergency until Republicans submit to their pro-migration demands.
"We're willing to put [up] the money," the Vermont Senator said at the June 11 hearing at the Senate's judiciary committee. But, he added:
Now whether a supplemental gets done is up to the administration. If they continue to block bipartisan legislation, nothing happens. I hope the Republicans will finally realize we have to do this, Republicans and Democrats, together … We want long term solutions.
The May 1 funding request sought $3.3 billion to process and temporarily house many thousands of so-called "Unaccompanied Alien Children," plus $2.2 billion for border agencies to register, shelter, and transport the huge flow of migrants as they walk through the catch-and-release loopholes at the border.
"The border is at its breaking point — we need funds," said Kevin McAleenan, the acting secretary of the Department of Homeland Security.
GOP Senators are expected to push for Senate passage of the legislation mid-June. But the package still needs approval from at least seven Democratic Senators, plus the House's Democratic leadership.
The legislators at the hearing did not debate the gains from President Donald Trump's diplomatic deal with Mexico. His deal promises to end the migration by preventing migrants from getting U.S. jobs to pay their smuggling debts.
In contrast, the political priorities set by Democrats would likely accelerate the movement of Central American populations into blue-collar Americans' workplaces, schools, and neighborhoods. The huge inflow — perhaps one million people in the 12 months up to October — provides an economic stimulus to cities run by Democratic mayors and to companies run by Democratic donors.
One of the Democrats' priorities is taxpayer funding to hire lawyers for the illegal immigrants in the United States who hire coyotes to accompany their children up to U.S. border agencies.
A 2008 law requires the government agencies to complete these coyotes' contracts by relaying the "Unaccompanied Alien Children" from the coyotes at the border up to the shelters run by the Department of Health and Human Services. Once at the HHS shelters, the children and youths are next relayed to so-called "sponsors." Many of the sponsors are the illegal-immigrant parents who hired the coyotes to accompany their UACs to the U.S. border.
"Most children are being released to parents, but parents are here unlawfully," McAleenan noted, adding that he wants legal authority for his agencies to share information about the identity of the parent "sponsors."
The requirement that taxpayer-funded lawyers be provided to the UAC migrants is included in a bill introduced June 5 by California Sen. Dianne Feinstein. "T

his bill includes a key component of [Democrat] Sen. [Mazie] Hirono's bill, which provides counsel for unaccompanied children," Feinstein told the hearing.
The Central American families are fleeing "
violence, abuse, and poverty," she claimed, despite many statements from many migrants that they are hoping to get low-wage U.S. jobs, send their children to American schools, and get healthcare treatments.
Hirono argued that taxpayers should also provide more funding to Central America. "W
e do need to get to the root cause … This is a long term kind of commitment on our part … W
e're not doing enough to get to the root cause."
Leahy argued that Democrats are willing to provide funding to help the Central American migrants gain "refuge" in the United States.
We support ensuring that [the department of Health and Human Service] can care for unaccompanied minors. We support ensuring that [U.S. Customs and Border Protection agency] can safely process migrants who are seeking refuge. We just want basic standards of humanitarian care.
Democrats downplayed the economic incentives for migrants to walk through the establishment's catch-and-release loopholes into the United States, and they sought to blame the migration on President Donald Trump's pro-American policies.
Trump's policies "are a certifiable failure," said Illinois Democrat Sen. Richard Durbin, who has strongly opposed Trump's proposed reforms in 2017, 2018 and 2019.
"W
e have learned that we cannot count on this admin to work on rational immigration policy," said Durbin, who has pushed for multiple amnesties, and was a participant in the disastrous 2013 "Gang of Eight" amnesty and cheap-labor bill.
Democrats, including Durbin and Sen. Amy Klobuchar, argued that the migration problem would have been solved by the 2013 Gang of Eight bill.
The bill added tens of billions in extra funding for the border agencies. But it did not close the catch-and-release loopholes and it invited so many millions of foreign workers into the labor market that it would have shifted more of the nation's annual new income from employees to the Wall Street investors.
"The rate of return on capital would be higher [than on labor] under the legislation than under current law throughout the next two decades," said a June 2013 report by the Congressional Budget Office, titled "The Economic Impact of S. 744."
Republicans pushed back against the Democrats' opposition to border funding and border reforms.
"We've seen no willingness on the part of our Democratic colleagues to meet us halfway," said Texas Sen. John Cornyn. The migration "
is just getting worse and worse as Congress sits on its hands" instead of passing legal reforms to block the loopholes. Legislators "
have been AWOL, and that is shameful."
"They need to step up because even The New York Times said 'Give Trump the money,"' GOP Leader Sen. Mitch McConnell told a Tuesday press conference.
Each year, roughly four million young Americans join the workforce after graduating from high school or university.
But the federal government then imports about 1.1 million legal immigrants and refreshes a resident population of roughly 1.5 million white-collar visa workers — including approximately one million H-1B workers — and approximately 500,000 blue-collar visa workers.
The government also prints out more than one million work permits for foreigners, tolerates about eight million illegal workers, and does not punish companies for employing the hundreds of thousands of illegal migrants who sneak across the border or overstay their legal visas each year.
This policy of inflating the labor supply boosts economic growth for investors because it ensures that employers do not have to compete for American workers by offering higher wages and better working conditions.
This policy of flooding the market with cheap, foreign, white-collar graduates and blue-collar labor also shifts enormous wealth from young employees towards older investors, even as it also widens wealth gaps, reduces high-tech investment, increases state and local tax burdens, and hurts children's schools and college educations. It also pushes Americans away from high-tech careers and sidelines millions of marginalized Americans, including many who are now struggling with fentanyl addictions. The labor policy also moves business investment and wealth from the heartland to the coastal cities, explodes rents and housing costs, shrivels real estate values in the Midwest, and rewards investors for creating low-tech, labor-intensive workplaces.
How did this state, once the envy of all others, become the pathetic, indebted loser state it is today?
The answer is simple, single-party Democratic rule.
PATRICIA McCARTHY
Biden, Trump duel for blue collar votes in Iowa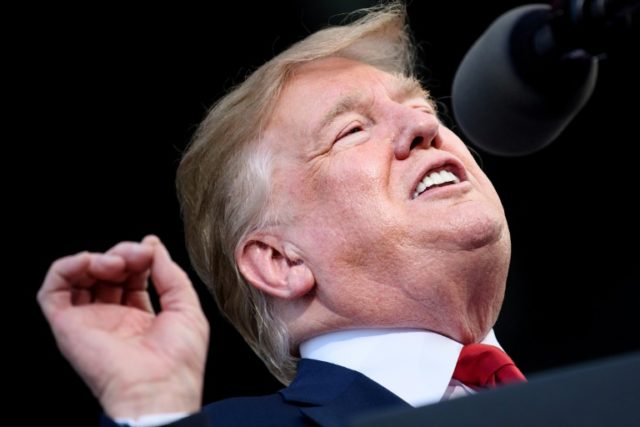 Washington (AFP) – Donald Trump and his leading Democratic challenger Joe Biden were to deliver dueling speeches Tuesday across the important 2020 battleground state of Iowa in a foretaste of what promises to be a bad tempered and volatile presidential election.
Biden, 76, called his presence in the midwestern state on the same day as Trump, 72, a coincidence.
But his speech will aim at the core of the Republican president's narrative, branding Trump "an existential threat to America."
Far from championing American blue collar workers and farmers, as he repeatedly claims, Trump has made them "pawns" in tariff wars with countries ranging from rival China to close trading ally Mexico, Biden is due to say.
"He thinks he's being tough. Well, it's easy to be tough when someone else is feeling the pain," Biden says of Trump, according to the advance text of the speech he will deliver during an intense tour of the state.
Biden, who spent decades in Congress and served as vice president under Barack Obama, describes Trump as an out-of-touch "rich guy."
"Trump may think Wall Street and the super rich built this country. I don't. I think this country was built by you, by the working people of this nation, by America's great middle class," Biden says in the text of the speech.
A real estate developer who has always burnished his image as a high-living tycoon, Trump relies heavily on blue collar voters buying into his nationalist slogan of "America First."
In his trip to Iowa, the president will visit an ethanol plant to tout his backing for the biofuel, supplied by Iowa's politically important farmers. Later, he will address a Republican party dinner.
Somewhere along the trail, he will almost certainly lay into the man he likes to insult as "creepy" and "sleepy Joe."
According to Trump, Biden and the nearly two dozen other Democrats vying for their party's nomination to seek the presidency next year, are the ones out of touch with left-leaning economic and social policies.
And far from regretting his bruising trade war strategy, the president is on something of a high after Mexico said it was agreeing to his demand for more action against migrants flocking to the United States in order to avoid threatened tariffs.
Calling himself "very happy" with the deal, Trump tweeted Tuesday that his far bigger tariffs war with China would be equally successful.
"China is similar, except they devalue currency and subsidize companies to lessen effect of 25% Tariff. So far, little effect to consumer. Companies will relocate to U.S.," he tweeted.
Trump officially kicks off his reelection campaign next week at a Florida rally.
In reality, he has never stopped campaigning since he entered the White House after a shock win over the widely predicted winner of the 2016 race, Hillary Clinton.
Backed by the incumbency and a booming economy, Trump should be a heavy favorite in 2020. But his presidency has so polarized the country and energized opponents that previous electoral patterns could be upended.
Biden, meanwhile, holds a strong lead in the Democratic nomination contest, but that is partly due to overwhelming name recognition — an advantage that will steadily erode.
He is also struggling to maintain his centrist platform when the most active section of the Democratic Party veers strongly to the left, boosting the likes of Elizabeth Warren and Bernie Sanders.
An issue facing both Trump and Biden is their age. Trump revels in boasting about his energy.
"I am a young, vibrant man," he said in April, baiting the slightly older Biden.
But Democratic candidates in their 40s and 50s — and even 37-year-old Pete Buttigieg — could yet seize the momentum and make their youth an issue in a country where many Democrats yearn for radical change.