Pete Buttigieg: America Under Donald Trump More Like Russia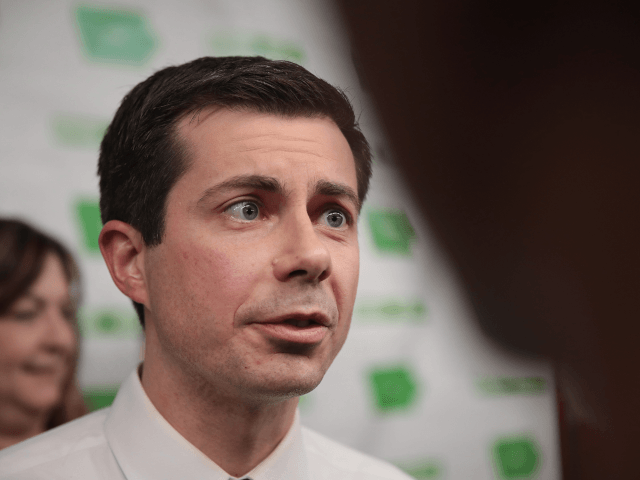 South Bend Mayor Pete Buttigieg criticized President Donald Trump on Tuesday for turning the United States into a country that looked more like Russia.
"Russia nationalism, xenophobia, homophobia, and repression of the press are both highly disturbing in that country and disturbingly ascendent in our own country," Buttigieg warned.
The South Bend mayor delivered a foreign policy speech at the Indiana University Auditorium in Bloomington. His address was sharply critical of Trump and fit a sober, academic, sophisticated approach to the future that would revert back to Obama-era diplomatic efforts.
He accused Trump of acting "impulsively, erratically, emotionally" in foreign affairs, and said it was "often delivered by early-morning Tweet."
Buttigieg also alleged that rising white nationalism was more dangerous than radical Islamic terrorism.
"In the past decade, more Americans have been killed in America by right-wing extremists than by those inspired by Al Qaeda and ISIS," he said. "We need to acknowledge this threat too, and redirect appropriate resources to combat right-wing extremism and violent white nationalism."
Buttigieg then ridiculed Trump for his efforts to secure peace with North Korea, by communicating with dictator Kim Jong-un.
"You will not see me exchanging love letters on White House letterhead with a brutal dictator who starves and murders his own people," he said.
Buttigieg also recommitted his support for the Iran Nuclear deal with a joke about Trump's branding.
"This was perhaps as close to a true 'art of the deal' as it gets," he said, referring to the Iran nuclear deal.
He also criticized Trump for diminishing America's moral standards, making it harder for America to stand for human rights in the world.
It's hard to condemn crackdowns on a free president when our own president calls our own news media the enemy of the people," he said. "It's hard to stand for human rights abroad when we're turning away asylum seekers at our own borders.
But Buttigieg also had criticism for Congress, urging them to "repeal and replace" the "blank check" authorization allowing the president to launch wars in various theaters overseas.
He criticized Israel for persecuting Palestinians and said it was not anti-Semitic to oppose the current "right wing" government.
Buttigieg also asserted that climate change was among the biggest threats facing the United States.
"Climate disruption is here … it is a clear and present threat," he warned, before vowing to create a new international effort for "climate diplomacy" to save the planet from global warming.
"Rejoining Paris is just the beginning," he said.
Pete Buttigieg Gave Special IDs to Illegal Immigrants in South Bend
Mayor Pete Buttigieg created a way for illegal immigrants to get a special identification card in South Bend, Indiana.
Pete Buttigieg: 'Unknowable' When Human Life Begins
Mayor Pete Buttigieg claimed Thursday that it was unknowable when human life begins, making the issue of abortion too complicated to regulate.

Pete Buttigieg Unveils 2020 Agenda: Amnesty, Legal Pot, and Abortion
Mayor Pete Buttigieg released a series of policy proposals on his website after campaigning on vague campaign themes so far in his 2020 presidential race.
Exclusive–Steve Camarota: Every Illegal Alien Costs Americans $70K Over Their Lifetime
JOHN BINDER
Every illegal alien, over the course of their lifetime, costs American taxpayers about $70,000, Center for Immigration Studies Director of Research Steve Camarota says.
DACA Amnesty Would Render Border Wall Useless, Cost Americans $26B
A deal in which President Trump accepts an amnesty for millions of illegal aliens enrolled and eligible for President Obama's Deferred Action for Childhood Arrivals (DACA) program in exchange for minor border wall funding would be counterproductive to the "America First" goals of the administration, depressing U.S. wages in the process ahead of the 2020 election.
Census Confirms: 63 Percent of 'Non-Citizens' on Welfare, 4.6 Million Households
By Paul Bedard

"Concern over immigrant welfare use is justified, as households headed by non-citizens use means-tested welfare at high rates. Non-citizens in the data include illegal immigrants, long-term temporary visitors like guest workers, and permanent residents who have not naturalized. While barriers to welfare use exist for these groups, it has not prevented them from making extensive use of the welfare system, often receiving benefits on behalf of U.S.-born children," added the Washington-based immigration think tank.

The numbers are huge. The report said that there are 4,684,784 million non-citizen households receiving welfare.
. . .
Their key findings in the analysis:

* In 2014, 63 percent of households headed by a non-citizen reported that they used at least one welfare program, compared to 35 percent of native-headed households.

*Compared to native households, non-citizen households have much higher use of food programs (45 percent vs. 21 percent for natives) and Medicaid (50 percent vs. 23 percent for natives).

https://www.washingtonexaminer.com/washington-secrets/census-confirms-63-percent-of-non-citizens-on-welfare-4-6-million-households
Let's Shrink Illegal Alien Population, Save Billions at Same Time
Reducing the inflow of illegals, such as by building a wall; and

Mandating the departure of others through deportation.
Retirement benefits at the age of 61, instead of the usual 62;

A 10 percent bonus on the Social Security benefit while the beneficiary is abroad;

Free one-way plane tickets for the principal and the dependents; and

Checks totaling $5,000, half on arrival in the home country, and the other half a year later, but only paid in person, at a U.S. consulate or embassy.
Study: More than 7-in-10 California Immigrant
Welfare
More than 7-in-10 households headed by immigrants in the state of California are on taxpayer-funded welfare, a
new study
reveals.
NON-CITIZEN HOUSEHOLDS
ALMOST
TWICE
AS
LIKELY
TO BE ON
WELFARE
Majority of Non-Citizen Households in US Access Welfare Programs, Report Finds
It Pays to be Illegal in California
Majority of Non-Citizen Households in US Access Welfare Programs, Report Finds
Extra immigration will fund the oversized government in the Indiana city of South Bend, Mayor Pete Buttigieg claimed during a campaign stop with pro-immigration Asian and Latino advocates in Des Moines, Iowa.
South Bend Indiana Mayor Pete Buttigieg campaigned on Wednesday for more illegal immigrants in the United States with deferred deportation to come to his city.
Washington, D.C. (April 17, 2019) -
A new report from the Center for Immigration Studies finds no empirical evidence of a "labor shortage" whereby employers need immigration to fill jobs because they are unable to find American workers.
Jason Richwine, an independent policy analyst and the author of the report, said, "When employers tell us that they cannot find workers, what they really mean is that they cannot find workers willing to work for the low wage they'd like to pay. The percentage of working-age Americans not in the labor force remains significantly below the level from the year 2000, and employers should try to bring those Americans back first before they look to immigration."
Key findings in the report:
Shortages should not occur in a free market

Tight labor markets benefit marginalized groups

Wages have been stagnant over the long term

Labor force participation is down over the long term

Domestic industries should hire Americans

Natives participate in all major occupations

Plenty of STEM workers are available

Gains to the economy are not the same as gains to natives

Immigration is not an efficient solution to population aging
Immigration is fundamentally about trade-offs. Unfortunately, advocates have seized on the idea of a "labor shortage" in order to deny those trade-offs, arguing instead that immigration is necessary to fill jobs that cannot be filled by natives. Neither economic theory nor empirical evidence supports the notion of a "labor shortage". It's time to retire this talking point.
Feds: 12M Americans Remain Sidelined, Out of the Workforce
More than 12 million Americans have remain sidelined from the U.S. workforce despite their wanting full-time employment, federal data suggests.
Last month, there were more than 12 million Americans who were either unemployed, forced to work part-time jobs, out of the workforce but wanted jobs, or who were unemployed because they were discouraged by their job prospects.
Overall, about 6.2 million Americans were unemployed, about 13 percent of whom were teenagers and 6.7 percent of whom were black Americans. The unemployment rate for black Americans is more than double the unemployment rate of Asian Americans.
Additionally, about 4.5 million Americans are working part-time jobs despite wanting full-time jobs. These are mostly poor, working and lower-middle class Americans who say the job market has kept them in part-time work though they prefer being a full-time employee.
There are also about 1.4 million Americans who are entirely out of the workforce and thus not counted in the unemployment rate. These are working-age residents who have looked for a job over the last 12 months. Among those out of the workforce are 412,000 Americans who are discouraged by the job market and say they do not believe there are any jobs for them in the current economy.
While millions remain on the sidelines of the workforce, Democrats, some Republicans, and the big business lobby have suggested the U.S. bring more foreign workers to take blue collar and many white collar American jobs. Already, about 1.5 million illegal and legal immigrants are admitted to the country every year, at the detriment of U.S. wages.
Every one percent increase in the immigrant composition of American workers' occupations reduces their weekly wages by about 0.5 percent, researcher Steven Camarotta has found. This means the average native-born American worker today has his weekly wages reduced by perhaps 8.5 percent because of current legal immigration levels.
In a state like Florida, where immigrants make up about 25.4 percent of the labor force, American workers have their weekly wages reduced by about 12.5 percent. In California, where immigrants make up 34 percent of the labor force, American workers' weekly wages are reduced by potentially 17 percent.
Likewise, every one percent increase in the immigrant composition of low-skilled U.S. occupations reduces wages by about 0.8 percent. Should 15 percent of low-skilled jobs be held by foreign-born workers, it would reduce the wages of native-born American workers by perhaps 12 percent.
Senators Tom Cotton (R-AR), David Perdue (R-GA), and Josh Hawley (R-MO), on the other hand, have
reintroduced the RAISE Act
which would reduce legal immigration levels to about 500,000 admissions a year and end the process known as "chain migration," where newly naturalized citizens are able to bring an unlimited number of foreign relatives to the U.S.
The plan would immediately tighten the labor market, advocates say, and thus boost wages and open job opportunities for America's working and middle class that have struggled to re-enter the workforce.
The Washington, DC-
imposed
mass legal immigration policy is a boon to corporate executives, Wall Street, big business, and multinational conglomerates, as America's working and middle class have their
wealth redistributed
to the country's top earners through wage stagnation and increased public costs.
John Binder is a reporter for Breitbart News. Follow him on Twitter at
@JxhnBinder
.
Study: Nearly 1M Migrant Children Could Enter U.S. Before 2020 Election
Nearly one million migrant children could enter the United States, either unaccompanied or with their border crossing parents, before the 2020 election if projected rates of illegal immigration pan out, new research finds.