MSNBC's Jason Johnson: Biden Trying to Win Nom with 'Obama Mask'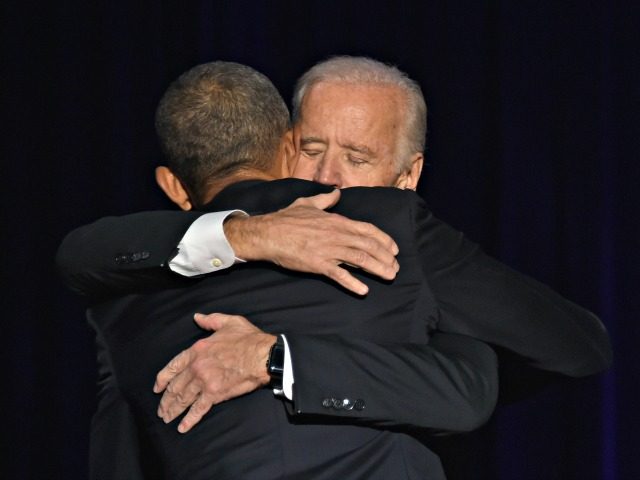 MSNBC pundit Jason Johnson said this week that former Vice President Joe Biden cannot win the nomination by just putting on "this Obama mask" and think that will be enough to win party's critical black voters.
The Root's political editor noticed that Biden did not attend last weekend's Essence Fest—"one of the largest collections of African-American women of all classes, levels, and education sizes"—and argued that he cannot take the black vote for granted.
"He can't put on this Obama mask and think that that's going to allow him to skirt through," Johnson said, pointing out that African-American women represent the party's "backbone," especially when it comes to "turnout, interest, passion."
Biden apologized for praising segregationist senators over weekend but reporters badgered him about whether his constant name-checking of former President Barack Obama is a "sign of weakness" and an indication that Biden can't stand on his own feet.
Biden simply replied: "I say let's talk about the future instead of talking about the past."
AMERICA: THE RICH GET MUCH RICHER AND THE MIDDLE CLASS GETS BLUDGEONED…. Illegals get the jobs!
*
*
"Today's society benefits those who shaped it, and it has been shaped not by working men and women, but by the new aristocratic elite
.
Big banks, big tech, big multi-national corporations, along with their allies in the academy and the media—these are the aristocrats of our age
. They live in the United States, but
they consider themselves citizens of the world"
Sen. Josh Hawley
*
*
"But what the Clintons do is criminal because they do it wholly at the expense of the American people. And they feel thoroughly entitled to do it: gain power, use it to enrich themselves and their friends. They are amoral, immoral, and venal. Hillary has no core beliefs beyond power and money. That should be clear to every person on the planet by now." ---- Patricia McCarthy - AMERICANTHINKER.com
*
"The tax overhaul would mean an unprecedented windfall for the super-rich, on top
of the fact that virtually all income gains during the period of the supposed recovery from the financial crash of 2008 have gone to the top 1 percent income bracket."
*
*
Millionaires projected to own 46 percent of global private wealth by 2019
While the wealth of the rich is growing at a breakneck pace, there is a stratification of growth within the super wealthy, skewed towards the very top.
By Gabriel Black
*
Despite a booming economy, many U.S. households are still just holding on
"One of the premier institutions of big business, JP Morgan Chase, issued an internal report on the eve of the 10th anniversary of the 2008 crash, which warned that another "great liquidity crisis" was possible, and that a government bailout on the scale of that effected by Bush and Obama will produce social unrest, "in light of the potential impact of central bank actions in driving inequality between asset owners and labor."
OBAMA: SERVANT OF THE 1%
Richest one percent controls nearly half of global wealth
The declining living standards of the working class are feeding directly into the retail apocalypse and mass layoffs of retail workers will only exacerbate the issue. Workers' wages have seen little to no growth in the last four decades, and any economic growth experienced since 2008 has gone to the wealthiest of the wealthy.
Wealth concentration increases in US.
*
*
Pollak: Everything Joe Biden Said About Donald Trump's Foreign Policy Actually Describes Barack Obama's
Everything former vice president Joe Biden said about President Donald Trump's foreign policy speech on Thursday actually applies to the policy that Biden carried out together with former President Barack Obama — and not Trump.