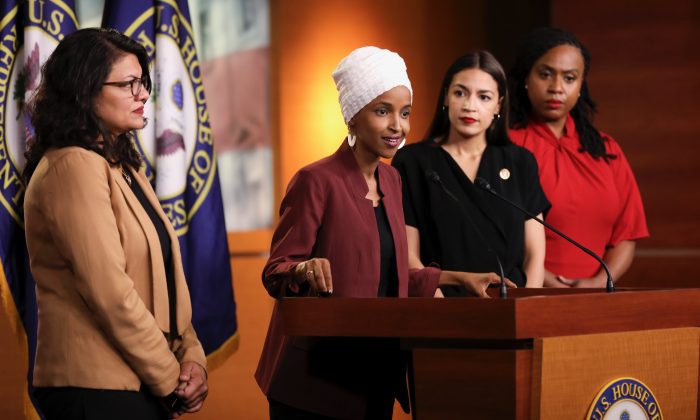 Top White House Advisor: 'Squad' Wants America to be a 'Socialist, Open Borders Country'
July 22, 2019
Updated: July 22, 2019
A top advisor to President Donald
Trump
said that the four radical freshman lawmakers known as the Squad "detest America as it exists."
"These four congresswomen detest America as it exists, as it is currently constructed. They want to tear down the structure of our country. They want it to be a socialist, open borders country,"
Stephen Miller
, the advisor, said during an appearance
on Fox News
on July 21.
Miller was referring to Reps. Alexandria Ocasio-Cortez (D-N.Y.), Ayanna Pressley (D-Mass.), Ilhan Omar (D-Minn.), and Rashida Tlaib (D-Mich.).
"If you, as Donald Trump says, want to destroy America with open borders, you cannot say you love your country. If you attack border agents the way that Ocasio-Cortez has, it means you have a deep-seated hatred of the nation as it exists," Miller added.
"That's why you want to erase its borders, fundamentally transform the country and in the process, it doesn't matter if American citizens lose their jobs, lose their homes, lose their livelihoods, lose their health coverage and lose their very lives."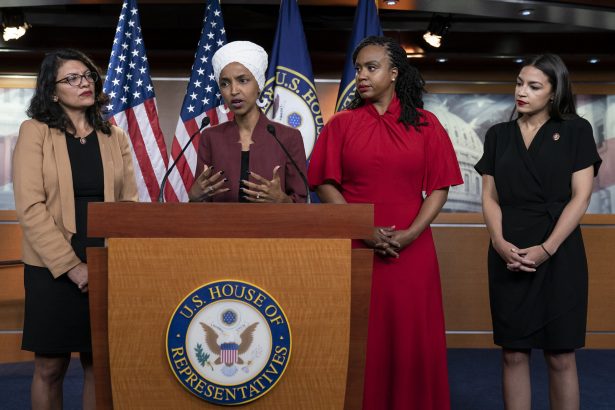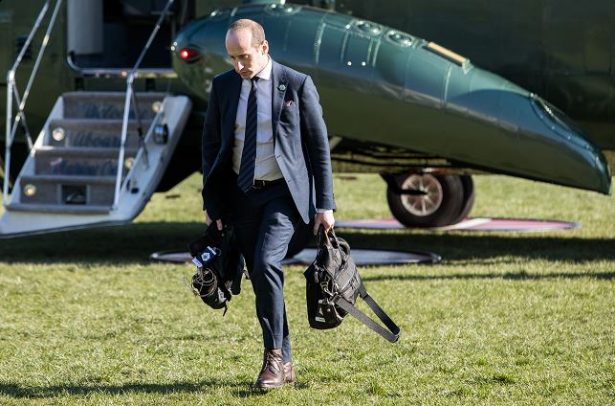 Host Chris Wallace asked Miller about Trump telling the congresswomen to leave the country if they don't like it before noting that Trump himself in the past criticized America while Barack Obama was president.
"Anybody who's running for office, right, left, or center, always points out where they think America can do better, where they think America needs to go," Miller responded.
"But there's a fundamental distinction between people who think that we need to lean into and strengthen America's core values, whether it'd be our constitutional values, the rule of law, the principles of Western Civilization, or people who think it would basically need to turn America into Venezuela."
"Let's get specific about it. You saw the quotes from Representative Omar saying some people did something at 9/11. And yes, if you watch it in context, its worse. You saw the quotes from Representative Omar talking about how, oh, well,
we talk about al-Qaeda
in menacing tone—and by the way, she's giggling throughout this interview, but we don't talk about the Army in a menacing tone. And, yes, if you watch it in context, which I have, it's even worse," Miller said.
"And perhaps the most shocking of all, with the comments made by Representative Ocasio-Cortez saying that our border agents are running concentration camps, and therefore they are Nazis, and therefore, everyone in that audience and you and me and everyone who supports our border patrol are by extension Nazis sympathizers. We support Nazis if we support border agents."
"As a Jew, as an American Jew, I am profoundly outraged by the comments from Ocasio-Cortez. It is a historical smear. It is a sinful comment. It minimizes the death of 6 million of my Jewish brothers and sisters. It minimizes their suffering and it paints every patriotic law enforcement officer as a war criminal, and those are the comments, Chris, that we need to be focusing on," Miller added.
We are now in the process of destabilizing our own country. FROSTY WOOLDRIGE
Welfare for Refugees Cost Americans $123 Billion in 10 Years ….
YOUR TAX DOLLARS AT WORK!
"Mexican president candidate Andrés Manuel López Obrador called for mass immigration to the United States, declaring it a "human right". We will defend all the (Mexican) invaders in the American," Obrador said, adding that immigrants "must leave their towns and find a life, job, welfare, and free medical in the United States."
"Fox's Tucker Carlson noted Thursday that Obrador has previously proposed ranting AMNESTY TO MEXICAN DRUG CARTELS. "America is now Mexico's social safety net, and that's a very good deal for the Mexican ruling class," Carlson added."
AMNESTY: THE HOAX TO KEEP WAGES FOR LEGALS DEPRESSED!
"Critics argue that giving amnesty to 12 to 30 million illegal aliens in the U.S. would have an immediate negative impact on America's working and middle class — specifically black Americans and the white working class — who would be in direct competition for blue-collar jobs with the largely low-skilled illegal alien population." JOHN BINDER
"Washington, D.C. (May 22, 2018)
– The Center of Immigration Studies analysis of new Bureau of Labor Statistics data for the first quarter of 2018 shows that the labor force participation rate has not returned to pre-2007 recession levels, and relative to 2000 the rate looks even worse. Things are particularly bad for those without a college education. The problem is not confined to one area of the country; in virtually every state, labor force participation is lower in 2018 than in 2007 or 2000 among the less-educated."
Exclusive–Steve Camarota: Every Illegal Alien Costs Americans $70K Over Their Lifetime
JOHN BINDER
DACA Amnesty Would Render Border Wall Useless, Cost Americans $26B
A deal in which President Trump accepts an amnesty for millions of illegal aliens enrolled and eligible for President Obama's Deferred Action for Childhood Arrivals (DACA) program in exchange for minor border wall funding would be counterproductive to the "America First" goals of the administration, depressing U.S. wages in the process ahead of the 2020 election.
Census Confirms: 63 Percent of 'Non-Citizens' on Welfare, 4.6 Million Households
By Paul Bedard

"Concern over immigrant welfare use is justified, as households headed by non-citizens use means-tested welfare at high rates. Non-citizens in the data include illegal immigrants, long-term temporary visitors like guest workers, and permanent residents who have not naturalized. While barriers to welfare use exist for these groups, it has not prevented them from making extensive use of the welfare system, often receiving benefits on behalf of U.S.-born children," added the Washington-based immigration think tank.

The numbers are huge. The report said that there are 4,684,784 million non-citizen households receiving welfare.
. . .
Their key findings in the analysis:

* In 2014, 63 percent of households headed by a non-citizen reported that they used at least one welfare program, compared to 35 percent of native-headed households.

*Compared to native households, non-citizen households have much higher use of food programs (45 percent vs. 21 percent for natives) and Medicaid (50 percent vs. 23 percent for natives).



https://www.washingtonexaminer.com/washington-secrets/census-confirms-63-percent-of-non-citizens-on-welfare-4-6-million-households
Let's Shrink Illegal Alien Population, Save Billions at Same Time
Reducing the inflow of illegals, such as by building a wall; and

Mandating the departure of others through deportation.
Retirement benefits at the age of 61, instead of the usual 62;

A 10 percent bonus on the Social Security benefit while the beneficiary is abroad;

Free one-way plane tickets for the principal and the dependents; and

Checks totaling $5,000, half on arrival in the home country, and the other half a year later, but only paid in person, at a U.S. consulate or embassy.
Study: More than 7-in-10 California Immigrant
Welfare
More than 7-in-10 households headed by immigrants in the state of California are on taxpayer-funded welfare, a
new study
reveals.
NON-CITIZEN HOUSEHOLDS
ALMOST
TWICE
AS
LIKELY
TO BE ON
WELFARE
Majority of Non-Citizen Households in US Access Welfare Programs, Report Finds
It Pays to be Illegal in California
Extra immigration will fund the oversized government in the Indiana city of South Bend, Mayor Pete Buttigieg claimed during a campaign stop with pro-immigration Asian and Latino advocates in Des Moines, Iowa.
Exclusive–Steve Camarota: Every Illegal Alien Costs Americans $70K Over Their Lifetime
JOHN BINDER
Every illegal alien, over the course of their lifetime, costs American taxpayers about $70,000, Center for Immigration Studies Director of Research Steve Camarota says.
63% of Non-Citizen Households Access Welfare Programs
Compared to 35% of native households
Methods
End Notes
Feds 'Actively Working' on Crackdown on Welfare-Dependent Immigration
Federal immigration officials at the United States Citizenship and Immigration Services (USCIS) agency are "actively working" to enforce President Donald Trump's recent crackdown on welfare-dependent legal immigration to the U.S.
Ann Coulter: Surprise! That 'cheap' immigrant labor costs us a lot