PEOPLE, THERE IS A REASON WHY ALL THESE CORRUPT POLITICIANS ARE OUT THERE ENDLESSLY HISPANDERING AND OFFERING THE ILLEGALS WIDER OPEN BORDERS, AMNESTY AND MORE WELFARE..... They already get our jobs!
Keep in mind that citizenship is really no barrier to voting. Some of these people could actually vote in 2020.
Judicial Watch estimates at least 900,000 aliens illegally voted
in the midterm elections.
ILLEGALS VOTING IN MASSIVE NUMBERS IN MEX-OCCUPIED CA
'Eleven of California's 58 counties have registration rates exceeding 100% of the age-eligible citizenry.'
'California has the highest rate of inactive registrations of any state in the country. Los Angeles County has the highest number of inactive registrations of any single county in the country'
''California is going to be a Hispanic state," said Mario Obeldo, former head of MALDEF. "Anyone who does not like it should leave."
(THIS IS DATED. MEXICO NOW HAS INVADED ALL STATES )
The Mexican fascist separatist movement of M.E.Ch.A's goal is even more radical: an independent ''Aztlan,'' the collective name this organization gives to the seven states of the U.S. Southwest – Arizona, California, Colorado, Nevada, New Mexico, Texas and Utah."
The letter notes that the percentage in L.A.
County may be as high as 144%.
MEXICAN NATIONAL CONVICTED OF ILLEGAL VOTING IN USA
False-documented illegal voted in five federal elections from 2012 to 2016.
August 28, 2019
According to the U.S. Attorney, Lerma was born in Mexico in 1955 and in the early 1990s, "acquired and began fraudulently using the identity of a United States citizen named Hiram Velez. Lerma used the Velez identity to unlawfully obtain U.S. passports and to vote in federal elections." The Diplomatic Security Service of the U.S. State Department uncovered the fraud.
Ripping off the identity of the dead, dramatized in The Day of The Jackal, is a crime that predates the computer age. That was well underway in the 1990s, so legitimate citizens might wonder why it took so long to bag Lerma. Once he had stolen the identity of Hiram Velez, the Mexican compounded the crime.
He remarried his Mexican wife in Los Angeles so she and his children could gain legal resident status. Lerma also voted illegally for the past 20 years, including federal elections from 2012 to 2016.
During the trial, Lerma claimed he didn't know where and when he was born because he was found on the streets of San Antonio at the age of five. The Mexican national also claimed he was a supporter of President Trump, and contributed to the Republican party. In media accounts the defendant emerged as an "Avowed Trump Supporter," so the establishment media was willing to accept the Mexican's testimony as truthful. The jury wasn't and found the identity thief guilty on all counts.
The Mexican national faces a mandatory two years in prison for aggravated identity theft, a maximum of 15 years in prison and a $250,000 fine for passport fraud, and a maximum of one year in prison and a $250,000 fine for each count of voting by an alien. The voter-fraud charge is of particular interest in California.
By the reckoning of attorney general Xavier Becerra, once on Hillary Clinton's short list as a running mate, there are more than 10 million "immigrants," government code for illegals, in California. The state DMV "motor voter" program put one million "new" voters on the rolls by 2018.
According to secretary of state Alex Padilla, there were only six "inadvertently registered" for last year's midterms and none was guilty of "fraudulently voting or attempting to vote." After the 2016 election, Padilla refused to release any voter information to a federal voter-fraud probe.
So the number of fraudulent votes, like those of identity thief Gustavo Araujo Lerma, could easily run into the millions. As another federal agency shows, uncovering false documents is not a difficult matter.
In 2017, Mexican nationals calling themselves Hugo Mejia and Rodrigo Nuñez came to work on a hospital at Travis Air Force Base near Fairfield, California. When base security personnel scanned the Mexicans' ID numbers, "the information came back false." Travis officials immediately summoned U.S. Immigration and Customs Enforcement, and both false-documented illegals were taken into custody. In similar style, cross-checking passport applications with birth and death records can now be accomplished swiftly, with good reason.
"Document and benefit fraud poses a severe threat to national security and public safety," ICE explains, "because it creates a vulnerability that may enable terrorists, criminals and illegal aliens to gain entry to and remain in the United States." Gustavo Araujo Lerma demonstrates document fraud and benefit fraud is "the misrepresentation or omission of facts on an application to obtain an immigration benefit one is not entitled to, such as U.S. citizenship, political asylum or a valid visa."
As with Gustavo Araujo, the DOJ needs to confirm how many false-documented illegals are voting in federal, state and local elections. Maybe some illegals are even running for office.
The Mexican Lerma claimed he didn't know where and when he was born. This recalls the claim of former California senate boss Kevin de Leon, whose name on voter rolls is Kevin Alexander Leon, that his father was a Chinese cook born in Guatemala. The mysterious De Leon, who acknowledges that half his family practiced document fraud, failed in his bid to replace U.S. Senator Dianne Feinstein last year.
That makes a case for ironclad candidate identification, as well as voter identification. As Democrats are fond of saying, nobody is above the law.
Meanwhile, on November 26, U.S. District Judge John A. Mendez, an appointee of George H.W. Bush, will pass sentence on convicted identity thief and illegal voter Gustavo Araujo Lerma. Legal immigrants, legal voters, and legitimate citizens across the country have good cause to watch closely.
In 2018, Mendez, ruled against a U.S. Department of Justice request to block Senate Bill 54, California's sanctuary law. Authored by Kevin de Leon, SB 54 is the measure that has made false-documented illegals like Gustavo Araujo Lerma a privileged, protected class in California.
CALIFORNIA DMV GIVES ILLEGAL VOTERS A SURGE
"New" and "underrepresented" voters could spell victory for leftist Democrats in November.
Judicial Watch Warns California: 11 Counties Have More Voters than Voting-Age Citizens
While you were sleeping, Mexico was invading, occupying, looting and voting Democrat for more.
"In 1960, according to a USC demographic study, fewer than 10% of the people in the Los Angeles County area were Latino. By 2008, according to federal census estimates, almost half were Latino. Roughly the same was true in the city of Los Angeles."
''California is going to be a Hispanic state," said Mario Obeldo, former head of MALDEF. "Anyone who does not like it should leave." And MEChA's goal is even more radical: an independent ''Aztlan,'' the collective name this organization gives to the seven states of the U.S. Southwest – Arizona, California, Colorado, Nevada, New Mexico, Texas and Utah."
LA RAZA AGENDA: 3 Examples
Richard Alatorre, Los Angeles City Council "They're afraid we're going to take over the governmental institutions and other institutions. They're right. We will take them over. . We are here to stay."
Mario Obledo, California Coalition of Hispanic Organizations and California State Secretary of Health, Education and Welfare under Jerry Brown, also awarded the Presidential Medal of Freedom by Bill Clinton "California is going to be a Hispanic state. Anyone who doesn't like it should leave."
Jose Pescador Osuna, Mexican Consul General We are practicing "La Reconquista" in California."
Here are a few facts you should consider when you finally look around yourself and see only Mexicans….Mexicans driving, Mexicans in our jobs, Mexicans in our welfare office, Mexicans flooding our healthcare systems, and Mexicans and only Mexicans at all construction sites.
Federal judge rules against Maryland as Judicial Watch wins big to uncover obvious vote fraud potential
Those Democrats who keep telling us that vote fraud is rare and insignificant fight like hell to make sure that the evidence remains buried.
Even when there are obvious danger signs such exist in Montgomery County, Maryland, where there are more registered voters than resident citizens.
You might think that officials would be anxious to find out why that is, and would be eager to clean up their voter rolls. Certainly, any officials that cared about the integrity of the vote would want to ensure that malefactors would not be able to pick-up ballots and vote them (as the practice of "vote harvesting" permits). But for reasons only they can explain, Maryland officials fought in federal court to prevent Judicial Watch from obtaining voter data lists.
Judicial Watch announced today that a federal court has
ordered
the State of Maryland to produce voter list data for Montgomery County, the state's biggest county. The court ruling comes in the Judicial Watch lawsuit filed July 18, 2017, against Montgomery County and the Maryland State Boards of Elections under the National Voter Registration Act of 1993 (
NVRA
).
The lawsuit was filed in the U.S. District Court for the District of Maryland, Baltimore Division (
Judicial Watch vs. Linda H. Lamone, et al.
(No. 1:17-cv-02006)). The decision follows NVRA-related Judicial Watch successes in
California
and
Kentucky
that could lead to removal of up to 1.85 million inactive voters from voter registration lists. The NVRA requires states to take reasonable steps to clean up its voting rolls and to make documents about its voter list maintenance practices available to anyone who asks.
Judicial Watch had sought the Maryland voter list data after discovering that there were more registered voters in Montgomery County than citizens over the age of 18 who could register. U.S. District Court Judge Ellen Lipton Hollander rejected Maryland's objections to providing the voter list information under Section 8(i) of the National Voter Registration Act:
If Judicial Watch had submitted requests for voter registration data, corresponding to the thousands of Montgomery County voters, the State would have been required to produce each record, pursuant to Section 8(i). Instead, Judicial Watch merely submitted a single request for a voter list containing and compiling the same information about the thousands of voters in Montgomery County. Although both scenarios seek the same information, defendants believe that the NVRA would require compliance with only one of them. Rejecting Judicial Watch's request based on semantics would be tantamount to requiring Judicial Watch to make thousands of separate requests. Neither the NVRA, the Court, nor common sense can abide such a purposeless obstruction.
Organizations such as Judicial Watch have the resources and expertise that few individuals can marshal. By excluding these organizations from access to voter registration lists, the State law undermines Section 8(i)'s efficacy. Accordingly, [Maryland election law] is an obstacle to the accomplishment of the NVRA's purposes. It follows that the State law is preempted in so far as it allows only Maryland registered voters to access voter registration lists.
The dispute over the voter registration list arose from an April 11, 2017,
notice letter
sent to Maryland election officials, in which Judicial Watch explained Montgomery County had an impossibly high registration rate. The letter threatened a lawsuit if the problems with Montgomery County's voter rolls were not fixed. The letter also requested access to Montgomery County voter registration lists in order to evaluate the efficacy of any "programs and activities conducted for the purpose of ensuring the accuracy and currency of Maryland's official eligible voter lists during the past 2 years."
Democrat Maryland officials, in response, attacked and smeared Judicial Watch by
suggesting
it was an agent of Russia.
No, Judicial Watch is not an agent of Russia. That is a despicable charge . I donate to JW as often as I can, and I urge those readers with the resources to do so to give them money.
You can donate to Judicial Watch
here
.
Axios: 'Not a Single' Demographic Trend 'Favors Republicans' in Elections
There are currently no nationwide demographic trends that "favor Republicans" in future elections, Axios reports.
The nation's shifting demography —
spurred
primarily from mass legal immigration where more than 1.2 million foreign nationals are added to the U.S. population every year — is set to make it increasingly difficult for Republican candidates to win statewide and national elections, Axios's Jim VandeHei and Mike Allen
note
:
The single biggest threat to Republicans' long-term viability is demographics. [Emphasis added]
The numbers simply do not lie. America, as a whole, and swing states, in particular, are growing more diverse, more quickly. There is no way Republicans can change birth rates or curb this trend — and there's not a single demographic megatrend that favors Republicans. [Emphasis added]
As Breitbart News has
chronicled
, the foreign-born voting population is expected to make up about ten percent of the entire American electorate by the 2020 presidential election — meaning that about one-in-ten voters will have been born outside the U.S.
The country's legal immigration levels, which have
floated
around 800,000 to 1.5 million admissions a year for the last three decades, have increased the Hispanic voting population to an unprecedented level. For the first time in American history, Hispanic Americans will be the largest voting minority in a national election in 2020,
outpacing
black Americans.
Democrats are set to dominate electorally as a benefit from steady, record-high legal immigration levels. Analysis by

The Atlantic

senior editor Ronald Brownstein
revealed
that nearly 90 percent of House congressional districts with a foreign-born population above the national average were won by Democrats.
This means that every congressional district with a foreign-born population exceeding roughly 14 percent had a 90 percent chance of being controlled by Democrats and only a ten percent chance of electing a Republican.
Similarly, less than one-in-ten House Republicans represent a congressional district that has a foreign-born population larger than 14 percent. Entire states, driven by legal immigration, have been transformed electorally, Brownstein's analysis found.
For instance, Republicans hold about 30 Senate seats in the 20 U.S. states with the smallest foreign-born populations. Meanwhile, Democrats control 32 Senate seats in the 20 U.S. states with the largest share of foreign-born residents. Democrats are expected to target those remaining Republican Senate seats in states with large foreign-born populations in the 2020 election.
The
New York Times
and
Axios
admit that legal immigration at its current rate will continue shifting the American electorate more towards Democrat control. University of Maryland, College Park, researcher James Gimpel has
found
in recent years that more immigrants to the U.S. inevitably means more Democrat voters and, thus, increasing electoral victories for the Democrat Party.
The 2016 presidential election between then-candidate Donald Trump and Hillary Clinton underscored this trend.
For example, among native-born Americans, Trump won 49 percent to Clinton's 45 percent, according to exit
polling
data. Among foreign-born residents, Clinton dominated against Trump, garnering 64 percent of the immigrant population's vote compared to Trump's mere 31 percent.
Nearly 80 percent of all legal immigration to the U.S. is through chain migration, where newly naturalized citizens can bring an unlimited number of foreign relatives to the country. In 2017, the foreign-born population
reached
a record high of 44.5 million.
The U.S. is on track to
import
about 15 million new foreign-born voters in the next two decades should current legal immigration levels continue. Those 15 million new foreign-born voters include about eight million who will arrive in the country through chain migration.
John Binder is a reporter for Breitbart News. Follow him on Twitter at
@JxhnBinder
.
HISPANDERERS DESTROYING OUR COUNTRY
YOU WONDERED WHY OBAMA AND LA RAZA PELOSI FOUGHT TOOTH AND NAIL OBSTRUCTING SAFE VOTING BY REQUIRING ILLEGALS TO HAVE VALID (NON-FRAUDULENT) ID's????
nt Majority
Democratic support for illegal-immigrant drivers' licenses runs counter to public opinion.
Last month, New York became the 13th state to
grant drivers' licenses to illegal immigrants
, securing a victory that liberals and open-borders advocates have fought for since Eliot Spitzer was governor. But Democrats should worry about how the debate unfolded in New York: a majority of state voters opposed the bill, including about 40 percent of surveyed Democrats, mainly because the law will confer real benefits on illegal residents, thus rewarding violators of the law. The question of voter fraud—dismissed as a canard by most on the left—raised alarms when Democrats tried to pass a bill that would have automatically registered all drivers to vote (though it required non-citizens affirmatively to opt out of voter registration). After Republican legislators called attention to the potential consequences, the bill was scuttled. As it is, a state driver's license is all that is required for voter registration in New York, so the potential for abuse is there.
In the suburbs, stiff opposition pushed Long Island's Democratic state senators to vote unanimously against the bill. But the legislation overcame these headwinds, a testament to the ascendant Left's
newfound power statewide
, particularly in New York City. Last year, Gotham voters unseated six members of the senate's moderate Independent Democratic Conference, replacing them with more progressive challengers. The stridency of the party's energized urban base was, on this issue, enough to overcome the opposition of the diffuse majority.
Advocates highlighted the modest supposed benefits that licensing illegal-alien drivers would deliver to the state budget and carriers of car insurance, but most voters remained unconvinced—presumably because their concern was less about money and more about the principles at stake. This negative reaction diverged from polls suggesting that Americans nationally have taken a more positive view of immigration since Donald Trump's inauguration. The dissonance between country-wide polling and the conservative sentiment of deep-blue New York suggests that the national numbers on immigration may reflect the president's unpopularity in particular rather than any fondness for illegal aliens—and that, when Trump is removed from the equation, the political middle on immigration remains significantly to the right of today's Democratic Party.
This electoral dynamic is even more pronounced at the national level, where most leading Democrats have followed their activist base to extreme positions.
Presidential candidates Bernie Sanders,
Kirsten Gillibrand, and Elizabeth Warren all endorse the
idea of abolishing ICE, while another competitor for the
Democratic nomination, former HUD Secretary Julian
Castro, has argued for mass amnesty. Castro and
Warren also favor decriminalization of illegal entry into
the United States.
This radical trend is a recent phenomenon. Just a decade ago, the two major contenders for the Democratic nomination—Barack Obama and Hillary Clinton—tacked to the center on immigration. In
The Audacity of Hope
, Obama complained about the people he saw waving Mexican flags at immigration rallies, as well as his struggles communicating with non-English-speaking car mechanics. Clinton, for her part, quickly distanced herself from an earlier version of the drivers' license law when Spitzer advanced it as an executive order.
Unlike New York Democrats, who voted on an unpopular bill, national Democrats believe their leftward shift on immigration mirrors a movement in public opinion. They believe that Trump's immigration rhetoric fueled Americans' sympathy on the issue. But their reasoning is flawed. They cite public opinion polls suggesting that Americans shift their attitudes leftward when conservatives hold power, and reverse their position when liberals are in control. Though polling has captured real dissatisfaction with the president's approach to immigration, it has little to say about what policies voters would support.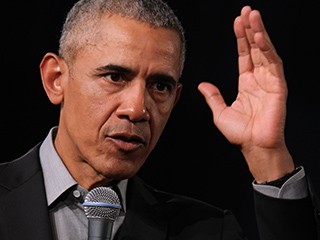 Can the Democratic Party Govern America?
Marxists Work to Reinforce 'The Squad' in 2020
Cori Bush
Albert Lee
Mike Siegel
Eva Putzova
We Ain't Seen Nothing Yet
Nearly 1 Million Californians Registered to Vote Are Ineligible, Says Non-Partisan Group