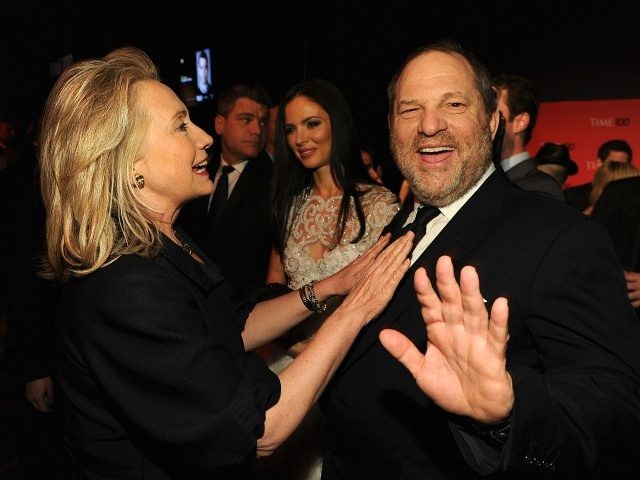 You might not have heard—because Trump is still president, so MSNBC and CNN were required to give hair-on-fire coverage of some mundane action he's taken this week—but on Monday,
Harvey Weinstein
was convicted of rape and a criminal sexual act.
I have some random thoughts on the case and the whole #MeToo movement. Apologies in advance that this has nothing to do with Donald Trump, Dictator.
1) Every time I hear about Weinstein's predations, I wonder how many waitresses, real estate agents and housewives in Los Angeles might be celebrated actresses today, except that when Weinstein barged out of the bathroom stark naked and lunged at them, they fled the room and didn't look back.
Our media are so infantile. Can't we agree that Weinstein is a psychopathic
scumbag
without calling the witnesses against him "heroes"?
The true heroes are the girls whose names we don't know—not the ones who were grossed out by the pig, but had sex with him anyway, then sent him emoji-filled, suck-up emails because they wanted to be "stars."
True, we know there are some, like Gwyneth Paltrow, who turned him down flat, so kudos to her and to Brad Pitt, who
accosted Weinstein
afterward and told him, "If you ever make her feel uncomfortable again,
I'll kill you
."
Not to take away from that magnificent episode, but Paltrow is Hollywood royalty (the daughter of director-producer Bruce Paltrow and actress Blythe Danner), and her boyfriend at the time was an A-list actor. Still: heroes.
But how many actresses—whom we're supposed to envy and read about their skin care regimes and Hollywood Hills homes and how they were ugly ducklings as children (they all say that)—are really no different from the average L.A. waitress, except they were willing to have sex with Harvey Weinstein or some similarly hideous beast?
Definitely keep getting your political opinions from them, America.
Weinstein's talent wasn't in producing movies; it was in staging aggressive campaigns with the Oscars judges.
But let's be generous and say 10 of Weinstein's movies were great.
That's worse than the music industry's practice—pre-iTunes—of selling $20 albums or CDs that had one, maybe two good songs. One good to 12 bad, versus 10 good to 200 bad.
My main takeaway from the Weinstein trial is that I'm so glad there's Amazon Prime and Netflix now, so pushy freaks can't get rich producing schlock that the public hates.
3) There was fleeting coverage of the Weinstein case on Monday immediately after the verdict came in, with a bank of microphones set up outside the courthouse in anticipation of the defense lawyers making a statement.
They're the interesting ones here. Will they appeal? What do they expect from the upcoming trial against Weinstein in Los Angeles? Also, considering who the defendant was, they did pretty well.
News cameras were focused on the empty microphones, as TV anchors chit-chatted with guests, one eye on the courthouse door. On MSNBC, Andrea Mitchell interrupted her guest when she thought she caught a glimpse of defense attorney Donna Rotunno. False alarm!—back to the guest.
Finally, Rotunno emerged, headed toward the microphones—and guess who leapt in front of her and got there first? GUESS!
Gloria Allred, who proceeded to recite a lot of boilerplate about the accusers being "heroes" and speaking "their truth." (She did not say: "We know Weinstein was horrible because he hired my
daughter
to attack his accusers.")
Hilariously, Rotunno just kept walking, while TV viewers everywhere wished a lightning bolt would strike Allred.
4) In light of the plague of white men, it's notable that the majority demographic on the Weinstein jury was this hated group. The jury was composed of two white women, two black women, one black/Hispanic woman; one black man; and seven white men.
Despite Weinstein's repulsiveness, the case was far from a slam-dunk. Luckily, white men have not yet adopted the modern propensity to view the world as an Identity Group cage match. I would wager that it never occurred to a single white man on the jury to think: We can't send a white man to prison!
5) Also relevant to the white male pestilence infecting America: If we'd cut off immigration around 1880, certainly by 1850, there would be hardly any #MeToo cases at all. (I can't think of a single #MeToo perpetrator of founding American stock—i.e., the group that gets blamed for everything.) We need way better assimilation programs.
6) There was one notable exception to the media's refusal to budge off their 24-7 Trump Is an Authoritarian Monster coverage on the day of the Weinstein verdict: the Kobe Bryant memorial! All news was interrupted for hours and hours of live coverage of the Kobe event. No mention of Kobe's rape case.
COPYRIGHT 2020 ANN COULTER
DISTRIBUTED BY ANDREWS MCMEEL SYNDICATION
Ann Coulter is the author of THIRTEEN New York Times bestsellers—collect them here.
Weinstein appeared at the White House complex on 13 occasions during the Obama presidency, according to visitor records.
Nine of his visits were with President Obama himself, including some events together with first lady Michelle Obama, as Breitbart News reported.
Malia Obama, the oldest of former President Obama's daughters, reportedly interned for Weinstein in 2017.
Malia, 18, began her internship at the New York City offices of The Weinstein Co. in February of that year, the New York Post reported.
Harvey Weinstein Taken to Hospital with Chest Pains After Being Found Guilty of Rape and Sexual Assault
(AFP) — Disgraced Hollywood producer Harvey Weinstein was taken to hospital in New York suffering from chest pains, hours after he was found guilty of rape and sexual assault.
Weinstein was brought to Rikers Island prison after the jury of seven men and five women found him guilty of criminal sexual acts in the first degree and rape in the third degree.
However, the 67-year-old left Rikers yesterday evening and was admitted to Bellevue Hospital Center in Manhattan for chest pains and high blood pressure, his spokesperson told AFP.
Weinstein was convicted of rape and sexual assault but acquitted of the most serious predatory charges, a verdict hailed as a historic victory by the #MeToo movement against sexual misconduct.
He faces a minimum of five years and a maximum of 29 years in prison on the two felony convictions. Sentencing is due to take place on 11 March.
Oscar-winner Weinstein, whose films include Shakespeare In Love, was found not guilty of first-degree rape and predatory sexual assault, charges that could have seen him jailed for life.
The defendant, who attended the trial hunched over a walker after undergoing back surgery, showed little emotion after the verdict was delivered to a packed New York courtroom.
His lawyer Arthur Aidala said a "shocked" Weinstein was muttering, 'I'm innocent, I'm innocent. How could this happen in America?'"
Lead attorney Donna Rotunno promised an appeal, saying "the fight is not over" and applauded Weinstein for taking the decision "like a man".
The mixed verdict offered a large measure of vindication for the dozens of women who made allegations against him.
It was the most high-profile sex assault conviction in the United States since Bill Cosby was found guilty in 2018 of drugging and sexually assaulting a woman 15 years prior.
The Time's Up foundation, formed in the wake of the Weinstein case, celebrated the outcome as marking "a new era of justice".
"Abusers everywhere and the powerful forces that protect them should be on notice: There's no going back," it said in a statement.
Manhattan's top prosecutor Cyrus Vance praised the women who testified against Weinstein as having changed "the course of history".
"This is the new landscape for sexual violence survivors. This is a new day," Vance told reporters outside the New York courthouse.
"We all owe an immense debt to you, who had the courage beyond measure to speak your story to the world, to the courtroom, at great personal risk, and in great personal pain."
More than 80 women have accused Weinstein of sexual misconduct since allegations against him ignited a global reckoning against men abusing positions of power in October 2017.
But with many claims too old to prosecute, the jury considered charges related to just two: ex-actress Jessica Mann and former production assistant Mimi Haleyi.
The predatory sexual assault charges included testimony from The Sopranos actress Annabella Sciorra, who said Weinstein raped her in her New York apartment in 1993.
Six women took the stand to say they had been sexually assaulted by Weinstein.
They were subjected to ferocious cross-examination as Weinstein's defence team argued that his relationships were consensual and transactional.
The prosecution cast Weinstein as a conniving predator who demanded sex in exchange for access to the film universe where he reigned, but presented no forensic evidence or third-party witness accounts.
The state's case instead rested on asking the jury to believe the women.
Ashley Judd, who has said Weinstein destroyed her film career after she rejected his sexual advances, tweeted thanks after the verdict dropped.
"For the women who testified in this case, and walked through traumatic hell, you did a public service to girls and women everywhere, thank you," she said.
Weinstein, who has always said his sexual relations were consensual, was charged with raping former actress Mann in the DoubleTree hotel in midtown Manhattan in 2013.
He was also charged with forcing oral sex on former production assistant Haleyi at his New York apartment in July 2006 while she was on her period.
The charges of predatory sexual assault, a serious sex crime committed against more than one person, were the most grave and carried a sentence of life in prison.
Sciorra's allegation was too old to be prosecuted as an individual crime but she was included in the indictment to bolster the predatory sexual assault charge.
Sciorra said in a statement yesterday that her testimony had been "painful but necessary," according to The Hollywood Reporter.
Ex-model Lauren Young told the court Weinstein sexually assaulted her in the bathroom of a Beverly Hills hotel room in 2013 when she was a 22-year-old aspiring actress.
Eyes now turn to Los Angeles, where Young's allegations form part of a separate sex crimes investigation against Weinstein being carried out by prosecutors in the California city.
They accuse him of raping an Italian model in February 2013 and of assaulting Young the following night.
Tick...tick...tick -- The stench of Epstein closing in on Bill Clinton
Ed Buck Will Finally Face Trial, but His Conviction Is Far From Guaranteed
And there's more than a few indicators that Clinton wasn't naive at all about Epstein. Though he wasn't accused by Epstein's credible accuser Virginia Giuffre, Clinton's been accused repeatedly being a sexual predator by others earlier.
Hillary the Punisher: Ronan Farrow says he was cut dead from Clinton circles after he exposed Weinstein
Bill and Hill - and the Evil that Men Do
Hillary Clinton Is not just a sore loser, she is a total loser
Monica Lewinsky says Bill Clinton hinted she should perjure herself, arranged a farewell Christmas tryst before dumping her
Ronan Farrow: Bill Clinton 'Credibly' Accused of Rape, Investigation Is 'Overdue'
Pulitzer Prize-winning journalist Ronan Farrow said on HBO's Real
Time With Bill Maher
, that "credible"
accusations of rape
had been made against former President Bill Clinton by Juanita Broaddrick, adding that an investigation into the allegations is now "overdue."
Leaked Julian Assange Message:
Hillary Is A 'Well Connected, Sadistic Sociopath'
Bill Clinton Accusers Speak Out After Ronan Farrow Says Ex-President Was 'Credibly Accused of Rape'
O.K., Prince Andrew's out of public life. Why isn't Bill Clinton?
Is someone gonna ask the Clintons about all those trips to Epstein's 'cowboy village'?
Bill and Hillary Clinton would stay at Jeffrey Epstein's New Mexico ranch frequently after they left the White House, former estate workers told DailyMailTV
The former president was Epstein's closest 'celebrity mate' and the Clintons visited Zorro Ranch 'a whole bunch of times', a former contractor who ran the IT system at the property said
The family never stayed in the main house but bunked down in a special cowboy-themed village created by Epstein, which lies a mile south of his own villa, sources said
The guest homes are next to other traditional Wild West-style buildings such as an old schoolhouse and saloon bar, which are all near Epstein's private airstrip, where he arrived on his private planes
Convicted sex offender and Mueller witness George Nader indicted for illegal contributions to boost Hillary Clinton
Is that you, Bill Clinton? New book says Epstein blackmailed politicians
How Stupid Do They Think We Are?
Donald Trump: Michelle Obama and Hillary Clinton Loved Harvey Weinstein, Not Me