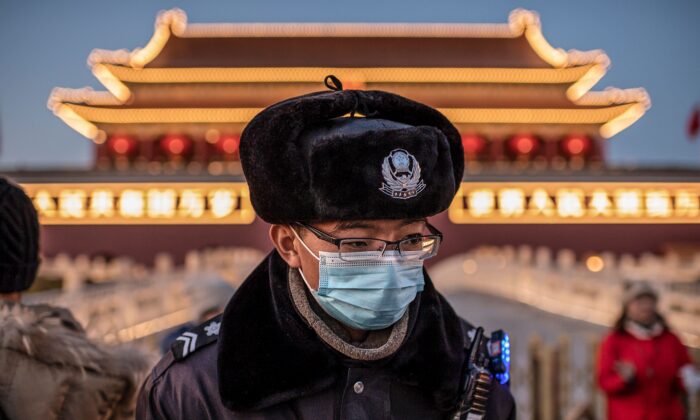 Chinese Regime Ramps Up Global Propaganda on Coronavirus Pandemic
The Chinese Communist Party has ramped up its propaganda efforts to control the narrative surrounding the novel coronavirus—by rejecting criticism and painting a picture that Beijing is effectively handling the outbreak.
The regime's propaganda has gone through several phases: first ignoring the severity of the outbreak, then creating positive coverage, and now, blaming the United States.
CORONAVIRUS SPECIAL COVERAGE
High-ranking communist authorities have pushed a handful of talking points to deflect blame, including that the origin of the virus isn't clear and may have come from the United States—a conspiracy recently pushed by Chinese Foreign Ministry spokesman Zhao Lijian.
The virus first emerged in the central Chinese city of Wuhan in December 2019.
Zhao wrote on Twitter on March 12, "When did patient zero begin in US? How many people are infected? What are the names of the hospitals? It might be US army [sic] who brought the epidemic to Wuhan. Be transparent! Make public your data! US owe [sic] us an explanation!"
A February opinion article by state-run Global Times claimed that "so far, even the scientific world has no conclusion where the virus came from."
Beijing has also pushed the narrative that its efforts to contain the virus bought the international community time to prepare, with the official Twitter account of China's Ministry of Foreign Affairs writing that "China's endeavor to combating the epidemic has bought time for int'l preparedness. Our contribution is there for all to see."
That was echoed by a Harvard economist who said in a March 9 interview on NPR's Marketplace program that "China really did great work in buying the rest of us time."
Stories hyping China's capability to contain the disease were pushed by Chinese state media at the same time that Beijing accused the United States of fear-mongering surrounding China's outbreak.
Author and China expert Gordon Chang told The Epoch Times: "There's been a repeated, relentless campaign against the United States, and it's been malicious, irresponsible, false, of course, and dangerous. This whole notion of China being beneficial to helping the world is misguided and indeed dangerous."
Chang said Beijing is bent on this narrative because the epidemic has become an "existential" crisis for the Chinese Communist Party's rule.
"Because the Chinese people are hot, angry, they're demanding fundamental political change, and so China needs to change the subject to show … that the Communist Party is leading the defense."
Chang believes more such propaganda materials will be published in the coming days.
"Beijing is going to relentlessly pursue them because it sees this as essential to its survival," he said, adding that the "United States has an ally, which is the Chinese people, and we should never forget that our enemy is the regime."
Beijing has also accused the United States of creating panic by implementing restrictions on travelers from China.
Dr. Anthony Fauci, head of the National Institute of Allergy and Infectious Diseases at the National Institutes of Health, has said that the travel ban made a difference in combating the spread of the virus in the United States.
The blame game narrative against the United States is gaining steam and appears to be one of the more effective talking points not just for countries outside of China, but for people inside China, according to Sarah Cook, senior research analyst for China, Hong Kong, and Taiwan at Freedom House, a U.S.-based human rights group.
"It seems like they may have stumbled on this last one accidentally, as various conspiracy theories along these lines started circulating on social media and then officials piggybacked on it and amplified the narrative after discovering that it was actually convincing people," Cook told The Epoch Times via email.
Cook said that this "anti-American narrative" has resonated with many in China and has to some degree "been successful in refocusing anger and frustration away from the Party." She said the narrative was "subtly stoked by official statements, state media reports, and the convenient absence of censorship for posts shifting the blame to the United States."
Li Wenliang, one of the eight whistleblowers who first publicized information on the virus and who later died from it in February was reprimanded by Chinese authorities for posting information about the virus. Wuhan officials said on Jan. 1 they took "legal measures" against eight people, including Li, who had "spread rumors" about the disease, which "caused adverse impacts on society" according to a statement posted on Weibo, a Chinese Twitter-like platform.
In the United States, over 3,200 people have contracted the virus and at least 62 people have died, according to data compiled by the Center for Systems Science and Engineering at John Hopkins University, at the time of writing.
The White House and the State Department didn't respond to requests by The Epoch Times for comment.
THE DEMOCRAT PARTY HAS MADE US SLAVES TO RED CHINA WHILE THEY SUCK OFF THE BACKROOM DEALS.
SEN. DIANNE FEINSTEIN HAS LONG BEEN A SERVANT OF RED CHINA AND PAVED THE WAY FOR HUNTER BIDEN TO SIPHON OFF BRIBES LIKE FEINSTEIN'S PARASITE HUSBAND RICHARD BLUM.
"All in all, it was an incredible victory for the Chinese government. Feinstein has done more for Red China than other any serving U.S. politician.
"
Trevor Loudon
The Wuhan Virus Escaped from a Chinese Lab
First of all, Wuhan is a place and not a race, and to identify the coronavirus by its place of origin, like naming the Ebola Virus for a river in Zaire, is not racist or xenophobic — it's merely accurate. There is no racism or xenophobia in labeling an infection "Rocky Mountain Spotted Fever" or calling something "Lyme Disease" after a nearby town in Connecticut.
What calling this latest virus the Wuhan Virus is is a reminder of the multiple contagions China has spawned and released on an unsuspecting world. Nor is connecting some very big, ugly, and obvious dots just another conspiracy theory to be dismissed out of hand.
From the beginning China has been less than forthcoming about this virus and resisted sharing critical data and access to WHO and CDC specialists. And have we forgotten Dr. Li Wenliang, the 33-year-old ophthalmologist based in Wuhan, the epicenter of the contagion, who tried to tell the world that China was hiding something malevolent, only to be silenced and imprisoned by Chinese authorities for allegedly fabricating lies about the disease's deadly potential? He would later die of the disease he tried to warn us about and the Chinese tried to keep under wraps:
In an interview with the Communist Party–controlled Beijing Youth Daily newspaper in late January, Dr. Li recalled seeing reports in December of an unusual cluster of pneumonia cases linked to an animal market in Wuhan.

On Dec. 30, Dr. Li told the newspaper, he sent a message to former classmates on WeChat, a popular messaging app, warning them of new cases of severe acute respiratory syndrome, or SARS. He later corrected that, saying it was an unknown coronavirus.

Dr. Li was later interrogated by party disciplinary officials and hospital management, who accused him of spreading rumors and forced him to write a self-criticism, he told the newspaper.

"They told me not to publish any information about this online," Dr. Li told the Beijing Youth Daily in late January. "Later, the epidemic started to spread noticeably. I'd personally been treating someone who was infected, and whose family got infected, and so then I got infected."

In speaking out about the virus and about government efforts to silence him, Dr. Li drew comparisons to Jiang Yanyong, a surgeon who became a hero after blowing the whistle on Beijing's efforts to cover up the extent of the SARS crisis in 2003.
Initially, a live animal market in Wuhan, where exotic animals are sold for food, was blamed as the source of the virus. It may yet be proven to be the epicenter of the outbreak, but it was not the source of the virus. That honor goes to the Wuhan National Biosafety Laboratory, housed at the Wuhan Institute of Virology, a scant 20 miles away from Wuhan's live animal market. It was set up in the wake of previous leaks of the SARS virus from Chinese labs and to do research on the world's most dangerous viruses. As the Daily Mail Online reports:
It was the first ever lab in the country designed to meet biosafety-level-4 (BSL-4) standards — the highest biohazard level, meaning that it would be qualified to handle the most dangerous pathogens.

BSL-4 labs have to be equipped with airtight hazmat suits or special 'cabinet' work spaces that confine viruses and bacteria that can be transmitted through the air to sealed boxes that scientists reach into using attached high-grade gloves[.] ...

Upon opening, it planned to first take up a project that required only BSL-3 precautions to be in place: a tick-borne virus that causes Crimean-Congo hemorrhagic fever.

It's a highly fatal disease, killing 10 to 40 percent of those it infects.

SARS, too, is a BSL-3 virus. According to Nature's interview with the lab's director, Yuan Zhimin, the Wuhan National Biosafety Laboratory planned to study the SARS virus[.] ...

'After a laboratory leak incident of SARS in 2004, the former Ministry of Health of China initiated the construction of preservation laboratories for high-level pathogens such as SARS, coronavirus, and pandemic influenza virus,' wrote Guizhen Wu. ...

The Wuhan lab is also equipped for animal research.
To be clear, this is not to say the Wuhan Virus was part of any biological weapons program or that its release was intentional. It could just be that it was the result of Chernobyl-like sloppiness resulting from a bizarre blend of Chinese culture and global ambition. Indications of military involvement in the Wuhan lab are there and troubling.
In a New York Post op-ed, Steven W. Mosher, president of the Population Research Institute and the author of Bully of Asia: Why China's "Dream" Is the New Threat to World Order, documents the linkage connecting the Wuhan lab, the nearby live animal market, and the spread of the Wuhan Virus:
At an emergency meeting in Beijing held last Friday, Chinese leader Xi Jinping spoke about the need to contain the coronavirus and set up a system to prevent similar epidemics in the future.

A national system to control biosecurity risks must be put in place "to protect the people's health," Xi said, because lab safety is a "national security" issue.

What Xi didn't say is that the coronavirus that has sickened more than 76,000 and claimed more than 2,200 lives escaped from one of the country's bioresearch labs. But the very next day, evidence emerged suggesting that this is what happened, as the Chinese Ministry of Science and Technology released a new directive entitled "Instructions on strengthening biosecurity management in microbiology labs that handle advanced viruses like the novel coronavirus."
[T]he People's Liberation Army's top expert in biological warfare, Maj. Gen. Chen Wei, was dispatched to Wuhan at the end of January to help with the effort to contain the outbreak.

According to the PLA Daily, Chen has been researching coronaviruses since the SARS outbreak of 2003, as well as Ebola and anthrax. This would not be her first trip to the Wuhan Institute of Virology either, since it is one of only two bioweapons research labs in all of China.
Clearly, this People's Liberation Army officer was there not just to preserve the public order after something went awry in their quest to find a cure for the common cold. You don't need a general doing research on coronaviruses at bioweapons research labs to impose a quarantine.
And then there is this little-known fact: Some Chinese researchers are believed to sell laboratory animals to street vendors after they have finished experimenting on them[.] ...

Instead of properly disposing of infected animals by cremation, as the law requires, they sell them on the side to make a little extra cash. Or, in some cases, a lot of extra cash. One Beijing researcher, now in jail, made the equivalent of a million dollars selling monkeys and rats on the live animal market, whence they likely wound up in someone's stomach.
This isn't the first made-in-China virus Beijing has sprung on the world. And it won't be the last unless we stop worrying about political correctness and sanction China for what amounts to economic warfare and negligent homicide on a global scale.
Correction: Lyme disease originated in Connecticut, not Ohio.
Daniel John Sobieski is a former editorial writer for Investor's Business Daily and freelance writer whose pieces have appeared in Human Events, Reason Magazine, and the Chicago Sun-Times among other publications.
Frank Gaffney, executive chairman and founder of the Center for Security Policy, called for the Trump administration to stop a federally administered retirement fund from investing in Chinese equities, warning of China gaining further leverage over America through the one-party state's growing control of U.S. finances.
On Wednesday's edition of SiriusXM's Breitbart News Tonight, Gaffney joined host Rebecca Mansour and special guest host Rep. Louie Gohmert (R-TX) to explain how the
Federal Retirement Thrift Investment Board (FRTIB), a federal government agency managing the pension funds of federal employees and military personnel, is moving towards greater investment in Chinese securities.
Gohmert said of FRTIB, "Some Obama appointees are moving very, very quickly to invest tens of billions of dollars in China and, significantly, in countries that do not meet the requirements of the law with transparency and other requirements. And yet, they're rushing headlong into putting our retirement accounts in Chinese companies, some of whom make weapons that kill our soldiers."
Increasing interconnectedness between Chinese and American capital markets will soon be "inflicted upon" federal government employees if FRTIB's intentions are allowed to proceed, warned Gaffney.
FRTIB's plans are "to have [federal employees'] retirement funds — at least those that are being invested in a diversified international portfolio — compulsorily invested in Chinese companies," explained Gaffney, "some of which are engaged in building South China Sea islands and proliferating various weapon systems for which they've been sanctioned; or oppressing Uighurs and other minorities in China with the so-called social credit system; or building weapon systems to be used against Americans."
Gaffney continued, "Now, think about that for a minute. American military veterans and active personnel are being put in the position [where] they will shortly be compelled to invest their money — their retirement funds — in the companies that are trying to help the Chinese Communist Party being positioned to kill them. It's obscene."
Gaffney added, "We have already transferred, by some estimates, three trillion dollars from our capital markets to China, and this has enabled all of the bad things that the Chinese are doing. It is the petty cash war that has underwritten so [many] of the threats that we're now facing from them."
"They aspire to get another three to five trillion dollars out of [U.S.] capital markets in the near future," said Gaffney of China, "and people in Wall Street are still determined to do that."
China's growing control of America's retirement funds afford the one-party state leverage over the U.S., warned Gaffney.
He remarked, "When 160 — maybe — million Americans have their retirement funds — and other college funds for their kids, and who knows what else — [and] their investment dollars tied up in China, not because they want them there but because that's what Wall Street has done through these passively managed indexes, you will have created the largest China lobby in the history of the world, and it will be vastly more difficult for us to make the kind of sovereign and security decisions that are vital to our future freedoms under the circumstances," Gaffney stated.
Expanding influence over American financial instruments may enable China to halt future national security measures such as a the coronavirus-related travel ban, Gohmert speculated.
FRTIB is run by a five-person board appointed by the executive branch, Gaffney noted. "It's a five-member board that no one ever heard of," he said. "
It is a partisan operation. It's still populated by four Democratic representatives members that were appointed during the Obama years, and there's a fifth who is a Republican, perhaps in name only."
Gaddney went on, "About three years ago, they made a decision that they would begin in 2020 to mirror one of these indexes. It's called the Morgan Stanley National Index, and it's the all-country world index ex-U.S., which is a real mouthful, but it's basically an index that incorporates some six — and increasingly, I think, it will be seven — percent of its holdings in Chinese companies, including some that are directly tied into the People's Liberation Army as well as the Chinese Communist Party doing malevolent things."
China games globalized capital flows, including U.S. foreign investment via retirement pension funds, to fund its geopolitical ambitions, explained retired Air Force Brig. Gen. Robert Spalding, senior fellow at the Hudson Institute, to Breitbart News in September 2019.
Increasing U.S. investment in China-based companies places American investors at risk given China's weaker transparency regulations relative to America, explained Gaffney.
"This is imprudent from a financial point of view," Gaffney estimated. "Look at what's happening to these Chinese companies. One of them, it was announced last year, lost 4.4 billion dollars. It just went missing. How many more of these companies are in similar financial circumstances is anybody's guess because we don't require these Chinese companies in our capital markets to meet our requirements under our laws for transparency, for accountability, for governance, [or] for risk disclosure for heaven's sakes. They're given a pass."
Gaffney continued, "I think this was a result of President Obama's direction, but the SEC — the Securities and Exchange Commission — is continuing this practice, so we don't really know whether these companies are financially viable, let alone exposing our investors to the reality that they are investing in companies and business and entities that are absolutely inimical to our vital interests, our security interests, among others, our human rights values and the like. This is just insane."
"This mustn't be allowed to metastasize further into the $500-or-so billion-dollar Federal Thrift Savings Plan, so we need people on the net to be letting the president know this should not happen," advised Gaffney.
Mansour asked what can be done to halt China's growing control of U.S. retirement funds.
Gaffney advised the implementation of an "America First" ethos beyond manufacturing to include federal regulation and policy regarding retirement funds, beginning with FRTIB.
"My best answer is this is an opportunity to invest in an America First program," Gaffney recommended. "There is an enormous amount that needs to be done. We've been talking about infrastructure for years. There's innovation. There's research and development — among other things — for our military. But not least, there's also the simple capitalization of the lead institution of an American industrial sector, so we can manufacture medicines in this country again, and gloves, and masks, and all kinds of other medical gear, and all of the other things that we foolishly allowed to be shipped off by people whose only interest was maximizing their quarterly profits, and the devil take the hindmost with respect to the national interest, especially the national security interest. So I'd like to say we have an opportunity."
Gaffney added, "I think if the American people get behind this idea that patriotic investing is the alternative — not continuing to invest in our enemies."
Gaffney invited listeners to visit the committee on the Present Danger: CHINA, an organization of which he is vice president.
Breitbart News Tonight broadcasts live on SiriusXM Patriot channel 125 weeknights from 9:00 p.m. to midnight Eastern or 6:00 p.m. to 9:00 p.m. Pacific.