Trump's damage control falters
President Trump
on Wednesday said Russia does not pose a threat to the United States, contradicting his director of national intelligence on a critical security issue and deepening a controversy that began at his summit with Russian President Vladimir Putin.
Hours later, White House press secretary Sarah Huckabee Sanders said Trump was actually indicating he was done answering questions when he responded "no" to a reporter who asked if he believes Russia is still seeking to meddle in U.S. political affairs.
"We believe that the threat still exists," she said at the White House press briefing, the first in 16 days.
The president said later in an interview with CBS News that he holds Putin personally responsible for election meddling "because he's in charge of the country."
"I let him know we can't have this, we're not going to have it, and that's the way it's going to be," Trump said.
The president's comments, and the White House's attempt to clarify his previous remarks, added to a dizzying array of statements about Russia following a widely panned summit with Putin in the Finnish capital.
They also came a day after Trump acknowledged the U.S. intelligence community's conclusion that Russia interfered in the 2016 presidential election and pledged to prevent meddling in the November midterms.
But those remarks failed to quiet the uproar surrounding his public handling of Putin, so Trump went even further on Wednesday, stating that he's been tougher than any other president when it comes to Russia.
"There has never been a president as tough on Russia as I have been," Trump told reporters at the White House, citing U.S. sanctions on Moscow and the expulsion of dozens of Russian diplomats accused of being spies.
"I think President Putin knows that better than anybody, certainly a lot better than the media," Trump said. "He understands it, and he's not happy about it."
When asked seconds later if Russia is "still targeting" the U.S., Trump said, "No."
That comment undercut Director of National Intelligence
Dan Coats
, who said after the Helsinki press conference that Russia's hostile activities against the U.S. and its allies are "ongoing."
Coats has also underscored intelligence agencies' concerns that Russia is prepared to interfere with the midterm elections, saying in remarks last week the proverbial warning lights are "blinking red."
"We have been clear in our assessment of Russian meddling in our 2016 elections and their ongoing, pervasive efforts to undermine our democracy," Coats said in a statement Monday.
Trump's divergent comments about Russia's actions toward the U.S. have deepened the divide with his advisers and raised doubts about his commitment to combating Moscow's hostile activities, a top concern of lawmakers on Capitol Hill.
Sanders sought to assuage those fears at Wednesday's press briefing by relaying a message from Trump.
"The president and his administration are working very hard to make sure that Russia is unable to meddle in our elections, as they have done in the past," Sanders said, adding that Trump "wouldn't go through that lengthy process" if he did not believe Moscow is targeting U.S. elections.
She also said Trump "was saying 'no' to answering questions" and not the question posed by a reporter during a media availability at the Cabinet meeting.
The reporter who asked the question, Cecilia Vega of ABC News, disputed Sanders's characterization of the exchange. She posted a transcript showing Trump said "Thank you very much" to her initial question about whether Russia is targeting the U.S., his typical indication he is done speaking, before answering "no."
Vega then followed up by asking, "No, you don't believe that to be the case?" Trump again replied: "No."
The president ignored a follow-up question from Vega and then answered another reporter's question.
"Yes, he was looking directly at me when he spoke," Vega wrote on Twitter. "Yes, I believe he heard me clearly. He answered two of my questions."
Even though questions were raised about the White House's denial, it was enough for some Republican lawmakers, including several who previously blasted the president for refusing to condemn Russia's election meddling while standing next to Putin.
Sen.
Lindsey Graham
(R-S.C.) said he was reassured by Trump's advisers that the president's reply on Wednesday "was not intended to suggest that President Trump doubts the intelligence community's assessment that Russia is continuing to attack our critical infrastructure in the 2018 elections."
"I'm very pleased to hear this and I stand ready to work with the administration to harden our electoral system against all foreign interference, including Russia," Graham said.
But many others have indicated they are not ready to move on, announcing plans to advance a set of actions designed to hold Russia accountable for potential future hostile acts.
Senate leaders indicated they plan to bring forward bipartisan legislation that would slap new sanctions on Moscow if U.S. intelligence agencies find they interfere in the 2018 midterm elections.
But Sanders sidestepped a question at the press briefing about whether Trump would support such a proposal, calling it "a hypothetical situation."
Sen.
Bob Corker
(R-Tenn.), chairman of the Senate Foreign Relations Committee, has said he is calling Secretary of State
Mike Pompeo
to testify before his panel next week to discuss Trump's meeting with Putin.
Pompeo was reportedly one of several top administration officials who urged Trump to clarify the remarks he made at Monday's joint press conference with Putin, when Trump gave equal weight to the Russian leader's denial of election meddling to and the conclusion of U.S. intelligence agencies.
"My people came to me ... they said they think it's Russia," Trump said on Monday. "I have President Putin; he just said it's not Russia. I will say this: I don't see any reason why it would be."
The president's comments set off international furor, which Trump sought to clean up on Tuesday by saying he misspoke and meant to say, "I don't see any reason why it wouldn't be Russia."
Trump also said he accepts the intelligence agencies' assertion that Russia interfered in the 2016 election, but he raised doubts about his sincerity by adding that it "could be other people."
After Helsinki, Democrats incite "deep state" action against Trump
17 July 2018
Monday's meeting in Helsinki has unleashed a torrent of wild denunciations that verge on a direct appeal to the military and intelligence agencies to take action to force Donald Trump's removal from the White House.
The Democratic Party, the corporate media and leading figures within the US military and intelligence apparatus have joined in branding Trump a traitor who is functioning as an agent of the Kremlin.
Trump and his cohorts have many crimes to answer for. But the objectives that motivate the anti-Trump hysteria in the media and the conspiratorial methods to which the Democrats are resorting are utterly reactionary.
The summit in Helsinki was preceded by the strategically timed announcement of an indictment of 12 alleged Russian military intelligence officers by Special Counsel Robert Mueller on charges of hacking into the computers of the Democratic National Committee and Hillary Clinton's presidential campaign chairman, John Podesta.
This indictment, which consists of a series of unsubstantiated allegations, was seized upon by top Democrats and sections of the media to demand that Trump call off his meeting with Putin.
When the Republican president ignored these demands and went ahead with the trip to Helsinki, the Democrats and their allied media outlets were prepared to erupt as soon as the talks had ended. This was made clear by a particularly reactionary piece by New York Times columnist Charles Blow headlined "Trump, Treasonous Traitor" published on the morning of the meeting, which accused Trump of "committing an unbelievable and unforgivable crime against this country …"
The hysterical tone had already been decided upon in advance of the Trump-Putin meeting, and the reaction once it was over was instantaneous.
No sooner had the US and Russian presidents finished their joint press conference than CNN's anchor in Helsinki, Anderson Cooper, an heir to the Vanderbilt fortune who interned with the CIA before going into television news, announced to his viewers that they had been "watching the most disgraceful conduct by an American president…that I have ever seen."
"The most disgraceful conduct by an American president"? That's really saying something!
More disgraceful than George W. Bush's launching of a war of aggression against Iraq based on lies, which claimed more than a million lives? More disgraceful than Barack Obama's drone assassination campaign that murdered thousands? More disgraceful than Trump's own savage war on immigrants, in which the deliberate torture of children has become a weapon?
What was Trump's crime in Helsinki that eclipsed all of these war crimes and crimes against humanity? It was to question the campaign over Russian "meddling" in the 2016 election, in which the media treats the assertions of US intelligence agencies—the same agencies that gave us "weapons of mass destruction"—as proven facts, despite the lack of any substantiation.
In one of the few incisive moments of the press conference in Helsinki, Putin, the former KGB agent, commented that, as a former intelligence officer, he had some familiarity with "how these dossiers are made."
The less traction this campaign gets within the American working population, the more frenzied its promotion by layers of the ruling oligarchy, the media corporations and the vast US intelligence apparatus. The vitriolic language employed in the denunciations of Trump's statements in Helsinki has an ominous character.
John Brennan, the career CIA official who became the agency's director under Obama, declared that Trump's appearance with Putin in Helsinki "exceeds the threshold of 'high crimes and misdemeanors.' It was nothing short of treasonous."
James Clapper, the former director of national intelligence, charged that Trump "essentially capitulated and seems intimidated by Vladimir Putin."
New York Times foreign affairs columnist Thomas Friedman, the chief media propagandist for the Iraq war, described Trump as "an asset of Russian intelligence," adding sonorously, "My fellow Americans, we are in trouble and we have some big decisions to make today. This was a historic moment in the entire history of the United States," given that Trump had "engaged in treasonous behavior."
Friedman added: "Every single Republican lawmaker will be—and should be asked on the election trail: Are you with Trump and Putin or are you with the CIA, FBI and NSA?"
Such is the choice offered by the American ruling class to the population of the United States: Side with Trump or side with the unaccountable and murderous operatives of the "deep state." Friedman and the Times, who reliably articulate the line of the Democratic Party, make clear that the Democrats are the party of the latter.
Unmentioned by Friedman or any of the dozens of other media pundits who spoke or wrote along similar lines are the enormous crimes carried out by these agencies, from coups and assassinations of foreign leaders to torture and domestic spying.
Friedman went on to assert that the only appropriate message for Trump to have delivered to Putin was a threat that Washington would regard Russian "meddling" as "an act of war," and that "we will not only sanction you like never before, but you'll taste every cyberweapon we have in our arsenal." In other words, a threat of nuclear world war.
There is an unmistakable logic to this kind of language. To the extent that Trump cannot be ousted by means of impeachment, the door is open to a military coup.
This option was given concrete expression by Michael Hayden, the former four-star Air Force general who headed both the CIA and the National Security Agency. Interviewed by National Public Radio on Monday, he condemned Trump's statements in Helsinki and added that "mid-range officers come and ask me what do I tell my people, and that's a really telling question."
Behind the scenes, sections of the active-duty military, CIA spooks and former heads of major US intelligence agencies are in discussions about what is to be done with Donald Trump.
If the military were to stage a coup against Trump, there is no doubt that the leadership of the Democratic Party would fall into line behind an American junta.
The concerns of Trump's ruling class antagonists are threefold. They fear that Trump's "America First" foreign policy, based on trade war and the disruption of longstanding alliances such as NATO, is undermining the drive for US global hegemony.
Second, those within the ruling class and the state apparatus opposing Trump view any attempt to reach a temporary accommodation with Moscow as a dangerous diversion from confrontation with a country they regard as a major impediment to US strategic interests.
Third, there is a growing fear within America's ruling oligarchy that the conditions are emerging within the US itself for an explosion of class conflict, which the Trump administration will prove incapable of containing. Within the ruling class a consensus is growing that it will prove impossible to suppress the coming social upheavals within the limits of democratic forms of rule.
The dangers posed by the deepening of the political crisis, now driven above all by a growth of social opposition to capitalism among workers in the United States and internationally, can be answered only through the development of an independent political struggle of the working class in opposition to both parties and all factions of the capitalist class, and based on a program of workers' power, the international unity of the working class, and socialism.
Bill Van Auken
Jill Wine-Banks: Trump's Performance 'Will Live in Infamy as Much as the Pearl Harbor Attack or Kristallnacht'
On Monday's broadcast of MSNBC's All In, MSNBC Contributor and former Watergate prosecutor Jill Wine-Banks stated President Trump's performance in Helsinki "will live in infamy as much as the Pearl Harbor attack or Kristallnacht."
Wine-Banks stated that the perpetrators in Watergate were Americans and that in 2016, "we were burglarized, this time, by foreign agents. And it's just as serious to me as the Cuban Missile Crisis, in terms of an attack, or the 9/11 attack. The president is taking the side of the people who attacked us instead of trying to prevent a future attack. He has done nothing to make sure that the elections four months away are going to be safe. And I would say that his performance today will live in infamy as much as the Pearl Harbor attack or Kristallnacht. And it's really a serious issue that we need to deal with."
CNN Analyst Philip Mudd: When Will 'Shadow Government' Rise Against Trump?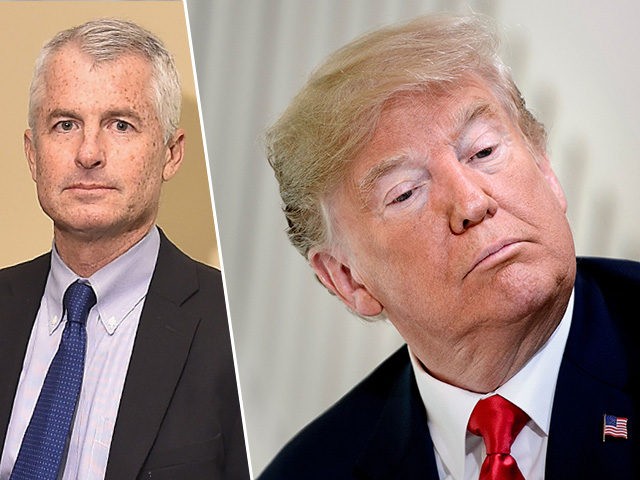 CNN analyst and former CIA intelligence official Philip Mudd wondered aloud Monday when a shadow government will emerge to oppose President Donald Trump following a joint press conference with Russian President Vladimir Putin in Helsinki, Finland.
CNN analyst Philip Mudd chillingly raises prospect of a "shadow government," taking on President Trump following summit with Putin.
A partial transcript follows:
COOPER: Senator McCain is saying [the joint Trump-Putin press conference] was the most disgraceful display essentially by an American president on the world stage. Phil do you agree with that?

MUDD: I do, but you have to step back even a short time after this and say, what next? You've seen senators come out. In the past, you've seen a senator in the midst of a painful illness, Senator McCain, Senators like Jeff Flake who are leaving the Senate. Now you see Marco Rubio still obviously in the fight speaking out.

My question would be: when do members of the president's inner circle say "look, we have an overseas dilemma where you are portraying us, in terms of the American government, as worse than a tyrant — that is, Vladimir Putin."

Secretary of Homeland Security came out with statements this week about continued Russian interference. This was not on Obama's watch. That's this week. FBI director continues the investigation. Department of Justice continues support for the investigation. Congress continues saying this investigation's legitimate.

Curious point in American government: when do we see almost a shadow government come out and say "we cannot side with the government," whether it's the Babinet or the Senate.
John McCain Rips Trump-Putin Presser: 'Pathetic,' 'Disgraceful,' 'Erratic,' 'Painful'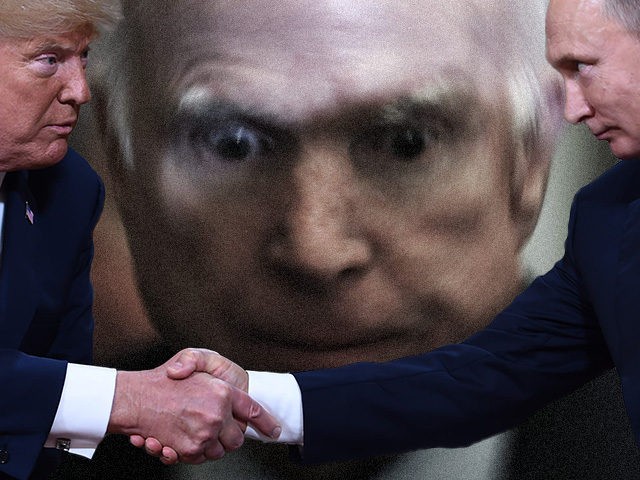 Sen. John McCain (R-AZ) lambasted President Donald Trump's joint press conference with Russian President Vladimir in Helsinki, Finland on Monday.
The Arizona senator released a statement describing President Trump's remarks during the press conference as "pathetic," disgraceful," and "painful" to observe — "a recent low point in the history of the American Presidency."
Sen. John McCain: "Today's press conference in Helsinki was one of the most disgraceful performances by an American president in memory."

https://abcn.ws/2zJbvqR
"Today's press conference in Helsinki was one of the most disgraceful performances by an American president in memory. The damage inflicted by President Trump's naiveté, egotism, false equivalence, and sympathy for autocrats is difficult to calculate. But it is clear that the summit in Helsinki was a tragic mistake," Sen. McCain's statement begins. "President Trump proved not only unable, but unwilling to stand up to Putin. He and Putin seemed to be speaking from the same script as the president made a conscious choice to defend a tyrant against the fair questions of a free press, and to grant Putin an uncontested platform to spew propaganda and lies to the world."
It is tempting to describe the press conference as a pathetic rout – as an illustration of the perils of under-preparation and inexperience. But these were not the errant tweets of a novice politician. These were the deliberate choices of a president who seems determined to realize his delusions of a warm relationship with Putin's regime without any regard for the true nature of his rule, his violent disregard for the sovereignty of his neighbors, his complicity in the slaughter of the Syrian people, his violation of international treaties, and his assault on democratic institutions throughout the world.
McCain highlighted the coziness between President Trump and his Russian counterpoint in contrast to his tough talk towards the United States' European allies. Last Wednesday, President Trump scolded Germany during a breakfast with NATO officials in Brussel over Berlin's support of a Baltic Sea gas pipeline deal with the Kremlin, describing Europe's largest economy as a "captive of Russians." In an interview with British tabloid The Sun, President Trump predicted the British government's proposed watered down Brexit strategy "will probably kill" hopes of a bilateral trade agreement with the United States. Ahead of his high-stakes meeting with Putin, President Trump branded the European Union a "foe" in respect to trade.
"Coming close on the heels of President Trump's bombastic and erratic conduct towards our closest friends and allies in Brussels and Britain, today's press conference marks a recent low point in the history of the American Presidency," the statement continues." That the president was attended in Helsinki by a team of competent and patriotic advisors makes his blunders and capitulations all the more painful and inexplicable."
McCain concluded his blistering statement by accusing Trump of failing to uphold American values abroad, something he claims the president has failed to do since winning the White House.
"No prior president has ever abased himself more abjectly before a tyrant. Not only did President Trump fail to speak the truth about an adversary; but speaking for America to the world, our president failed to defend all that makes us who we are—a republic of free people dedicated to the cause of liberty at home and abroad. American presidents must be the champions of that cause if it is to succeed," McCain said. "Americans are waiting and hoping for President Trump to embrace that sacred responsibility. One can only hope they are not waiting totally in vain."
Presidents Trump and Putin vowed a fresh start to troubled relations between the world's greatest nuclear powers at their summit, as the American leader rejected a chance to condemn Moscow's alleged manipulation of U.S. elections. Standing alongside Putin at a joint news conference, President Trump said he had "spent a great deal of time talking about" election meddling, without going into detail or explicitly condemning any interference after 12 Russian agents were indicted in the United States.
When pressed about alleged meddling, President Trump stressed that Putin had delivered a "powerful" denial of any Russian vote meddling and said the investigation by special counsel Robert Mueller had been a "disaster" for the United States. President Trump again denied any collusion between his campaign and the Kremlin, while Putin insisted: "The Russian state has never interfered and is not planning to interfere in the USA's internal affairs."
The Agence France-Presse contributed to this report.
FBN's Regan: Trump 'Should Have Defended Us' – 'Unpatriotic'
.

@trish_regan

on

@POTUS

' press conference with Vladimir Putin: "This was clearly not [President Trump's] best performance... He should have defended us. He should have defended his own intelligence community."
On Monday's broadcast of the Fox Business Network's "Intelligence Report," host Trish Regan criticized President Trump's statements after his summit with Vladimir Putin, arguing Trump, "should have defended us. He should have defended his own intelligence community." She later added on Twitter, "Unpatriotic. Don't let a bully bully you on the international stage. POTUS should have defended us."
Regan said, "[T]he mainstream media did not want this meeting to happen. And I had really hoped I could say that they were wrong. I thought that maybe I could, at this moment in time, say they were wrong. Because this was an opportunity for our president to get up there onstage and look Vladimir Putin in the eye and say, 'You're not going to mess with us again.' But he didn't. In fact, he basically said he didn't buy what his own intelligence community was telling him. This was clearly not his best performance. He's done a whole lot better than this. He should have defended us. He should have defended his own intelligence community. Or just don't take the meeting. Don't go to Helsinki if you can't look the guy in the eye and tell him what's what. You know, here's the question, by the way, that somebody ought to have prepped our president on. He ought to have known this one was coming, and he ought to have thought long and hard about how to answer it."
After playing a clip of Trump responding to a question on Putin's denial of Russian election interference and whether he believed the intelligence community or Putin, Regan stated, "I don't get it. All of your intelligence agencies are telling you that the Russians interfered in our election. Now, big difference between them interfering and them actually having any kind of effect. There's also a big difference, huge difference in them interfering and the Trump campaign colluding, two separate things. But when everyone is in agreement that they did interfere, and somehow you're up there on the world stage suggesting otherwise, suggesting that, in fact, Vladimir Putin may be telling the truth and your own team isn't, what has happened?"
Regan later tweeted a clip of her remarks with the added comment, "Unpatriotic. Don't let a bully bully you on the international stage. POTUS should have defended us."
Unpatriotic. Don't let a bully bully you on the international stage. POTUS should have defended us.
Former CIA Director John Brennan reacted to President Donald Trump's press conference with Russian President Vladimir Putin by calling on Republican lawmakers to support impeaching the president.
"Donald Trump's press conference performance in Helsinki rises to & exceeds the threshold of 'high crimes & misdemeanors,' Brennan wrote, hinting at impeachment proceedings.
Brennan is a frequent Trump critic and a contributor for NBC/MSNBC.
"It was nothing short of treasonous. Not only were Trump's comments imbecilic, he is wholly in the pocket of Putin," he continued. "Republican Patriots: Where are you???"
During the press conference with Putin, Trump questioned the FBI investigation of Hillary Clinton's use of a private email server and their failure to seize the DNC's server that they claimed was hacked by Russians.
Later in the day, Brennan appeared on MSNBC to call for Trump officials to resign.
"I cannot understand how the national security team can continue to abide by this and how Pompeo and Bolton and Kelly can continue in their jobs," he said. "This, I think, rises to the point of good American patriots resigning in objection to that performance by Donald Trump."
Tom Steyer Says President Trump Has Committed 'Treason'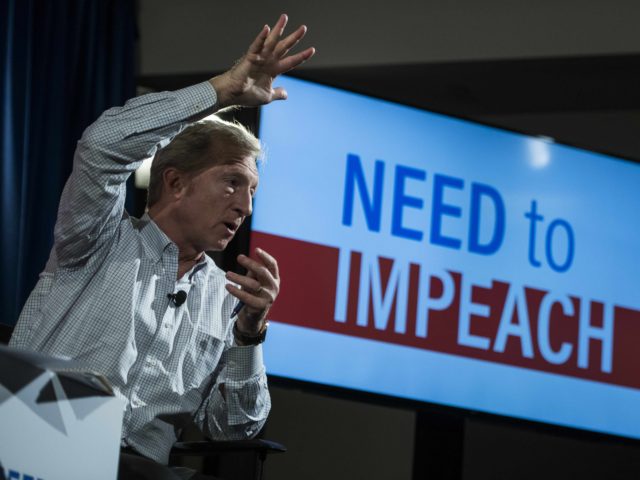 Billionaire environmental activist and "Need to Impeach" founder Tom Steyer said Monday that President Donald Trump had committed "treason" for trusting Russian President Vladimir Putin's denials about interfering in U.S. elections.
"Today, Americans and our allies around the world have witnessed the most disgraceful and appalling performance by a U.S. president in our history. The entire world has seen that Vladimir Putin has full control over Donald Trump," Steyer said, following Trump's meeting with Putin.
"Trump's defense of Putin—a known tyrant—at the expense of our intelligence agencies and democratic institutions is nothing less than treason and fully meets the criteria of high crimes and misdemeanors. Trump must be impeached to preserve the fabric of our democracy and the safety of our republic," he insisted.
Trump drew criticism from Beltway politicians and pundits for his response to a question from an American journalist about whether he trusted American intelligence officials.
"I have great confidence in my intelligence people, but I will tell you that President Putin was extremely strong and powerful in his denial today," Trump said during a joint news conference in Helsinki, Finland, after meeting with Putin for two hours.
Steyer said last month that Democrats need to promise to impeach President Trump if they are to win the midterm elections.
Many seemed to warm to that message on Monday, with former Central Intelligence Agency director John Brennan tweeting that Trump's remarks were "nothing short of treasonous."
Are Trump critics shooting themselves in the foot by overreacting to Trump's controversial meeting with Vladimir Putin? All they had to do was react. The story practically wrote itself. The U.S. president sided with our adversary over his own intelligence community, which insists Russia interfered in our elections.
Instead of using the straightforward script they already have, several pundits are overdoing it by comparing Trump's performance in Helsinki to World War Two and the Holocaust. Former Watergate prosecutor Jill Wine-Banks suggested that they are one in the same.
"His performance today will live in infamy as much as the Pearl Harbor attack or Kristallnacht."

- Fmr. Watergate Prosecutor Jill Wine-Banks on Trump's comments at the Helsinki summit
The Russian foreign agents' taking advantage of us is just as serious as the Cuban Missile Crisis or the September 11 attacks, Wine-Banks added.
Others are comparing Trump's Helsinki press conference to Watergate. Carl Bernstein, one half of the Washington Post duo who broke the scandal in the 1980s, invoked it to suggest Trump's relationship with Putin is a national security emergency.
"I think this is a moment for Republicans to define who they are as they did in Watergate when they decided we couldn't have a criminal president of the United States," Bernstein
said
on CNN. "Republicans have to speak out and say we cannot have a president of the United States whose loyalty is being questioned."
Democrats and Republicans have joined hands to reject Trump's lovefest with Putin. Rep. Chris Van Hollen (D-MD) called it a "new low." Meanwhile, Republican leaders have issued statement after statement correcting Trump's remarks to unequivocally note that Russia is our foe and absolutely interfered in our elections.
Donald Trump's press conference performance in Helsinki rises to & exceeds the threshold of "high crimes & misdemeanors." It was nothing short of treasonous. Not only were Trump's comments imbecilic, he is wholly in the pocket of Putin. Republican Patriots: Where are you???
Treason is a capital crime under the U.S. Constitution; "high crimes and misdemeanors" are the standard for impeachment.
Donald Trump's press conference performance in Helsinki rises to & exceeds the threshold of "high crimes & misdemeanors." It was nothing short of treasonous. Not only were Trump's comments imbecilic, he is wholly in the pocket of Putin. Republican Patriots: Where are you???
Trump and Putin vs. America
From the beginning of his administration, President Trump has responded to every new bit of evidence from the C.I.A., F.B.I. and N.S.A. that Russia intervened in our last election on his behalf by either attacking Barack Obama or the Democrats for being too lax — never President Vladimir Putin of Russia for his unprecedented cyberhit on our democratic process. Such behavior by an American president is so perverse, so contrary to American interests and values, that it leads to only one conclusion: Donald Trump is either an asset of Russian intelligence or really enjoys playing one on TV.