Exclusive–Steve Camarota: Every Illegal Alien Costs Americans $70K Over Their Lifetime
Every illegal alien, over the course of their lifetime, costs American taxpayers about $70,000, Center for Immigration Studies Director of Research Steve Camarota says.
During an interview with SiriusXM Patriot's Breitbart News Daily, Camarota said his research has revealed the enormous financial burden that illegal immigration has on America's working and middle class taxpayers in terms of public services, depressed wages, and welfare.

"In a person's lifetime, I've estimated that an illegal border crosser might cost taxpayers … maybe over $70,000 a year as a net cost," Camarota said. "And that excludes the cost of their U.S.-born children, which gets pretty big when you add that in."

"Once [an illegal alien] has a child, they can receive cash welfare on behalf of their U.S.-born children," Camarota explained. "Once they have a child, they can live in public housing. Once they have a child, they can receive food stamps on behalf of that child. That's how that works."

Camarota said the education levels of illegal aliens, border crossers, and legal immigrants are largely to blame for the high level of welfare usage by the f0reign-born population in the U.S., noting that new arrivals tend to compete for jobs against America's poor and working class communities.

In past waves of mass immigration, Camarota said, the U.S. did not have an expansive welfare system. Today's ever-growing welfare system, coupled with mass illegal and legal immigration levels, is "extremely problematic," according to Camarota, for American taxpayers.

The RAISE Act — reintroduced in the Senate by Senators Tom Cotton (R-AR), David Perdue (R-GA), and Josh Hawley (R-MO) — would cut legal immigration levels in half and convert the immigration system to favor well-educated foreign nationals, thus relieving American workers and taxpayers of the nearly five-decade-long wave of booming immigration. Currently, mass legal immigration redistributes the wealth of working and middle class Americans to the country's top earners.

"Virtually none of that existed in 1900 during the last great wave of immigration, when we also took in a number of poor people. We didn't have a well-developed welfare state," Camarota continued:

We're not going to stop [the welfare state] tomorrow. So

in that context, bringing in less educated people who are poor is extremely problematic for public coffers, for taxpayers in a way that it wasn't in 1900 because the roads weren't even paved between the cities in 1900

. It's just a totally different world. And

that's the point of the RAISE Act is to sort of bring in line immigration policy with the reality say of a large government … and a welfare state

. [Emphasis added]

The immigrants are not all coming to get welfare and they don't immediately sign up,

but over time, an enormous fraction sign their children up

. It's likely the case that

of the U.S.-born children of illegal immigrants, more than half are signed up for Medicaid

— which is our most expensive program. [Emphasis added]

As Breitbart News has reported, U.S. households headed by foreign-born residents use nearly twice the welfare of households headed by native-born Americans.

Every year the U.S. admits more than 1.5 million foreign nationals, with the vast majority deriving from chain migration. In 2017, the foreign-born population reached a record high of 44.5 million. By 2023, the Center for Immigration Studies estimates that the legal and illegal immigrant population of the U.S. will make up nearly 15 percent of the entire U.S. population.

Breitbart News Daily airs on SiriusXM Patriot 125 weekdays from 6:00 a.m. to 9:00 a.m. Eastern.

John Binder is a reporter for Breitbart News. Follow him on Twitter at @JxhnBinder.




Fixing America's Unemployment Crisis
Trump was elected in part on the promise of creating jobs, but how about those who stopped looking for work?
Nicholas Eberstadt, the Henry Wendt Chair in political economy at the American Enterprise Institute, estimates there are 10 million men who are jobless and no longer looking for work. According to calculations using 2014 data, an estimated 3.6 million women are in the same situation.
President-elect Donald Trump has announced a raft of policies meant to spur economic growth and create jobs, but thought needs to be given to what specific measures might help this urgent situation.
How to address this crisis depends on what one understands the problem to be. A graph showing the prime-age employment rate for men provides a kind of Rorschach test for possible responses.
Jared Bernstein, senior fellow at the Center on Budget and Policy Priorities, former economic adviser to Vice President Joe Biden, and author of, most recently, "The Reconnection Agenda: Reuniting Growth and Prosperity," focuses on the cyclical upturns in the jagged line, on those periods of prosperity when workers regain jobs that had been lost.
Eberstadt focuses on the straight trend line, which has been going inexorably and disastrously downward for decades.
Bernstein and Eberstadt represent two typical and contrasting approaches to the unemployment problem.
If you look at the employment rate for prime-age workers, they have actually clawed back two-thirds of their losses since the great recession.
Bernstein published the graph in a chapter he contributed to Eberstadt's book "Men Without Work," in which he critiques Eberstadt's diagnosis of the employment crisis.
For Bernstein, the key is a missing demand for labor.
"If you look at the employment rate for prime-age workers, they have actually clawed back two-thirds of their losses since the Great Recession," Bernstein said in an interview. "That doesn't sound to me like a group that has given up. It sounds to me like a group that is not facing ample opportunity."
For Eberstadt, the problem is a detachment from work.
Using various government databases, Eberstadt gives a composite portrait of those men who are out of the workforce and not looking for work.
They don't read newspapers, seem to have few familial responsibilities, and tend not to be involved in a church or their communities. They spend most of their time entertaining themselves with TV or hand-held devices; 31 percent admitted to survey takers that they used illegal drugs.
Bernstein counters this portrait by noting that the causal connection may go from a lack of employment opportunities to suffering from depression, which then leads to these men planting themselves on the couch.
As to the individual motives of the non-working, Bernstein said, "We just don't know." His advice to Trump is to aggressively pursue full employment, which involves the federal government using a number of different tools.
Stimulus and Subsidies
Bernstein believes the key to the downward trend his graph shows is the disappearance of manufacturing jobs. He favors trade policies that will reduce America's chronic trade imbalances, which will create more demand for domestic manufacturing.

Bernstein also favors an infrastructure program, with the caveat that "you have to do it right," he said.

He would like to see the federal government get involved in communities that "don't have enough businesses, child care slots, supermarkets, and stores—these are a classic market failure."

The federal government could subsidize private employers in these neighborhoods, giving them an incentive to move their businesses there.

Bernstein also favors special efforts to help those with a criminal record, and Eberstadt agrees finding ways to help this population is key to addressing the problem of non-working adults. He estimates that, by the end of 2016, there will be 20 million with a felony conviction in their past.

Source: Jared Bernstein's analysis of Bureau of Labor statistics in "Men Without Work" by Nicholas Eberstadt

Bernstein supports the Ban the Box initiative, which calls for removing the box on employment applications that must be ticked by anyone with a criminal record.

He also would like to see direct job creation. The federal government would offer a heavily subsidized wage, and at the local level there would be training for specific jobs that would be available in that area.

He would also like to see the federal government fund an apprenticeship program, which would involve recruiting local businesses.

Finally, Bernstein wants to see the federal government get the macro economic policies right to support full employment. This means using monetary policy—primarily interest rates set by the Federal Reserve—and fiscal policy to stimulate the economy. In Bernstein's view, we took our foot off the pedal of fiscal stimulus too soon—the United States should have carried larger deficits in the years following the Great Recession.
Small Business
Eberstadt said it is "small not big business that employs most Americans." Over the last eight years, he said, there has been only marginally more small business births compared to small business deaths. A healthy labor market will be one with "many, many new businesses being formed," he said. Part of the solution? Undo regulatory strangulation and rationalize the tax code.

While Eberstadt agrees that manufacturing jobs are important, he would urge the Trump administration not to "fetishize" manufacturing jobs. The percentage of manufacturing jobs in developed economies around the world has steadily dropped. "Jobs that employ people are good," Eberstadt said, "whether they have the word manufacturing in them or not."

In order to protect the manufacturing jobs we do have, Eberstadt urges that we not get into a trade war with China, Mexico, or other countries, saying that trade wars lose jobs, they don't create jobs.
Clearly there has been a change in the way most people think about what is decent and appropriate for able-bodied, working-age men to do with their lives
— NICHOLAS EBERSTADT
, economist, American Enterprise Institute
Because our entitlement programs are administered locally, they tether people to the states in which they are receiving benefits. Finding a way to cut that tie will give people mobility, which will open up more job opportunities.
Eberstadt's book is meant to initiate "a broad conversation on our 'men without work' problem, a conversation of many voices and differing perspectives." One important solution is to bring this mostly invisible problem "into the public spotlight."
Shortcomings in the data we have limit the kinds of conversations we have. The Bureau of Labor Statistics does not count the 13.6 million people who have stopped looking for work as unemployed. When the American public is given an unemployment rate of 4.9 percent, the crisis of the non-working is hidden from them.
The government surveys that are conducted do not reveal the mindsets of those men who are disconnected from work—vital information for anyone who wants to understand this crisis. The Social Security Disability Insurance program does not have an effective audit that would tell us whether it is being used as a substitute for employment insurance.
Stigma
Eberstadt notes that relevant context for the crisis of the non-working is a change in our society's "mores, and viewpoints, and motivations."

"Clearly there has been a change in the way most people think about what is decent and appropriate for able-bodied, working-age men to do with their lives in their prime working ages," Eberstadt said.

Over half of non-working men in their prime years are getting money from at least one government disability program, according to Eberstadt. These funds, Eberstadt writes, finance the non-working's decision not to work.

He would like to see these programs have a work requirement, as was done 20 years ago with single mothers on welfare. Requiring work stigmatizes non-work and so provides a moral incentive for individuals to move off the couch and back into the workaday world.

Bernstein writes he sees "no good for making these programs less generous or further conditioning them on work."

Stigma, Eberstadt said, "is often a kinder and gentler way of achieving social objectives than police power."
Trump: I Meant What I Said About Closing The Mexican Border … A Year From Now, Maybe
It was funny reading news stories over the last few days about White House staff
scrambling
to figure out how seriously to take his threat to close the border immediately to stop illegal immigration.
"He's not really crazy enough to do this."
"But what if he is crazy enough to do this?"
They had to prepare, just in case. The preparation took two forms, notes
WaPo
: First, looking for ways to ease the ensuing economic pain (Larry Kudlow took to gabbing about keeping "truck roads" open), and second, trying to
talk him out of it, for the love of God.
Mission accomplished, it seems. As of early this afternoon, the border closure had been postponed to 2020 at the earliest.
I'm guessing that the "one-year warning" is more like an 18-month warning. Trump's not going to play economic Russian roulette a few months out from an election by closing the Mexican border.
How was he convinced to change his mind? With two forms of economic arguments, I think. One was the marco argument, that the national economy would take a major hit and auto manufacturing in particular might be brought to its knees if the border suddenly turned imporous. Some of the estimates were gruesome:
Completely shutting down the U.S. border with Mexico, as Trump has threatened,

could halt all U.S. automotive manufacturing within a week, impacting at least 1 million jobs

, said Kristin Dziczek, vice president of industry, labor and economics at the Center for Automotive Research. She said virtually all U.S. auto production relies on some key parts from Mexico or Central America and that these products are brought into the United States on trucks or trains.
Sen. John Kennedy estimated a potential economic cost of $1-2 billion per day. Shoppers would have noticed immediately at the supermarket too, with some produce suddenly scarce or conspicuously more expensive. A man who's looking to
install political allies on the Fed
to keep the policy path clear for sustained economic growth before he faces voters again next fall obviously doesn't want to obstruct that path himself with something like an indefinite border closure.
But there was a more specific argument for Trump not to do it as well: In two words,
Beto O'Rourke
. What I mean is that Texas Republicans adamantly opposed any closing of the border, knowing how severe the impact would be on their home state.
Ted Cruz
issued a statement strongly denouncing the plan; even
Lt. Gov. Dan Patrick
, the Trumpiest high-ranking politician in the state, urged POTUS not to do it. Officials in Texas border towns fretted to the media that they'd be ruined without commerce from Mexico, a development "akin to dropping a bomb on its economy" wrote
WaPo
of the town of Eagle Pass. If Texas were in the bag for Trump next fall that might not have weighed heavily on him. But Cruz's close call with O'Rourke last year has party strategists
worried that Texas may be purpler than thought
, particularly considering that Trump is less popular there than Cruz is.
The odds of Texas going blue next year are slim but not as slim as they used to be, especially if native son Beto is the Dem nominee. Trump can't take any risks that might alienate Republican-leaning swing voters there. And so, inevitably, his threat to close the border immediately became a threat to maybe do it in a year. Possibly.
Either way, it'd be good if he had a policy of not threatening to do stuff like this unless and until he intends to follow through. The threat can have adverse consequences, you see:
"Hurry up and sneak in before America locks the back door" is inevitable opportunistic advertising among coyotes and a price worth paying *if* you really are in the process of shutting the back door. If you aren't then merely threatening to do so encourages a stampede to no end.
Here's Newt yesterday on "Fox & Friends" advising the show's biggest fan not to close the border. I think the fact that so many people who normally devote so much time to cheering him on, from Gingrich to Cruz to Patrick, were warning him against this really drove home to Trump what a mistake it would have been.
Trump's DHS Releases More than 17K Illegal Aliens into U.S. in 12 Days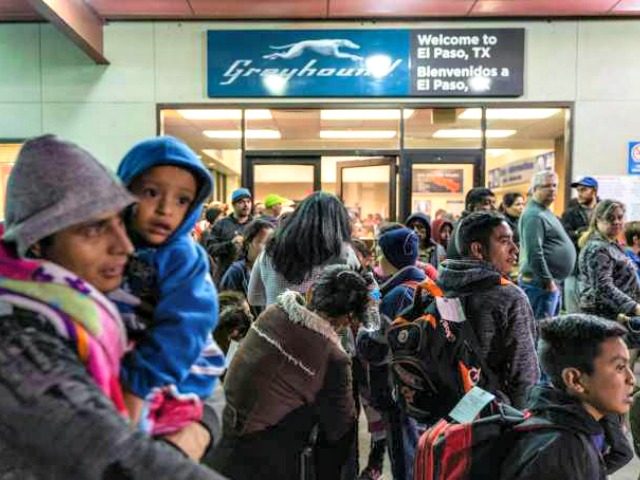 President Trump's Department of Homeland Security (DHS) is continuing its mass release of border crossers and illegal aliens into the interior of the United States, most recently releasing more than 17,000 migrants in less than two weeks.
According to newly obtained data by Breitbart News, DHS released about 17,065 border crossers and illegal aliens into the interior of the U.S. between March 21 and April 1, a mere 12-day period. Since December 21, 2018, DHS has released about 125,565 border crossers and illegal aliens into the interior of the country.
The Catch and Release process often entails federal immigration officials busing border crossers into nearby border cities and dropping them off with the promise that they will show up for their immigration and asylum hearings, sometimes years later. The overwhelming majority of border crossers and illegal aliens are never deported from the country once they are released into the U.S.
Since December 21, 2018, DHS has released:
12,745 border crossers into the San Diego, California area

22,000 border crossers into the Phoenix, Arizona area

37,500 border crossers into the El Paso, Texas area

53,320 border crossers into the San Antonio, Texas area
In the last 12 days, DHS released nearly 6,000 border crossers and illegal aliens into the San Antonio area, alone, forcing American communities to absorb the influx of soaring illegal immigration levels at the U.S.-Mexico border.
The Immigration and Customs Enforcement (ICE) has been tasked with releasing border crossers and illegal aliens into the interior of the U.S., ICE officials have confirmed, under the direction of DHS Secretary Kirstjen Nielsen and Acting ICE Director Ron Vitiello.
The Catch and Release policy has strained ICE resources, forcing fewer arrests of illegal aliens living in the interior of the country in recent months.
At current rates, DHS is on track to release about 500,000 border crossers and illegal aliens into the interior of the U.S. by the end of this year. The mass release of border crossers has coincided with a surge of illegal immigration at the southern border, where about one to 1.5 million illegal aliens, in total, could arrive in the U.S. this year at current projections.
John Binder is a reporter for Breitbart News. Follow him on Twitter at @JxhnBinder.