The Surging Invasion of Illegals
The threat at hand - and what Trump has to do.
By Lloyd Billingsley
FrontPageMag.com
Thousands of illegals, including criminals, breach the border every month with little difficulty. Many are caught and released. Many deportees enter illegally again, and many of those are violent criminals like cop-killer Luis Bracamontes. Politicians set up sanctuary cities and states that protect violent criminals and give illegals a host of benefits, including state jobs.
To stem the surging invasion of illegals, the president should expand use of the military and deploy the kind of practices on display at Travis Air Force Base. The only people who get onto that base are the ones officials want to be there. The United States should likewise establish merit-based immigration and only allow entry to those who respect American law.
. . .
https://www.frontpagemag.com/fpm/272025/surging-invasion-illegals-lloyd-billingsley
There Is No Reason for Migrants Applying for Asylum to Wait in America
By Daniel Greenfield
FrontPageMag.com
Refugee asylum was meant for people fleeing oppressive regimes for a free country. It was never meant to cover mass economic migration.
It was meant for refugees fleeing Nazi Germany or the Soviet Union, not migrant laborers who are looking for more money and using political corruption and gang violence in their countries (conditions that they quickly spread to the United States, beginning with California) as pretexts for claiming asylum.
It was the humane thing to do to allow political refugees fleeing murderous totalitarian states that would kill them if they went back to wait in the United States while their applications for asylum were processed.
Mexico is not about to start shooting the migrant caravan for applying for asylum in the United States.
. . .
https://www.frontpagemag.com/point/272036/there-no-reason-migrants-applying-asylum-wait-daniel-greenfield
MEXICO DECLARES WAR ON THE UNITED STATES
"The radicals seek nothing less than secession from the United States whether to form their own sovereign state or to reunify with Mexico. Those who desire reunification with Mexico are irredentists who seek to reclaim Mexico's "lost" territories in the American Southwest." Maria Hsia Chang Professor of Political Science, University of Nevada Reno
"Mexican president candidate Andrés Manuel López Obrador called for mass immigration to the United States, declaring it a "human right". We will defend all the (Mexican) invaders in the American," Obrador said, adding that immigrants "must leave their towns and find a life, job, welfare, and free medical in the United States."
"Fox's Tucker Carlson noted Thursday that Obrador has previously proposed ranting AMNESTY TO MEXICAN DRUG CARTELS. "America is now Mexico's social safety net, and that's a very good deal for the Mexican ruling class," Carlson added."
All that "cheap" labor is staggeringly expensive!

"Most Californians, who have seen their taxes increase while public services deteriorate, already know the impact that mass illegal immigration is having on their communities, but even they may be shocked when they learn just how much of a drain illegal immigration has become." FAIR President Dan Stein.
Californians bear an enormous fiscal burden as a result of an illegal alien population estimated at almost 3 million residents. The annual expenditure of state and local tax dollars on services for that population is $25.3 billion. That total amounts to a yearly burden of about $2,370 for a household headed by a U.S. citizen.
San Diego Port of Entry Shut Down as Migrants Rush Border Chanting 'Yes We Can'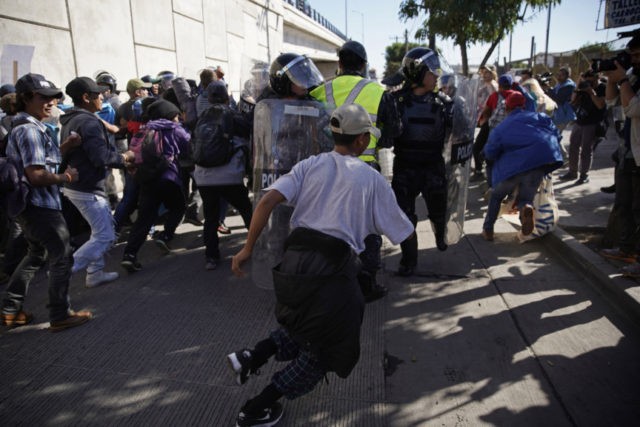 The San Ysidro port of entry, among the largest border crossings between San Diego and Tijuana, was shut down by U.S. Customs and Border Protection agents Sunday after hundreds of caravan migrants appeared to have attempted to breach a U.S.-Mexico border fence.
CBP officials closed traffic roads moving in both directors and pedestrian walkways at the port of entry. An Associated Press reporter
said
tear gas was fired at the migrants from inside the U.S.
Pueblo Sin Fronteras, the group organizing the caravan,
told
Fox News that migrants were preparing to breach the Southern California border crossing on Sunday.
Footage of migrants rushing the port of entry is making the rounds on social media.
In one video shared by ITV reporter Emma Murphy, migrants are heard shouting "yes we can" as they rush the entry point.
U.S. Border Patrol helicopters flew overhead, while U.S. agents held vigil on foot beyond the wire fence in California.
More than 5,000 migrants have been camped in and around a sports complex in Tijuana after making their way through Mexico in recent weeks via caravan. Many hope to apply for asylum in the U.S., but agents at the San Ysidro entry point are processing fewer than 100 asylum petitions a day.
A second line of Mexican police carrying plastic riot shields stood guard outside a Mexican customs and immigration plaza, where the migrants were headed.
That line of police installed tall steel panels behind them outside the Chaparral crossing on the Mexican side of the border, which completely blocked incoming traffic lanes to Mexico.
Tijuana Mayor Juan Manuel Gastlum on Friday
declared
a humanitarian crisis in his border city of 1.6 million, which he says is struggling to accommodate the crush of migrants.
The Associated Press contributed to this report.
AMERICA, THE ANCHOR BABIES FOR WELFARE STATE
"Through love of having children we're going to take over."

Augustin Cebada, Information Minister of Brown Berets, militant para-military soldiers of Aztlan shouting at U.S. citizens at an Independence Day rally in Los Angeles, 7/4/96
"The children of illegal aliens are commonly known as "anchor babies," as they anchor their illegal alien and noncitizen parents in the U.S. There are
at least 4.5 million
anchor babies in the country,
a population that exceeds
the total number of annual American births."

JOHN BINDER
"As
Breitbart News
recently reported, there are more anchor baby births in the Los Angeles, California metro area than the total U.S. births in 14 states and the District of Colombia. Every year, American taxpayers are billed about
$2.4 billion
to pay for the births of illegal aliens." JOHN BINDER
'Unbridled Immigration, Legal and Illegal, Is Taking the Country Down'
"Through love of having children we're going to take over."

Augustin Cebada, Information Minister of Brown Berets, militant para-military soldiers of Aztlan shouting at U.S. citizens at an Independence Day rally in Los Angeles, 7/4/96
This annual income for an impoverished American family is $10,000 less than the more than $34,500 in federal funds which are spent on each unaccompanied minor border crosser.
A
study
by Tom Wong of the University of California at San Diego discovered that more than 25 percent of DACA-enrolled illegal aliens in the program have anchor babies. That totals about 200,000 anchor babies who are the children of DACA-enrolled illegal aliens. This does not include the anchor babies of DACA-qualified illegal aliens. JOHN BINDER
Every Legal is one paycheck and One Hundred Illegals away from homelessness….

a rape, murder or molestation!
The migrant crisis in Tijuana continues to intensify as migrants flood into the border city which is in the midst of a deadly cartel war that has now registered 2,220 in 2018.
Tijuana Mayor Juan Manuel Gastélum Buenrostro declared a humanitarian crisis this Thursday slamming his federal government's response in dealing with the migrant caravan that has engulfed the beleaguered city as Breitbart News reported. Mayor Gastélum Buenrostro voiced his dissatisfaction with the poor response of the federal government in providing aid for the more than 5,000 caravan migrants who have arrived in the city. The mayor vowed not to bankrupt the city in order to care for those arriving in the city. Officials expect more to arrive daily. Migrant shelters are at full capacity and government resources stretched to the limit.
The migrant crisis is occurring as Tijuana is dealing with an ongoing cartel war that has now reached over 2,220 homicides for the year according to statistics compiled by the state attorney general's office. Officials reported least 141 killings in the month of November as of November 24.
Local law enforcement contacts in Tijuana related to Breitbart Texas that vital law enforcement resources are being diverted to provide security for the migrant shelters. Law enforcement also provides security in the streets for those migrants who have refused to check into a designated shelter. Security personnel who were used to deal with the bloody cartel war are now being used to protect the migrant community. This application of resources angered many local Tijuana residents who demanded that the local government do a better job in dealing the record-breaking body count attributed to the cartel war.
The cartel killings are related to the street level distribution of drugs, despite numerous measures taken by the federal government to intervene, according to local reporting and law enforcement sources.
The bloodshed is generally related to turf wars involving Cártel Tijuana Nueva Generación (CTNG), aligned with El Cártel de Jalisco Nueva Generación, against the Sinaloa Cartel. In some areas, rival factions within the Sinaloa Cartel are fighting for control of the lucrative street-level markets and smuggling routes into the United States. Those involved in the killings are primarily low-level dealers, lookouts, customers, and enforcers. Many of the street-level dealers are targets of rip-crews looking for cash and drugs. Tijuana Deputy Attorney General Jorge Alberto Álvarez Mendoza recently acknowledged that only 2 percent of cases end in convictions.
In one of the most recent killings, a Tijuana municipal police officer was ambushed early Saturday morning at approximately at approximately 3 am while traveling in his personal vehicle in colonia El Florido by cartel gunmen traveling in a second vehicle. The police officer, identified as Officer Joel Huerta Ramírez, was able to drive nearly a mile where he stopped and sought help from Red Cross paramedics. The paramedics then transported him to the hospital where he succumbed to his wounds. According to local media reports, his vehicle sustained at least 10 bullet impacts.
Robert Arce is a retired Phoenix Police detective with extensive experience working Mexican organized crime and street gangs. Arce has worked in the Balkans, Iraq, Haiti, and recently completed a three-year assignment in Monterrey, Mexico, working out of the Consulate for the United States Department of State, International Narcotics and Law Enforcement Program, where he was the Regional Program Manager for Northeast Mexico (Coahuila, Tamaulipas, Nuevo Leon, Durango, San Luis Potosi, Zacatecas.)
Poll: Immigration Up Sharply as No. 1 Problem in U.S.A.
(CNSNews.com)
-- A new survey shows that Americans view "
immigration/illegal aliens
" as the number one problem facing the United States this month. It was cited by 21% of Americans as the most important problem and this percentage is up from 13% in October, an increase of 8 percentage points.
In the survey, Gallup asked Americans to mention the problems they view as most important. Gallup reported the answers for problems cited by at least 3% of respondents.
At the top of the list was "immigration/illegal aliens" at 21%.
"Dissatisfaction with government/Poor leadership" came in second at 18%.
"Healthcare" was third at 11% and "unifying the country" was tied at fourth and fifth with "Race relations/Racism," both at 9%.
"Unemployment/jobs" was at the bottom of the list, tied with "Education," at 3%.
Neither climate change nor gun control made the list.
"Americans are more likely to name immigration as the top problem facing the U.S. in November than they were in October -- it surged to 21% from 13%,"
said Gallup
. "Mentions of healthcare as the most pressing issue also increased, from 6% last month to the current 11%."
"The current 21% who cite immigration or illegal aliens is about as high as the
record 22% Gallup recorded in July
," reported Gallup. "The issue's move to the top of the list comes after a large group of Central American immigrants, widely described in the media as a caravan, formed last month with intentions of crossing the U.S. border."
"It became politicized by President Donald Trump, who declared the caravan a 'national emergency' and sent 5,000 troops to the border to try to prevent illegal entries," said the survey firm.
Gallup further reported, "Currently, 35% of Americans are satisfied with the way things are going in the U.S. -- consistent with the 33% to 38% range for this issue since May. Twin 38% readings, recorded in June and October, marked a
12-year high for the measure
."
Gallup conducted its
survey
Nov. 1-11, prior to and after the Nov. 6 midterm elections.
INVASION: Honduran Migrant Says 20,000 Will March Through Vehicle Lanes at Border, Claims That Applying for Asylum is 'Waste of Time'
The group plans to attempt to illegally enter the US through vehicle lanes at San Ysidro, because "it's more spacious."
Marco Gómez, 26, is a construction worker from Honduras who is currently marching with the caravan. According to the
Epoch Times
, he was with a larger group of migrants who were discussing how they want to "send a message" to President Donald Trump to "open the gates."
"We'll stay together and be strong, and then move on to the U.S.," he said. "Peacefully, like people going from one country to another. Marching."
Gómez and several others told the Epoch Times that they plan to enter illegally and are unlikely to apply for asylum.
"It's a waste of time. It's a process that takes months and years—it's a long time," Gómez said.
Another migrant, Frank Martinez, had a similar plan.
"I personally, and I know many people will attempt to do the same thing—it's to cross illegally. I will enter illegally," Martinez said. "Because we want a better life, and I'm in a hurry."
Though the migrants were offered asylum in Mexico, they have no plans to take them up on their offer. Instead, they hope to storm the border to the US.
"It's not my intention, to stay here, in this country. My intention is the United States," Martinez said.
In a video posted by
Pueblo Sin Fronteras
, one of the organizations assisting the caravan, a leader is heard saying that there will be an attempt to cross the US border on Sunday, November 25.
"The best day to go to the bridge—peacefully, not with violence—is on Sunday. And write banners with our points — and we don't want the media to publish this before we do it," the leader is heard saying.
President Trump said that he has no intention of allowing the invading mob into the country, even if that means closing the US border.
"If for any reason it becomes necessary, we will CLOSE our Southern Border. There is no way that the United States will, after decades of abuse, put up with this costly and dangerous situation anymore!" Trump
tweeted
on Saturday.