ADD CHAIN MIGRATION WHEREBY THE ILLEGALS GET TO BRING UP THE REST OF THEIR FAMILY AND THEN DO THE MATH!




Ready for the next 5 million illegals getting ready to enter the U.S. in 2019?
Gallup put out a poll last week, finding that five million Latin Americans plan to cross into the U.S. this year alone. And the total number who plan to enter the U.S., either this year, or later, is 42 million. The U.S. admits a million legal immigrants each year from all countries. This new survey shows that at least four million of that five million are planning to enter illegally, most likely by crossing the border. That's a human tide.
And the case for President Trump declaring an emergency and building a wall instead of bargaining with an unwilling Congress convinced there's no crisis has just gotten that much stronger.
Here's a good question about caravans: How many more are coming?

A whopping 27% said "yes."

So this means roughly 120 million would like to migrate somewhere.

The next question Gallup asked was, "Where would you like to move?"

Of those who want to leave their Latin American country pe

rmanently, 35% said they want to go to the United States.
The Gallup analytics estimate is that 42 million want to come to the U.S.
That is one hell of a big number, particularly since much of the data suggest that the U.S. already houses some 30 million illegal immigrants. Four or five million more will increase the illegal population by 12% to 17% in just one year, something that will make assimilation for migrants already here in migrant enclaves that much harder.
Migrant enclaves already are at the top of the U.S. lists for bad places to live - 10 of the 50 worst places in America to live according to this list are in California, and all of them are famous for their illegal populations.
The newcomers will need social services, given that most will not have the requisite language, education or skills to succeed here. Many will be unwed mothers, which ensures even here that they will be assimilating into the underclass. The cost to taxpayers to feed, house, educate, medically treat and jail the newcomers will run into billions.
And sure enough, the Border Patrol does say that illegal border crossings are up, way up, and hitting record numbers, according to the Washington Post. The human tide has started.
Gallup's CEO does ask an intelligent question in the wake of this new reality:
Most U.S. citizens like me just want to know the plan. What is the 10-year plan? How many, exactly whom and what skills will they bring? What do we want? Answer these questions, and the current discussion can be resolved.

Keep in mind that it's not only 330 million Americans who are wondering -- so are 42 million seekers from Latin America.
I can add that Latin America isn't the only place where people are contemplating entering the U.S. illegally. The African and Asian continents are also loaded with aspiring illegal immigrants.
Democrats, of course are never going to answer that question.
But it needs answering, because the human waves are coming.
Gallup didn't ask Latin Americans why they might be planning to come now in such great numbers this year, but it's pretty obvious that one answer is that there is an ongoing border wall debate, and the talk just keeps going.
So long as the U.S. is enmired in Democrats' blockage of any funds for a border wall, yet the talk goes on of building, the message to illegal migrants is to move. Get in before the wall gets built while the Democrats are still arguing. This is the window. Don't wait for the border wall to get built. Get in under the wire.
That very dynamic is a good argument for why President Trump should just skip the shenanigans with the Democrats, declare an emergency, and build the wall. The longer this drags on the more the human waves are going to build. And as Gallup reports, we're looking at a tsunami.
Simultaneously, illegal immigration next year is on track to
soar
to the highest level in a decade, with a potential 600,000 border crossers expected.
"More than 750 million people want to migrate to another country permanently, according to Gallup research published Monday, as 150 world leaders sign up to the controversial UN global compact which critics say makes migration a human right." VIRGINIA HALE
LA RAZA SUPREMACIST HILLARY CLINTON'S

TRILLION DOLLAR WELFARE HANDOUT TO NARCOMEX!
Clinton amnesty plan would cost taxpayers $1.2 trillion
Hillary Clinton's plan to bring 11 million illegal aliens
"out of the shadows" would cost American households an immediate tax increase of $1.2 trillion, or $15,000 per household, according to a study by the National Academy of Sciences.
CHRISTIAN SCIENCE MONITOR
What will America stand for in 2050?
The US should think long and hard about the high number of Latino immigrants.
It's not just a short-run issue of immigrants competing with citizens for jobs as unemployment approaches 10 percent or the number of uninsured straining the quality of healthcare. Heavy immigration from Latin America threatens our cohesiveness as a nation.
MEXICO WILL DOUBLE U.S. POPULATION
At the current rate of invasion (mostly through Mexico, but also through Canada) the United States will be completely over run with illegal aliens by the year 2025. I'm not talking about legal immigrants who follow US law to become citizens. In less than 20 years, if we do not stop the invasion, ILLEGAL aliens and their offspring will be the dominant population in the United States.
FINISHING AMERICA OFF: THE FOREIGN INVASION FOR "CHEAP" LABOR
Open the floodgates of our welfare state to the uneducated, impoverished, and unskilled masses of the world and in a generation or three America, as we know it, will be gone. JOHN BINDER
But many less-skilled migrants play their largest role by simply shifting small slices of wealth from person to person, for example, by competing up rents in their neighborhood or by competing down wages in their workplace. The crudest examples can be seen in agriculture.
Overall, the Washington-imposed economic policy of economic growth via immigration shifts wealth from young people towards older people by
flooding
the market with
cheap white-collar and blue-collar foreign labor
.
"Critics argue that giving amnesty to 12 to 30 million illegal aliens in the U.S. would have an immediate negative impact on America's working and middle class — specifically black Americans and the white working class — who would be in direct competition for blue-collar jobs with the largely low-skilled illegal alien population." JOHN BINDER
The U.S.-born baby is, of course, a U.S. citizen, whose illegal alien parents are eligible to receive, on the baby's behalf, food stamps, nutrition from the Women, Infants, and Children (WIC) program, and numerous tax benefits, including the EITC.
Most importantly, the newborn is deportation insurance for its parents. Illegal aliens facing deportation can argue that to deport one or more parents would create an "extreme hardship" for the new baby. If an immigration officer agrees, we've added a new adult to the nation's population. At age 21 the former birthright citizen baby can formally apply for green cards for parents and siblings, and they, in turn, can start their own immigration chains.
US now has more Spanish speakers than Spain – only Mexico has more
·
US has 41 million native speakers plus 11 million who are bilingual
·
New Mexico, California, Texas and Arizona have highest concentrations
Census: Foreign-Born Population to Hit 69M By 2060 If Immigration Continues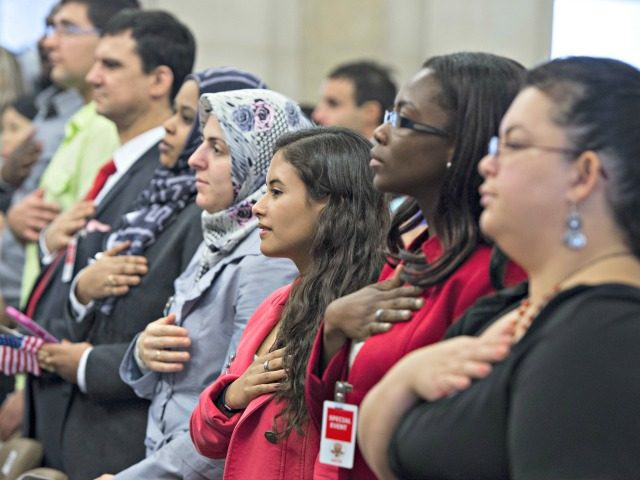 The foreign-born population will hit an unprecedented 69 million by 2060 should current legal immigration levels — wherein the U.S. admits more than a million legal immigrants a year — continue unchanged.
This would represent a 56 percent increase in the foreign-born resident share of the total U.S. population in just four decades.
Under scenarios in which the U.S. either halts legal immigration or reduces current levels to about half for the next four decades, the foreign-born population would stabilize to anywhere between 22.5 million to about 45.9 million.
Likewise, halting or reducing legal immigration would stabilize the total U.S. population, rather than driving it to a historic 404 million residents by 2060. With zero net legal immigration to the country, the U.S. population would stabilize around 329 million residents in the next four decades.
Even reducing current legal immigration levels by half would stabilize the U.S. population to about 367 million total residents. This would be 37 million fewer residents crowded into the country than if current legal immigration levels were unchanged.
Should legal immigration levels go unchanged and the U.S. population reaches 404 million residents by 2060 as Census Bureau researchers project, the country's population will be more than double what it was in 1965, when about 194 million residents lived in America.