ONCE AN ILLEGAL, ALWAYS A DEM VOTER!
Election Fraud Expert: Brenda Snipes Allowed Illegal Aliens and Felons to Vote; Illegally Destroyed Ballots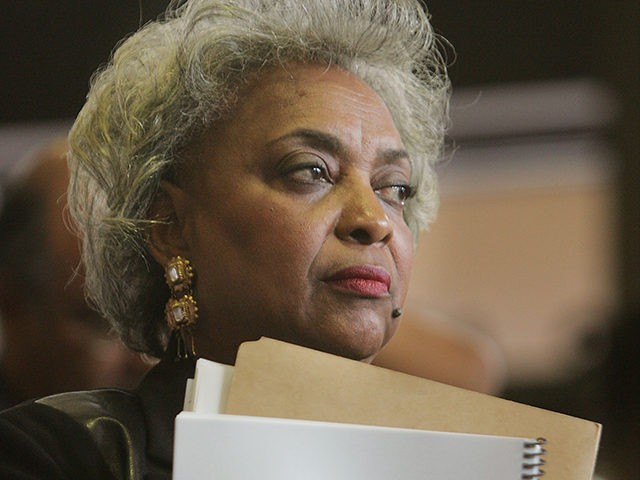 Three statewide races in Florida are headed to a recount and all depend on results from a county whose supervisor of elections has a history of losing ballots and breaking laws by allowing illegal immigrants and felons to vote, as well as illegally destroying ballots.
Broward County supervisor of elections Brenda Snipes' office has admitted "they don't know" how many ballots there are still to count.
Snipes' latest failure to finalize Tuesday's election returns days after the polls closed is also in violation of Florida law, which requires elections officials to "report all early voting and all tabulated vote-by-mail results to the Department of State within 30 minutes after the polls close. Thereafter, the canvassing board shall report, with the exception of provisional ballot results, updated precinct election results to the department at least every 45 minutes until all results are completely reported."
This should alarm anyone hoping for fair and accurate election returns, as Snipes' history in Broward is checkered with numerous examples of facilitating illegal voting practices.
In 2017, Dr. Snipes admitted in court that her office had allowed non-citizens and felons to vote and was particularly vulnerable ahead of major elections.
In 2012, a Broward elections official complained about Snipes tendency to "find" additional ballots in close elections. Ilene Lieberman, a Broward County Commissioner and Canvassing board member, told the Miami CBS affiliate in 2012, "When the canvassing board recessed on Saturday we were basically told there were between 150 and 165 ballots remained to be counted, that they had to double check, that they hadn't been counted before. And when we came back on Monday the report showed 963 new ballots."
Snipes also presided over a "phantom voting district" of 2000 voters who were using illegal addresses, many of them at a UPS Store, claimed as their places of residence.
Republican Party officials sued Snipes' office in 2016 over the illegal counting of 180,000 mail in ballots, she admitted that she didn't know the meaning of the word "canvassing." Snipes' office had been opening ballots illegally, without the legally required participation of other members of the canvasing board.
But Snipes hasn't just been accused of malfeasance from Republicans.
A 2016 Democratic Congressional candidate, Tim Canova, challenged the results of his loss to Debbie Wasserman-Schultz in court, only to have Snipes' office illegally destroy the ballots, preventing additional inspection.
Medical Marijuana backers NORML sued Snipes office in 2016 after the constitutional initiative to decriminalize marijuana was left off of some Broward County ballots. Lawyer John Morgan, who endorsed Andrew Gillum in this year's Governor's race, accused Snipes of doing it intentionally.
Morgain marveled, "Broward County was our best county last time. And I don't believe in accidents."
Snipes was originally appointed to her office by Republican Governor Jeb Bush in 2003, after her predecessor was removed from office for gross mismanagement. A former school administrator and principal, Snipes won election in 2004 and has been successfully been re-elected by Broward County voters every four years, most recently in a 2016 primary, where she received 76% of the 122,782 votes cast.
Even that electoral win was not without controversy, however, as Snipes office inadvertently released the results of the elections 30 minutes before polls officially closed.
According to Florida law, "Any supervisor of elections, deputy supervisor of elections, canvassing board member, election board member, or election employee who releases the results of any election prior to the closing of the polls in that county on election day commits a felony of the third degree."
Despite the Florida Secretary of State asking the Broward County Sherriff and State Attorney for an investigation, like other election-related crimes in Broward County, however, that also went unpunished
MICHELE MALKIN
The rise of the Mexican LA RAZA supremacy fascist welfare state built by the Democrat Party
Understanding LA RAZA / UNIDOSus:
The U.S. tax dollar funded Mexican fascist party which is the fastest growing political party in America
Only in America could critics of a group called "The Race" be labeled racists. Such is the triumph of left-wing identity chauvinists, whose aggressive activists and supine abettors have succeeded in redefining all opposition as "hate."
Previous generations of immigrants did not believe they were racially superior to Americans. That is the view of
La Raza Cosmica
, by Jose Vasconcelos, Mexico's former education minister and a presidential candidate. According to this book, republished in 1979 by the Department of Chicano Studies at Cal State LA, students of Scandinavian, Dutch and English background are dullards, blacks are ugly and inferior, and those "Mongols" with the slanted eyes lack enterprise. The superior new "cosmic" race of Spaniards and Indians is replacing them, and all Yankee "Anglos." LLOYD BILLINGSLEY/ FRONTPAGE mag
PAUL KRUGMAN
The disintegration of California, a Mexican satellite welfare state of poverty, crime and high taxes
"Chairman of the DNC Keith Ellison was even spotted
wearing
a shirt stating, "I don't believe in borders" written in Spanish.
According to a new CBS news
poll
, 63 percent of Americans in competitive congressional districts think those crossing illegally should be immediately deported or arrested. This is undoubtedly contrary to the views expressed by the Democratic Party.
Their endgame is open borders, which has become evident over the last eight years. Don't for one second let them convince you otherwise."
Evan Berryhill Twitter @EvBerryhill.
AMNESTY WILL ADD ANOTHER 100 MILLION IMMIGRANTS TO AMERICA'S OPEN BORDERS
FL Judge To Broward County: Your Shoddy Vote Counting Operation Violated Open Records Laws
|
|
Posted: Nov 09, 2018 4:20 PM
Well, Gov. Rick Scott's legal action against the shoddy ballot counting antics in two of the most liberal counties in the state seems to have clinched its first win: A Florida judge ruled that Broward County, the largest Democratic county in the state, was in violation of state law, and that Brenda Snipes, the county's elections supervisor, was in violation of open records act. Ms. Snipes was not giving regular updates on how many outstanding ballots were left. She was just dumping vote counts in the late hours, which has chipped away at Scott's lead, but the secrecy and the timing was suspect. Why is Broward taking so long? Hurricane Michael-ravaged counties have been able to count their ballots on time. Now, she must comply with records inspections by 7 P.M.
***
Scott has already declared victory over Democratic incumbent Sen. Bill Nelson. At the time, he was ahead by a little over 34,500 votes. It's now around 18,000. Scott has a lead of less than half of one percent, so lawyers have been pouring into the state—and this isn't the first time Ms. Snipes has been either violating the law or straight up
been total garbage at her job
.
FL SEN: The Sordid And Possibly Criminal History Of Broward County's Election Supervisor…The Biggest Dem Bastion In The State
|
|
Posted: Nov 09, 2018 1:25 PM
The Florida Senate race is rapidly spiraling out of control. Republican Gov. Rick Scott has declared victory over incumbent Democratic Sen. Bill Nelson, but vote count irregularities have chipped away at Scott's lead. He was leading by a little over 34,500 votes, but these late night dumps in Broward County have raised eyebrows. First, they don't know how many outstanding ballots are left, they're not keeping regular updates on their counting processes, and provisional ballots were left at a polling location, no chain of custody, for Lord knows how long. It's a mess. Sen. Marco Rubio (R-FL) has gone on lengthy Twitter threads detailing the incompetence over what's happening with the vote counts, some of which are in violation of state law.
Scott and the National Republican Senatorial Committee slapped Broward with a lawsuit last night. As his lead enters recount territory, there is a real concern that Democratic antics are being executed to steal this election. Palm Beach County is another sketchy Democratic county that's not being transparent in how it's counting its votes. To put things into perspective, the counties that were ravaged by a category four hurricane, Michael, have all counted their votes on time. And as many of you already know Broward is ground zero for these sorts of games, especially with its elections supervisor,
Brenda Snipes
, who appears to be an absolute catastrophe at her job.
Snipes has illegally destroyed ballots in the Democratic primary for Debbie Wasserman Schultz's congressional race in 2016. This county has a rather long and sordid history of incompetence and possible illegality with regards to elections, and it's the biggest Democratic county in the state (via
Sun Sentinel
):
The Broward County Supervisor of Elections Office violated state and federal laws by destroying ballots from a 2016 Congressional race too soon — and while the ballots were the subject of a lawsuit against the office, a judge has ruled.

Based on that ruling, Florida's Department of State will send election experts to the Broward elections office in the upcoming election "to ensure that all laws are followed," the governor's office said. It could also cost the elections office more than $200,000 to pay attorney's fees for Tim Canova, the defeated candidate who sued the office.

The decision stems from Canova's bid to unseat Congresswoman Debbie Wasserman Schultz in the Democratic primary, a race he lost convincingly, at about 57 percent to 43 percent, or 28,809 votes to 21,907.

Canova, who was checking for voting irregularities in the race, sought to look at the paper ballots in March 2017 and took Elections Supervisor Brenda Snipes to court three months later when her office hadn't fulfilled his request. Snipes approved the destruction of the ballots in September, signing a certification that said no court cases involving the ballots were pending.
Broward County had some issues with absentee ballots, like them not ever being sent to voters (via
Miami Herald
):
Former students of Trish Everett's senior-level Government and Politics class at Pine Crest School in Broward say their teacher taught them the importance of civic engagement. They were excited to vote. For many, this midterm election would have been their first time exercising their democratic rights. But there were problems: Their absentee ballots never arrived, or came so late they wouldn't be able to send them back in time.

"I first applied for an absentee ballot about two months ago," said Gabrielle Meli, a freshman at Cornell University, who said the Broward Elections Department repeatedly denied she had applied for the ballot. (Meli said she received three emails confirming her application.)

After following up with the department several times in October, Meli reached out to her former teacher who tried to help her get a ballot, she said. Others in her class at the private preparatory school had done the same, and the former classmates realized their experiences may be part of a larger problem.

"So many of my peers from high school never received their ballots and they had very similar issues to me," Meli said. "Many of them had their parents go and physically pick up the ballot and mail it to them because the office of elections was simply not doing its job."
In 2014, when Scott was running for a second term as governor, folks had trouble casting ballots (via
Miami Herald
):
Broward did indeed experience a handful of issues that the supervisor of election described as minor. Before noon, Sun Sentinel editorial page editor Rosemary Goudreau posted a column on the newspaper's website saying poll workers told her she'd already voted when she swiped her driver's license.

She said ultimately she was allowed to cast a standard ballot after it was confirmed she had not voted.

"But on leaving my precinct at Fort Lauderdale's Virginia Shuman Young Elementary School on Tuesday morning, I wondered whether my vote will count," Goudreau wrote, adding that at least one other voter experienced the same issue.

In Pompano Beach, Mark Merrill experienced the same problem, according to his wife, Robin Haines Merrill. She told The Herald that poll workers told her husband he'd already voted. But, having already read Goudreau's column, they argued against filling out a provisional ballot.

She said her husband, who has no party affiliation, was able to vote, but the issue ruined a family trip to the polls with their son, who at 18 was voting for the first time.

"I just think it's a freaking mess," she said.
Broward also posted election results a half hour before polls closed, had left amendments off the ballot in previous years, and sent mail-in ballots with duplicate pages (via
Miami Herald
):
It was Oct. 2, the day 200,000 mail ballots were sent out to voters. "There is a lot of preparation that goes into the process, but we see a lot of people who vote that way," Snipes said. Voting by mail is very popular because "it is so convenient," said Snipes, who expects to get about half of those ballots back.

Machines whirred, separating ballots by ZIP codes, checking bar codes and stuffing envelopes. Three 18-wheelers waited in bays as workers rolled cart after cart of postage-ready ballots into the open truck bed. Florida Highway Patrol officers waited to escort the caravan of trucks to the Opa-locka post office, where they would be mailed.

"The system does not let people get the wrong ballots," said Mary Hall, voter services director. "There is no error. It's error free."

Weeks later, the Sun-Sentinel reported that a Broward resident received a ballot with duplicate pages, though the department said at the time it was unaware of the problem. Two years earlier, Snipes was sued because the medical marijuana question was left off some ballots. The lawsuit, brought by a group pushing the constitutional amendment, was unsuccessful.

[…]

Then, there are the election night flukes: unexpected and embarrassing errors like when the early voting numbers went online 30 minutes before polls closed in the 2016 August primary, contrary to Florida election law.

Although Broward Elections and Snipes personally took a lot of heat for that error, it wasn't their fault. The results were posted accidentally by a young employee of VR Systems, the outside company Broward contracts with to tally election results, according to an affidavit produced by the company after the incident.
Some of these are clear violations of state law, while others are just negligence. The marijuana
ballot fiasco
is, as you can see, one of many problems going on in the county and the state. Ballot stuffing has also been alleged. In Broward, 103 percent of its voter population was said to be registered in 2014 (via
Heritage
):
...There are organizations committed to advancing election integrity. The Public Interest Legal Foundation is presently litigating in court against Broward County, Florida for failing to adequately maintain its voter rolls as required by law.

According to the Foundation, the county had 103 percent of its eligible voter population registered in the 2014 election, and the county's records indicate that thousands of voters are over the age of 100, with one as old as 130.

Clearly, Broward County's rolls could stand some maintenance, and it is hard to see how anyone would be against an effort to clean them up and ensure they are accurate. After all, inaccuracies in voter registration records create vulnerabilities that can be exploited.

Brenda Snipes, the Broward County supervisor of elections, evidently disagrees.

The Public Interest Legal Foundation lawsuit was prompted by Snipes' response to a request for information, filed pursuant to the National Voter Registration Act, seeking her methods of ensuring the accuracy of voter records.

Snipes asserted that, despite all the evidence to the contrary, it was "implausible" that ineligible voters are registered.
Finally, Snipes was dragged into court by the Florida GOP for the way she was counting mail-in ballots, which she was doing in secret (via
Politico
):
A judge has ordered the election supervisor in Florida's second-most populous county to change the way she handles vote-by-mail absentee ballots after the Republican Party sued her for not following the law.

The declaratory injunction, ordered Friday, prevents Broward County Election Supervisor Brenda Snipes from opening the mail-in ballots in secret or before the county's three-member Canvassing Board meets to determine the ballots' validity. The board can begin meeting Monday to handle absentee ballots, more than 75,000 of which have been cast in Broward ahead of the Aug. 28 primaries.

We appreciate the court's order clarifying what Florida law plainly requires — that Supervisor Snipes and her staff must safely keep and may not open any vote-by-mail ballot until the Broward County Canvassing Board canvasses the vote," said Yohana de la Torre, spokeswoman for the Republican Party of Florida. "The Court's ruling helps to protect the integrity of this year's election process not just for Republicans but all voters in Broward County."

Snipes and her attorney, Burnadette Norris-Weeks, could not be reached for comment.
The real question is how does this lady still have her job? With Scott heading for a recount and Broward/Palm Beach counties still a mess, expect more nonsense to pop up. Democratic lawyers are pouring into the state. Lawfare is about to begin.
Marco Rubio: These Private Cars Transporting Ballots in Florida Sure are Suspicious
|
|
Posted: Nov 09, 2018 11:00 AM
It sure looks like Democrats are trying to steal a U.S. Senate election in Florida. First, some
background
on what's happening from
Matt:
Something odd is occurring in Florida's Senate race. Republican Gov. Rick Scott has declared victory over incumbent Democratic Sen. Bill Nelson. At the time, Scott led Nelson by a little over 34,500 votes. It's now been cut to around 18,000. We're heading into recount territory, as Scott's lead has dwindled to 0.2 percent; less than half of one percent triggers an automatic recount. Yet, in two Democratic bastions—Palm Beach and Broward counties—they're taking their sweet time counting the votes and not telling how many are left outstanding. A category four hurricane recently hit the state and yet every county, including the ones slammed by Michael, have all counted their votes. In Broward, the supervisor there isn't keeping regular reports on the ballots that need to be counted. She also appears not to know and has been dumping thousands at a time in the late night hours.

Republican Senator Marco Rubio, who represents Florida, is sounding the alarm. Further, he's wondering if anyone in the media is asking serious questions about why Broward County ballots are being transported in private vehicles.
Late Thursday night Florida Governor and U.S. Senate candidate Rick Scott issued a lawsuit against Broward County for it's alleged violation of Florida election laws and slow walking of vote counting well past Election Day.
Meanwhile, President Trump said last night that law enforcement is also looking into the situation.