Report: Democrats' 2019 DHS Spending Bill Opens the Border to Migrants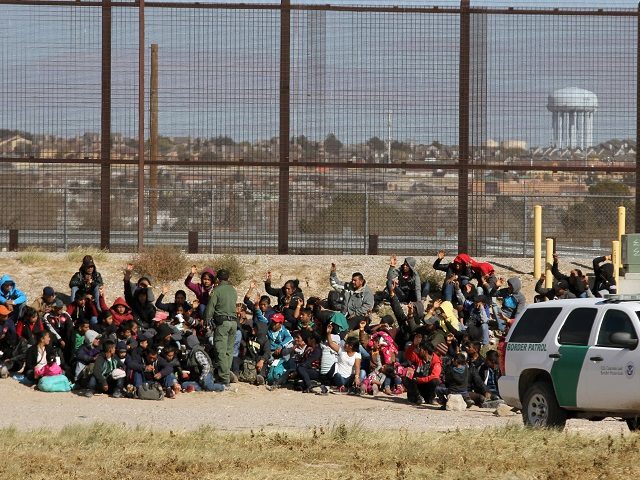 The House Democrats' proposed 2019 homeland security budget reopens the nation's southern border to migrant inflows, while it also dangles the promise of cheap labor in front of GOP legislators and donors.
The draft budget adds $1.75 billion in extra border spending to President Donald Trump's $58.7 billion budget request for the Department of Homeland security in 2019, according to a
copy
published by the
Washington Post
.
But Democrats' draft bill does not include any funding for the wall, and it uses the extra money to help migrants bypass border protections and then win jobs in the U.S. labor market.
Judging by the draft bill, "the Democrats want to limit the government's ability to keep people out of the country," said Mark Krikorian, director of the Center for Immigration Studies. In the Democrats' provisions become law, he said, adding that "e
nforcement would be weakened and people abroad would every quickly learn of that, and then illegal immigration would dramatically increase, especially of people with children."
Any flood of new migrants will force down wages for Americans, raise profits for donors, and will pressure some Americans to seek welfare from the government. In 2017, under rules set by former President Barack Obama and Congress, roughly 400,000 migrants got work permits to compete against Americans for jobs.
The Democrats' bill does not include any money for fences or walls, and it bars officials from setting barriers in major migrant pathways across the border:
[The bill] prohibits the use of funds from this and prior year Acts to construct physical barriers, as follows: Within or north of the Santa Ana Wildlife Refuge; Within or north of the Bentsen-Rio Grande Valley State Park; Within or north of La Lomita Historical Park; Within, south of, or north of the National Butterfly Center; or Within, north of, or east of the Vista del Mar Ranch tract of the Lower Rio Grande Valley National Wildlife Refuge.
The bill blocks Trump's rules which deny asylum to migrants who say they are afraid of gangs or domestic violence. It commits the DHS to end the detention of migrants who bring children to the border even though many migrants openly tell reporters that they bring children to trigger Obama's catch and release rules. The bill also cuts funding needed to keep migrants in detention until their legal claims are resolved, and it spends at least $75 million to encourage the catch-and-release of migrants.
The bill allocates $502 million for "humanitarian concerns" to welcome and aid migrants as they push their way through the border.
It also reopens Obama's pipeline for relaying Central American "UAC" youths from the cartels' coyotes at the border up to their parents and relatives who are living illegally in the United States while cutting ICE personnel levels and enforcement operations.
The bill also reauthorizes the EB-5 law which allows wealthy Chinese and Indian families to effectively buy green cards if they lend cash to American real-estate developers. The citizenship-for-sale program has strong supporters in both parties, including from New York's Democratic Sen. Chuck Schumer and Texas' GOP Sen. John Cornyn.
The bill also diverts border security funds into pork-barrel spending in members' districts, such as the purchases of aircraft, extra construction projects, $403 million for disaster spending, and a requirement that federal agencies clean up debris from forest fires.
The Democrats' border-opening legislation comes after the GOP Hill leadership — and the White House's Hill liaison team — failed last winter to enact a DHS funding bill for 2019. During the entire year of 2018, the Senate's GOP leadership did not publicly use any carrots or sticks to win Democratic acceptance to a border security plan acceptable to President Donald Trump, who must now pressure Hill legislators to pass much of the 2018 border security bill which was not passed in 2018.
But Democrats do not want to recognize the economic and civic damage from their tacit support of mass migration, said Krikorian. He continued:
I

t is becoming increasingly mainstream on the left to reject the concept of immigration controls. Not that criminals should be let in, or terrorists, but the principle [they support] that everyone has the right to move here — unless there is some specific reason to keep them out— is now at the center of the Democratic Party.
"Our elites are increasingly dangerous — they are a danger to the health of their society," he added.
Democrats have plenty of tools to pressure GOP legislators to accept the Democrats' border-opening legislation.
The bill denies any funding for walls. When GOP legislators push for wall funding, Democrats can demand offsetting cutbacks in enforcement and border rules.
Democrats also can offer more cheap labor to GOP donors if the GOP legislators agree to the Democrats' border opening plans.
For example, the bill does not include several expansions of visa-worker programs which were included in the July 2018 draft budget by Rep. Kevin Yoder and many GOP and Democratic appropriators. Yoder was defeated in November, but the border security panel is dominated by House and Senate appropriators.
Yoder's provisions would have roughly doubled the inflow of H-2B seasonal laborers, so forcing down salaries for American seasonal workers and blue collar workers.
Yoder also pushed for a rule which would allow all farm companies — including dairies — to use the fast-growing H-2A agricultural worker program. If adopted, the measure would shrink farmers' incentives and ability to buy American made, labor-saving machines, such as robotic cow-milkers.
Most dramatically, Yoder and his fellow appropriators offered the hugely valuable prize of green cards to at least 50,000 additional low-wage Indian and Chinese graduates per year if they take middle-class jobs from American graduates. The green card offer is being marketed by lobbyists as the fair removal of "country caps." But it is being backed by U.S. Fortune 500 companies who wish to raise their stock values by hiring more cheap visa-workers in place of American graduates.
U.S. companies already employ roughly 1.5 million college trained visa workers, mostly in jobs that were not advertised to American graduates. Many of those workers accept very low wages from their employers in the hope of winning green cards from the government.
Throughout the next several weeks, the GOP legislators will face pressure behind closed doors from business groups that want the cheap H-2A, H-2B, and H1B visa workers.
Yet few reporters ever ask legislators why they are eager to import cheap labor which forces down wages and salaries for Americans — including the wages and salaries paid to the journalists' children, friends, relatives, and college roommates.
Nationwide, the U.S. establishment's economic policy of using legal migration to boost economic growth shifts wealth from young people towards older people by
flooding
the market with cheap white-collar and blue-collar foreign
labor
.
That flood of outside labor
spikes
profits and Wall Street values by
cutting
salaries for manual and skilled labor of blue-collar and white-collar
employees
.
The cheap labor policy
widens
wealth gaps,
reduces
high tech investment,
increases
state and local tax burdens,
hurts
kids' schools and
college
education,
pushes
Americans away from high tech careers, and sidelines at least five million
marginalized
Americans and their families, including many who are now
struggling
with fentanyl addictions.
Immigration also steers investment and wealth away from towns in Heartland
states
because coastal investors can more easily hire and supervise the large
immigrant
populations who
prefer
to live in coastal cities. In turn, that investment flow
drives
up real estate prices in New York, California, and elsewhere, pricing poor U.S. Latinos and
blacks
out of prosperous cities, such as
Berkeley
and
Oakland
.
Washington, D.C. (January 31, 2019)
– The Center for Immigration Studies has published a midterm assessment on immigration actions taken by the president referring back to the Center's pre-election report,
"A Pen and a Phone: 79 immigration actions the next president can take"
. The 2016 publication outlined legal executive actions that could be taken without any involvement by Congress, and this follow-up assesses what has and has not been accomplished on each of the 79 recommendations.
View the full analysis at:
https://cis.org/Report/Revisiting-Pen-and-Phone-Midterm-Assessment
The policy recommendations and assessment cover the full spectrum of immigration – lawful permanent residents, nonimmigrant entrants, and illegal immigration. From asylum and refugee claims, to worksite enforcement, to benefit fraud, to national security and crime, this new analysis highlights the state of immigration policy today.
Mark Krikorian, the Center's executive director, said, "Prior to the 2016 Presidential election, the Center provided a guide for the next president to aid in bringing immigration policies, both big and small, back in line with the rule of law and American interests. Over the past two years, little of immigration significance occurred in the legislative arena and many of the efforts made by the administration resulted in litigation, and in all too many cases issuance of nationwide injunctions by U.S. District Court judges. Re-instilling integrity and rigor into the system will be years in the making."
WHO BUT THE RICH WANT AMNESTY and WIDER OPEN BORDERS?
Well, the Globalist Democrat Party, Mexico, the U.S. Chamber of Commerce and employers of illegals!
"Johnson tried to push the 213 "Gang of Eight" amnesty through the House during 2014. If it had passed, the amnesty would have shifted more wealth from ordinary Americans to investors, according to the Congressional Budget Office."
The cheap labor policy
widens
wealth gaps,
reduces
high tech investment,
increases
state and local tax burdens,
hurts
kids' schools and
college
education,
pushes
Americans away from high tech careers, and sidelines at least five million
marginalized
Americans and their families, including many who are now
struggling
with fentanyl addictions.
Jobless Claims Jump to 253,000, Highest in Year and a Half
The number of Americans filing applications for jobless benefits rose 53,000 to 253,000 from a 49-year low the prior week, indicating that the labor market experienced some slowdown during the government shutdown.
Economists had expected claims to rise to 220,000 in the week ended January 26 from the originally reported 199,000 the previous week. This is the highest level for initial claims since September 30, 2017 when it was 254,000, the Labor Department said. The previous week was revised up by 1,000 to 200,000.
Jobless claims can be quite volatile week to week. The 4-week moving average, which smooths out weekly volatility, is considered a more reliable metric for the health of the labor market. This rose by 5,000 to 220,250.
Unemployment claims are a proxy for layoffs. They have been closely watched over the past year for signals of how the tariffs and the trade dispute with China might be affecting U.S. jobs. So far, the data show no signs that tariffs are costing American workers jobs.
In addition, jobless claims have become a focus for those looking for signs the government shutdown may have hurt the labor market. Federal workers who were locked out of their jobs during the shutdown were eligible to claim unemployment benefits, as were private sector employees of many government contractors who stopped worked during the shutdown.
Jobless claims by Federal workers get reported with a delay. Claims by federal workers totaled 14,739 in the week ending January 19, a decrease of 10,680 from the prior week. There were 40,112 federal workers filing for unemployment benefits for the week ending January 12, an increase of 15,431 from the previous week.
The Federal Reserve announced it was pausing interest rate hikes after its January 29-30 meeting. The Fed hiked rates four times last year and had earlier forecast more hikes for 2019. Now it appears the Fed might not hike at all this year. The futures market indicates that there is a significant chance the Fed will cut rates in 2020 rather than raise them further.
Despite backing off plans to hike rates, the Fed described the jobs market as a "strong" in its statement and noted that unemployment remains very low. Nonetheless, inflation remains very low and data suggests price pressure has eased in recent months.
Billionaire Kochs Unite Plutocrats for Amnesty, Vow Not to Back Trump in 2020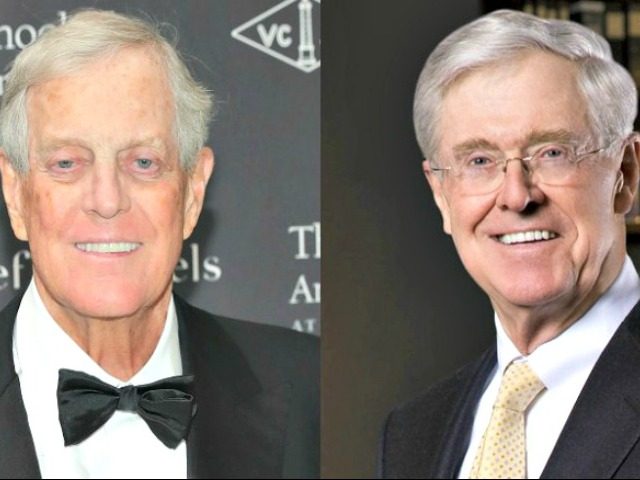 The pro-mass immigration Koch brothers' network of billionaire, donor class organizations is uniting plutocrats, corporations, and the open borders lobby to push an amnesty this year, all while vowing not to back President Trump in his 2020 re-election bid.
This week, the Koch network — which includes Americans for Prosperity, the Libre Initiative, and Freedom Partners — hosted more than 630 millionaire and billionaire donors who give hundreds of thousands to the network of organizations every year.
The Koch network at the elite winter gathering in California reiterated that they would provide no financial backing for Trump in the 2020 presidential election.
The Kochs and their libertarian donors have launched campaigns over the
last two years
opposing
the president's pro-American immigration reform agenda that seeks to reduce all immigration to the U.S. as well as his economic nationalist platform that includes using tariffs to protect American jobs and U.S. industry.
Additionally, Koch spokespeople at the donors' conference said the network has its sights set on pushing amnesty for millions of illegal aliens this year.
This effort will be a unity pact between Silicon Valley tech executives — who profit from a never-ending flow of cheaper, foreign labor and more consumers to buy products — as well as the open borders, billionaire George Soros-funded ACLU and multinational corporations,
according to
National Review
:
Brian Hooks, chairman of the Koch Seminar Network

, told assembled attendees of the Koch network's winter meeting on Monday that

the network's effort to unite a broad coalition to push Congress and the White House had already begun

. [Emphasis added]

"We just got the longest government shutdown in the history of our country, and this issue was at the core," Hooks said. "When you read the headlines saying this is impossible, it's understandable.

But we see an opportunity to bring the same approach that this network brought to criminal-justice reform, to unite a broad-based policy coalition with groups from the ACLU to people in Silicon Valley, to Fortune 500 companies

, to members of the religious community, and a whole lot of people in between.

This isn't wishful thinking; this is already underway

." [Emphasis added]
The Koch network's economic libertarian, anti-populist agenda of free trade, mass legal immigration, and entitlement reform has
little-to-no support
among the American electorate. The economic libertarian agenda, once fronted by former House Speaker Paul Ryan,
failed to sway voters
in the 2018 midterm elections.
Senior DOD Official: Three Migrant Caravans Headed to U.S., One with 12,000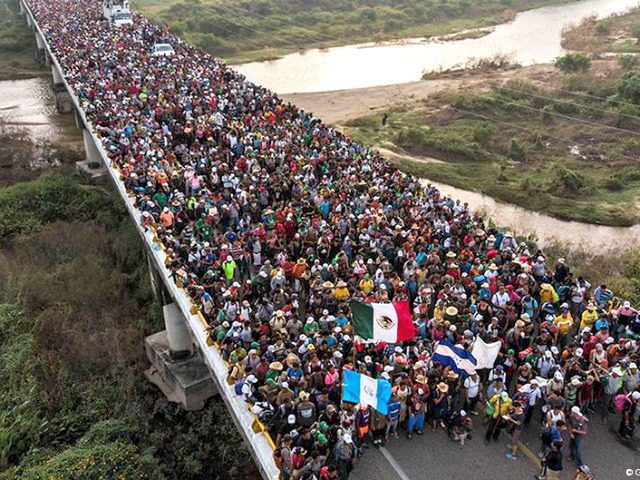 There are three migrant caravans headed to the United States' southern border with Mexico, according to top Pentagon official John Rood.
Rood testified to the House Armed Services Committee on Tuesday that one of the caravans contains over 12,000 migrants.
"Current information shows that a caravan of over 12,000 people — there's three that we are tracking, that the DHS is tracking en route, one that is over 12,000 by the latest estimate," said Rood, who is the under secretary of Defense for policy.
Rood said there are currently more than 2,300 active duty troops at the southern border, down from a high of 5,900 in November.
But he says several thousands more active duty troops are expected to head to the border in the coming weeks, to assist the Department of Homeland Security with laying down more concertina wire, and helping to monitor the border between points of entry.
Democrats, who now control the House, called Pentagon officials in to testify on President Trump's order of active duty troops to the border in October, which they have called a political stunt by the White House before midterm election.
But defense officials testified that it was the Pentagon — not the White House — decided that active duty troops were able to deploy faster and were better resourced to deal with the caravans headed to the border than National Guard and reserve forces.
"That was a decision made inside the Department," said Navy Adm. Michael Gilday, the director for operations of the Joint Chiefs of Staff.
Democrat lawmakers also questioned whether there was a crisis that necessitated the deployment of troops, when the number of illegal immigrants coming across the border have been higher in previous years.
"The difference is really the caravans and really the nature of the asylum seekers," Rood said.
Ranking Member Mac Thornberry (R-TX) agreed. "One of the things that changed is that now we have thousands, and tens of thousands of migrants who are coming in caravans which we have not seen before," he said.
"The days when we had a greater number of people — but most of them were from Mexico, and you could simply put them back across the border — are very different from these large family groups, 10, 12,000 people coming. So yes, it changed the requirements," he added.
"We have 42 percent increase in the number of family units. We have 60,000 unaccompanied children that were caught last year," Rep. Vicky Hartzler (R-MO) added. "I'm a former teacher and a mom, this is a humanitarian crisis."
Rep. Mike Rogers (R-AL) noted that administrations have been sending active duty troops to the U.S. border with Mexico "since Alamo."
"I'm just astounded by the fact that we continue to act stupid in Congress and fuss over things like $5.7 billion in fencing, and it cost us $11 billion dollars to shut the government down," he said.
According to Rood, the projected costs for the active duty deployments by the end of January is $132 million. He said the costs for the National Guard deployment for 2018 and 2019 to amount to $550 million.
But Rood said that even with the troop deployments, illegal immigrants were still coming across the border.
"Just in the last three months alone, CBP reports apprehending 145,000 illegal immigrants," Rood said.
He said last year, there were more than 521,000 apprehensions by law enforcement, with a larger amount of people not apprehended. He said that was up from 415,000 the year before.
"In the last two years alone, a larger number than the population of Washington, D.C. have been apprehended, or a city the size of San Francisco, apprehensions in two years," he said.
Reps. Hartzler and Mo Brooks (R-AL) noted that there is existing authority the administration could use to have the military build a border barrier without declaring a national emergency, through Section 284 of Title 10 of the United States Code.
"Congress has actually given the DOD the ability to provide military support to law enforcement agencies specifically for countering the counter-drug purposes. Section 284 of Title 10 of the United States Code authorizes the DOD to provide support to counter drug activities to control the transnational organized crime," she said.
"The law clearly identifies various activities that DOD is authorized to conduct including the construction of road and construction of fences. Light installation along smuggling corridors, aerial, ground reconnaissance and transportation," she said.
Rood responded that Hartzler was correct.
"As you correctly point out, Section 284 of Title 10 does provide the secretary of defense the authority in performance of that counter drug mission such as blocking drug smuggling corridors to erect barriers, fencing, provide road construction things of that nature to aid in that counternarcotics mission," he said.
"We have already given the authority to do this and we have a very critical mission to keep people safe and make sure that people don't die as a result of these transnational drug cartel activity and currently they are. So it's imperative for us to find a solution, and I'm very hopeful that in the next three weeks we can come together in a bipartisan fashion," Hartzler added.
Brooks also pressed Rood on whether the Pentagon would carry out an order by Trump to build necessary barriers if he ordered them to pursuant to Section 284 without declaring a national emergency.
"If we judge it to be a lawful order, yes sir, and I assume it would be," Rood said.
200 Pounds of Meth, Cocaine Seized in California by Border Patrol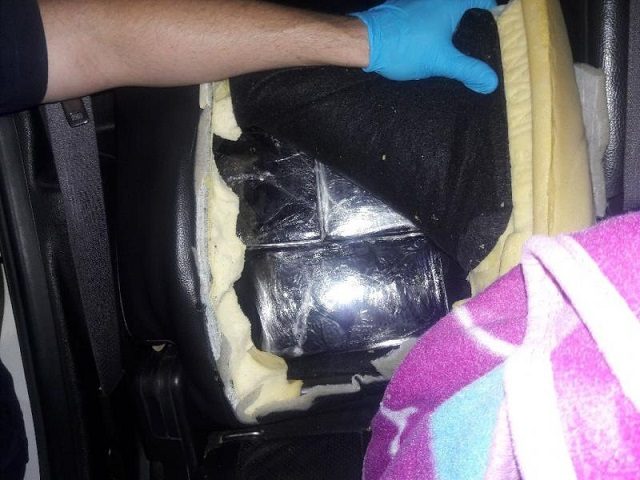 U.S. Border Patrol agents seized nearly 200 pounds of methamphetamine and cocaine in two separate vehicle inspections this past weekend in California. The alleged seizures resulted in the arrest of a Mexican national and a U.S. citizen on drug smuggling charges.
In the first seizure this past Saturday, agents assigned to the Indio Station in the El Centro Sector contacted a male driver in a 1997 Ford F-250 at a designated immigration checkpoint on Highway 86 at 8:50 am. Agents referred the male, identified as Rene Elizalde, a 22-year-old U.S. citizen, to a secondary inspection after a K-9 alerted to an odor, according to Border Patrol officials. The K-9 pointed to the driver's side of the vehicle and agents utilized a fiber-scope camera to inspect the two gas tanks. In one, agents noted that the liquid did not have the appearance or characteristics of gasoline. Agents then tested the substance and discovered it was methamphetamine. The liquid methamphetamine had a total weight of 75 pounds with an estimated street value of $198,750.
"Liquid methamphetamine is an extremely dangerous form of the narcotic and thankfully our agents were able to prevent it from advancing further into the United States," saidChief Patrol Agent Gloria I. Chavez.
Elizalde, along with the reportedly seized drugs, was handed over to the custody of the Drug Enforcement Administration for a review of criminal charges.
In the second seizure this past Sunday, agents assigned to the Indio Station in the El Centro Sector contacted a 35-year-old driver in a brown 2015 Renault Duster Expression at 3:30 pm. Agents referred the driver, who was determined to be a 35-year-old Mexican national, to a secondary inspection, according to the Border Patrol. Agents discovered 61 individually wrapped packages concealed within an aftermarket floor compartment underneath the driver and passenger seats.
A total of 56 of 61 packages reportedly tested positive for methamphetamine. The other five contained cocaine. The packages containing methamphetamine weighed 109.65 pounds and had an estimated street value of $284,856. The five packages of cocaine weighed 13.12 pounds, valued at $170,560.
The driver was turned over to the DEA for processing, according to a news release.
Robert Arce is a retired Phoenix Police detective with extensive experience working Mexican organized crime and street gangs. Arce has worked in the Balkans, Iraq, Haiti, and recently completed a three-year assignment in Monterrey, Mexico, working out of the Consulate for the United States Department of State, International Narcotics and Law Enforcement Program, where he was the Regional Program Manager for Northeast Mexico (Coahuila, Tamaulipas, Nuevo Leon, Durango, San Luis Potosi, Zacatecas.) You can follow him on Twitter. He can be reached at robertrarce@gmail.com
ICE Arrests 118 in New York
Nearly all of the 118 immigration violation arrests made in New York by ICE over five days were convicted criminals or those with pending charges.
U.S. Immigration and Customs Enforcement (ICE) Enforcement and Removal Operations (ERO) made 188 arrests from January 14-18. Of those arrested, 107 were convicted criminals or facing charges, and 55 failed to leave the country after a final order of removal or were previously removed and returned to the U.S.
ERO New York field office director Thomas R. Decker said of the enforcement:
In spite of the significant obstacles that ICE faces due to the dangerous policies created by local jurisdictions, which hinders the cooperation between ICE and local law enforcement, ICE will continue to devote the full efforts of our agency to protecting citizens and enforcing federal immigration law despite challenges being pursued by politically motivated individuals.
ICE named 14 of those foreign nationals arrested, six of which had sexual offense convictions or pending charges.
"More than 35 individuals arrested during this operation were previously released from local law enforcement on an active detainer," according to an ICE detailing of the enforcement action. The release emphasized, "When law enforcement agencies fail to honor immigration detainers and release serious criminal offenders onto the streets, it undermines ICE's ability to protect public safety and carry out its mission."
ICE pointed to sanctuary cities and their practice of releasing those on ICE detainers, including many with "significant criminal histories."
More than 80 percent of American voters want a crackdown on illegal alien crime, according to a recent Harvard/Harris poll.
"Ultimately, efforts by local NYC politicians have shielded removable criminal aliens from immigration enforcement and created another magnet for more illegal immigration, all at the expense of the safety and security of the very people it purports to protect," Tuesday's ICE announcement stated. "ICE seeks straightforward cooperation with all local law enforcement and elected officials."
Michelle Moons is a White House Correspondent for Breitbart News — follow on Twitter
@MichelleDiana
and
Facebook
.
Shutdown Shudders: Consumer Confidence Falls Again as Outlook for the Future Dims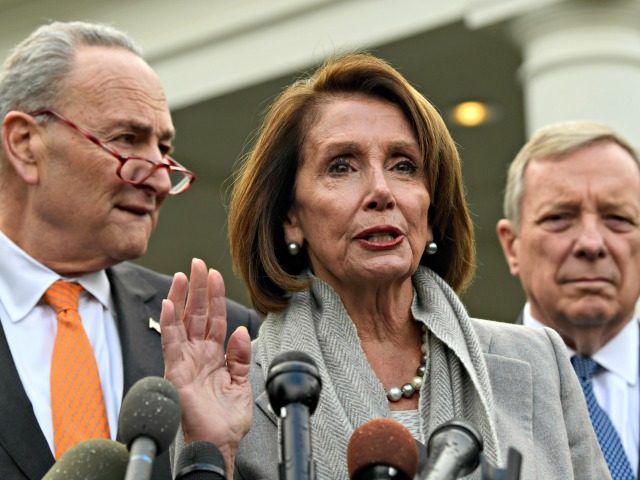 Consumer confidence took another hit in January, as the government partially shut down while Capitol Hill Democrats and the Trump White House battled over funding for a border wall.
The Conference Board's Consumer Confidence Index decreased in January, the third consecutive steep monthly decline.
The index fell to 120.2 from December's revised down 126.6. Economists had expected a milder decline to 124.3.
Despite the government shutdown, consumers' view of current conditions was little changed. The percentage of consumers claiming business conditions are "good" was virtually unchanged at 37.4 percent, while those saying business conditions are "bad" actually fell from 11.6 percent to 11.1 percent.
But optimism about the future turned much more pessimistic in January, the third consecutive monthly steep decline in expectations. The percentage of consumers expecting business conditions will improve over the next six months fell from 18.1 percent to 16.0 percent, while those expecting business conditions will worsen increased from 10.6 percent to 14.8 percent.
Consumers' assessment of labor market conditions was mixed. Those stating jobs are "plentiful" increased from 45.5 percent to 46.6 percent, while those claiming jobs are "hard to get" also increased, from 12.2 percent to 12.9 percent. But the outlook was less favorable. The share expecting more jobs in the months ahead decreased from 16.6 percent to 14.7 percent, while those anticipating fewer jobs increased, from 14.6 percent to 16.5 percent.
And fewer consumers expect their incomes to improve in the near-term future. The share expecting an improvement declined from 22.4 percent to 18.2 percent, while the proportion expecting a decrease also declined, from 7.6 percent to 7.1 percent.
Although consumer confidence has declined in recent months, it remains at a very high level. Consumer confidence remains well above levels that persisted for years prior to the election of President Donald Trump.
GEORGE S OROS AND THE CLINTON GLOBALIST AGENDA FOR BANKSTERS AND WIDEOPEN BORDERS
NEW YORK — Demand Justice, an organization founded by former members of Hillary Clinton's 2016 presidential campaign and associated with a "social welfare organization" financed by billionaire activist George S oros, is raising money for an eventual court fight against what the group describes as President Trump's proposed "racist, unnecessary wall."
"Obama would declare himself president for life with S oros really running the show, as he did for the entire Obama presidency."
"Hillary was always small potatoes, a placeholder as it were. Her health was always suspect. And do you think the plotters would have let a doofus like Tim Kaine take office in the event that Hillary became disabled?"
THE DEMOCRAT PARTY'S BILLIONAIRES' GLOBALIST EMPIRE requires someone as ruthlessly dishonest as Hillary Clinton or Barack Obama to be puppet dictators.
1.
Globalism:
Google VP Kent Walker insists that despite its repeated rejection by electorates around the world, "globalization" is an "incredible force for good."
2.
Hillary Clinton's Democratic party:
An executive nearly

broke down crying

because of the candidate's loss. Not a single executive expressed anything but dismay at her defeat.
3.
Immigration:
Maintaining liberal immigration in the U.S is the policy that Google's executives
discussed
the most.
HILLARY CLINTON'S GLOBALIST VISION:
SURRENDER OF OUR BORDERS WITH NARCOMEX AND SUCKING IN GLOBAL BRIBES FOR THE PHONY CLINTON FOUNDATION
Even though it has gone virtually unreported by corporate media,

Breitbart

News

has extensively documented the Clintons'
longstanding support for "open borders." Interestingly, as the

Los

Angeles

Times

observed in 2007, the Clinton's praise for
globalization and open borders frequently comes when they are
speaking before a wealthy foreign audiences and donors.
The federal government used a fake university to bust labor traffickers who funneled at least 600 Indian workers into college graduate jobs around the United States, the Detroit News reported.
Federal agents used a fake university in Farmington Hills to lure alleged phony foreign students who were trying to stay in the United States illegally.

The University of Farmington had no staff, no instructors, no curriculum and no classes but was utilized by undercover Homeland Security agents to identify people involved in immigration fraud, according to federal grand jury indictments unsealed Wednesday.

Eight people were charged with participating in a conspiracy to help at least 600 foreign citizens stay in the U.S. illegally, according to the indictments, which describe a novel investigation that dates to 2015 but intensified one month into President Donald Trump's tenure as part of a broader crackdown on illegal immigration.
The investigation was pushed forward just one month after President Donald Trump announced his "Hire American" policy in January 2017.
The indictment said the students were expoiting the "Curricular Practical Training" program to get work permits. The program provides one-year work permits to foreign students enrolled in U.S. colleges. In 2017, 132,796 foreigners held CPT work permits, according to federal data.
The CPT program works alongside the larger "Optional Practical Training" program. Many Indians use the "Optional Practical Training" (OPT) program to get visas for work in the United States. The OPT program was created by officials working for former President George W. Bush, and it allows foreign graduates of U.S. universities to work up to three years in the United States. The process creates a huge incentive for people who arrange fake or near-fake university courses to get work permits for cheap white-collar migrants.
The OPT program is defended by universities, technology companies, and investors who benefit from the inflow of fee-paying students or cheap workers. In 2017, 291,635 foreigners were given one-year OPT work permits, and another 60,410 were given three-year OPT work permits. In the two prior years, 67,000 people were given three-year OPT permits. OPT workers are hired by brand name companies, including Amazon, Intel, and Microsoft. Many also transfer into the H-1B program and some are approved for green cards.
Overall, the OPT program keeps roughly 400,000 foreign graduates in U.S. jobs that do not need to be advertised to U.S. graduates. Overall, the various visa programs, including the OPT, CPT, H-1B, TN, O-1, E-3, and J-1 programs, allow U.S. employers to keep a cheap workforce of roughly 1.5 million, non-immigrant, cheap guest workers in white-collar jobs.
The visa programs help flood the white-collar job market and are an economic threat to the tens of millions of college graduate Americans who vote in elections.
So the OPT program is a political problem for Trump, partly because he needs to grow his weak support among suburban college-educated voters. For example, 40 percent of GOP-aligned white college voters would prefer the GOP dump Trump before the 2020 election, according to a January 2018 poll by the Washington Post.
Trump has repeatedly said he wants companies to be able to import legal foreign workers, even as he also highlights the problem of Mexican labor traffickers during the debate over his border wall.
"This [border] crisis threatens the safety of our country and thousands of American lives," he said January 25. "Criminal cartels, narco-terrorists, transnational gangs like MS-13, and human traffickers are brazenly violating U.S. laws and terrorizing innocent communities," he said.
On January 9, Trump signed a bill intended to curb labor tracking, according to a White House statement. The bill is the Frederick Douglass Trafficking Victims Prevention and Protection Reauthorization Act, which allows the federal government to spend up to $430 million to fight sex and labor trafficking.
The Farmington investigation was described by an immigration lawyer, Jack Sung:
1. Students who were arrested by ICE apparently were engaging in the "business" of luring other students who want to pay cheap and receive CPT status to continue working. This is a total violation of immigration regulations. This is not a rumor because the arrests and Notice to Appear seem credible.

2. Students who were arrested were apparently paid a small fee from the student (referral fee?) and compensated by Farmington for their effort to recruit other students who were looking for a quick CPT fix to continue their work authorization or maintaining their F-1 status in the US.

3. Farmington seemed to promise online courses but never provided them. Classes were also promised but never held. Students did not visit campus or meet with professor. They did interact with someone claiming to be the DSO. This is also a violation of immigration regulation requiring CPT recipients to attend classes in regular interval.
A website for Indians in the United States reported that several workers who posed as students have been arrested and face deportation.
Eight people are being charged in the Farmington University case, according to the Detroit News. They are:
Bharath Kakireddy, 29, of Lake Mary, Florida.
Aswanth Nune, 26, of Atlanta.
Suresh Reddy Kandala, 31, of Culpeper, Virginia.
Phanideep Karnati, 35, of Louisville, Kentucky.
Prem Kumar Rampeesa, 26, of Charlotte, North Carolina.
Santosh Reddy Sama, 28, of Fremont, California.
Avinash Thakkallapally, 28, of Harrisburg, Pennsylvania.
Naveen Prathipati, 29, of Dallas.
"These suspects aided hundreds of foreign nationals to remain in the United States illegally by helping to portray them as students, which they most certainly were not," said a statement from an official at the Department of Homeland Security.
The OPT program is being sued by lawyer John Miano on behalf of U.S. technology workers. But Trump's deputies at the Department of Justice are defending the program, which was never approved by Congress.
In 2012, a labor trafficking investigation by federal officials temporarily closed Herguan University in Silicon Valley. In 2011, officials shut down the Tri-Valley University.
In 2012, the Government Accountability Office said officials should tighten supervision of the OPT program.
Federal agencies have also arrested numerous American and foreign-born CEOs who usedthe H-1B program as a cover for white-collar labor trafficking.
The establishment's economic policy of using legal and illegal migration to boost economic growth shifts enormous wealth from young employees towards older investors by flooding the market with cheap white-collar and blue-collar foreign labor.
That annual flood of roughly one million legal immigrants — as well as visa workers and illegal immigrants — spikes profits and Wall Street values by shrinking salaries for 150 million blue-collar and white-collar employees and especially wages for the four million young Americans who join the labor force each year.
The cheap labor policy widens wealth gaps, reduces high tech investment, increases state and local tax burdens, hurts kids' schools and college education, pushes Americans away from high tech careers, and sidelines millions of marginalized Americans, including many who are now struggling with fentanyl addictions.
Immigration also steers investment and wealth away from towns in Heartland states because coastal investors can more easily hire and supervise the large immigrant populations who prefer to live in coastal cities. In turn, that coastal investment flow drives up coastal real estate prices and pushes poor U.S. Americans, including Latinos and blacks, out of prosperous cities such as Berkeley and Oakland, California.
FACTS ON THE "REAL LATINO AMERICA" OF MEXICAN OCCUPIED LOS ANGELES:
(these are highly DATED stats on Mexico's second largest city)
This is another "fact" spun from the 2004 op-ed by Heather Mac Donald, whose article refers to a single Los Angeles gang and the conjecture of an unnamed federal prosecutor.
1.
"40% of all workers in L.A. County are working for cash and not paying taxes. . . . This is because they are predominantly illegal immigrants working without a green card." The Mexican tax-free economy in Los Angeles County is estimated to be in excess of $2 billion dollars a year.
2.
"95% of warrants for murder in Los Angeles are for illegal aliens . . . "
3.
"75% of people on the most wanted list in Los Angeles are illegal aliens."
4.
"Over 2/3 of all births in Los Angeles County are to illegal alien Mexicans on Medi-Cal, whose births were paid for by taxpayers." The County of Los Angeles hands Mexico's anchor baby breeders more than a BILLION DOLLARS a year in welfare.
5.
"Nearly 35% of all inmates in California detention centers are Mexican nationals here illegally." California has the largest and most expensive prison system in the country. Half the inmates are now Mexicans. Half the murders in California are by Mexican gangs.
6.
Over 300,000 illegal aliens in Los Angeles County are living in garages.
7. "The FBI reports half of all gang members in Los Angeles are most likely illegal aliens from south of the border."
8. "Nearly 60% of all occupants of HUD properties are illegal."
9. 21 radio stations in L. A. are Spanish speaking.
10. In L. A. County 5.1 million people speak English, 3.9 million speak Spanish.
THE NEW PRIVILEGED CLASS: Illegals (unregistered democrats)!
This is why you work From Jan - May paying taxes to the government ....with the rest of the calendar year is money for you and your family.
Take, for example, an illegal alien with a wife and five children. He takes a job for $5.00 or 6.00/hour. At that wage, with six dependents, he pays no income tax, yet at the end of the year, if he files an Income Tax Return, with his fake Social Security number, he gets an "earned income credit" of up to $3,200..... free.
He qualifies for Section 8 housing and subsidized rent.
He qualifies for food stamps.
He qualifies for free (no deductible, no co-pay) health care.
His children get free breakfasts and lunches at school.
He requires bilingual teachers and books.
He qualifies for relief from high energy bills.
If they are or become, aged, blind or disabled, they qualify for SSI.
Once qualified for SSI they can qualify for Medicare. All of this is at (our) taxpayer's expense.
He doesn't worry about car insurance, life insurance, or homeowners insurance.
Taxpayers provide Spanish language signs, bulletins and printed material.
He and his family receive the equivalent of $20.00 to $30.00/hour in benefits.
Working Americans are lucky to have $5.00 or $6.00/hour left after Paying their bills and his.
The American taxpayers also pay for increased crime, graffiti and trash clean-up.
Cheap labor? YEAH RIGHT! Wake up people!
LA RAZA AMERICA: A Mexicans welfare state
MEXICO INVADES, OCCUPIES, PLUNDERS AND VOTED DEM FOR MORE!
There is also financial and political carnage perpetrated against our nation:
(FIGURES ARE HIGHLY DATED AND GOING UP EVERY WAVE OF INVASION)

1. $11 Billion to $22 Billion is spent on welfare to illegal immigrants each year by state governments (CALIFORNIA SPENDS $30 BILLION PER YEAR IN SOCIAL SERVICES TO ILLEGALS. LOS ANGELES COUNTY CHIPS IN A BILLION PER YEAR FOR THE LA RAZA ANCHOR BABY BREEDERS).
*
2. $22 Billion dollars a year is spent on food Assistance programs such as
food stamps, WIC, and free school lunches for illegal immigrants.
*
3. $2.5 Billion dollars a year is spent on Medicaid for illegal immigrants.
*
4. $12 Billion dollars a year is spent on Primary and secondary school
education for children here illegally and they cannot speak a word of
English!
*
5. $17 Billion dollars a year is spent for Education for the American-born
Children of illegal immigrants, known as Anchor babies.
*
6. $3 Million Dollars a DAY is spent to incarcerate illegal immigrants.
*
7. 30% percent of all Federal Prison Inmates are illegal immigrants. Nearly half the inmates in CA are Mexicans.
*
8. $130 Billion Dollars a year is spent on Illegal immigrants for Welfare & Social Services by the American taxpayers.
*
9. $400 Billion dollars a year in suppressed American wages are caused by the illegal immigrants.
*
10. In 2006, illegal immigrants sent home $45 BILLION in remittances to their Countries of origin.
*
11. The Dark Side of Illegal Immigration: Nearly One million sex crimes committed By Illegal Immigrants In The United States.
12. From $40 to $60 billion hauled back to Mexico from heroin sales!