"Amazon is a massive wrecking machine consuming American retail. It's looting the economy and leaving behind rubble. " --- DANIEL GREENFIELD FRONTPAGE MAG
AMAZON'S ASSAULT ON AMERICA CONTINUES
Amazon, the multinational online retail conglomerate, is importing more foreign workers to the United States to take coveted tech industry jobs than Facebook and Google combined. JOHN BINDER
"Amazon is a massive wrecking machine consuming American retail. It's looting the economy and leaving behind rubble. " --- DANIEL GREENFIELD FRONTPAGE MAG
"Today, each of the top 5 billionaires owns as much as 750 million people, more than the total population of Latin America and double the population of the US."
"A comprehensive new report released Sunday by the New York-based labor rights watchdog China Labor Watch (CLW) has shed new light on the barbaric and illegal practices that Amazon employs to boost its profits by driving down production costs on the backs of factory workers at the company's electronics assembly plants in China."
Exclusive–Mo Brooks: 'Masters of the Universe' Want More Immigration to 'Decrease Incomes of Americans'
https://www.breitbart.com/politics/2019/03/10/exclusive-mo-brooks-masters-universe-want-more-immigration-decrease-incomes-americans/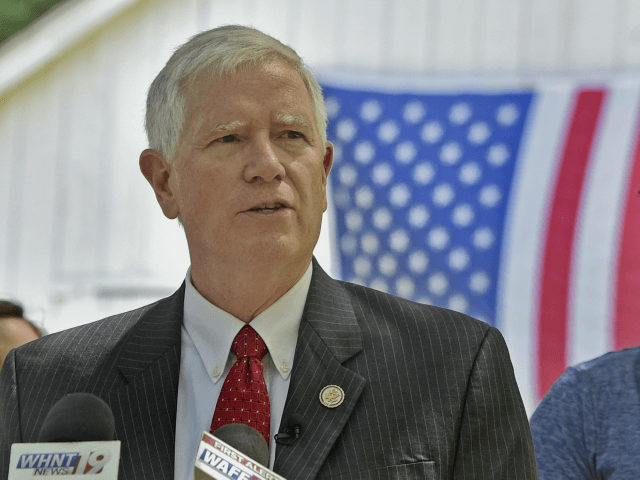 Rep. Mo Brooks (R-AL) says the "Masters of the Universe" want more legal immigration to the United States to further diminish the incomes of American working and middle-class families.
In an exclusive interview with SiriusXM Patriot's Breitbart News Tonight, Brooks said recent demands to increase the number of foreign workers coming to the U.S. to compete against American citizens for jobs is merely an effort by corporations to deplete the earnings of Americans.
I'm not a part of the Masters of the Universe crowd who thinks we ought to be bringing in all this foreign labor and the reason for it is pure economics. This is the chance for Americans and lawful immigrants who are already here who are working in the blue-collar trades, who are working in the places where wages are not as high they ought to be, this is their chance to prosper. [Emphasis added]

And to the extent you import a lot of foreign labor, then you are artificially increasing the labor supply which in turn means that you're artificially suppressing the wages of American families who are often hard-pressed to make ends meet So I respectfully disagree that we need more foreign labor, to the contrary, I would like to see us reduce the foreign labor that comes into America so that American families who are struggling to make ends meet, particularly those of us who are earning the least amounts, would be better to take care of their own families and less likely to be dependent on the welfare. [Emphasis added]
Brooks said Democrats support for mass legal immigration is centered on the premise that increasing the number of foreign workers in the U.S. will decrease Americans' wages, thus forcing many into poverty and becoming welfare recipients. This, Brooks said, is how Democrats create a permanent dependent class of Democrat voters.
"Don't get me wrong, [Democrats] want to decrease the incomes of Americans so that they're dependent on welfare," Brooks said.
That makes them in turn likely Democrat voters and the best way to do that is to have a huge surge in the labor supply, particularly illegal aliens, that will depress their wages therefore creating more Democrats who are dependent on welfare at the same time as they bring in illegal aliens who also under Democrat doctrine will be allowed to vote and those types of voters, they're also dependent on welfare. [Emphasis added]
"About 70 percent of illegal alien households are on welfare … plus this is a bloc of voters that seems unusually susceptible to the racial divisions that the Democrats advance," Brooks said. "You have to look at the big picture in all of this, and to me, we should not be importing as much foreign labor as we are. We should be helping the least among us earn more and importing foreign labor that suppresses wages is not the way to do that."
Currently, the U.S. admits more than 1.2 legal immigrants annually, with the vast majority deriving from chain migration, whereby newly naturalized citizens can bring an unlimited number of foreign relatives to the country. In 2017, the foreign-born population reached a record high of 44.5 million.
The U.S. is on track to import about 15 million new foreign-born voters in the next two decades should current legal immigration levels continue. Those 15 million new foreign-born voters include about eight million who will arrive in the country through chain migration, where newly naturalized citizens can bring an unlimited number of foreign relatives to the country.
Breitbart News Tonight broadcasts live on SiriusXM Patriot Channel 125 from 9:00 p.m. to Midnight Eastern (6:00 p.m.-9:00 p.m. Pacific).
John Binder is a reporter for Breitbart News. Follow him on Twitter at
@JxhnBinder
.
Foreign Workers Outpace Native-Born Americans in Job Growth for Six Months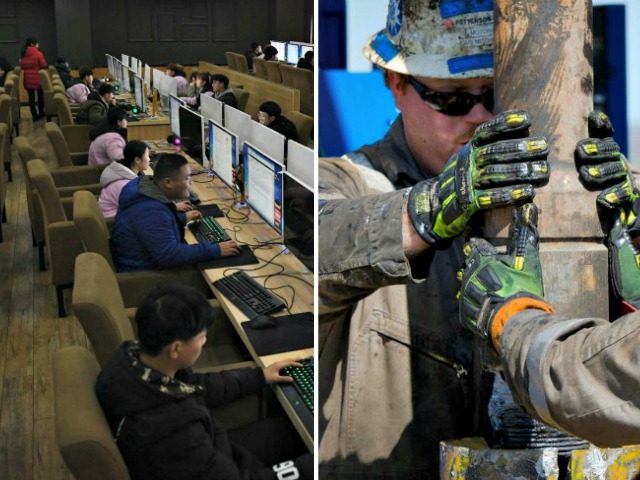 Foreign workers have now outpaced American workers in terms of job growth for at least half a year, new Bureau of Labor Statistics (BLS) data reveals.
In February 2018, foreign-born workers continued to make job growth gains over native-born American workers. Foreign-born workers, for example, saw more than three times as much job growth as native-born Americans last month.
And while native-born Americans did not increase their labor participation rate at all year-to-year, foreign-born workers saw a 1.22 percent increase in their labor participation rate. Likewise, the number of foreign-born workers in the civilian labor force increased more than five times the number of new native-born American workers who are now in the labor force.
In terms of unemployment, native-born Americans have an edge over foreign-born workers. Compared to this time last year, native-born Americans' unemployment rate has decreased nearly nine percent. Meanwhile, foreign-born workers' unemployment rate has dropped 7.5 percent.
The latest BLS data reveals a half-year trend where foreign-born workers have continuously enjoyed substantially higher levels of job growth over native-born Americans. Since at least September 2018, foreign-born workers have outpaced native-born Americans in job growth, sometimes seeing four times or more the job growth that Americans are experiencing in the economy.
In January 2019, for instance, foreign-born workers had four times the job growth and four times the civilian labor force growth of native-born American workers.
While about 1.5 million illegal and legal immigrants continue being admitted to the U.S. every year to compete against America's working and middle class for jobs, there remains 6.2 million Americans who are unemployed, 13.4 percent of whom are teenagers, and seven percent of whom are black Americans.
Overall, there remain about 1.3 million U.S. workers who have been jobless for at least 27 weeks, accounting for 20.4 percent of the total unemployed population. Roughly 4.3 million Americans are working part-time but want full-time jobs, and 1.4 million Americans who are not in the labor force but want a job, including 428,000 workers who are discouraged by their job prospects.
John Binder is a reporter for Breitbart News. Follow him on Twitter at @JxhnBinder.
Zuckerberg's Team, Koch Allies, Unite to Lobby for DACA Amnesty
Mark Zuckerberg's Silicon Valley investors are uniting with the Koch network's consumer and industrial investors to demand a huge DACA amnesty by February 15.
In a letter to the joint House and Senate committee, which is drafting a 2019 budget for the Department of Homeland Security, the Democrat-aligned Internet investors and the GOP-aligned retail, real estate, and industrial investors jointly declared:
We are joining together now to endorse this approach. The time is right to act. We urge lawmakers and the president to set aside partisan concerns and lead on this important goal immediately.
The two unified blocs of investors and lobbyists, however, face a huge political hurdle — politicians learned from the 2013 "Gang of Eight" amnesty that the vast majority of Americans want to welcome some inflow of legal immigrants, but really do not want to be crowded out of their careers and communities by a flood of cheap workers and welfare-funded consumers.
The DACA amnesty is sought by the investors because it would provide them with firm legal access to roughly three million DACA-eligible domestic consumers and workers. Also, the amnesty would sharply reduce the president's bargaining power as he tries to get Democrats to reform the nation's border laws and to reduce the annual inflow of legal immigrants. Also, by pushing for the amnesty, the business groups are distracting media outlets from the economic impact of their economic policies.
Billionaire Kochs Unite Plutocrats for Amnesty, Vow Not to Back Trump in 2020
The pro-mass immigration Koch brothers' network of billionaire, donor class organizations is uniting plutocrats, corporations, and the open borders lobby to push an amnesty this year, all while vowing not to back President Trump in his 2020 re-election bid.
This week, the Koch network — which includes Americans for Prosperity, the Libre Initiative, and Freedom Partners — hosted more than 630 millionaire and billionaire donors who give hundreds of thousands to the network of organizations every year.
The Koch network at the elite winter gathering in California reiterated that they would provide no financial backing for Trump in the 2020 presidential election.
The Kochs and their libertarian donors have launched campaigns over the
last two years
opposing
the president's pro-American immigration reform agenda that seeks to reduce all immigration to the U.S. as well as his economic nationalist platform that includes using tariffs to protect American jobs and U.S. industry.
Additionally, Koch spokespeople at the donors' conference said the network has its sights set on pushing amnesty for millions of illegal aliens this year.
This effort will be a unity pact between Silicon Valley tech executives — who profit from a never-ending flow of cheaper, foreign labor and more consumers to buy products — as well as the open borders, billionaire George Soros-funded ACLU and multinational corporations,
according to
National Review

:
Brian Hooks, chairman of the Koch Seminar Network
, told assembled attendees of the Koch network's winter meeting on Monday that

the network's effort to unite a broad coalition to push Congress and the White House had already begun

. [Emphasis added]
"We just got the longest government shutdown in the history of our country, and this issue was at the core," Hooks said. "When you read the headlines saying this is impossible, it's understandable.

But we see an opportunity to bring the same approach that this network brought to criminal-justice reform, to unite a broad-based policy coalition with groups from the ACLU to people in Silicon Valley, to Fortune 500 companies

, to members of the religious community, and a whole lot of people in between.

This isn't wishful thinking; this is already underway

." [Emphasis added]
The Koch network's economic libertarian, anti-populist agenda of free trade, mass legal immigration, and entitlement reform has
little-to-no support
among the American electorate.
The economic libertarian agenda, once fronted by former House Speaker Paul Ryan,
failed to sway voters
in the 2018 midte
rm elections.
DYING AMERICA: Poverty, Open Borders, Widespread Homelessness, Housing Crisis, Opioids, Corrupt Politicians and Then Suicide!
SOCIALISM AND THE DEMS' LA RAZA SUPREMACY WELFARE STATE ON OUR BACKS
PELOSI'S OPEN BORDERS MEXIFORNIA where La Raza loots first!
7 OUT OF 10 ILLEGALS ON WELFARE!
What is the true cost of all the Democrat Party's "cheap" labor?
No Justice for Taxpaying Americans
By Howie Carr
But the real double standard kicks in when the undocumented Democrat gets to the courtroom. A taxpaying American can only dream of the kid-gloves treatment these Third World fiends get.
Illegal aliens continue overwhelming the state, draining California's already depleted public services while endangering our lives, the rule of law, and public safety for all citizens.
Arthur Schaper
The costs of illegal immigration are being
carefully hidden
by Democrats. MONICA SHOWALTER
"In a state like Florida, where immigrants make up about 25.4 percent of the labor force, American workers have their weekly wages reduced by perhaps more than 12.5 percent. In California, where immigrants make up 34 percent of the labor force, American workers' weekly wages are reduced by potentially 17 percent." JOHN BINDER
"In the last decade alone, the U.S.
admitted
ten million legal immigrants, forcing American workers to compete against a growing population of low-wage foreign workers. Meanwhile, if legal immigration continues, there will be
69 million
foreign-born residents living in the U.S. by 2060. This would represent an unprecedented electoral gain for the Left, as Democrats
win
about 90 percent of congressional districts where the foreign-born population exceeds the national average."
US "retail apocalypse" expected to exceed annual high with more than 1,100 store closures announced in one day.
The declining living standards of the working class are feeding directly into the retail apocalypse and mass layoffs of retail workers will only exacerbate the issue. Workers' wages have seen little to no growth in the last four decades, and any economic growth experienced since 2008 has gone to the wealthiest of the wealthy.
TRUMPERNOMICS FOR THE RICH…. and his parasitic family!
Report: Trump Says He Doesn't Care About the National Debt Because the Crisis Will Hit After He's Gone
"Trump's alleged comment is maddening and disheartening,
but at least he's being straightforward about his indefensible
and self-serving neglect. I'll leave you with
this reminder
of the scope of the problem, not that anyone in power is going to do a damn thing about it."
TRUMPERNOMICS:
THE SUPER RICH APPLAUD TWITTER'S TRUMP'S TAX CUTS FOR THE SUPER RICH!
"The tax overhaul would mean an unprecedented windfall for the super-rich, on top
of the fact that virtually all income gains during the period of the supposed
recovery from the financial crash of 2008 have gone to the top 1 percent income
bracket."
Consequently, the pumping of ultra-cheap

money into the financial system, fuelling

speculation and parasitism, together with

ever-widening social inequality, is not a

temporary measure but must be made
US jobs numbers highlight global growth concerns
The surprise fall in US employment growth in February sent a chill through economic and financial circles, with the Dow falling by more than 200 points at one stage on Friday, because of what it could portend for the US economy amid a marked slowdown in the rest of the world.

Only 20,000 jobs were added to US non-farm payrolls last month, the lowest level in 17 months, well below economists' estimates of an increase of 180,000. There was a large increase of 311,000 jobs in January and last month's virtual halt may be something of a statistical blip, but it has been taken as a worrying sign.

Sameer Samana, senior global market strategist at Wells Fargo Investment Institute, commented: "If the weakness continues next month and there's no revision to this month, it's a meaningful deceleration in the outlook for the labour market. Given what happened in the fourth quarter, it could be that companies now are at this point at least deciding to really curtail hiring."

The fall in American jobs growth came amid signs of a rapidly slowing global economy. Last week the 36-member Organisation for Economic Cooperation and Development (OECD) cut its growth forecast for advanced economies in 2019 from 1.8 percent to 1 percent, with Europe taking the brunt of the downward revision. The growth forecast for the UK was cut from 1.4 percent to 0.8 percent, while that for Germany was reduced from 1.6 percent to 0.7 percent.

"The global expansion continues to lose momentum," the OECD said in a statement. "Growth outcomes could be weaker still if downside risks materialise or interact."

Among those risks are the failure of the British government to reach a deal with the European Union on Brexit, which could bring a recession and "sizeable negative spillovers" to other countries. China was another cause for concern. A sharp slowdown there would have "significant adverse consequences for global growth and trade."

The Chinese government has lowered its forecast for growth in 2019 to between 6 percent and 6.5 percent—the lowest level in three decades—amid signs that exports are starting to slow. Raw data showed that exports for February dropped by 20.7 percent. Much of this was due to seasonal factors—the impact of the Lunar New Year—but even after these were taken into account the fall was a significant 5 percent.

There are signs of further weakness in China's export markets with manufacturing purchasing managers' indexes for both the euro area and Japan signalling a contraction in February, the first time that has happened in both regions since early 2013.

Tommy Xie, an economist at Oversea-Banking Corp in Singapore, told Bloomberg: "China is set to have a difficult time on trade, because on the US front there is the trade war, and on the EU front the economy is really weakening." He said the 5 percent fall in exports "reflected the impact of the trade war and also a slowing global economy."

The slowdown in the euro zone is most marked in Germany where factory orders unexpectedly fell in January by 2.6 percent, contrary to forecasts they would increase by 0.5 percent. The decline was caused mainly by weak demand for investment goods, particularly from outside the euro area, with domestic orders also in decline.

The German economy only barely avoided a recession in the last two quarters of 2018. The sharp contraction in growth across the euro zone resulted in the European Central Bank last week reversing its previous policy of a wind down in quantitative easing (QE) by offering cheaper money to European banks.

The decision came in the wake of the decision by the US Federal Reserve in early January to put the interest rate rises planned for 2019 on indefinite hold and ease the wind down of its asset holdings. The decision came in response to the sharp falls on Wall Street in December when stock markets had their worst result for that month since 1931 in the midst of the Great Depression.

The US market has since risen on the back of the Fed's decision and the claims by President Trump and members of his administration that they are optimistic over the prospect of a trade deal with China. However, there are a number of warning signs about the underlying course of the US economy.

Last Friday, the Dow Jones Transportation Average fell for the eleventh consecutive session, its longest losing streak in 47 years. Because transport forms an integral component of the real economy, rather than the financial system, the transport index is regarded as an indicator of broad economic trends.

The Fed's recent decision could be followed by other moves to try to boost US markets and the economy.

Bloomberg reported over the weekend that bond-fund managers had started to "whisper about the prospect of more Federal Reserve quantitative easing [through the purchase of bonds] in order to fight the next US downturn, underscoring just how acute concerns over flagging global growth have become less than three months after the central bank last raised interest rates."

It cited recent remarks by San Francisco Fed President Mary Daly that, faced with another slowdown, the central bank may use asset purchases "more readily" and not just as a last-ditch measure. The prospect of further QE arises because, with interest rates being held at a range between 2.25 and 2.5 percent, the Fed has little room to manoeuvre to combat a downturn.

The longer-term structural changes in the US and global economy, which have led to the use of QE, were the subject of a Brookings Institution paper co-authored by former US Treasury Secretary Lawrence Summers last week.

It said that "real neutral interest rates" that neither stimulate nor suppress the economy may have declined by at least 300 basis points, or three percentage points, over the last generation.

"Our findings support the idea that, absent offsetting policies, mature industrial economies are prone to secular stagnation. This raises profound questions about stabilization policy going forward."

There would need to be a wider tolerance of budget deficits and "unconventional monetary policies" to promote investment and maintain full employment.

n essence, this is an acknowledgement that the mechanisms through which the post-war capitalist economy in the US and internationally was stabilised have broken down.

Consequently, the pumping of ultra-cheap

money into the financial system, fuelling

speculation and parasitism, together with

ever-widening social inequality, is not a

temporary measure but must be made



Hispanic Unemployment Rate Sets Record Low in February
The national seasonally-adjusted unemployment rate for Hispanics and Latinos in the U.S. labor force set a record low of 4.3% in February
,
U.S. Bureau of Labor Statistics
(BLS) data
released Friday show.
In February, the unemployment rate for Hispanics and Latinos, aged 16 and up, was 4.3%, down from 4.9% in January. February broke its record low of 4.4% set in October of 2018 and matched in December of 2018. BLS began tracking Hispanic-Latino employment data in 1973.
The number of Hispanics employed fell to 27,480,000 down from 27,579,000 in January and off from its record high of 27,701,000 in December. Both the number participating in the workplace and Hispanics' labor force participation rate dropped for first time in six month.
Hispanic-Latino employment statistics for February 2019:
·
Unemployment rate:
4.3%, down from
4.9% in January.
·
Civilian Noninstitutionalized Population (16+ years old):
43,127,000 up from 43,044,000 in January.
·
Number Participating in Labor Force:
28,724,000 down from 28,985,000 in January.
·
Labor Force Participation:
66.6% down
from 67.3% in January.
·
Number Employed:
27,480,000 down from 27,579,000 in January.
·
Number Unemployed:
1,245,000 down from 1,406,000 in January.