ASSAULT ON THE AMERICAN WORKER…. Amazon's JEFF BEZOS PLAN FOR A NEW AMERICAN SLAVERY
THE ROAD TO REVOLUTION II WILL IS PAVED BY THE LOOTING BILLIONAIRE CLASS AND WILL TRAMPLE THE POLS THAT GROVEL AT THEIR FEET FOR BRIBES!
"Today, each of the top 5 billionaires owns as much as 750 million people, more than the total population of Latin America and double the population of the US."
Demonitized: Amazon Cuts Off Conservative Blog Legal Insurrection Without Warning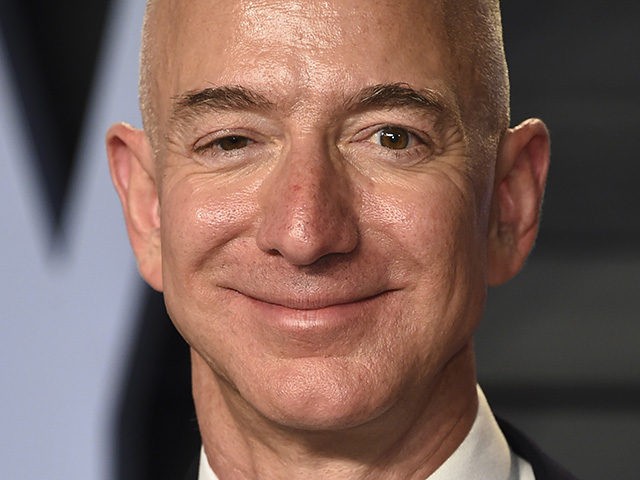 William Jacobson, founder of the conservative blog Legal Insurrection, writes that Amazon has terminated his website's "Amazon Associates" account, which the site used to earn revenue via affiliate links.
Jacobson says that the company cites a TOS violation that Legal Insurrection had "remedied" in January — which Amazon acknowledged at the time and expressed thanks.
For as long as I can remember, Legal Insurrection has participated in Amazon Associates, a way for websites to earn fees when readers shop at Amazon.com via links from our website.
It was an important source of revenue to us, and paid for some of the operating expenses readers never see.
On Saturday morning, April 28, 2018, I woke up to an email in my inbox from Amazon Associates telling me our participation in the program was terminated, our account closed, that the decision was final and there was no appeal. On top of that, Amazon was holding back any accumulated money it owed us.
There was no prior indication of a problem, or chance to cure. It's always been out [sic] intent to comply with the program requirements. I detail what happened, including all the email communications, below.
In isolation, it's just a website cut off from a source of revenue by an internet behemoth because the internet behemoth could. But if there was an anti-conservative ideological angle to it, either at inception or during the review process, it would be consistent with what is happening at high tech companies more generally. The problems Prager U and others have had with video restrictions and demonitization at YouTube, the exposure of Twitter shadow-banning, and the intolerance revealed at Google are just a few of the examples of an anti-conservative bias among internet giants.
Report: Amazon Importing More Foreign Workers to Take Coveted Tech Industry Jobs than Facebook, Google Combined
HINDUSTAN TIMES/AGENCE FRANCE-PRESSE/GETTY IMAGES
Amazon, the multinational online retail conglomerate, is importing more foreign workers to the United States to take coveted tech industry jobs than Facebook and Google combined.
Every year, more than 100,000 foreign workers are brought to the U.S. on the H-1B visa and are allowed to stay for up to six years. There are about 650,000 H-1B visa
foreign workers
in the U.S. at any given moment. Americans are often laid off in the process and forced to train their foreign replacements, as highlighted by
Breitbart News
.
Data reported by
Statista
reveals that Amazon requested to import 2,515 foreign H-1B workers in 2017, more than the 720 foreign workers that Facebook asked for and the 1,213 foreign workers Google has attempted to bring to the U.S.
In 2017, Amazon, Facebook, Google, Microsoft, Intel, and Apple all requested more foreign workers to take U.S. jobs than the year before. In 2016, Amazon was one of the
top 20
corporations demanding foreign workers to take jobs.
As
Breitbart News
reported, tech conglomerates like Amazon, Microsoft, and Apple hide their H-1B foreign worker hires through outsourcing firms like Cognizant, Tata, and Infosys. The practice allows the corporations to claim they are not undercutting or replacing American workers at extraordinary rates, as they simply contract the foreign workers through the outsourcing firms.
Meanwhile, the H-1B visa program and importation of foreign workers has crowded out American young people and STEM graduates from high-paying jobs in Silicon Valley, the tech hub of the world,
Breitbart News
reported.