Just 25% ICE arrests from community raids, far below Obama's roundups
C

ommunity roundups of illegal immigrants were nearly 30 percent higher under former President Obama than under President Trump, according to a new analysis that calls into question charges from pro-immigrant groups that Immigration and Customs Enforcement arrests have exploded.
Syracuse University's Transactional Records Access Clearinghouse report on more than two million arrests between October 2008 and June 2018 said that the most Trump's ICE arrested in one month was 4,275 in March 2017, below the 6,001 under Obama in July 2009.

The report added that just 25 percent of ICE arrests have been made in communities versus transfers from jails and state and local offices.
An analysis of the figures by the Center for Immigration Studies added, "Of ICE arrests in the first three-quarters of FY 2018, 25 percent were 'community arrests,' according to TRAC, that is 'individuals arrested at their home, place of work, or elsewhere in the wider community including at courthouses or at DHS offices when the immigrant had appeared for an appointment.'"
Several groups and media outlets have charged that ICE is conducting raids in neighborhoods, rounding up unsuspecting illegal immigrants who have committed no crime beyond entering the nation without permission.
The numbers, however, tell a different story and show that most arrests have been made through official paths.
"According to the report, 22 percent of aliens arrested by ICE in the first nine months of FY 2018 were apprehended in state and federal prisons, while an additional 41 percent were apprehended at local jails," said the CIS analysis.
And overall, the number of Trump-era arrests has not come close to those under Obama's highs, though they have topped the Obama arrest totals during his last two years in office.
Said CIS: "The number of monthly ICE arrests has increased under the Trump administration from the end of the Obama administration, going from a low of 8,005 ICE arrests in January 2016 to a high of 14,369 arrests in August 2017. In the latest month for which ICE arrests were reported (June 2018), 13,221 occurred. While significant, this is well below the high of ICE arrests (28,767) in March 2011."
Illegal Alien Caught Again, Previously Convicted of Sex Crime and Deported
(CNSNews.com)
-- Border Patrol agents captured Mexican national Cesar Vargas-Ordaz near Ajo, Ariz., on Sept. 25, after he illegally entered the United States. The illegal alien had previously been convicted for sex with a minor in California and deported.
After apprehending Vargas-Ordaz, 30, Border Patrol ran his personal data through processing and discovered his previous conviction from 2015 in Santa Clara, Calif.
He had been convicted then of sex with a minor under the age of 16. He served eight months in jail and was given three months probation. After his time was served, Vargas-Ordaz was deported back to Mexico.
He now faces charges for re-entering the United States as an aggravated felon, reported the
U.S. Customs and Border Protection
website.
3 Illegal Aliens Charged With Meth, Heroin Trafficking in California
(CNSNews.com)
-- Three illegal aliens living in Los Molinos, Calif., were charged with multiple counts of methamphetamine and heroin trafficking on Thursday, Sept. 27, according to the
U.S. Attorney's Office
for the Eastern District of California.
The three Mexican nationals are Miguel Alverez Cervantes, 53, Maria Cervantes-Echevarria, 34, and Marta Jiminez Lopez, 26. They were indicted by a federal grand jury on eight counts involving conspiracy to distribute meth and possessing meth and heroin for distribution. Cervantes-Echevarria and Lopez were further charged with "possessing a firearm in furtherance of a drug-trafficking crime," said the U.S. Attorney's Office in a
statement
.
According to the U.S. Attorney's Office, the three illegal aliens used their house in Los Molinos to stash drugs, guns and cash. "Court records allege that in January 2018, the two women [Maria and Marta] delivered a spare tire to a third party that was later found to contain approximately 22 pounds of methamphetamine. In addition, an undercover agent purchased over three pounds of methamphetamine from Miguel Cervantes during three controlled buys in August and September 2018."
"When agents searched Cervantes-Echevarria and Lopez's home on September 17, 2018, they found three handguns and over $44,000 in cash in the master bedroom," reads the statement. "Agents found over 34 pounds of methamphetamine, three pounds of heroin, and an AR-15-style rifle elsewhere on the property."
If convicted on the conspiracy charge or any of the drug charges, the defendants face a minimum of 10 years on each count and a maximum of life in prison plus a $10 million fine. If convicted on the gun charges, those crimes carry a mandatory 5-year sentence.
The defendants are presumed innocent until proven guilty beyond a resonable doubt in court.
llegal Alien Accused of Murdering Girl Entered U.S. as 'Unaccompanied Minor'
An illegal alien accused of murdering a 16-year-old New Jersey girl entered the United States through the U.S.-Mexico border as an "unaccompanied minor," federal officials have confirmed to Breitbart News.
Madison Wells, 16-years-old, has forever been separated from her loved ones and family after allegedly being
stabbed to death
by an illegal alien, 20-year-old Bryan Cordero-Castro of Guatemala.
Cordero-Castro entered the U.S. through the southern border as an unaccompanied minor, arriving in the country illegally without any adult border-crosser accompanying him, a Department of Homeland Security (DHS) official has confirmed to Breitbart News.
The illegal alien allegedly stabbed Wells to death on the night of September 8 in Long Beach, New Jersey, police say. Wells was taken to a nearby hospital where she was pronounced dead.
Friends of Wells have said that the illegal alien and the victim worked together, though police and prosecutors are still unclear as to the motive of the alleged murder.
Cordero-Castro is now facing first-degree murder charges, third-degree possession of a weapon for an unlawful purpose charges, and third-degree attempted escape charges.
Since 2014, there have been as many as a quarter of a million unaccompanied minors who have arrived at the southern border, entering the country illegally.
John Binder is a reporter for Breitbart News. Follow him on Twitter at
@JxhnBinder
.
7 Migrants Found Hiding in Freight Train in South Texas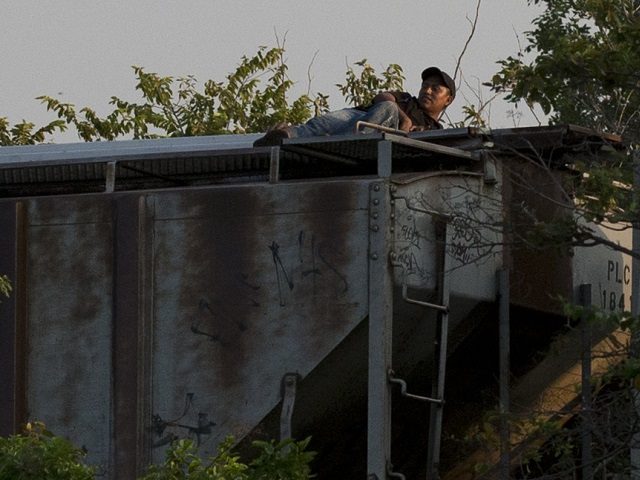 Laredo Sector Border Patrol agents apprehended a group of migrants who smuggled themselves into the U.S. via freight train.
At about 3 a.m. Wednesday morning, agents working near Hebbronville, Texas, observed a person holding a rope on top of a grain hopper freight car. The man climbed down from the rail car and fled into the brush before agents made their way to the train, according to Laredo Sector Border Patrol officials.
The agents carried out a search of the grain hopper and found five people hiding inside. The migrants climbed out by utilizing a rope attached to the car's hatch, officials stated.
After taking the five migrants into custody, the agents conducted a search of additional railroad cars and found two additional migrants in hiding.
The agents transported the seven migrants to the Border Patrol station for processing on immigration violations. They also conducted a biometric background investigation that identified the seven migrants as Mexican nationals who were illegally present in the U.S.
Earlier in the week, agents apprehended 100 additional migrants who had been packed into the back of tractor-trailer rigs as "human cargo." In the first incident, agents assigned to the Interstate 35 checkpoint, located between Laredo and San Antonio, found 65 migrants locked in the back of a trailer at about 9 p.m. on September 23. The temperature in the truck was in excess of 90 degrees at the time.
The following morning at about 2:30 a.m., agents discovered 49 additional migrants in the back of a refrigerated tractor-trailer at the same inspection station. The temperature inside the refrigerated trailer was reported to be 59 degrees.
None of the migrants in these three incidents required medical attention, officials stated.
Bob Price
serves as associate editor and senior political news contributor for Breitbart Texas. He is a founding member of the Breitbart Texas team. Follow him on Twitter
@BobPriceBBTX
and
Facebook
.
Mexican Cops Find 38 Human Body Fragments in Clandestine Gravesite near Texas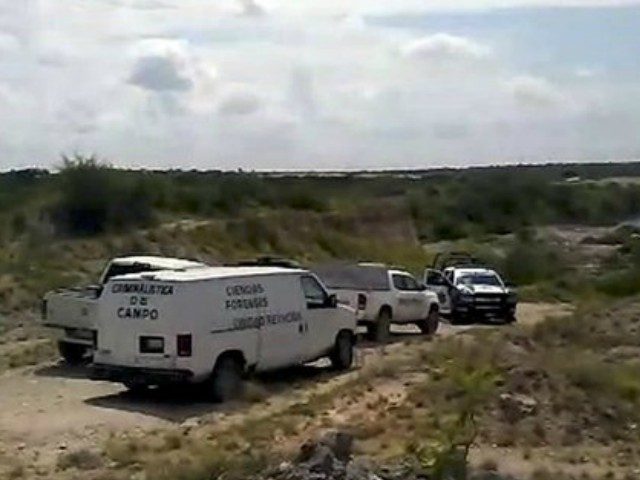 Mexican authorities confirmed the discovery of 38 human body fragments in a Reynosa field near the Texas border. The find follows official and human rights group efforts to locate discarded cartel victims.
The Tamaulipas government provided Breitbart Texas with a statement confirming the discovery in the Alianza Social neighborhood. Human rights groups and law enforcement forces were searching various areas in the city to locate human remains. The 38 fragments were uncovered after law enforcement used specially trained tracking dogs.
State authorities gathered the remains and turned them over to forensic investigators to attempt victim identification. As Breitbart Texas reported, the border cities of Reynosa and Matamoros continue to be the epicenter of a fierce turf war between rival cartel factions. The infighting is tied to the control of lucrative drug and human smuggling routes into Texas.
Mass graves, cartel killing fields, and incineration sites are now a common sight in the Mexican cities immediately south of Texas.
Ildefonso Ortiz is an award-winning journalist with Breitbart Texas. He co-founded the Cartel Chronicles project with Brandon Darby and Stephen K. Bannon.

You can follow him on Twitter and on Facebook. He can be contacted at Iortiz@breitbart.com.
Brandon Darby is the managing director and editor-in-chief of Breitbart Texas. He co-founded the Cartel Chronicles project with Ildefonso Ortiz and Stephen K. Bannon. Follow him on
Twitter
and
Facebook
. He can be contacted at
bdarby@breitbart.com
.
Mexican Cartel Gunmen Dump Murdered Marines in Cancun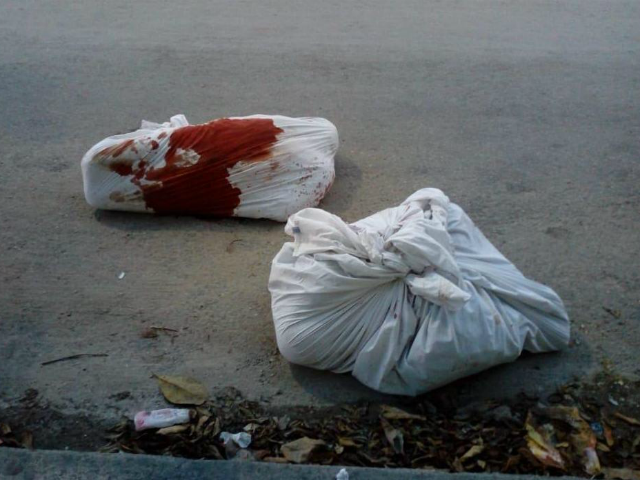 Cartel gunmen operating in Cancun kidnapped, tortured, and murdered two Mexican Marines. Their bodies were wrapped in white sheets and left in a busy street. The executions come at a time when Cancun has officially tallied 420 murders in nine months.
The gruesome discovery was made this week along 13th Street in Cancun–not far from a public hospital. Authorities responded to the scene after citizens discovered two large bundles wrapped in white sheets with bloodstains. State investigators found the remains of two Mexican Marines stationed nearby.
A law enforcement source said the discovery triggered investigation number 560/2018 by the Quintana Roo Attorney General's Office. Initially, authorities figured the victims to be street-level drug distributors, however, they later confirmed the ranks of an active duty sergeant and a corporal with the Mexican Navy. The two men were reported missing in the days prior.
The

Mexican Navy

issued a public statement condemning the murders and expressing condolences to surviving loved ones. According to naval officials, the pair went missing on their days off and were stationed in Isla Mujeres, Quintana Roo.
The once peaceful tourist hotspot is seeing a spike in cartel violence as Cartel Jalisco Nueva Generacion (CJNG) continues to grab control of the area's shipping ports, smuggling routes, and lucrative sex trade.
Ildefonso Ortiz is an award-winning journalist with Breitbart Texas. He co-founded the Cartel Chronicles project with Brandon Darby and Stephen K. Bannon.

You can follow him on Twitter and on Facebook. He can be contacted at Iortiz@breitbart.com.
Brandon Darby is the managing director and editor-in-chief of Breitbart Texas. He co-founded the Cartel Chronicles project with Ildefonso Ortiz and Stephen K. Bannon. Follow him on
Twitter
and
Facebook
. He can be contacted at
bdarby@breitbart.com
.
Tony Aranda from the Cartel Chronicles project contributed to this report.
Border Patrol Station Agents Apprehend 270 Migrants in One Day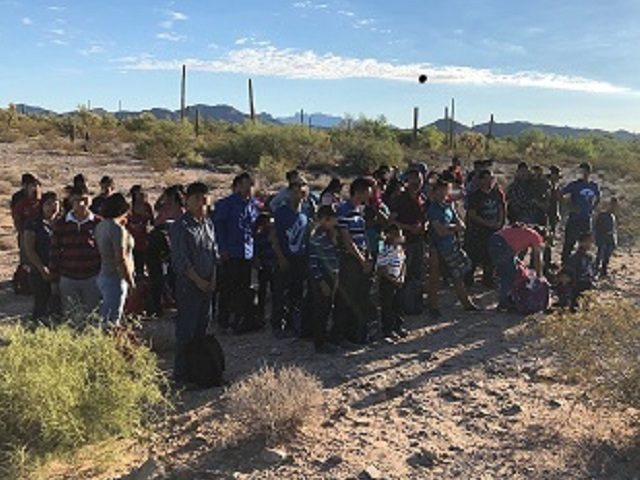 Tucson Sector Border Patrol agents assigned to the Ajo Station in southwest Arizona apprehended nearly 270 migrants in less than 24 hours. The apprehensions illustrate the trend of migrant crossing in the dangerous Arizona desert continues in increasing numbers.
Ajo Station Border Patrol agents patrolling west of the Lukeville port of entry came upon a group of 164 migrants on Tuesday afternoon. The following day, agents encountered another group of 100 migrants in the same area, according to Tucson Sector Border Patrol officials.
Officials stated the two groups were composed of family units and juveniles who traveled to the U.S. from El Salvador, Guatemala, and Honduras. The migrants ranged in age from 11-months to 59-years-old.