Lou Barletta: Dems Put Illegal Immigrants over American Citizens with Schumer's Shutdown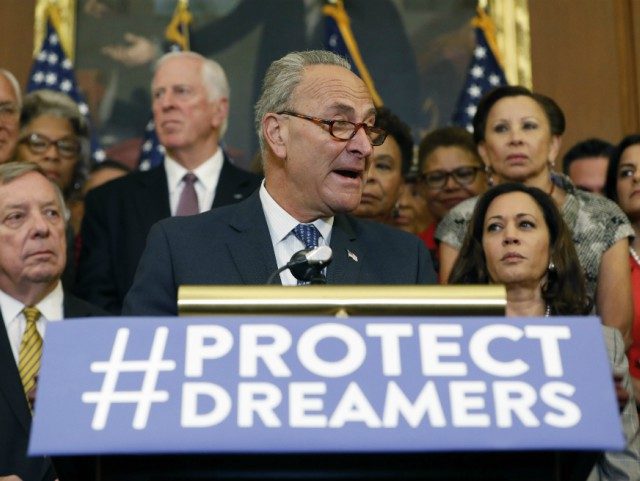 Rep. Lou Barletta (R-PA) called out Senate Democrats following a government shutdown led by Senate Minority Leader Chuck Schumer (D-NY) and members of the Republican establishment, saying the Democratic Party put the interests of illegal aliens ahead of American citizens.
On Friday evening, Senate Democrats, including Schumer and Sen. Dick Durbin (D-IL), along with well as Sen. Lindsey Graham (R-SC) and Sen. Jeff Flake (R-AZ),
voted against
a spending bill to prevent a government shutdown because it did not include amnesty for at least 3.5 million illegal aliens and their illegal alien parents.
Barletta quickly responded to the decision to shut down the federal government for illegal aliens, writing on Twitter:
Senate Democrats, along with Graham and Flake, voted to shut the federal government down after they did not get their way in slipping an amnesty plan for millions of illegal aliens into the spending bill.
As
Breitbart News
reported, the amnesty plan by the "Gang of Six," — which includes Flake, Graham, Durbin, Sen. Cory Gardner (R-CO), Sen. Michael Bennet (D-CO), and Sen. Robert Menendez (D-NJ) — would give a pathway to U.S. citizenship for at least 3.5 million illegal aliens who are eligible and enrolled in the President Obama-created Deferred Action for Childhood Arrivals (DACA), while their parents, who originally brought them to the country illegally, would be allowed to permanently remain in the US.
The six senators were warned ahead of rolling out their expansive amnesty agenda by President Trump that any immigration deal that did not include reducing legal immigration levels and full funding for the US-Mexico border wall would be dead on arrival in Congress.
Sen. Tom Cotton (R-AR) — Trump's closest economic nationalist ally in the Senate —
joked
earlier in the week that he would like to "see how that works out" for Senate Democrats if they did in fact shut down the federal government unless illegal aliens were given amnesty.
The Trump administration says they will not be open to negotiations on immigration with Democrats or the Republican establishment until the federal government is back up and running.
In 2013, Chuck Schumer mocked the idea that Democrats would shut down the federal government for illegal aliens, calling such a plan a "governmental chaos," as
Breitbart News
reported.
SCHUMER: Speaker [John] Boehner comes in and he says basically… it's sort of like this: Someone goes into your house, takes your wife and children hostage and then says 'Let's negotiate over the price of your house.'

You know we could do the same thing on immigration. We believe strongly in immigration reform. We could say 'We're shutting down the government. We're not going to raise the debt ceiling until you pass immigration reform.' It would be governmental chaos. [Emphasis added]
John Binder is a reporter for Breitbart News. Follow him on Twitter at @JxhnBinder.
January 21, 2018
Wasting Away in Chuckschumerland
http://www.americanthinker.com/articles/2018/01/wasting_away_in_chuckschumerland.html
I must say I paid more attention this week to the continued unfolding of the Obama-Clinton "Russian collusion" poppycock, which seems to be coming to a certain closure with the investigative results made public and the consequent removal and prosecution of a number of high-ranking former and present officials. In the meantime, Chuck Schumer, whose surname (per ancestry.com) is "a nickname from Middle Low German 'good-for-nothing,' 'vagabond,'" revealed how aptly he is named.
In fact, the Democrats' government shutdown gimmickry reminds me of nothing so much as the scene in the movie Animal House where Eric "Otter" Stratton offers up the notion that the situation absolutely requires a "futile and useless gesture, and we're just the guys to do it."
Congress has never passed a law respecting what should be done with the people who entered the U.S. illegally as minors and stayed on illegally. In June 2012, by administrative decree, the Obama administration offered a renewable two-year deferred deportation action for people in this situation. This program is known as DACA (Deferred Action for Childhood Arrivals). The estimates of people involved ranges broadly from 800,000 to over 3 million.
In September of this year, the president rescinded this program. The regents of the University of California and Janet Napolitano sued to enjoin the rescission, and Judge Alsup did so, apparently using a copy of the U.S. Constitution known only to practitioners and jurists in the Ninth Circuit.
A divided Supreme Court stayed a portion of that order dealing with government records underlying the rescission decision.
The substantive issue – the right of a new administration to rescind an administrative program not based on law – is pending. In an unusual move, days ago, the administration sought a direct appeal of the ruling to the Supreme Court.
Thus, the matter is in judicial hands at the moment, and even if the rescission order stands – as it should – it will not take effect until March 5. There is no great urgency on this issue. In any event, if the Congress wants to preserve DACA, members of Congress are free to pass such a law or include it in the promised upcoming revision of immigration law.
Congress has not done so, because DACA is not popular with voters. Even CNN pollsters indicate shutting that down the government to preserve this program is not a winning issue.
[Fifty-six percent] overall say approving a budget agreement to avoid a shutdown is more important than continuing the DACA program, while just 34% choose DACA over a shutdown. Democrats break narrowly in favor of DACA – 49% say it's more important vs. 42% who say avoiding a shutdown is the priority – while majorities of both Republicans (75%) and independents (57%) say avoiding a shutdown is more important.
Chuck Schumer once acknowledged how unpopular government shutdowns are, as Paul Ryan reminded in a late Saturday tweet:
Still, the Democrats seem to have chosen this hill to die on.
I think the best analysis of the consequences of the shutdown is by my online friend Stephen B. Waters, publisher of the Rome, N.Y. paper who regularly fights a battle for better journalism with the Associated Press. He offers up the following:
What if, because Dems pushed us over the cliff, they now have to pay a price? Schumer can choose:

• No DACA but sign 4-week funding.
• DACA as part of a complete immigration plan.
• Just a continuing resolution into April.
• Lose the filibuster on appropriations.
Indeed, five Democrat senators voted for the continuing resolution, breaking ranks with their party's majority: Joe Donnelly, Heidi Heitkamp, Doug Jones, Joe Manchin, and Claire McCaskill. These are the Democrats most vulnerable in their re-election bids. The consequences for the Democrats are going to be brutal, and Senator Mitch McConnell is planning to schedule many painful votes for Democrats heading into the midterms.
If the Democrats thought their pals in the press would buy their line that the Republicans are responsible for the shutdown, they miscalculated – for the most part – on that as well.
Even the press can count (sometimes). The House voted for a continuing resolution with every provision to which the Democrats agreed. It's Schumer's pals in the Senate, where it still takes 60 votes to stop a filibuster and the Republicans have only 51 seats, who jinxed the deal by adding untenable new demands.
As we once again witnessed the triumph of party over country, the finger[-]pointing will begin. Because the Democrats essentially got everything they once demanded in a spending bill they threw in the "clean DACA" toward[] the end of debate in order to have a noble reason to refuse to sign on. So we can't have a functioning government budget because...[DREAM]ers! Virtue[-]signaling not[]withstanding, the ball's really in your court[,] Chucky.

Those of us who think that granting amnesty for 3.6 million (and counting) "[DREAMers]" – no matter the circumstances of their arrival – is a fool's game will continue to be called racists. So be it.

But wait – what's this!?! The media [aren't] entirely embracing the Dem's narrative?
The president celebrating the anniversary of his inauguration chided the opposition:
He also offered up a midterm battle cry:
Don Surber, one of the first to predict that Trump would win the presidency, argues that this shtick presages a midterm blue wave:
The public is loving it. Congress cannot pull off a simple budget resolution. The establishment politicians are so incompetent that they cannot even figure out how to spend money.

Trump meanwhile has forced Kim Jong[-u]n to make nice and hold hands with the South Koreans over the Winter Olympics, has brought factories back to the country and rebuilt the economy, killed off the Islamic State, and just for fun made the NFL ratings tank by 10%. ...

The shutdown is the best news some of us have had in five years since the last government shutdown. That one lasted 15 days.

That time they were fussing over funding Planned Parenthood and Obamacare. It failed to stop the funding. These shutdowns usually fail.

This time, Democrats are demanding amnesty for every illegal border-jumper and their eight million relatives.

Opposition to illegal immigration – and legal immigration for that matter – elected Trump president, despite being the least popular winning presidential candidate since Lincoln.

Government shutdowns are reminders that we really don't need all that government.

If you were the party of big government, you might be better off not reminding people of that.

Yes, 2018 is gonna be one big blue wave...
To take just one point from this well written article explaining the genesis of the Schumer pratfall:
Republicans are perfectly willing to deal on DACA. Trump and even the most conservative Republican leaders have proposed a true compromise and even written legislation that reflects it. Reps. Bob Goodlatte (R-Va.) and Michael McCaul (R-Texas) proposed legislation that grants permanent amnesty to DACA recipients, in addition to common[]sense border security and enforcement provisions. Having rejected this proposal, Democrats are claiming they'll block government funding until a more favorable compromise to them emerges.
Did Schumer imagine that Trump would deal with the shutdown in the revolting way his predecessor did – unnecessarily paying rangers to keep people from long planned vacations to national parks and ancient veterans from visiting the memorials on the National Mall? If so, he's sadly mistaken.
I take for granted that Trump won't engage in Obama-style ["]Shutdown Theater["] and start closing visible yet inexpensive things like the Lincoln Memorial. That could be trouble for the Dems, since how will we miss the government if we don't notice it is gone? Time will tell.
In any event, this foot-stamping, in which the Democrats reveal they care more for illegal aliens than they do for the country and the people who legally live here, is likely to be short-lived. Mick Mulvaney, White House Office of Management and Budget director, predicts that Congress will avoid a government shutdown this weekend, before civil service employees are due to return to work.
In fact, it may be over by the time you read this.
January 21, 2018
Nancy Pelosi whoops it up with Democrats over government shutdown at a tony DC restaurant
Maybe they were whooping it up. Or maybe they were crying in their beer. One thing that's certain is that Democrats, led by House Minority Leader Nancy Pelosi, were doing it in luxury at one of Washington's toniest restaurants, as the measure to fund the government failed.
According to Scott Wong at The Hill, the wake of the late-night government shutdown sent congressional members skittering all over town for their dinners:
Politico's Jake Sherman had the same scoop but mangled the name of the restaurant a little, allowing it to be confused with a raunchy-looking bar with much of the same name.
But there was booze aplenty at the tonier Acqua al 2. It just didn't have drinks with names like Budweiser on the menu.
At $14 a pop, Democrats celebrated the shutdown quite possibly with drinks such as:
Laird's apple brandy, campari, and sweet vermouth

bring about a seasonal twist on the classic negroni.

In this rendition of a sazerac, rye, fernet, and

chocolate bitters create a smooth,

A fresh spin on a nuts and berries combines gin,

amaro nonino, orgeat, and blackberries to create a velvety and refreshing cocktail
They supped on a menu with entrees such as these:
Served with arugula and grape tomatoes

Grilled and sliced New York strip steak

topped with shaved parmigiano and

Disossata alla Robespierre 39

Grilled hand-carved ribeye steak

topped with rosemary, garlic, and

green peppercorn olive oil

Pollo con Erbe Aromatiche 24

Grilled double chicken breast,

rubbed with thyme, rosemary, and garlic

Costolette di Agnello alla Griglia 36

Grilled hand-cut lamb chops over mint pesto

with sautéed turnips and baby fennel
Hand-carved filet mignon cooked in a

blueberry reduction sauce
The filet mignon doesn't get the arugula.
Private rooms for weekend dinners at Acqua al 2 rent out on weekends at rates from $1,600 for the Mercatino Room to $3,000 for the Saletta Bianca. The Harold Black barroom rents out for $6,000.
And as White House press secretary Sarah Sanders noted, the whole thing painted a creepy picture:
Servicemen in hellholes like Afghanistan, stuck with their K-rats, are being denied phone calls home based on this shutdown, while Pelosi and company are going all tony. celebrating their shutdown with a sumptuous feast at Acqua al 2..
A government budget requires a certain number of votes to pass. Republicans have contributed virtually all of theirs. Democrats are refusing to cough up so much as ten of their own, making it their own shutdown in the name of illegals. They call illegals 'DREAMers' while they call ordinary Americans 'deplorables.' No wonder Pelosi and company couldn't be happier about the shutdown. It's obvious enough in how they chose to celebrate it in style.
WE CANNOT START TO REBUILD THE AMERICA MIDDLE CLASS UNTIL WE PUSH MEXICO OUT OF OUR JOBS AND BORDERS AND PUSH AMNESTY POLITICIANS OVER THE CLIFF!
A county by county chart:
According to the nonpartisan Center for Immigration Studies, the deportations occurred between October 2008 and February 2015. The
three counties
with the most deportations during this period were Los Angeles County, Calif.; Maricopa County, Ariz.; and Harris County, Texas.
Heather Mac Donald of the Manhattan Institute has testified before a Congressional committee that in 2004, 95% of all outstanding warrants for murder in Los Angeles were for illegal aliens; in 2000, 23% of all Los Angeles County jail inmates were illegal aliens and that in 1995, 60% of Los Angeles's largest street gang, the 18th Street gang, were illegal aliens.
Everyday there are 12 Americans murdered and 8 children molested by Mexicans!
Steinle's murderer, Jose Zarate and been deported 5xs!
"While walking with her father on a pier in San Francisco in 2015, Steinle was shot by the illegal alien. Steinle pleaded with her father to not let her die, but she soon passed in her father's arms."
Gavin Newsom Vows to Keep CA a Sanctuary State, Defy & Resist Trump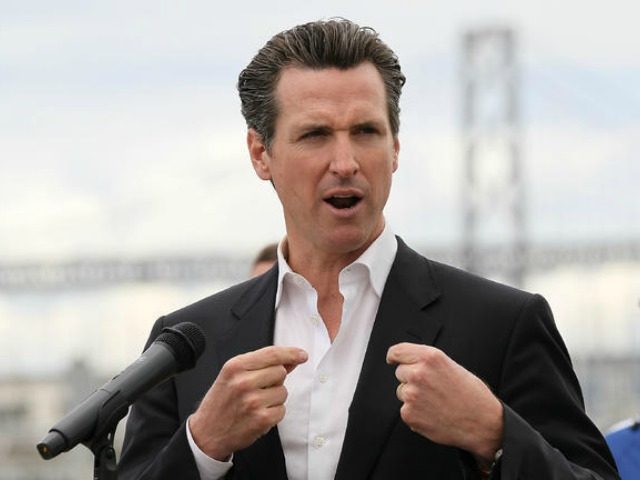 Ca
lifornia Lieutenant Governor and gubernatorial candidate Gavin Newsom is ramping up his pro-amnesty rhetoric, vowing to keep California a "sanctuary state" for illegal immigrants while defying and resisting President Donald Trump.
"Let me be clear, @realDonaldTrump: California is a sanctuary state. We believe in the power of diversity. We have defied and resisted the xenophobic, hateful policies of your administration at every turn. We will do it again," the left-wing Democrat tweeted on Friday in response to the Trump's administration's plans to crack down on illegal immigration in Northern California.
Newsom made his remarks just days after a Latino Community Foundation poll found former Los Angeles Mayor Antonio Villaraigosa with a significant lead over Newsom (31 percent to 14 percent) among registered Latino voters. But 36 percent of registered Latino voters were undecided in the survey.
Last year, California Governor Jerry Brown signed a bill that made the state a sanctuary state after President Donald Trump decided to phase out the Deferred Action for Chilhdood Arrivals (DACA) program. The refusal of California's cities to enforce immigration laws, especially Newsom's home city of San Francisco, likely propelled Trump to the GOP nomination and ultimately the presidency.
As Breitbart's Joel Pollak has extensively documented, Trump was languishing in seventh place in RealClearPolitics average of the GOP primary polls before an illegal immigrant, who admitted to authorities that he came to San Francisco after having been deported five times because he knew it was a "sanctuary city," murdered Kate Steinle in July of 2015.
Nearly a week later, Trump met with families who had also lost loved ones due to murders committed by illegal immigrants and put a national spotlight on an issue that the legacy media, Democrats, and establishment Republicans conspired to ignore. A week after Trump met with these families, he surged to the front of the pack in the RealClearPolitics average of the polls and never looked back.
Adios, Sanctuary La Raza Welfare State of California
A fifth-generation Californian laments his state's ongoing economic collapse.
By Steve Baldwin
American Spectator, October 19, 2017
What's clear is that the producers are leaving the state and the takers are coming in. Many of the takers are illegal aliens, now estimated to number over 2.6 million.
The Federation for American Immigration Reform estimates that California spends $22 billion on government services for illegal aliens, including welfare, education, Medicaid, and criminal justice system costs.
Liberals claim they more than make that up with taxes paid, but that's simply not true. It's not even close. FAIR estimates illegal aliens in California contribute only $1.21 billion in tax revenue, which means they cost California $20.6 billion, or at least $1,800 per household.
Nonetheless, open border advocates, such as Facebook Chairman Mark Zuckerberg, claim illegal aliens are a net benefit to California with little evidence to support such an assertion. As the Center for Immigration Studies has documented, the vast majority of illegals are poor, uneducated, and with few skills. How does accepting millions of illegal aliens and then granting them access to dozens of welfare programs benefit California's economy? If illegal aliens were contributing to the economy in any meaningful way, California, with its 2.6 million illegal aliens, would be booming.
Furthermore, the complexion of illegal aliens has changed with far more on welfare and committing crimes than those who entered the country in the 1980s.
Heather Mac Donald of the Manhattan Institute has testified before a Congressional committee that in 2004, 95% of all outstanding warrants for murder in Los Angeles were for illegal aliens; in 2000, 23% of all Los Angeles County jail inmates were illegal aliens and that in 1995, 60% of Los Angeles's largest street gang, the 18th Street gang, were illegal aliens.
Granted, those statistics are old, but if you talk to any California law enforcement officer, they will tell you it's much worse today. The problem is that the Brown administration will not release any statewide data on illegal alien crimes. That would be insensitive. And now that California has declared itself a "sanctuary state," there is little doubt this sends a message south of the border that will further escalate illegal immigration into the state.
"If the racist "Sensenbrenner Legislation" passes the US Senate, there is no doubt that a massive civil disobedience movement will emerge. Eventually labor union power can merge with the immigrant civil rights and "Immigrant Sanctuary" movements to enable us to either form a new political party or to do heavy duty reforming of the existing Democratic Party. The next and final steps would follow and that is to elect our own governors of all the states within Aztlan."
Indeed, California goes out of its way to attract illegal aliens. The state has even created government programs that cater exclusively to illegal aliens. For example, the State Department of Motor Vehicles has offices that only process driver licenses for illegal aliens. With over a million illegal aliens now driving in California, the state felt compelled to help them avoid the long lines the rest of us must endure at the DMV.
And just recently, the state-funded University of California system announced it will spend $27 million on financial aid for illegal aliens.
They've even taken out radio spots on stations all along the border, just to make sure other potential illegal border crossers hear about this program.
I can't afford college education for all my four sons, but my taxes will pay for illegals to get a college education.
America builds the La Raza "The Race" Mexican welfare state
Kobach: Democrats Putting Americans Last
The first month of 2018 has witnessed two major battles that may appear unrelated, but are in fact manifestations of the same surprising development – a significant number of leaders in the Democratic Party no longer see it as their duty to put American citizens first.
First, we have the budget battle over the continuing resolution to fund the federal government. Virtually all of the Democrats in both houses of Congress have decided that it is worth shutting down the federal government if Republicans do not agree to an amnesty for the approximately 800,000 DACA illegal aliens.
Think about that for a moment. More than 300 million American citizens benefit from the continuing operation of the federal government – most importantly through the funding of our armed forces. But virtually no American citizens benefit from granting legal status and work authorization to nearly a million illegal aliens. That allows the DACA aliens to compete against United States citizens in the same age group who are having great difficulty finding good, well-paid jobs.
BLOG: 44% OF DACA ARE USING STOLEN SOCIAL SECURITY NUMBERS TO STEAL JOBS!
As I have written

previously

, the DACA aliens are not kids; they are mostly young adults in their 20s and 30s competing for jobs against young Americans. Despite the growing economy, young American adults are struggling in the workforce, with an

unemployment rate

of nine percent. And young Americans without a college degree (66 percent of them) are suffering an

underemployment rate

(unemployed or seeking full time work) that stands at a whopping 34 percent.
If one party or the other threatened a government shutdown in order to protect the interests of American citizens, that would be one thing. But shutting down the government to protect the interests of aliens who have broken our laws is something entirely different. And doing so to force a policy that hurts American citizens is unconscionable.
The second battle that illustrates this same disturbing disregard for American citizens is the sanctuary cities fight. The sanctuary cities that shelter illegal aliens from federal law enforcement are virtually all Democrat Party strongholds. And the sanctuary state of California is firmly under Democratic control. Now the defense of sanctuary policies has become a rallying cry for the Democratic Party.
But here too, Democrats are putting Americans last. By interfering with federal efforts to deport illegal aliens, sanctuary jurisdictions hurt American citizens. They endanger Americans' lives by keeping criminal illegal aliens on the streets of American cities.
The

Kate Steinle murder

in San Francisco was just one of thousands of cases of Americans who lost their lives because of sanctuary policies. Sanctuary policies also endanger our constitutional system. Sanctuary policies violate the federal

law

found at 8 U.S.C. 1373(a); and 8 U.S.C. 1324(a)(1)(A)(iv) makes it a federal

crime

to "encourage or induce" an illegal alien to remain in the country. When cities and states openly defy federal law, it threatens our constitutional system in the same manner that the defiant states did during the Jim Crow era.
So we have two national battles occurring simultaneously. And in both battles, Democratic leaders are putting the interests of illegal aliens over the interests of American citizens.
The first duty of government is to protect its own citizens. It's so obvious that it seems silly to even have to say it. But the leaders of the Democratic Party have apparently forgotten that basic principle.
If they continue on this course, Democratic leaders will do damage not only to the country, but to their own party. A party's leadership can get away with a lot of nonsense in Washington, D.C., but some things cross the line. If they continue on this course for much longer, there will likely be millions of Democrats across the country who no longer recognize their own party. They still rightly expect their government to put the interests of American citizens first.
Kris W. Kobach is the elected secretary of state of Kansas. An expert in immigration law and policy, he coauthored the Arizona SB-1070 immigration law and represented in federal court the 10 ICE agents who sued to stop Obama's 2012 DACA amnesty. During 2001-03, he was Attorney General Ashcroft's chief adviser on immigration law at the Department of Justice. He is also a 2018 candidate for the office of governor of Kansas. His website is
kriskobach.com
.
"MEChA Supports "Reconquering" California For Mexico
And "Urges All Latinos To Resist Assimilation
With White Americans"
"Xavier Becerra
As Fox News pointed out in a
Becerra has a devout relationship with
MEChA, as well as The Fabian Society. But
don't go looking for the clip; it is apparent
Becerra's people have been busy at work
cleaning up his online reputation and record."
California AG threatens to prosecute businesses that help in immigration sweeps
California attorney general Xavier Becerra warned businesses that his office would prosecute owners who assist the federal government in immigration sweeps for illegal aliens.
Becerra was one of the driving forces behind making California a sanctuary state. His threat is the latest salvo fired in what is now a full-fledged war between the federal government and the state of California over sanctuary policies.
"It's important, given these rumors that are out there, to let people know – more specifically today, employers – that if they voluntarily start giving up information about their employees or access to their employees in ways that contradict our new California laws, they subject themselves to actions by my office," state [a]ttorney [g]eneral Xavier Becerra said at a news conference. "We will prosecute those who violate the law."

Becerra's warning comes as fears spread of mass workplace raids following reports that immigration agents plan to target Northern California communities for deportations due in part to the state's "sanctuary" law, which seeks to restrict local law enforcement agencies' ability to cooperate with immigration authorities.
The Supreme Court has ruled that state and local governments need not cooperate with the federal government in enforcing immigration policies. But the court has been silent about states actively seeking to inhibit the feds in immigration actions.
What guidelines must employers follow to avoid prosecution for helping the feds?
Authored by San Francisco Democratic [a]ssemblyman David Chiu, the bill:

▪ Requires employers to ask immigration agents for a warrant before granting access to a worksite.

▪ Prevents employers from voluntarily sharing confidential employee information without a subpoena.

▪ Requires employers to notify their workers before a federal audit of employee records.

▪ Gives the attorney general and labor commissioner exclusive authority to enforce new provisions of state labor laws.

▪ Prohibits employers from re-verifying information on employment verification forms, unless compelled to by federal law.
In effect, employers who make just about any move to assist ICE in removing illegal aliens from their workplaces are being threatened with jail.
This is positively draconian. If California doesn't want to be part of the union of states, why doesn't it take Hollywood and Silicon Valley and remove itself from our company?
Recently, "New California" declared itself independent from the urban coastal areas of the state – the first step toward becoming the 51st state. Policies like those created by the A.G. give an important boost to those efforts, although the chances of success are still small. But the declaration highlights the vast differences between attitudes toward illegal aliens in the big cities and the rest of the state.
By tying the hands of employers who might want to fully cooperate with ICE, the state government of California is thumbing its nose at the supremacy clause of the U.S. Constitution, which clearly states:
... that the federal constitution, and federal law generally, take precedence over state laws, and even state constitutions.

It prohibits states from interfering with the federal government's exercise of its constitutional powers

, and from assuming any functions that are exclusively entrusted to the federal government.
By any stretch of the imagination, the federal government's "constitutional powers" include immigration enforcement. But constitutional legality has very little meaning to a rogue state government bent on defying Washington's legitimate powers to say who can come into this country and who can't.
TRULY DID ANYONE THINK THAT BECERRA WOULD PROSECUTE EMPLOYERS WHO HIRE MEXICANS USING A STOLEN SOCIAL SECURITY NUMBER?!?!
California Attorney General Xavier Becerra and Former Los Angeles Mayor Antonio Villaraigosa….. Members of the racist, violent, fascist M.E.Ch.A. separatist movement.
California AG: 'We Will Prosecute' Employers Who Cooperate with Federal Immigration Officials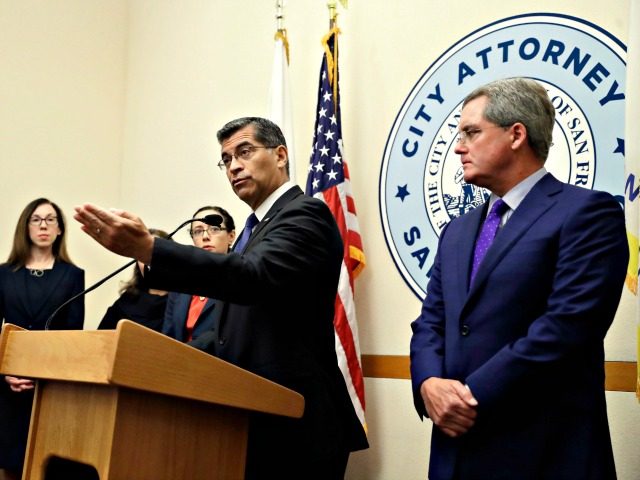 California Attorney General Xavier Becerra (D) says his office "will prosecute" employers who cooperate with federal immigration officials to deport criminal illegal aliens from the United States.
In a press conference on Thursday, the pro-open borders attorney general warned California employers of new state laws that barred businesses from providing information on illegal aliens to the Immigration and Customs Enforcement (ICE) agency that would aid in deportations.
There are new laws in place in California now in 2018 with the advent of 2018. I mentioned two of them specifically, AB 450 and SB 54. AB 450 in particular deals with the workplace in particular and how we go about treating the information about the workplace and employees at the workplace by employers.What we're trying to make sure is that employers are aware that in 2018, there is a new law in place.

We will prosecute those who violate [California] law.
Under AB 450, employers are banned from having to reverify an employees' immigration status that is not required by federal immigration law. Likewise, the law bans employers from "providing voluntary consent to an immigration enforcement agent to enter nonpublic areas of a place of labor unless the agent provides a judicial warrant, except as specified."
Under SB 54, as Breitbart News reported, California is a "sanctuary state," which bans public officials and employers from turning over criminal illegal aliens to federal immigration officials.
The announcement by Becerra comes as ICE has reportedly planned a large-scale arrest, detainment, and deportation effort in northern California's San Francisco Bay Area in the next month.
John Binder is a reporter for Breitbart News. Follow him on Twitter at
@JxhnBinder
.
AG Xavier Becerra: "CalExit" Movement can proceed
The CalExit Movement has gained momentum. With the approval of California Attorney General Xavier Becerra, if the separatist movement can gather 585,000 signatures, the representatives of CalExit can put a referendum on the ballot where the state would secede from the United States.
"The initiative [titled 'California Autonomy From Federal Government'] would form a commission to recommend avenues for California to pursue its independence and delete part of the state constitution that says it is an inseparable part of the U.S. The measure would also instruct the governor and California congressional delegation to negotiate more autonomy for the state," according to the AP.
As reported by
Western Journalism
, This is the second attempt to get such an initiative on the 2018 ballot by a group that is known as Yes California or CalExit.
The first effort was withdrawn in April after the group's founder, Louis Marinelli, emigrated to Russia, which prompted the group's official spokesman, Marcus Ruiz Evans, to pull the initiative. He promised to resurrect it later, which he now has.
During an interview in January, Evans said Donald Trump's election has greatly fueled his group's cause, which dates back over two years.
"If California votes were taken away, Trump won the popular election," said Evans. "So what kind of people elect a man like that? The answer: not Californians."
"So we're basically here to tell people that 'I know that California officials are telling you that they're going to protect you, but in fact in federalism, the federal government, overrules state law," he added. "There is going to be a limit to what they can do."
Evans told reporters the Supreme Court has already recognized the right of states to secede in Texas v. White (1869), though the justices actually held states do not have the right to secede unilaterally. Other states must accede to the move though the amendment process.
He cited issues such as climate change and illegal immigration as reasons California would be better off as its own master.
The group has 20,000 followers on Twitter and over 40,000 likes on Facebook.
Evans believes California, as the 5th largest economy in the world, will be just fine on its own.
At $2.6 trillion, the Golden State's economy dwarfs the GDP's of its sister states.
Its closest rival is Texas with a GDP of approximately $1.6 trillion.
California also has the largest population by far of any state with 39 million (or 12 percent of the United States), with Texas, once again, in second at 28 million, followed by New York at 20 million.
CalExit organizers have 180 days to collect the required 585,000 signatures for the measure to appear on the ballot in 2018.
We are a nation of the self-governed. Those who agree with California can live there, while the rest of us can move to states like Texas, a conservative state where guns are permitted, immigration laws are tough, taxes are low, and the economy is booming.
What do you think about the CalExit movement getting approval? Leave your comment below.
"CalExit" Movement to Proceed
What would America look like without California? This cartoon tries to answer that:
But in all seriousness, the CalExit Movement has gained momentum. With the approval of California Attorney General Xavier Becerra, if the separatist movement can gather 585,000 signatures, the representatives of CalExit can put a referendum on the ballot where the state would secede from the United States.
California, a state which has granted almost 1 million driver licenses to illegal immigrants, hates President Trump so much that they are taking this drastic move. Suddenly, the left is interested in states' rights.
On Tuesday afternoon, Atty. Gen. Xavier Becerra's office released an official title and summary for the initiative, now called the "California Autonomy From Federal Government" initiative.

The proposal, scaled back from an initially more aggressive version, would direct California's governor to negotiate more autonomy from the federal government, including potentially putting forward a ballot measure to declare independence.

The initiative wouldn't necessarily result in California exiting the country, but could allow the state to be a "fully functioning sovereign and autonomous nation" within the U.S.[…]

The proposal, scaled back from an initially more aggressive version, would direct California's governor to negotiate more autonomy from the federal government, including potentially putting forward a ballot measure to declare independence.

The initiative wouldn't necessarily result in California exiting the country, but could allow the state to be a "fully functioning sovereign and autonomous nation" within the U.S.
The legal issues involved with allowing a state to secede would be endless, especially after how much the federal government has grown during the past 240 years.
But if California wants to leave the country to oppress Christians who don't wish to perform services for gay marriages, ban the use of fossil fuels, and exploit cheap labor from illegal aliens, they should be free to do it. California is already on the verge of bankruptcy, and is in desperate need of a financial bailout. Getting California's disastrous finances off of America's balance sheet may be exactly the step needed to enforce financial discipline in the Democrat-run state.
We are a nation of the self-governed. Those who agree with California can live there, while the rest of us can move to states like Texas, a conservative state where guns are permitted, immigration laws are tough, taxes are low, and the economy is booming.
What do you think about the CalExit movement getting approval? Please leave us a comment (below) and tell us.
CHICANO MARXISTS PREPARE FOR BATTLE WITH TRUMP ADMINISTRATION
As Chicanas and Chicanos of Aztlán, we are a nationalist movement of Indigenous Gente that lay claim to the land that is ours by birthright. As a nationalist movement we seek to free our people from the exploitation of an oppressive society that occupies our land. Thus, the principle of nationalism serves to preserve the cultural traditions of La Familia de La Raza and promotes our identity as a Chicana/Chicano Gente.
M.E.CH.A
Immediately following the November election, California Governor Jerry Brown appointed U.S. Rep. Xavier Becerra (D) to replace State Attorney General Kamala Harris, who won election to the U.S. Senate seat vacated by the retiring Sen. Barbara Boxer.
Many wonder why Xavier Becerra was chosen
by Brown. But all anyone has to do is peek into
the radical California Legislature, and fanatical
Gov. Jerry Brown, to see the trend of militant
Marxist, Socialist, Jesuit, Liberation Theology,
Latino activism on the increase.
The goal by these extremists in California is to push the state, and eventually the country to such a crisis, a reorganization is the only cure. That is what Communists do. Modern day "Progressives" as they like to be called, like Brown and Becerra, refer to themselves as Multiculturalists and Progressives. But as history very clearly demonstrates, using Marxism as the cure to anything in society is a very dark fairytale.
The term "progressive" is simply another way of saying "socialist" or "Marxist;" But it's as important to recognize how liberation theology factors into the radical Latino lawmakers:In Latin America, the big enemy is not Marxism, it is capitalism. And the main enemy of liberation theology, according to its founder, the Rev. Gustavo Gutierrez of Peru, and many of its adherents, is the United States, wrote Michael Novak, the author of the 1984 ''Freedom With Justice: Catholic Social Thought and Liberal Institutions." Novak describes liberation theology as "gaining its excitement from flirting with Marxist thought and speech."
Xavier Becerra
As Fox News pointed out in a
Becerra has a devout relationship with
MEChA, as well as The Fabian Society. But
don't go looking for the clip; it is apparent
Becerra's people have been busy at work
cleaning up his online reputation and record.
According to a NewsMax account on Free Republic:
"I got to be the first in my family to go to college" thanks to MEChA, Becerra said.

Hannity repeatedly pressed Becerra on why he would belong to a group that preaches racial discrimination, prompting the Bustamente backer to complain, "Are you calling me a racist?"

When the Fox host pointed out that MEChA favors the return of California to Mexico, Becerra still declined to criticize the group, saying, "I got a lot of help from people in the organization who have promoted education for kids and who continue to do that. … What I know is what they do."
MEChA is a Hispanic separatist organization (400 chapters nationwide) that encourages anti-American activities, civil disobedience, and romanticizes Mexican claims to the "lost Territories" of California and the Southwestern United States, in a Chicano country called "Aztlan." The official national symbol of MEChA is an eagle holding a machete-like weapon and a stick of dynamite.
The Fabian Society and Fabian Socialism uses the teachings of John Maynard Keynes as their catechism of political economy. Like Marxism, it embraced the idea of a Communist Utopia, where the State owned everything and controlled every aspect of the public's lives. They have installed Fabian Socialism and Keynesism as the new faith, both in the universities and in government bureaucracy. Keynes supported statism and socialism, and managed and planning economies. U.S. President Barack Obama has long advocated the use of Keynesian economic concepts—despite the fact that John Maynard Keynes was incompetent, a fraud, and accused of being a pedophile.
These groups have worked diligently behind the scenes to implement their Socialist policies into our government, labor unions and throughout academia. They have infected the working class, demanding higher and higher wages, resulting often in welfare and other government handouts once their employers are ruined. They use illegal immigrants as messengers of their ideology, demeaning patriotism, and America. They have manipulated the political process so that only those candidates well-versed in Marxism receive the attention of the corporate Media.
Source: Canada Free Press
Xavier Becerra Brings A Record Of Residency Issues, Extremist Connections, Drug Dealer Advocacy, And Backstabbing
---
​TOP TAKEAWAYS
Rep. Xavier Becerra was under consideration to be Clinton's running mate, but despite Becerra even pouring her water, Clinton could not even pronounce his name correctly.



Becerra lives in a +$1 million house in Maryland and owns several properties despite his district being filled with the working poor.



Becerra's wife Carolina Reyes was a leader in the "radical Latino student organization" MECHA.



Becerra lobbied for the commutation of a convicted drug traffickers' sentence.
Becerra's mayoral campaign sent out "incendiary" calls impersonating an elected official attacking his former friend Antonio Villaraigosa.
---
CLINTON CONSIDERED BECERRA TO BE HER RUNNING MATE BUT COULDN'T EVEN PRONOUNCE HIS NAME CORRECTLY
BECERRA LIVES IN A +$1 MILLION HOUSE IN MARYLAND AND OWNS SEVERAL PROPERTIES DESPITE HIS DISTRICT BEING FILLED WITH THE WORKING POOR
According To His 2014 Personal Financial Disclosure, Becerra Incurred A $500,000 To $1,000,000 Mortgage From Sun Trust In 2009 To Finance The Purchase Of His Home.

(Xavier Becerra, Personal Financial Disclosure, 6/15/15)
Becerra Also Owns Three Properties From Which He Earns Rental Income
According To Zillow, Becerra's Property At 1005 Mooney Drive Is Worth $514,934.

(Zillow, Accessed 6/16/16)

According To His Personal Financial Disclosure, Becerra Earned $15,001 To $50,000 In Rental Income From The Property In 2014.

(Xavier Becerra, Personal Financial Disclosure, 6/15/15)
According To Zillow, Becerra's Property At 1633 Hill Drive Is Worth $957,455 And Was Last Rented Out At $3,750 Per Month.

(Zillow, Accessed 6/16/16)

According To His Personal Financial Disclosure, Becerra Earned $15,001 To $50,000 In Rental Income From The Property In 2014.

(Xavier Becerra, Personal Financial Disclosure, 6/15/15)
According To His Personal Financial Disclosure, Becerra Listed The Value Of The Apartment At $100,000 To $250,000.

(Xavier Becerra, Personal Financial Disclosure, 6/15/15)

According To His Personal Financial Disclosure, Becerra Earned $15,001 To $50,000 In Rental Income From The Property In 2014.

(Xavier Becerra, Personal Financial Disclosure, 6/15/15)
Becerra's District Has The Nation's
4

th

Largest Concentration Of The
Working Poor
BECERRA'S WIFE CAROLINA REYES WAS A LEADER IN THE "RADICAL LATINO STUDENT ORGANIZATION" MECHA
Becerra's Wife Carolina Reyes Was A Leader Of "The Chicano Activist Organization MEChA."
"When his girlfriend--now wife--Carolina Reyes was downstairs in the lounge of the Casa Zapata dorm leading meetings of the Chicano activist organization MEChA, Becerra was more likely to be upstairs studying. Friends encouraged him to take a greater leadership role on campus, but Becerra was intent on getting into law school. (He did, graduating from Stanford Law in 1984.)" (Matea Gold, "Congressman Tests His Winning Streak," Los Angeles Times, 3/12/01)
MEChA Supports "Reconquering" California For Mexico And "Urges All Latinos To Resist Assimilation With White Americans"
BECERRA ADVOCATED ON BEHALF OF A DRUG DEALER
Becerra Lobbied For The Commutation Of A Convicted Drug Traffickers' Sentence
BECERRA'S MAYORAL CAMPAIGN SENT OUT "INCENDIARY" CALLS IMPERSONATING AN ELECTED OFFICIAL ATTACKING HIS FORMER FRIEND ANTONIO VILLARAIGOSA
·
The Calls Impersonated Supervisor Gloria Molina Urging Voters To Oppose Villaraigosa For His Alleged Opposition To Increased Penalties For Rapists And Child Molesters.
"At a news conference today, Dist. Atty. Steve Cooley is expected to announce that prosecutors found that no crime was committed in the prerecorded calls, in which a woman posing as county Supervisor Gloria Molina alleged that former Assembly Speaker Villaraigosa opposed legislation increasing penalties for rapists and child molesters. 'Please, on April 10, say no to Antonio Villaraigosa,' the message concluded. 'The safety of women and children in our community depends on it.'" (Nicholas Riccardi and Greg Krikorian, "D.A. Traces Bogus Calls To Firm Tied To Becerra," Los Angeles Times, 5/23/01)
Becerra's Campaign Not Only Spread The Bogus Calls Deleted Them After They Prompted An Investigation
·
Cooley: "Being Responsible Means Asking The Tough Questions And Getting The Straight Answers, Not Just Buying The First Nice Answer You Get And Averting Your Eyes."
"'The responsibility was to come forward right away, not weeks later to report that he heard 'rumors,' Cooley said. 'Being responsible means asking the tough questions and getting the straight answers, not just buying the first nice answer you get and averting your eyes.'" (Matea Gold and Greg Krikorian, "Becerra Knew of Hit Calls Long Ago, Two Say," Los Angeles Times , 5/25/01)
The Los Angeles Times Slammed Becerra For His Underhanded Campaign Tactics
In just the month of October 2017 CBP Border Patrol San Diego border sector
reported
apprehension of individuals from Bangladesh (12), Brazil (1), Camaroon (3), Chad (1), China (16), El Salvador (76), Eritrea (7), Gambia (4), Guatemala (178), Honduras (54), India (101), Iran (1), Mexico (1,877), Nepal (31), Nicaragua (1), Pakistan (13), Peru (1), Somalia (1), and "Unknown" (1) — a total of 2,379 individuals. These numbers are similar to
volumes
seen in this sector for October since 2012. MICHELLE MOONS
THE MEXICAN DRUG CARTELS OPERATING IN AMERICA'S OPEN BORDERS
Overall, in the 2017 Fiscal Year, officials revealed that a record-breaking 455,000 pounds plus of drugs had already been seized. In 2016, that number amounted to 443,000 pounds. The 2017 haul is worth an estimated $6.1 billion – BREITBART – JEFF SESSION'S DRUG BUST ON SAN DIEGO
CalExit: California Attorney General Allows Secession Effort To Move Forward
If the separatist movement is able to gather the required 585,000 signatures, the
Sacramento Bee
reports
that Attorney General Xavier Becerra has granted representatives from CalExit the authorization to put a referendum about California seceding from the United States on the 2018 ballot. While the measure is unlikely to go anywhere and has already failed once, the good news is that through their hatred of President Trump, and everything he and his supporters stand for, the Left is finally grappling with the importance of states' rights.
The proposal, scaled back from an initially more aggressive version, would direct California's governor to negotiate more autonomy from the federal government, including potentially putting forward a ballot measure to declare independence.
BLOG: EXPANDING LA RAZA SUPREMACY IN MEXIFORNIA
The initiative wouldn't necessarily result in California exiting the country, but could allow the state to be a "fully functioning sovereign and autonomous nation" within the U.S.
This is usually where I mock Democrats for wanting to secede from the union again in order to again preserve what they have always seen as their right to cheap non-white labor (in this case all the exploited illegals from Mexico that save elite Californians a fortune in manual labor costs). But maybe it is time to look at the issue seriously.
Why shouldn't a free people have the God-given right to self-determination, the right to form their own sovereign government? By what right, either in 1861 or 2017, are a free people forced by the threat of government violence to remain attached to a government they see as immoral and oppressive?
While the legal details of allowing a state to secede from the United States would be endless, especially after some 240-odd years under an increasingly powerful and onerous federal government, all sarcasm aside, I can see no moral reason against secession. If the people of California wish to govern themselves, wish to oppress Christians who do not participate in gay weddings, wish to exploit Mexican illegals, wish to outlaw fossil fuels, wish to form an army exclusively made up of transgenders, that is their right.
Those Californians who disagree will be more than welcome in Wyoming.
No one has ever expressed my thoughts on this issue better than this:
Any people anywhere, being inclined and having the power, have the right to rise up, and shake off the existing government, and form a new one that suits them better — This is a most valuable, — a most sacred right — a right, which we hope and believe, is to liberate the world...
In a speech about the Mexican War, Congressman Abraham Lincoln said those words in 1848, just 13 years before he would wage war against his own countrymen to suppress that right. Granted, the South started the shooting war with the attack on Fort Sumter. But would there have been Civil War had Lincoln been truly open to the idea of allowing his own people the right to "shake off the existing government, and form a new one that suits them better"?
Despite what the idiots at HBO believe, slavery would not have survived much longer in the Confederacy either way. A minute longer would have been an abomination, which is why Lincoln's cause of liberation was of course a righteous one. But that doesn't change the basic principle involved, and this is a principle of human rights.
People often say that if our Founding Fathers had ever conceived of the notion of a state wanting to exit the union, they would have offered a mechanism for secession in the Constitution.
Myself, I believe the exact opposite is true. Like abortion and same sex marriage, our Founding Fathers never offered any explicit rulings on these issue because at the time such things were inconceivable. What I mean is that it was not inconceivable to our Founders that a state would want to leave the union. Rather it was inconceivable that a state would not be allowed to secede and self-govern if they so desired.
Would our country not be better off under such an experiment? Without the oppressive federal government forcing a single form of governance and even a culture across all 50 states, could we not learn something if individual states were allowed to become the true laboratories of democracy, allowed to experiment freely with true self-governance, allowed to produce tangible, real world results we could all benefit from?
In just a decade, imagine what we could learn from, say, a sovereign California and Texas? Two polar opposites on almost every core issue: guns, religious freedom, energy, immigration, taxes, the environment.
Loathing for Trump has finally removed the hot-button issue of slavery and race from the crucially important issue of states' rights.
This is a very good thing, a seismic change in our culture, in our way of thinking.
MAKING CALIFORNIA MEXICO AGAIN
"No barriers between California and Mexico" for leftist Democrats.
After the November 2016 election, California governor Jerry Brown, a three-time presidential loser, denounced the victorious Donald Trump and pledged that the Golden State would go its own way, perhaps even launching its own satellites. Brown's attorney general Xavier Becerra, once on Hillary Clinton's short list as a running mate, also defies the federal government.
BLOG: XAVIER BECERRA IS A MEMBER OF THE MEXICAN FASCIST SEPARATIST MOVEMENT OF M.E.Ch.A.
Senate boss Kevin de León, which is not the name on his birth certificate and voter rolls, authored the state's sanctuary legislation that has made false-documented illegals, even criminals, a privileged, protected class. In early January, after the legislation kicked in, California's Assembly speaker Anthony Rendon took things to a new level.
So contrary to the "Calexit" crowd, which seeks independence, Rendon wants to hook up the state with Mexico. In that cause, he touts the "historically linked governments" of Mexico City and Sacramento. The statement was not a departure from the vision of speaker Rendon, who earned a PhD in political science at UC Riverside.
On November 9, 2017, one day after the election of Donald Trump, Rendon and de Leon said in a statement: "Today, we woke up feeling like strangers in a foreign land, because yesterday Americans expressed their views on a pluralistic and democratic society that are clearly inconsistent with the values of the people of California."
BLOG: CA IS NOT A REFUGE FOR LEGALS. JUST ASK KATE STEINLE WHO WAS MURDERED BY AN ILLEGAL WHO HAD BEEN DEPORTED 5XS AND JUMPED THE BORDER TO SAN FRANCISCO BECAUSE IT WAS A "SANCTUARY CITY".
California "is – and must always be – a refuge of justice and opportunity for people of all walks, talks, ages and aspirations – regardless of how you look, where you live, what language you speak, or who you love." After several paragraphs of anti-Trump boilerplate comes the key line:
BLOG: 49 MORE MEXIFORNIAS TO GO!
"California was not a part of this nation when its history began, but we are clearly now the keeper of its future."
Speaker Rendon doubtless knows that Maine, Michigan, Illinois, Iowa, Wisconsin, Louisiana and more than two dozen other states were "not part of this nation when its history began."
The focus on California reflects the belief, common among ruling-class Democrats, that California is part of Mexico.
For the record, California became part of the United States 170 years ago in 1848, a full 13 years before the Civil War, when the Ottoman Empire, Austrian Empire, and Prussia were major players on the global stage and the Kingdom of the Two Sicilies still existed. Speaker Rendon and senate boss de Leon seek to turn back the clock to 1846, before Mexico lost the war.
That is why Rendon and de Leon say "we are proud to be Californians," not Americans, because they don't see the Golden State as part of the USA. That is why Rendon proclaims "there is no sensible place for barriers between California and Mexico."
In this view, Mexicans who violate U.S. immigration law are only entering their own country and not illegal in any sense. They are therefore entitled to education, medical care, drivers' licenses, welfare, and in-state college tuition. False-documented illegals also vote in federal, state and local elections, the imported electorate of California's ruling class Democrats. California secretary of state Alex Padilla conveniently refuses to reveal voter information and will not cooperate with federal probes of voter fraud.
Meanwhile, millennials and such might not be aware of the back story here. Speaker Rendon was born in 1968, year of the Olympic Games in Mexico City. In the run-up to the games, Mexican students held demonstrations demanding more democracy. On October 2, 1968, Mexican troops gunned down hundreds of students in Tlatelolco Square, and Mexico's Partido Revolucionario Institucional (PRI) regime has been covering it up ever since, with collaboration from Vincente Fox of Mexico's PAN party.
In 2014, students at a Mexican teacher college commandeered busses to attend demonstrations commemorating the Tlatelolco massacre. Mexican police attacked the students, killing six and dragging off more than 40 others. The PRI government claimed they had been taken by a drug gang and incinerated in a garbage dump. As in 1968, Mexicans decline to accept the official story.
The PRI atrocities proved no obstacle to Rendon, who appears to believe he represents the entire state. Californians might note that the speaker did not propose a 2018 ballot initiative allowing the people to vote on whether to "step up and work with Mexico" instead of their own American federal government.
When Californians voted to make English the state's official language (Proposition 63, 1986); denied benefits for false-documented immigrants (Proposition 187, 1994); ended racial preferences in college admissions (Proposition 209, 1996) and stopped bilingual education (Proposition 227, 1998), Mexican flags suddenly appeared by the thousands.
Now, with the ruling Democrats essentially a division of the PRI, Californians feel like strangers in a foreign land. This is what happens when rule by one political party replaces the rule of law.
California, Poverty Capital
C
alifornia—not Mississippi, New Mexico, or West Virginia—has the highest poverty rate in the United States. According to the Census Bureau's Supplemental Poverty Measure—which accounts for the cost of housing, food, utilities, and clothing, and which includes non-cash government assistance as a form of income—nearly one out of four Californians is poor. Given robust job growth in the state and the prosperity generated by several industries, especially the supercharged tech sector, the question arises as to why California has so many poor people, especially when the state's per-capita GDP increased roughly twice as much as the U.S. average over the five years ending in 2016 (12.5 percent, compared with 6.27 percent).
It's not as if California policymakers have neglected to wage war on poverty. Sacramento and local governments have spent massive amounts in the cause, for decades now. Myriad state and municipal benefit programs overlap with one another; in some cases, individuals with incomes 200 percent above the poverty line receive benefits, according to the California Policy Center. California state and local governments spent nearly $958 billion from 1992 through 2015 on public welfare programs, including cash-assistance payments, vendor payments, and "other public welfare," according to the U.S. Census Bureau. Unfortunately, California, with 12 percent of the American population, is home today to roughly one in three of the nation's welfare recipients. The generous spending, then, has not only failed to decrease poverty; it actually seems to have made it worse.
In the late 1980s and early 1990s, some states—principally Wisconsin, Michigan, and Virginia—initiated welfare reform, as did the federal government under President Bill Clinton and the Republican Congress. The common thread of the reformed welfare programs was strong work requirements placed on aid recipients. These overhauls were widely recognized as a big success, as welfare rolls plummeted and millions of former aid recipients entered the workforce. The state and local bureaucracies that implement California's antipoverty programs, however, have resisted pro-work reforms. In fact, California recipients of state aid receive a disproportionately large share of it in no-strings-attached cash disbursements. It's as if welfare reform passed California by, leaving a dependency trap in place. Immigrants are falling into it: 55 percent of immigrant families in the state get some kind of means-tested benefits, compared with just 30 percent of natives, according to
City Journal
contributing editor Kay S. Hymowitz.
Self-interest in the social-services community may be at work here. If California's poverty rate should ever be substantially reduced by getting the typical welfare client back into the workforce, many bureaucrats could lose their jobs. As economist William A. Niskanen explained back in 1971, public agencies seek to maximize their budgets, through which they acquire increased power, status, comfort, and job security. In order to keep growing its budget, and hence its power, a welfare bureaucracy has an incentive to expand its "customer" base—to ensure that the welfare rolls remain full and, ideally, growing. With 883,000 full-time-equivalent state and local employees in 2014, according to
Governing
, California has an enormous bureaucracy—a unionized, public-sector workforce that exercises tremendous power through voting and lobbying. Many work in social services.
Further contributing to the poverty problem is California's housing crisis. Californians spent more than one-third of their incomes on housing in 2014, the third-highest rate in the country. A shortage of housing has driven prices ever higher, far above income increases. And that shortage is a direct outgrowth of misguided policies. "Counties and local governments have imposed restrictive land-use regulations that drove up the price of land and dwellings," explains analyst Wendell Cox. "Middle income households have been forced to accept lower standards of living while the less fortunate have been driven into poverty by the high cost of housing." The California Environmental Quality Act (CEQA), passed in 1971, is one example; it can add $1 million to the cost of completing a housing development, says Todd Williams, an Oakland attorney who chairs the Wendel Rosen Black & Dean land-use group. CEQA costs have been known to shut down entire home-building projects. CEQA reform would help increase housing supply, but there's no real movement to change the law.
Extensive environmental regulations aimed at reducing carbon-dioxide emissions make energy more expensive, also hurting the poor. On some estimates, California energy costs are as much as 50 percent higher than the national average. Jonathan A. Lesser of Continental Economics, author of a 2015 Manhattan Institute study, "Less Carbon, Higher Prices," found that "in 2012, nearly 1 million California households faced 'energy poverty'—defined as energy expenditures exceeding 10 percent of household income. In certain California counties, the rate of energy poverty was as high as 15 percent of all households." A Pacific Research Institute study by Wayne Winegarden found that the rate could exceed 17 percent of median income in some areas. "The impacts on the poorest households are not only the largest," states Winegarden. "They are clearly unaffordable."
Looking to help poor and low-income residents, California lawmakers recently passed a measure raising the minimum wage from $10 an hour to $15 an hour by 2022—but a higher minimum wage will do nothing for the 60 percent of Californians who live in poverty and don't have jobs, and studies suggest that it will likely cause many who do have jobs to lose them. A Harvard study found evidence that "higher minimum wages increase overall exit rates for restaurants" in the Bay Area, where more than a dozen cities and counties, including San Francisco, have changed their minimum-wage ordinances in the last five years. "Estimates suggest that a one-dollar increase in the minimum wage leads to a 14 percent increase in the likelihood of exit for a 3.5-star restaurant (which is the median rating)," the report says. These restaurants are a significant source of employment for low-skilled and entry-level workers.
Apparently content with futile poverty policies, Sacramento lawmakers can turn their attention to what historian Victor Davis Hanson aptly describes as a fixation on "remaking the world." The political class wants to build a costly and needless high-speed rail system; talks of secession from a United States presided over by Donald Trump; hired former attorney general Eric Holder to "resist" Trump's agenda; enacted the first state-level cap-and-trade regime; established California as a "sanctuary state" for illegal immigrants; banned plastic bags, threatening the jobs of thousands of workers involved in their manufacture; and is consumed by its dedication to "California values." All this only reinforces the rest of America's perception of an out-of-touch Left Coast, to the disservice of millions of Californians whose values are more traditional, including many of the state's poor residents.
California's de facto status as a one-party state lies at the heart of its poverty problem. With a permanent majority in the state senate and the assembly, a prolonged dominance in the executive branch, and a weak opposition, California Democrats have long been free to indulge blue-state ideology while paying little or no political price. The state's poverty problem is unlikely to improve while policymakers remain unwilling to unleash the engines of economic prosperity that drove California to its golden years.
WE CAN'T TAKE CARE OF OUR OWN, AND YET WE LET MEXICO BUILD THEIR BILLION DOLLAR WELFARE STATE ON OUR BACKS!!!
70% OF ILLEGALS GET WELFARE!
"According to the Centers for Immigration Studies, April '11, at least 70% of Mexican illegal alien families receive some type of welfare in the US!!! cis.org"
CALIFORNIA MOVES CLOSER TO FINAL SURRENDER TO LA RAZA SUPREMACY
DE FACTO CITIZENSHIP PER LA RAZA:
NO TEST, NO BACKGROUND CHECKS ON CRIMINALITY, NO BACK TAXES, NO
FINES.... JUST JUMP STRAIGHT TO VOTING BOOTHS! AND VOTE OFTEN!!!
In 2013, California lawmakers passed legislation that allowed illegal aliens to obtain driver's licenses if they can prove to the Department of Motor Vehicle (DMV) their identity and state residency. The plan was one of the largest victories to date by the open borders lobby
.… JOHN BINDER – BREITBART.com
ILLEGALS VOTING IN MASSIVE NUMBERS IN MEX-OCCUPIED CA
''California is going to be a Hispanic state," said Mario Obeldo, former head of MALDEF. "Anyone who does not like it should leave."
(THIS IS DATED. MEXICO NOW HAS INVADED ALL STATES )
And M.E.Ch.A's goal is even more radical: an independent ''Aztlan,'' the collective name this organization gives to the seven states of the U.S. Southwest – Arizona, California, Colorado, Nevada, New Mexico, Texas and Utah." NOW ADD THE OTHER STATES!
ILLEGALS VOTING:
WILL MEXICO ELECT ALL FUTURE U.S. PRESIDENTS?
"Mexicans cheat, distribute drugs, lie, forge documents, steal and kill as if it's a normal way of life. For them, it is. Mexico's civilization stands diametrically opposed to America's culture." FROSTY WOOLDRIDGE
"Based on that investigation, a federal
grand jury in Sacramento recently
returned a nine-count indictment
THE LA RAZA SUPREMACY DEMOCRAT PARTY:
Getting LA RAZA illegals into the voting booths will assure endless hordes of "cheap" labor and destroy the GOP to make America a one-party country and massive, border to open border LA RAZA welfare state.
The Pew Research Center
found
in 2012 that a plurality of Hispanic illegal aliens are Democrats, while only 4 percent said they identified with the Republican Party.
'Eleven of California's 58 counties have registration rates exceeding 100% of the age-eligible citizenry.'
'California has the highest rate of inactive registrations of any state in the country. Los Angeles County has the highest number of inactive registrations of any single county in the country'
The letter notes that the percentage in L.A.
County may be as high as 144%.
"If you think ICE is going away, we're not," he said. "There's no sanctuary from federal law enforcement."