'Beto' O'Rourke Campaigns in Mexico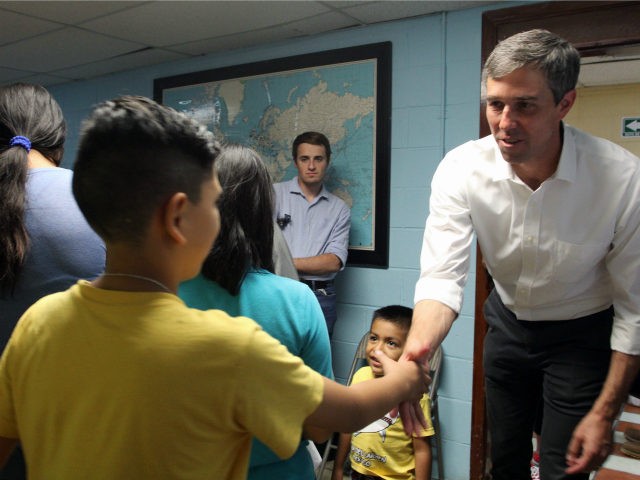 Democrat 2020 presidential candidate Robert Francis "Beto" O'Rourke campaigned in Mexico Sunday with migrants not admitted to the U.S. at the southern border.
O'Rourke called the Trump administration's policies "unlawful and inhumane" in a post about crossing into Mexico on Sunday to meet with migrants waiting there for U.S. court dates. He used the visit to promote his own immigration plan.
The 2020 contender faced harsh reviews for his first presidential primary debate performance last week. In the days that followed, he demonstrated outside three U.S. migrant detention facilities in three days before crossing into Mexico:
O'Rourke and several other Democrat 2020 hopefuls visited a migrant detention facility in Homestead, Florida, after their respective debates over two nights in Miami. From Florida, O'Rourke returned to his home state of Texas, where he demonstrated outside facilities in Houston and Clint, Texas. He put out a call ahead of those visits for supporters to join him in fighting "inhumane policies." At times, he used a bullhorn to proclaim his message to those gathered around:
Outside the Clint facility, O'Rourke blamed "all of us" producing "emissions" and "excesses," which he blamed for a drought. He found fault, too, with the U.S. for deporting foreign nationals from U.S. prisons back to El Salvador, Guatemala, and Honduras. He also blamed deportation for gangs rising up in those countries to which these countries' nationals are now fleeing.
Michelle Moons is a reporter for Breitbart News — follow on Twitter
@MichelleDiana
and
Facebook
.
FORMER MEXICAN PRESIDENT ENDORSES BETO O'ROURKE
Saagar Enjeti | White House Correspondent
Former Mexican President Vicente Fox came out in support of Democratic Texas Senate candidate Beto O'Rourke, in a Thursday evening tweet.
.
@BetoORourke
, what a candidate you are! You not only understand America, you know about humanity. This is what the U.S. needs: someone compassionate yet firm. I stand with you because I believe you're what America needs.
pic.twitter.com/xccqvXFfk9
Fox served as the Mexican president from 2000 to 2006 and has been an outspoken critic of President Donald Trump. The former Mexican president's comments follow O'Rourke's appearance at a CNN town hall Thursday evening and a debate with Republican Texas Sen. Ted Cruz.
O'Rourke is current
trailing
Cruz by several points in the Senate race.
Fox has often unleashed profanity laced
pronouncements
aimed at Trump, particularly on Trump's declaration that the U.S. will make Mexico pay for his proposed wall along the southern border.
"I'm not going to pay for that fucking wall," Fox
declared
in a Fusion TV interview. In another profane tweet Fox urged Trump to "get his shit together."
.
@realDonaldTrump
, you've got to get your shit together: migrants are people who have left everything behind – not by choice, to pursue a better life. You must show compassion and humanity. your golden head and a
#FuckingWall
won't stop these people's dreams and hopes.
https://t.co/JC1NETBKqP
Well, That's Different: Beto Is Campaigning For POTUS...In Mexico
Source: AP Photo/Richard W. Rodriguez, File)
Former Rep. Beto O'Rourke (D-TX) must have missed the memo that he's running for President

of the United States.

O'Rourke, for whatever reason, is campaigning in Mexico. Again, did he

not

know he's running for President

of the United States

and not President of Mexico?
According to the

Associated Press

, O'Rourke plants to head to Ciudad Juarez, Mexico to meet with so-called asylum seekers who must wait in Mexico while their application is processed. Ciudad Juarez sits right across the Rio Grande River from El Paso, O'Rourke's hometown.
The goal of the trip, according to O'Rourke's campaign, is to meet with "individuals and families directly impacted by Donald Trump's cruel and inhumane policies" and "shed light on the desperate circumstances those who are seeking asylum and refuge are fleeing, and the conditions these families and individuals are forced to endure when they've been turned away from our borders."
O'Rourke is supposed to meet with illegal aliens, primarily from the Northern Triangle countries of Honduras, Guatemala and El Salvador,

CNN

reported.
"In all of the debate around immigration, we can't forget who it impacts most: the people traveling thousands of miles, fleeing the worst kind of violence and oppression," O'Rourke said in a statement. "Turning away refugees, families and asylum seekers is not who we are as a country. But as long as Donald Trump is president -- it will be."
Team Beto also plans to hold a "Rally for the Children" outside of the Border Patrol Station in Clint, Texas.
Here's how the event is being billed on his

campaign

website:
Join Beto to speak out against the cruel, dangerous and inhumane treatment of immigrant children being held at the Clint Border Patrol station as a direct result of Donald Trump's policies.
The conditions reported at the Clint Border Patrol station housing migrant children are so unsafe and unsanitary that it's been declared a "public health emergency." These children deserve respect, dignity, and humane living conditions. Moving them out of these facilities quickly, providing them adequate shelter and support, and uniting them with family members immediately should be this administration's top priority.
Last year, on Father's Day, Beto led a march to raise awareness about the mistreatment and detention of children at the Tornillo facility in El Paso who had been separated from their families. He continued to return to the camp until all of the children were successfully released and the facility was shut down.
Folks should be prepared for the heat - please bring water, a hat, and dress for the weather.
O'Rourke has positioned himself as the "expert" on immigration issues because of his experience growing up right along the United States-Mexico border. Instead of enforcing our immigration laws, O'Rourke, however, wants illegal aliens currently in the country to have a "pathway to citizenship." The Democratic hopeful's immigration proposal includes sending $5 billion to improve conditions in the Northern Triangle and deploying thousands of lawyers to the southern border to help process asylum cases.
This is one of the greatest examples of political pandering. O'Rourke is running for President of the United States, not Mexico.
Yes, it's important to get an idea of what's taking place on our southern border. Yes, it's important to hear what our Border Patrol agents and those on the front line have to say. But what's ridiculous is a presidential candidate meeting with those who
knowingly
break our law to see how he could help those people, should he secure the nomination, and ultimately, the White House.
Talk about divided loyalty.
Presidential hopeful Robert Francis "Beto" O'Rourke proposed giving citizenship to large swaths of illegal aliens present in the United States Saturday at a
MoveOn.org
"Big Idea" event.
This policy of
flooding
the market with cheap, foreign, white-collar
graduates
and blue-collar
labor
also shifts enormous wealth from
young
employees towards older investors, even as it also
widens
wealth gaps,
reduces
high-tech investment,
increases
state and local tax burdens, and hurts children's schools and
college
educations. It also
pushes
Americans away from high-tech careers and sidelines millions of
marginalized
Americans, including many who are now
struggling
with fentanyl addictions. The labor policy also moves business investment and wealth from the heartland to the
coastal cities
,
explodes
rents and
housing costs
,
shrivels
real estate values in the Midwest, and rewards investors for creating low-tech,
labor-intensive
workplaces.
Beto O'Rourke's Plan Opens Borders for Migrants and Job Seekers
Beto O'Rourke's immigration plan, which the presidential hopeful released Wednesday, would open the nation's borders to apparently unlimited waves of unskilled needy migrants and would open the nation's workplaces to cheap workers when companies fear Americans' wages might rise.

Nolte: 7 Reasons Beto O'Rourke's Presidential Campaign Imploded
Fake Hispanic Beto O'Rourke's presidential campaign is looking doornail dead … and let's be honest: it never really took off. But after peaking nationally with 9.5 percent support in the Real Clear Politics poll of polls, he has now collapsed to just 3.2 percent support. And along the way, he dropped from third place (behind 275-year-old Bernie and 189-year-old Biden)
to sixth
.
Ted Cruz Is No Longer the Villain
Beto Is a Spaz
Beto Combines the Worst of Kerry, Biden, Ted Kennedy, Obama, Warren
Straight. White. Male.
Trump Has His Number and Everyone Knows It
Beto the Gaffe Machine
No Vision
Nolte: Beto O'Rourke Says His Campaign Sacrifices Make Up for Miserly Charitable Donations
Fake Hispanic Beto O'Rourke was confronted at a town hall about his miserly campaign donations and responded in such a narcissistic fashion, I suffered a Barry Obama flashback.
He culturally appropriates like Indian Princess Elizabeth Warren.

He drives like Ted Kennedy.

He marries into money like John F'n. Kerry.

He

gives to charity

like Joe Biden.
The 2020 Democrats: Beto O'Rourke
Beto O'Rourke Immigration Plan: No Walls; Amnesty for Dreamers, Parents, 'Millions More'
Former Rep. Beto O'Rourke (D-TX) isn't yet a candidate for the Democrat presidential election, but he is already making clear his stance on immigration — open borders and amnesty for all of the people in the country illegally.
What's Beto's Problem with the Constitution?
Texas Finds 95,000 Non-US Citizens Registered To Vote -- 58,000 Have Actually Voted In Recent Elections
Top 5 Voter Fraud Cases Along Texas Border in 2018… which are the only counties that voted for La Raza Beto!
In a year fraught with voter fraud allegations, many of which resulted in prosecutions across Texas, counties along the Mexican border stood out as hotbeds for investigative activities.
Ann Coulter: Surprise! That 'cheap' immigrant labor costs us a lot
The 2020 Democratic Candidates and Their Redefinition of American Citizenship
What a Border Crisis Looks Like
The Border as an 'Attractive Nuisance'
Texas Democrats asking non-citizens to vote
Safe Spaces: How Sanctuary Cities are Giving Cover to Noncitizens on the Voter Rolls
Public Interest Legal Foundation, August
Immigration and Customs Enforcement (ICE) has released hundreds of migrants in El Paso, Texas over the past few days, including 186 on Christmas Day.
Beto: 2020 Will Be 'Mother of All Tests' for Democracy
Saying "there's never been a darker moment" in America in his lifetime, Rep. Robert Francis "Beto" O'Rourke (D-TX), a potential 2020 presidential candidate, said on Friday that President Donald Trump's reelection campaign will be the "mother of all tests for this democracy."