Where were the protests during Obama's years?
George Clooney is calling for a boycott of Brunei-owned luxury hotels because that nation has an anti-gay death penalty. Did I miss all the protests against Iran for having similar laws? Nope, Hollywood, almost all the media and other Democrats actively supported Barack Obama when he and his administration gave Iran hundreds of billions while they continually pledge death to America.
Why aren't Clooney and other Democrats supporting Trump for his boycotts and sanctions of Iran instead of condemning him for pulling out if they are so concerned about LBGT rights?
Homosexuality is against the law in the Islamic Republic of Iran. Sharia, the Islamic legal system, condemns homosexuality as a crime worthy of death. The Iranian criminal threatens gay individuals with lashes and the death penalty. Men always face the death penalty if they were the "passive" partner in a homosexual act. According to the underlying logic, such men behave like women, making them all the more unnatural. The "active" partner faces the death penalty under certain conditions, and otherwise receive 100 lashes. Women receive a sentence of 100 lashes in all cases.
After President Obama issued executive orders forcing schools to allow boys and men to invade girls' and women's safe space, North Carolina passed sensible bathroom laws that most Americans would support. Democrats throughout the U.S. protested and demanded boycotts. Somehow, they didn't also boycott Iran, Cuba and other countries that would never allow same sex bathrooms.
If Obama and Democrats cared so much about same sex bathrooms, why didn't they run it as a campaign issue in 2012 and introduce legislation.
Somehow, Democrats support states' rights when sanctuary cities and states willingly ignore laws Congress passed, but do not believe in states' rights when a state like North Carolina passes a law to go against a dictatorial edict.
President Obama and other Democrats talked tough on illegal immigration, called the situation at the border a crisis, passed laws funding border barriers, separated children from parents at the border -- and journalists and immigration groups rarely protested. Obama and other Democrats were not repeatedly called racists and xenophobes.
Illegal aliens in custody also died at the same rate during Obama's eight years as during Trump's first two years -- and there was no outcry or protests. The media did not blame Obama for the deaths.
Therefore, it is obvious that the attacks on Trump are purely political.
"Those who enter our country illegally, and those who employ them, disrespect the rule of law. And because we live in an age where terrorists are challenging our borders, we simply cannot allow people to pour into the United States undetected, undocumented, and unchecked. Americans are right to demand better border security and better enforcement of the immigration laws,"
The number of immigrant deaths under the Trump administration is on par with the number of deaths seen during the Obama administration, according to data obtained by the Washington Examiner.

The data show no appreciable change in the death of immigrants held by U.S. Immigration and Customs Enforcement, even as Democrats this week were trying to press administration officials on death tolls.
President Barack Obama separated parents from their children at the border.

For much of the country — and President Donald Trump — the prevailing belief is that Obama was the president who went easier on immigrants.

Neither Obama nor Democrats created Trump's zero-tolerance policy, which calls for every illegal border crosser to be prosecuted and leads to their children being detained in separate facilities before being shipped to a shelter and eventually a sponsor family.

But Obama's policy helped create the road map of enforcement that Trump has been following — and building on.
The Defense of Marriage Act passed overwhelmingly in 1996 with almost all Democrats supporting it. Obama and Hillary ran in 2008 against same sex marriage. Why weren't all the Democrats called homophobes by Hollywood and others?
Initially introduced in May 1996, DOMA passed both houses of Congress by large, veto-proof majorities and was signed into law by President Bill Clinton in September 1996. By defining "spouse" and its related terms to signify a heterosexual couple in a recognized marriage, Section 3 codified non-recognition of same-sex marriages for all federal purposes, including insurance benefits for government employees, social security survivors' benefits, immigration, bankruptcy, and the filing of joint tax returns, as well as excluding same-sex spouses from the scope of laws protecting families of federal officers (18 U. S. C. §115), laws evaluating financial aid eligibility, and federal ethics laws applicable to opposite-sex spouses.
The Civil War statues were up for over 150 years so why did the protests and violence wait for Trump? The media and other Democrats know that when Trump said there were good people on both sides of the issue he was talking about the statues and not praising white Supremacists, Nazis, or members of Antifa.
Democrats continue to lie about Trump being a racist to gin up racial hate.
George Clooney and many other activists protested loudly about Darfur during Bush's Presidency so why were there so few protests during Obama's years since the killings continued?
Thousands of people joined celebrities and lawmakers at a rally Sunday urging the Bush administration and Congress to help end genocide in Sudan's Darfur region.
Jewish World Watch (JWW) came into being as a response to the Darfur genocide. The Darfuris remain a vital cornerstone of our work. We continue to monitor and support the refugees living in camps in Chad 15 years after fleeing their homes in western Sudan, as well as the internally displaced persons in the Darfur region of Sudan, and the Darfuri returnees. While Darfur has lost its prominence in the global consciousness, it remains an embodiment of the "never again" mantra, resuscitated every time other conflicts start to tip the scales towards mass atrocities. What many don't recognize is that the instability in the Darfur region has continued ever since the conflict began in 2003.
June 20, 2007 1:04 pm June 20, 2007 1:04 pm

I've often been asked why I write so much more about Darfur than Congo, since far more people have been killed in Congo. After all, fewer than half a million have probably died in Darfur, compared to 4 million in Congo.
Summary: Democrats do and say whatever is necessary to get their power back. They will seek to destroy anyone who gets in their way no matter what they say or do. They do not want a president to give the power and purse back to the people. Sometimes they are tough on immigration. Sometimes they don't care. They will even spy on opponents and seek to destroy them with fake news about Russian collusion.
Today, there is a story out that a whistleblower from the White House is talking about the Trump administration overriding her concerns on security clearances. Where was her concern when Hillary, Obama and so many others were trafficking classified documents on a non-secure computer? My guess is that she, like most bureaucrats, wanted Hillary in the White House no matter how many laws she broke.
BARACK
Hussein
OBAMA: THE CLOSET MUSLIM PSYCHOPATH WHO HATED AMERICA!
"But the Obamas are the center of the most delusional cult of personality that the media has yet spawned. And so we get bizarre pieces like these."
The mullahs rolled in cash as a result of rolling Obama and his gullible team over the deal, knowing that Obama was desperate for some sort of legacy. MONICA SHOWALTER
MUSLIM DICTATORS, INCLUDING THE 9-11 INVADING SAUDIS, FUNDED THE PRESIDENTIAL LIBRARIES OF BUSH, CLINTON and OBAMA!
AMERICA'S ROAD TO REVOLUTION
"This dangerous power vacuum has fueled frustration and created an entirely new breed of disenfranchised voters who are fed up with the status quo. These are real people, their anger is palpable, and it's not going away anytime soon."
Elton John Calls for Boycott of Sultan of Brunei's Hotels over Anti-Gay Sharia Laws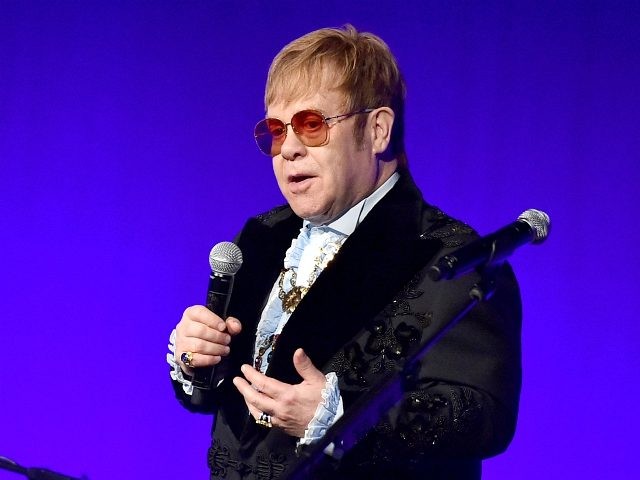 Pop icon Elton John has joined calls for a boycott of hotels owned by the Sultan of Brunei after the leader declared that homosexuality will be punishable by death under stricter adherence to Islamic Sharia Law.
Last week, Sultan Hassanal Bolkiah
announced
that under new laws in the Muslim-majority country, anyone found guilty by a Sharia Court of sodomy, adultery, or rape would face the death penalty, including by stoning. Homosexuality is already punishable by up to 10 years in prison.
John, who is a long-standing LGBT rights
activist
alongside his partner David Furnish, said he was joining actor George Clooney in efforts to "send a message" to Sultan Hassanal Bolkiah that such treatment will not be tolerated.
"I believe that love is love and being able to love as we choose is a basic human right," the 72-year-old wrote on Twitter. "Wherever we go, my husband David and I deserve to be treated with dignity and respect – as do each and every one of the millions of LGBTQ+ people around the world"
"I commend my friend,
#
GeorgeClooney
, for taking a stand against the anti-gay discrimination and bigotry taking place in the nation of
#
Brunei
– a place where gay people are brutalized, or worse – by boycotting the Sultan's hotels," he continued. "We must send a message, however we can, that such treatment is unacceptable. That's why David and I have long refused to stay at these hotels and will continue to do so."
Clooney made a similar call last week,
denouncing
Brunei's laws as a new level of authoritarianism, despite the prevalence of similar Sharia Laws across the Islamic World.
"On this particular April 3rd, the nation of Brunei will begin stoning and whipping to death any of its citizens that are proved to be gay. Let that sink in," Clooney said in a
statement.
"In the onslaught of news where we see the world backsliding into authoritarianism this stands alone."
Follow Ben Kew on Facebook, Twitter at @ben_kew, or email him at bkew@breitbart.com
.
Jihad and the Media in an Age of Delusion
On Sunday the BBC reported about another horrible news story from London: a knifeman went on a stabbing spree of "defenceless" people in London. The story revealed less about the incident it was purporting to report on than it did about our age of anti-reality and delusion.
In this age, it is not difficult to step back and observe almost indiscernible but seismic historical shifts in the making -- not in the big-bang news events, but in the nitty-gritty details of the social fabric of our daily lives, where life happens. It is usually not so easy to detect such subtleties, let alone observe the silent measures a nation or a civilization takes when it quietly but most decidedly has… given up. One need not be an anthropologist to detect seismic changes in human behavior or societies.
First, it's language. Language is key. Subtle and not-so-subtle restrictions are placed on what would offend the invading force with its hair-trigger sensibilities.These restrictions are rigorously enforced by quisling societal institutions -- media, academia, and so forth. So, for example, "Muslim" is replaced with "South Asian" or "Asian," with no fear that the "South Asians" or "Asians" will bomb a pop concert, mow down scores of families on a national holiday such as Bastille day or Halloween or Christmas, shoot up a gay nightclub, and so forth. Actual South Asians and Asians have held demos against the media using them to cover for jihadis, but no media reported on them, of course. Only the small, sagacious group of readers who follow websites such as the Geller Report were aware of the South Asian community's opposition to the wrongful blame.
Every time there is an attack by a jihadi, all apologies are extended by the host Western country, with admonitions of impending "phobia" of Islam and backlash, and so the cycle of self-flagellation begins and builds with each ensuing attack (all 34,800 since 9/11).
In initial reports of all jihad attacks, we are told "it is not terror related." The shifting definition of terror is slippery but expected. Then President George W. Bush dropped the ball on September 20, 2001, when he danced around whether "A is A," decidedly avoiding jihad and Islam. Even with the thick, acrid smell of burnt blood and flesh, ash and steel in the NYC air, Bush opted instead for the vague, blame-free "War on Terror."
The root cause, above all, is never to be spoken of. Verboten. Anyone who dares cross that line will be ultimately destroyed -- a pariah, his or her good name murdered, unable to make a living. You will submit or you will cease to exist, literally or figuratively. There is no motive, we are told; the motive, we are told, is "mental illness."
There is almost nothing in Sunday's BBC article about the London stabbings that is correct, save for the reporting that four people were stabbed. After that it is all… editorial and subtle propaganda. This has all the earmarks of jihad, but it would be a horror, blasphemous (Islamophobic) to dare say it. When there is an incident that isn't jihad, it is immediately cast in the media as right-wing, white-supremacy bullocks. Absolutely. But jihad is quite different. You can never surmise, let alone speculate about whether some attack or incident might be jihad. And when it is jihad, you still cannot say it. If you use the word Muslim -- as in, "Devout Muslim shouting allahu akbar stabs…" no one will publish it, and social media platforms will block the link. You will land in Facebook jail. Your first infraction gets you three days suspension. Your next "violation" will land you in FB jail for a week, then a month, and eventually, you are terminated.
The BBC headline states that the stabbings were "random attacks." But they were not random if the knifemen wanted to kill unbelievers. Then they were not random at all. There is a reason these folks were targeted.
The article goes on to say, "The Metropolitan Police said the motive 'appears to be solely to inflict harm' as none of the victims were robbed or engaged in conversation before they were attacked." That, too, screams jihad. It is the very essence of a jihad terror attack. Instead, the BBC tells us, "mental health issues may be a factor." That they can say; that is accepted language in the age of jihad. The mental health community is not going to blow up Buckingham Palace.
There's a lot of fluff in the piece, but what the article does not tell you is that Edmonton is home to London's largest Turkish community. Or that a widow and grandmother described as "such a sweet lady" was beheaded in her own backyard by a devout Muslim in Edmonton not that long ago.
The attack is referred to as "GBH." Note the obscure terms. One might say thatgrievous bodily harm is too harsh, but the media is shielding the perp, not the reader.
This act of sheer terror is getting no press. And why would it?
Pamela Geller is the President of the American Freedom Defense Initiative (AFDI), publisher of The Geller Report and author of the bestselling book,FATWA: Hunted in America, as well as The Post-American Presidency: The Obama Administration's War on America and Stop the Islamization of America: A Practical Guide to the Resistance. Follow her onTwitter or Facebook.
'It's chickens**t tokenism:' Bill Maher slams George Clooney's call for a boycott of hotels owned by the Sultan of Brunei after nation announced it would stone to death any Muslims engaging in gay sex
Real Time host Bill Maher blasted George Clooney's call for a boycott of hotels owned by the Sultan of Brunei as 'chicken s**t tokenism.'
Show panelist S.E. Cupp criticized Clooney' stance and called him 'hypocritical'
George Clooney condemned Brunei's cruel anti-gay laws in an opinion piece
The actor called on the public to boycott Sultan Hassanal Bolkiah's nine hotels

Hotels include: The Beverly Hills Hotel, The Hotel Bel-Air, The Dorchester in London, Hotel Eden in Rome, Le Meurice in Paris and Coworth Park in the UK

Clooney's piece was written in response to Brunei's strict Sharia law that would see any Muslims engaging in gay sex be stoned to death beginning April 3
Real Time host Bill Maher blasted
George Clooney
's call for a boycott of hotels owned by the Sultan of Brunei as 'chicken s**t tokenism.'
Clooney called for a boycott of nine hotels in the U.S. and Europe with ties to the sultan of Brunei, which next month will implement Islamic criminal laws to punish gay sex by stoning offenders to death.
The Hollywood actor wrote Thursday in
Deadline Hollywood
: 'Are we really going to help fund the murder of innocent citizens?'
Real Time host Bill Maher, (right), blasted George Clooney, (left), for calling for a boycott of hotels owned by the Sultan of Brunei, calling the move 'chicken s**t tokenism'
Sultan Hassanal Bolkiah, (pictured), rules Brunei and owns nine hotels in the U.S. and Europe
He wrote that 'you can't shame murderous
regimes,' but you can shame 'the banks, the
financiers and the institutions that do business
However during a 'Real Time' panel
discussion, Maher said Clooney's call for a
boycott 'really bothered' him.
'It's chickens**t tokenism,' Maher said. 'What
about Saudi Arabia? If you really want to get
back to them, stop driving, don't use oil.
'It's Sharia Law, which is some version of the
law in most Muslim-majority countries,' Maher
'And if you want to be against that, you know, speak openly and honestly about standing up for liberal principles.'
The HBO star added that liberal activist Clooney is a 'really smart guy' who knows about problems in the Middle East,
However he added that the Oscar-winner's 'virtue signaling' ultimately won't make an impact.
'This idea that the Sultan of Brunei is going over the receipts from the Polo Lounge. 'Oh no, we only sold two soups today,' Maher claimed.
Panelist S.E. Cupp, a CNN host, called Clooney 'hypocritical' and claimed that Hollywood does 'a ton of business' with the United Arab Emirates, whose regime has been criticized in the past.
Clooney, pictured with his wife Amal at a charity gala earlier this month, went on to say that at 'the head of it all is the Sultan of Brunei who is one of the richest men in the world'
Bill Maher, (left), and panelist S.E. Cupp, (right), called out Cooney and called him hypocritical
In his piece Clooney said: 'On this particular April 3rd the nation of Brunei will begin stoning and whipping to death any of its citizens that are proved to be gay.
'Let that sink in. In the onslaught of news where we see the world backsliding into authoritarianism this stands alone,' he added.
Clooney went on to say that at 'the head of it all is the Sultan of Brunei who is one of the richest men in the world'.
Clooney admitted that he's stayed at most of the nine hotels, but noted it was 'because I hadn't done my homework and didn't know who owned them'.
'They're nice hotels. The people who work there are kind and helpful and have no part in the ownership of these properties.
Clooney admitted that he's stayed at most of the nine hotels, but noted it was 'because I hadn't done my homework.' The sultan owns The Hotel Bel-Air in Los Angeles (pictured)
The sultan also owns The Beverly Hills Hotel in Los Angeles (pictured) and is extremely rich
'But let's be clear, every single time we stay at or take meetings at or dine at any of these nine hotels we are putting money directly into the pockets of men who choose to stone and whip to death their own citizens for being gay or accused of adultery.
Clooney wrote that he's 'learned over years of dealing with murderous regimes that you can't shame them'.
Sultan Hassanal Bolkiah rules the oil-rich monarchy with full executive authority, and the hotels are owned by the Brunei Investment Agency. An email seeking comment was sent to the agency Friday.
The hotels are The Dorchester and Coworth Park in the U.K.; Beverly Hills Hotel and Hotel Bel-Air in Los Angeles; Le Meurice and Hotel Plaza Athenee in Paris; Hotel Eden in Rome; and Hotel Principe di Savoia in Milan.
The Beverly Hills Hotel and the Hotel Bel-Air are part of the Dorchester Collection, owned by a wing of the Brunei government referred to as the Brunei Investment Agency.
Clooney said that 'every single time we stay at or take meetings at or dine at any of these nine hotels we are putting money directly into the pockets of men who choose to stone and whip to death their own citizens for being gay'. The Coworth Park hotel (pictured) is located in the UK
Clooney said he's 'learned over years of dealing with murderous regimes that you can't shame them'. 'But you can shame the banks, the financiers and the institutions that do business with them and choose to look the other way.' Pictured is the Hotel Principe di Savoia in Milan
Le Meurice in Paris (pictured) is also owned by the sultan of Brunei
They owned nine high-end hotels worldwide.
A representative for the hotel told
Fox News
: 'Dorchester Collection's Code emphasizes equality, respect, and integrity in all areas of our operation, and strongly values people and cultural diversity amongst our guests and employees.'
Brunei has defended its right to implement Islamic laws that would allow death by stoning for adultery and homosexuality against growing global criticism.
Brunei, a Muslim-majority former British protectorate with a population of around 400,000, will implement the Sharia laws from April 3, punishing sodomy, adultery and rape with the death penalty, including by stoning, and theft with amputation.
Sultan Hassanal Bolkiah, 72, is the world's second-longest reigning monarch and is prime minister of the oil-rich country. He ranks as one of the world's wealthiest people.
Brunei, which neighbours two Malaysian states on Borneo island, already enforces Islamic teachings more strictly than Malaysia and Indonesia, the other majority Muslim countries in southeast Asia. The sale of alcohol is banned and evangelism by other religions is forbidden.
The country does not hold elections, but any discontent is assuaged with generous government polices including zero taxes, subsidized housing, and free healthcare and education.
The expected implementation of the strict Islamic laws has drawn widespread criticism. Politicians in Europe and the United States have attacked the plans and raised concerns with Brunei.
'Stoning people to death for homosexuality or adultery is appalling and immoral,' former U.S. vice president Joe Biden said in a Twitter post on Friday.
'There is no excuse - not culture, not tradition - for this kind of hate and inhumanity.'
MUSLIMS ARE NOTHING MORE THAN A PARASITIC CULT OF HATE, RAPE, MURDER, CHILD ABUSE AND WOMEN ABUSE... THEY'RE ALL SICK DOGS!
ISLAM: THE SCOURGE OF WESTERN CIVILIZATION
A radical Muslim wants to cut your head off. A peaceful Muslim is praying that a radical Muslim cuts your head off.
Why are we defended the borders of these Muslim dictators when we can't defend our own borders against NARCOMEX?
"The Wahhabis finance thousands of madrassahs throughout the world where young boys are brainwashed into becoming fanatical foot-soldiers for the petrodollar-flush Saudis and other emirs of the Persian Gulf." AMIL IMANI
Robert Spencer's
The History of Jihad: From Muhammad to ISIS
is an amazing book, extraordinary in its detail and riveting in its narratives and analysis. This book documents the history of horrors, violence, brutality, oppression, conquests by the sword, beheadings of hundreds of thousands (probably millions), destruction of civilizations and cultures, corruption, deception, and lies that are part of the Islamist culture, and every other evil that you can imagine that one group of humans could impose on others in the name of an ideology or, in this case, a pseudo-religion.
Brunei Imposes Sharia Law:
Imprisoned, Tortured, and
Brunei's already strict Islamic criminal code will enter an even tougher new stage next week with the introductions of laws mandating lengthy prison terms, whipping, and even execution for homosexual behavior. Brunei is set to become the first Asian country to punish homosexuality with the death penalty, as several Arab countries do.
Brunei began imposing
sharia
law with a three-stage process in 2014. The first stage criminalized Christmas celebrations, getting pregnant out of wedlock, and failing to attend Muslim prayer services. Homosexuality was also criminalized, but the penalty in Stage One of the
sharia
revolution was merely 10 years in prison.
The sultanate disregarded five years of criticism from international human rights groups and quietly issued court orders to
proceed
with Stage Two on April 3. Gays will be whipped, imprisoned for much longer sentences, and could be executed by stoning, although Brunei has recently been lax about actually carrying out death sentences.
Another perennial
sharia
favorite, cutting of the hands of thieves, is included in the upgraded legal code. According to
Amnesty International
, many of these harsh penalties with be applicable to children.
"Brunei must immediately halt its plans to implement these vicious punishments and revise its Penal Code in compliance with its human rights obligations. The international community must urgently condemn Brunei's move to put these cruel penalties into practice," Amnesty International researcher Rachel Chhoa-Howard said on Wednesday.
Reuters
reported on Monday that the new laws are being "fast-tracked" after a period of hesitation on the part of the sultanate. There has been little in the way of a formal announcement, and the prime minister's office has not responded to media inquiries. This week's outraged responses from human rights groups were based largely on researchers uncovering government documents ordering implementation of the new punishments to begin in April.
"We are trying to get pressure placed on the government of Brunei but realize there is a very short time frame until the laws take effect. It took us by surprise that the government has now given a date and is rushing through implementation," said Australian activist Matthew Woolfe of The Brunei Project. His reaction suggests the fast track was chosen so that critics would be caught off guard.
Channel News Asia
suggested on Wednesday that Sultan Hassanal Bolkiah might be embracing hard line
sharia
law as an exercise in virtue-signaling, shoring up his Islamic bona fides after a lifetime of conspicuous consumption and some family scandals:
Brunei's Sultan is no stranger to controversy at home – the monarchy was deeply embarrassed by a family feud with his brother Jefri over the latter's alleged embezzlement of US$15 billion during his tenure as finance minister in the 1990s.

Court battles and investigations revealed salacious details of Jefri's jetset lifestyle, including claims of a high-priced harem of foreign women and a luxury yacht he owned called "Tits".
Human Rights Campaign director Ty Cobb
called on
the Trump administration to take a public stand against Brunei's legal code:
We are facing a dangerous crisis as Brunei is close to implementing laws that impose state-sponsored torture and murder of LGBTQ people. It's absolutely crucial that the international community speak out now and demand that the Sultan of Brunei stop these barbaric changes that threaten the lives of Brunei citizens. The Trump-Pence Administration must also immediately make clear that these outrageous human rights abuses will not be tolerated.
The recent death toll of Christians in Nigeria has reached 120 with this week's slaughter of more than 50 by Fulani Muslim militants in the Kaduna state of Nigeria, the
Christian Post
reported.
Dutch author and sociologist Ruud Koopmans said this week that Muslims are more difficult to integrate into Western society than other migrant groups because of a literal interpretation of the Quran prevalent among Muslims.
Merkel Ally Predicts Muslim German Chancellor by 2030
Faction head of German Chancellor Angela Merkel's Christian Democratic Union (CDU) Ralph Brinkhaus has predicted the country could see a Muslim chancellor by as early as 2030.
Radical Islamic Terrorism Accounts for 91 Percent of European Terror Victims
The newly released
Black and White Book of Terrorism in Europe
has revealed radical Islamic terrorists have accounted for 91 percent of the total terror victims since the year 2000.
Follow Chris Tomlinson on Twitter at

@TomlinsonCJ

or email at ctomlinson(at)breitbart.com


Islam: The West's 'Most Formidable and Persistent Enemy'
Islam's Ambitious Mission
GREEN BOOK AUTHOR
ATTACKED FOR TELLING TRUTH ABOUT
MUSLIM 9/11 CELEBRATIONS
THE JIHADIST PSYCHOPATH'S PLANTATION
Jamie Glazov's new book reveals how the Jihadist Psychopath keeps us enslaved in his prison – and how we can escape.
Jew-Hatred in the Democratic Party
Valley Ranch Islamic Center's Lesser Known Side
Police in Muslim Chechnya Torture Two to Death, Arrest Dozens for 'Homosexuality'
Police in Chechnya, a majority-Muslim region of Russia, have relaunched a campaign to arrest suspected gay and lesbian Russians, killing two and arresting over 40 others in the past month according to a
report
published Monday.
Why was a Muslim doctor who vowed to poison Jewish patients working at the famed Cleveland Clinic?
The Islamist Terrorist as Psychopath
Muslim Brotherhood, Islamists Have 'Infiltrated' Swedish Political Parties Since 1980s, Claims Academic
Academic Sameh Egyptson has claimed that the Muslim Brotherhood and other Islamist groups have been systematically infiltrating Sweden's political system since the 1980s.
'Justice Democrat' Ilhan Omar Argued Against Bill on Female Genital Mutilation
Ilhan Omar, the newly-elected U.S. representative from Minnesota's 5th congressional district, and a member of the left-wing "Justice Democrats," argued against a 2017 bill in her state that increased penalties for female genital mutilation.
When Muslims Rape European White Women, Whose Fault Is It?
Human rights organizations including Amnesty International and Human Rights Watch accused authorities in Saudi Arabia on Tuesday of torturing and sexually abusing some of the country's most high-profile dissidents and human rights activists.
"QURAN
SAYS
KILL
PEOPLE LIKE YOU.
WE WILL KILL YOU."
I Will Kill You and Eat Your Corpses': Deported Radical Imam Told Prison Guards
Tunisian radical imam Mahmoud Jebali, who is set for deportation after coming to Italy as an illegal immigrant, threatened to kill prison officers.
Follow Chris Tomlinson on Twitter at

@TomlinsonCJ

or email at ctomlinson(at)breitbart.com