Saving the 9-11 invading Saudis' arses!
https://mexicanoccupation.blogspot.com/2018/11/mike-lee-swamp-keeper-trump-and-his.html
"I doubt that Trump understands -- or cares about -- what message he's sending. Wealthy Saudis, including members of the extended royal family, have been his patrons for years, buying his distressed properties when he needed money.
"The Wahhabis finance thousands of madrassahs throughout the world where young boys are brainwashed into becoming fanatical foot-soldiers for the petrodollar-flush Saudis and other emirs of the Persian Gulf."
AMIL IMANI
I recommend that Ignatius read Raymond Ibrahim's outstanding book
Sword and Scimitar
, which contains accounts of dynastic succession in the Muslim monarchies of the Middle East, where standard operating procedure for a new monarch on the death of his father was to strangle all his brothers. Yes, it's awful. But it has been happening for a very long time. And it's not going to change quickly, no matter how outraged we pretend to be. MONICA SHOWALTER
"You saved my a rse again and again… So, I'll save yours like Bush and Obama did!
WHO IS FINANCING ALL THE TRUMP AND SON-IN-LAW'S REFINANCING SCAMS???
"I doubt that Trump understands -- or cares about -- what message he's sending. Wealthy Saudis, including members of the extended royal family, have been his patrons for years, buying his distressed properties when he needed money. In the early 1990s, a Saudi prince purchased Trump's flashy yacht so that the then-struggling businessman could come up with cash to stave off personal bankruptcy, and later, the prince bought a share of the Plaza Hotel, one of Trump's many business deals gone bad. Trump also sold an entire floor of his landmark Trump Tower condominium to the Saudi government in 2001."
"The Wahhabis finance thousands of madrassahs throughout the world where young boys are brainwashed into becoming fanatical foot-soldiers for the petrodollar-flush Saudis and other emirs of the Persian Gulf."
AMIL IMANI
I recommend that Ignatius read Raymond Ibrahim's outstanding book
Sword and Scimitar
, which contains accounts of dynastic succession in the Muslim monarchies of the Middle East, where standard operating procedure for a new monarch on the death of his father was to strangle all his brothers. Yes, it's awful. But it has been happening for a very long time. And it's not going to change quickly, no matter how outraged we pretend to be. MONICA SHOWALTER
Swamp Keeper Trump prepares for the inevitable move to impeach him and ask for asylum in Scotland.
Fox News host Tucker Carlson said in an interview Thursday that President Donald Trump has succeeded as a conversation starter but has failed to keep his most important campaign promises.
"His chief promises were that he would build the wall, de-fund Planned Parenthood, and repeal Obamacare, and he hasn't done any of those things," Carlson
told
Urs Gehriger of the Swiss weekly

Die Weltwoche

.
Democrats Expand Investigations into Donald Trump Targeting His Family and Businesses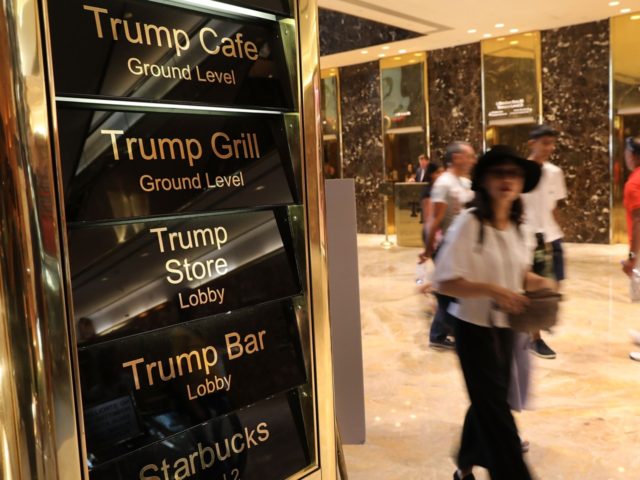 Democrats on Capitol Hill are significantly expanding their investigations into President Donald Trump, now openly targeting his family and businesses–in particular, the Trump Organization.
On Monday, House Democrats sent more than 80 separate document requests from the House Judiciary Committee to a wide-ranging slew of people affiliated with President Trump including most notably his two eldest sons Donald Trump, Jr., and Eric Trump, who currently run the operations of the Trump Organization while their father serves as President of the United States.
They also targeted Trump's son-in-law and current White House official Jared Kushner, who is married to Trump's daughter Ivanka, and several others in Trump's orbit like his former personal secretary Rhona Graff, the Trump Organization's chief financial officer Allen Weisselberg, and former top campaign and White House officials including Hope Hicks, Sean Spicer, and Stephen K. Bannon.
Bannon once served as the executive chairman of Breitbart News, but left in early 2018.
"House Democrats sent more than 80 letters Monday demanding documents from family members, business associates, political confidants and others with ties to President Trump, launching a sprawling probe into whether he and his administration have engaged in obstruction of justice, corruption and abuse of power," the Washington Post wrote, describing the wide-ranging probing letters sent to all corners of the Trump universe. "The farthest-reaching request since Democrats took control of the House underscored lawmakers' determination to hold Trump and those around him accountable for an array of controversies that have dogged the president during his first two years in office — and perhaps lay the grounds for impeachment."
A full list of those receiving letters is as follows:
Recipients reportedly have two weeks to comply with the requests for a variety of documents and communications before they would be subpoenaed by the committee, which Rep. Jerrold Nadler (D-NY) chairs.
"We will act quickly to gather this information, assess the evidence, and follow the facts where they lead with full transparency with the American people," Nadler, the Judiciary Committee Chairman, said in a statement announcing the wide-ranging probe into Trump's universe according to the Washington Post. "This is a critical time for our nation, and we have a responsibility to investigate these matters and hold hearings for the public to have all the facts. That is exactly what we intend to do."
Nadler over the weekend appeared on ABC's This Week in which he told host George Stephanopoulos that he believes Trump has "obstructed justice."
"It's very clear that the president obstructed justice," Nadler said. "It's very clear. 1,100 times he referred to the Mueller investigation as a witch hunt. He tried to protect Flynn from being investigated by the FBI. He fired Comey in order to stop the Russia thing as he told NBC news. He has dangled pardons. He has intimidated witnesses in public."
Nadler, who would lead impeachment proceedings of Trump if Democrats do decide to go that route which it appears they are heading there, earned a sharp rebuke from House Minority Leader Rep. Kevin McCarthy (R-CA) for those comments.
"I think Congressman Nadler decided to impeach the president the day the president won the election," McCarthy said on This Week on Sunday in response to Nadler.
MICHAEL COHEN NAILS SWAMP KEEPER TRUMP'S LEGACY COFFIN.

"Truthfully, It Is Tough To Ignore Some Of The Gross Immoral Behavior By The President"

WASHINGTON POST
"Mueller and the anti-Trump camp within the ruling elite know very well that the billionaire New York real estate and gambling speculator-turned president is mired in criminal activity, which is certain to be reflected in the material seized from Cohen. They have Trump by the throat, and Trump knows it."

"Our entire crony capitalist system, Democrat and Republican alike, has become a kleptocracy approaching par with third-world hell-holes. This is the way a great country is raided by its elite." ----Karen McQuillan

AMERICAN THINKER

Former Trump lawyer Michael Cohen testified before the House Oversight Committee Wednesday that the "whole Trump family" was potentially comprised by a foreign power ahead of the 2016 presidential election.
House Democrats issue wide-ranging subpoenas in Trump investigation
Four committees of the Democratic-controlled House of Representatives issued subpoenas and document demands Monday directed at the Trump White House, the Trump Organization (Trump's family business) and the 2016 Trump campaign, in a coordinated effort to investigate a wide range of allegations against the US president.
The broadest and most politically significant document request came from the House Judiciary Committee, which has jurisdiction over any effort to impeach Trump for "high crimes and misdemeanors," under the US Constitution. The committee sent document demands to 81 individuals and organizations associated with Trump.
Those targeted included his two sons, Don Jr. and Eric, who co-manage the Trump Organization, as well as the organization's CFO Allen Weisselberg, and several other officials of the business. Weisselberg was named last week more than 30 times in the congressional testimony of former Trump lawyer and "fixer" Michael Cohen, as the man responsible for implementing a series of questionable tax avoidance schemes, bank loan applications, and payoffs, at Trump's direction.
Three other House committees, on Intelligence, Foreign Affairs and Government Oversight, sent letters to the White House and the State Department, demanding access to government translators who worked on Trump-Putin meetings and telephone conversations, as well as the transcripts and tape recordings of those conversations.
While Trump said that the White House would cooperate with the Judiciary Committee document requests, it is unlikely that the White House or State Department will comply with demands to produce translators and other records of talks between Trump and Putin. Such witnesses and materials have been treated as confidential by previous presidents.
The Judiciary Committee request encompasses virtually every publicly reported allegation against Trump. It includes key witnesses who have testified before the Russia investigation headed by Special Counsel Robert Mueller, including former Trump campaign chairman Paul Manafort, his former top aide Rick Gates, former National Security Adviser Michael Flynn and other former campaign and White House aides, as well as current Trump personal lawyer Jay Sekulow.
Significantly, the committee sent requests to WikiLeaks and its founder and former editor Julian Assange, in an effort to perpetuate the smear campaign that the group acted as a conduit for Russian government hackers who allegedly obtained internal emails of the Democratic National Committee and Hillary Clinton campaign chairman John Podesta and supplied them to the whistleblower website.
The purpose of this smear campaign is twofold: to support the ongoing efforts by the US intelligence agencies to criminalize WikiLeaks and extradite Assange to the United States for trial on espionage and conspiracy charges, and to cover up the actual content of the material published by WikiLeaks, which discredited Clinton by documenting efforts by the DNC to rig the primary contest against her main rival, Senator Bernie Sanders, and making public the text of speeches Clinton gave to Wall Street audiences, promising to take care of their interests.
The Judiciary Committee demanded documents from nearly every person named by Cohen in his public testimony before the House Government Oversight Committee last week, including the Trump Organization as an entity, as well as its top officers, Weisselberg and Trump's two oldest sons.
The committee sent a document request to Jared Kushner, Trump's son-in-law and adviser, but not to Ivanka Trump, the president's older daughter and Kushner's wife, although Cohen named her as one of those informed of his activities as a go-between in negotiations for the building of a Trump Tower in Moscow.
Committee Chairman Jerrold Nadler of New York announced the document requests in an appearance on the ABC News Sunday morning interview program "This Week." He underscored that the Democrats were looking into many areas of Trump's business activities that had nothing to do with Russia or the Mueller investigation. He indicated that his panel will investigate allegations of violations of campaign finance laws—through the payoffs to two women who had alleged sexual relationships with Trump—as well as violation of the emoluments clause of the Constitution, which bars a president from receiving payments or things of value from foreign governments or persons, as well as the use of political office for personal gain.
While Nadler avoided using the word "impeachment" in any of the letters or the press release announcing them, his committee has jurisdiction over impeachment and several House Democrats have already introduced resolutions of impeachment which have been referred to the committee for consideration. Nadler said on ABC that he believed Trump was guilty of obstruction of justice by firing FBI Director James Comey and making repeated public statements criticizing the Russia investigation. Obstruction of justice was one of the charges brought against President Richard Nixon in 1974, and against President Bill Clinton in 1998.
House Republicans charged that the Democrats were ramping up the machinery of congressional investigations because they expected the Mueller report would not recommend charges against Trump, whether in relation to allegations of collusion with Russia during the 2016 presidential campaign or obstruction of justice after Trump took office.
The legal procedure being followed begins with the letters demanding documents. Those who fail to comply within two weeks will then receive subpoenas, which can be issued on the authority of Nadler alone. In the event that witnesses refuse to testify or claim executive privilege, the Judiciary Committee could issue a contempt citation, but it would then be up to the executive branch—either the Justice Department or the US Attorney for the Southern District of New York—to compel testimony or document production using the threat of arrest.
In the likely event that the executive branch refuses to take action, the House of Representatives could seek a court order, an action taken on at least one occasion under the Obama administration, when Attorney General Eric Holder was found in contempt by the House, then under Republican control.
The House Intelligence Committee is reportedly investigating the Trump Organization's efforts to build a Trump Tower in Moscow, as well as any discussions the president may have had with key witnesses like Paul Manafort and Michael Cohen on the subject of a possible presidential pardon. Michael Cohen testified behind closed doors for eight hours Thursday on those subjects, among others, and he is to return March 6 for a final day of secret testimony.
House Judiciary Committee Democrats said that there would be additional document requests besides the 81 notices sent out Monday. This would also include demanding the Justice Department turn over the final report of Special Counsel Mueller, which Trump administration officials have suggested might be withheld, particularly if Mueller declines to recommend either indictment or impeachment of the president.
The House Government Oversight Committee has requested White House documents on the issuing of security clearances, particularly as it relates to the long-delayed and only partial issuance of a clearance to Jared Kushner, who has served as Trump's principal aide for Mideast diplomacy. Committee Chairman Elijah Cummings gave the White House a Monday deadline to respond to document requests filed as long ago as January.
Two other House committees have also taken steps to investigate Trump. The House Ways and Means Committee has begun the process for obtaining Trump's tax returns, which the billionaire president has long refused to make public, although the Committee has yet to file a formal request with the Department of the Treasury and IRS.
The House Financial Services Committee, chaired by Representative Maxine Waters, a frequent target of racially abusive language by Trump, is seeking documents related to the applications by the Trump Organization for bank loans. According to Cohen, the Trump Organization regularly overvalued its assets in loan applications while grossly under-valuing them for tax purposes.
The Trump presidency: From the Manhattan underworld to the White House
1 March 2019
"The finance aristocracy, in its mode of acquisition as well as in its pleasures, is nothing but the rebirth of the lumpenproletariat on the heights of bourgeois society."—Karl Marx, The Class Struggles in France
What Marx described, in his analysis of the corruption of the bourgeoisie in France leading up to the 1848 revolution, applies with even greater force to the United States of 2019, where the bourgeoisie faces its own rendezvous with social upheaval and explosive class battles.
That is how a Marxist understands the spectacle of Wednesday's hearing before the House Oversight Committee, in which Michael Cohen, the former attorney and "fixer" for Donald Trump for more than a decade, testified for six hours about how he and his boss worked to defraud business partners and tax collectors, intimidate critics and suppress opposition to Trump's acitvities in real estate, casino gambling, reality television and, eventually, electoral politics.
What Cohen described was a seedier version of an operation that most Americans would recognize from viewing films like The Godfather: Trump as the capo di tutti capi, the unquestioned authority who must be consulted on every decision; the children, Donald Jr., Ivanka and Eric, each now playing significant roles in the ongoing family criminal enterprise; Allen Weisselberg, CFO of the Trump Organization, the consigliere in charge of finance, mentioned by Cohen more than 20 times in the course of six hours of testimony as the man who facilitated Trump's schemes to evade taxes, deceive banks or stiff business partners.
Cohen himself was an enforcer. By his own account, he threatened people on Trump's behalf at least 500 times in a ten-year period, including business associates, politicians, journalists and anyone seeking to file complaints or gain reimbursement after being defrauded by one or another Trump venture. The now-disbarred lawyer admitted to tape recording clients—including Trump among many others—more than 100 times during this period.
The incidents recounted by Cohen range from the farcical (Trump browbeating colleges and even his military prep school not to release his grades or test scores), to the shabby (Trump having his own "charitable" foundation buy a portrait of himself for $60,000), to the brazenly criminal (deliberately inflating the value of properties when applying for bank loans while deflating the value of the same properties as much as twenty-fold in order to evade taxation).
One of the most remarkable revelations was Cohen's flat assertion that Trump himself did not enter the presidential race with the expectation that he could win either the Republican nomination or the presidency. Instead, the billionaire reality television "star" regularly told his closest aides, the campaign would be the "greatest infomercial in political history," good for promoting his brand and opening up business opportunities in previously closed markets.
These unflattering details filled the pages of the daily newspapers Thursday and occupied many hours on the cable television news. But in all that vast volume of reporting and commentary, one would look in vain for any serious assessment of what it means, in terms of the historical development and future trajectory of American society, that a family like the Trumps now occupies the highest rung in the US political system.
The World Socialist Web Site rejects efforts by the Democrats and the corporate media to dismiss Trump as an aberration, an accidental figure whose unexpected elevation to the presidency in 2016 will be "corrected" through impeachment, forced resignation or electoral defeat in 2020. We insist that the Trump administration is a manifestation of a protracted crisis and breakdown of American democracy, whose course can be traced back at least two decades to the failed impeachment of Bill Clinton in 1998-99, followed by the stolen presidential election of 2000.
The US political system, always dominated by the interests of the capitalist ruling class that controls both of the major parties, the Democrats as much as the Republicans, is breaking down under the burden of mounting social tensions, driven above all by skyrocketing economic inequality. It is impossible to sustain the pretense that elections at two-year and four-year intervals provide genuine popular influence over the functioning of a government so completely subordinated to the financial aristocracy.
The figures are familiar but require restating: over the past three decades, virtually all the increase in wealth in American society has gone to a tiny layer at the top. Three mega-billionaires—Jeff Bezos, Warren Buffett and Bill Gates—now control more wealth than half the American population. This process of social polarization is global: according to the most recent Oxfam report, 26 billionaires control more wealth than the poorer half of the human race.
These billionaires did not accumulate their riches by devising new technologies or making new scientific discoveries that increased the wealth and happiness of humanity as a whole. On the contrary, their enrichment has come at the expense of society. Bezos has become the world's richest man through the emergence of Amazon as the greatest sweatshop enterprise in history, where every possible second of labor power is extracted from a brutally exploited workforce.
The class of billionaires as a whole, having precipitated the global financial collapse of 2008 through reckless speculation and swindling in the sale of derivatives and other obscure financial "products," was bailed out, first by the Republican Bush, then by the Democrat Obama, to the tune of trillions of dollars. Meanwhile, the jobs, living standards and social conditions for the great mass of working people sharply declined.
As for Donald Trump, the real estate swindler, casino con man and reality television mogul is a living demonstration of the truth of Balzac's aphorism: "Behind every great fortune is a great crime."
Trump toyed with running for president on the ultra-right Reform Party ticket in 2000 after a long stint as a registered Democrat and donor to both capitalist parties. When he decided to run for president as a Republican in 2016, however, he had shifted drastically to the right. His candidacy marked the emergence of a distinctly fascistic movement, as he spewed anti-immigrant prejudice and racism more generally, while making a right-wing populist appeal to working people, particularly in de-industrialized areas in the Midwest and Appalachia, on the basis of economic nationalism.
As
World Socialist Web Site
editorial board Chairman David North
explained
even before the 2016 elections:
The Republican nominee for the presidency of the United States did not emerge from an American version of a Munich beer hall. Donald Trump is a billionaire, who made his money in Manhattan real estate swindles, the semi-criminal operations of casino gambling, and the bizarre world of "reality television," which entertains and stupefies its audience by manufacturing absurd, disgusting and essentially fictional "real life" situations. The candidacy of Donald Trump could be described as the transfer of the techniques of reality television to politics.
The main development in the two years since Trump entered the White House is the emergence of the American working class into major struggles, beginning with the wave of teachers' strikes in 2018, initiated by the rank and file in defiance of the bureaucratic unions. The reaction in the American ruling elite is a panic-stricken turn to authoritarian methods of rule.
The billionaire in the White House is now engaged in a systematic assault on the foundations of American democracy. He has declared a national emergency in order to bypass Congress, which holds the constitutional "power of the purse," and divert funds from the military and other federal departments to build a wall along the US-Mexico border.
Whether or not he is immediately successful in this effort, it is clear that Trump is moving towards the establishment of an authoritarian regime, with or without the sanction of the ballot box. As Cohen observed in his closing statement—in remarks generally downplayed by the media and ignored by the Democrats—he is worried that if Trump loses the 2020 election, "there will never be a peaceful transition of power."
Trump's "opposition" in the Democratic Party is no less hostile to democratic rights. They have focused their anti-Trump campaign on bogus allegations that he is a Russian agent, while portraying the emergence of social divisions within the United States as the consequence of Russian "meddling," not the crisis of capitalism, and pushing for across-the-board internet censorship.
The defense of democratic rights and genuine resistance to Trump's drive toward authoritarian rule must come through the development of an independent political movement of the working class, directed against both big business parties, the Democrats as much as the Republicans, and against the profit system which they both defend.
March 3, 2019
What We Learned from the Michael Cohen Hearing
Of all the contemptible episodes of political theater Congress has ever produced, Michael Cohen's seven-hour hearing before the House Oversight Committee is without precedent. Has there ever been a more seditious, mendacious, and just plain degrading spectacle?
While America's president was overseas conducting a nuclear disarmament summit with a hostile communist dictator, the new Democrat majority in the House used their very first hearing to undermine his credibility on worldwide TV. Given the depraved character of modern Democrats, the hearing's circus-like atmosphere was predictable, but the timing of the event can be taken to mean only that they're more interested in impeaching President Trump than in avoiding a nuclear holocaust. That's a chilling realization.
As the ranking Republican on the committee, Jim Jordan, pointed out in his opening, this was the Lanny Davis show from concept to planning and execution. Davis is well known as the longtime fixer for the Clinton crime family. To those of us who remember the many Clinton scandals, he's considered just as dishonest, unethical, and ruthless as Michael Cohen ever was, although obviously much more polished and effective. Does anyone doubt that Cohen's 30-minute opening, used to slander and denigrate Trump, was composed by Davis to inflict maximum political damage?
Davis captured Cohen for the Resistance after he was indicted for tax and bank fraud. Davis likely promised to use his Clinton connections with the highly partisan Southern District of New York to win Cohen a reduced sentence. He would also have to implicate Trump, which explains why Cohen would plead guilty to a charge of campaign finance violation that isn't in fact a crime and never would have stood up in court.
Cohen also pleaded guilty to lying to this same Oversight Committee concerning the inconsequential timing of his conversations with Felix Sater. Sater is a longtime FBI and CIA informant who was dangling the prospect of a Trump tower in Moscow if only Cohen could entice Trump to communicate with Vladimir Putin — nothing at all suspicious about that.
As former assistant attorney for the SDNY, Andrew McCarthy, points out that Cohen might have been led to believe that his testimony at the hearing could further reduce his sentence. But that's assuming he escapes prosecution for perjuring himself yet again before the committee, including claiming he never sought a job in the White House — something the opposite of which Cohen previously admitted on CNN. Republicans have already made criminal referrals for this and other lies under oath.
By putting him back before the committee — something no competent attorney would do — Davis exposed Cohen to additional charges. But Davis is apparently doing this all out of the goodness of his heart. It was revealed that Cohen isn't actually paying for Davis to represent him, which makes perfect sense, because Davis isn't acting in Cohen's best interest.
During Cohen's testimony, he accused Trump of being a racist, a con man, and a cheat. Racist is the go-to slur Democrats use against anyone who opposes them, but it's worth noting that Trump became a racist in their eyes when he decided to run against Hillary. Prior that he received recognition and awards from the NAACP and Jesse Jackson's Rainbow Push Coalition, and was bosom buddies with the black glitterati.
Cohen regurgitated the Democrats' talking point that Trump stiffed contractors on his construction projects, instructing Cohen, as his attorney, to tell them they wouldn't be paid, or they would be paid a reduced amount. Considering the scale of projects Trump has developed over a long career, this is unremarkable. Anyone who has employed contractors knows they often pad their bills and sometimes mess up jobs so badly that it costs even more than the original invoice to have the work redone.
As far as con man goes, Cohen offered that Trump had attempted to reduce his tax bills by appealing assessments on his properties. This appeared to excite the Democrats who spent much of the day heaping praise on a convicted perjurer who was violating the sacred attorney-client privilege.
On matters of substance related to Russia collusion, Cohen admitted he had no knowledge to prove any of it and debunked several of the details in the Clinton-produced dossier, including the claim that Cohen had traveled to Prague — a cornerstone of the hoax. Unable to provide any verifiable testimony or evidence regarding collusion, Cohen was left to say it sounded like something Trump would do and that he once overheard Roger Stone telling Trump that WikiLeaks intended to dump damaging information on Hillary Clinton — something that by that time had already been published in newspapers.
Now that Mueller's investigation is reportedly winding down with no evidence of collusion, the Democrats clearly signaled they have no intention of allowing the president to focus on his America First agenda, much less on nuclear disarmament of rogue states. Much of the Democrats' questioning had nothing to do with Trump's election or his administration, but his past personal matters and business dealing. Among other questions, they asked if Trump had ever struck Melania, used drugs, or paid for an abortion. Cohen answered no.
Chairman Elijah Cummings has changed the name of his committee from House Committee on Oversight and Government Reform to just House Committee on Oversight and Reform. Cummings and his committee show no intention of limiting themselves to the proper, constitutional role of government oversight. Instead, they are shifting gears to probe every aspect of Trump's business and private life — and that of his family and his associates — in order to impeach him or prevent his re-election. It's amazing they don't realize that disgusting displays like this hearing will have the exact opposite effect.
The author hosts
Right Now with Jim Daws
, a webcast on news, politics, and culture from an American nationalist perspective.
https://twitter.com/RightNowJimDaws
Early in the Hillary Clinton email case, the Department of Justice reached a decision that would have far-reaching implications for the FBI's investigation into Clinton's use of a private email server. The Justice Department, under then-Attorney General Loretta Lynch, decided to set an unusually high threshold for prosecuting Clinton, effectively ensuring from the outset that she would not be charged. We explore this issue in-depth.
UH-OH: CLINTON FOUNDATION COMING TO "HELP" PUERTO RICO
The scariest words you can hear after a natural disaster are, "We're from the Clinton Foundation and we're here to help."
January 31, 2019
The scariest words you can hear after a natural disaster are, "We're from the Clinton Foundation and we're here to help."
Forget the hurricane warnings, Puerto Rico needed a Clinton Foundation Warning System. And now it's too late. The clan of Clinton grifters has taken a break from touring Broadway and Branson to go after Puerto Rico.
This week, the Clintons brought together hundreds of corporate, NGO and government leaders for the Clinton Foundation's CGI meeting in San Juan.

The Comeback Foundation ... Undeterred by false claims that the Clinton Foundation had shut down after the 2016 election, officials say they have expanded its work with fresh momentum and more support.
Like a gfriting vampire, it will never die.
Instead it'll occupy five star hotel rooms and raise cash on the backs of homeless hurricane victims who will never see a penny of it.
The mission was to help Puerto Rico, the U.S. Virgin Islands and the rest of the region continue to recover from last year's hurricanes and build capacity to become more resilient
We say meaningless buzzwords like "reslient" and "stakeholder", you give us cash. And hope Chelsea can run for president.
"Very few leaders know how to get people to work together as effectively as Bill Clinton, and hundreds of millions of people around the world are still benefiting from the thousands of CGI commitments launched since 2005."
Trillions actually. Most who never existed. Some who live in other galaxies.
But mainly the Clintons. Private jets don't pay for themselves.
THE FRAUDULENT CLINTON FOUNDATION EXPOSED.
PAY-TO-PLAY FROM THE FIRST DAY!
Is it a signal that she's back in the game because she's selling her president-ability to the world's global billionaire crowd and laying the groundwork for more funds? There are all kinds of ways for foreign billionaires to get money to the U.S. without consequences, after all. What's more, it's pretty much the biggest base of support she has, which is at least one reason why she lost the 2016 election.
"The couple parlayed lives supposedly spent in "public service"
into admission into the upper stratosphere of American wealth, with incomes in the top 0.1 percent bracket. The source of this vast wealth was a political
machine that might well be dubbed "Clinton, Inc." This consists essentially of
a seedy money-laundering operation to ensure big business support for the
Clintons' political ambitions as well as their personal fortunes.
The basic components of the operation are lavishly paid speeches to Wall Street and Fortune 500 audiences, corporate campaign contributions, and donations to the ostensibly philanthropic Clinton Foundation."
"But what the Clintons do is criminal because they do it wholly at the expense of the American people. And they feel thoroughly entitled to do it: gain power, use it to enrich themselves and their friends. They are amoral, immoral, and venal. Hillary has no core beliefs beyond power and money. That should be clear to every person on the planet by now." ---- Patricia McCarthy - AMERICANTHINKER.com
THE PHONY CLINTON FOUNDATION CHARITY slush fund
"There is no controlling Bill Clinton. He does whatever he wants and runs up incredible expenses with foundation funds," states a separate interview memo attached to the submission.
"Bill Clinton mixes and matches his personal business with that of the foundation. Many people within the foundation have tried to caution him about this but he does not listen, and there really is no talking to him," the memo added.
HILLARY CLINTON AND HER SERIAL RAPIST HUSBAND
"The couple parlayed lives supposedly spent in "public service"
into admission into the upper stratosphere of American wealth, with incomes in the top 0.1 percent bracket. The source of this vast wealth was a political
machine that might well be dubbed "Clinton, Inc." This consists essentially of
a seedy money-laundering operation to ensure big business support for the
Clintons' political ambitions as well as their personal fortunes.
The basic components of the operation are lavishly paid speeches to Wall Street and Fortune 500 audiences, corporate campaign contributions, and donations to the ostensibly philanthropic Clinton Foundation."
"But what the Clintons do is criminal because they do it wholly at the expense of the American people. And they feel thoroughly entitled to do it: gain power, use it to enrich themselves and their friends. They are amoral, immoral, and venal. Hillary has no core beliefs beyond power and money. That should be clear to every person on the planet by now." ---- Patricia McCarthy - AMERICANTHINKER.com
THE GRIFTERS: HILLARY, BILLARY and CHELSEA… global looters!
"But there is no doubt in my mind that the Clintons, thoroughly practiced
grifters that they are, as well as their increasingly shady daughter, will not
hesitate to use such classified information as they may be able to access for
personal and political enrichment. They've been doing it for decades, and
they're not about to stop now." RUSS VAUGHN
"Socialism appeals to me"
Sanders rally attendees speak on socialism, Democratic Party
By George Marlowe and Marcus Day
5 March 2019
On Sunday, US Senator Bernie Sanders continued his initial series of campaign rallies at Chicago's Navy Pier, following Saturday's event in Brooklyn, as he again seeks the Democratic Party's presidential nomination. Sanders unsuccessfully sought the party's nomination in 2016, subsequently endorsing Hillary Clinton, the arch-candidate of Wall Street and big business.
The Chicago Tribune estimated that over 12,000 attended. The rally attracted diverse social layers, including many young people who have been increasingly radicalized in recent years: large numbers of high school and college students, along with young workers. Significant numbers of professionals and other sections of both the lower- and upper-middle class attended as well.
Reporters for the World Socialist Web Site spoke with attendees, encountering wide interest in a socialist perspective. Many of those we spoke with were attracted to Sanders' criticisms of social inequality, "the billionaire class" and other social ills. A number were either skeptical of or openly hostile to capitalism and the Democratic Party, while expressing illusions in the possibility of reforming either. As the WSWS has noted, the promotion of such illusions is a central aim of Sanders' campaign.
Jesus
Jesus is 22 and from the Chicago suburbs. He said he had gone to college for two years, studying to become a teacher, before having to quit and work full time at a factory in order to support his family.
He said he had been following the wave of teachers strikes in the US over the past year. "With all the effort they put into teaching students, you'd think they'd get paid more."
He said that he hadn't given socialism much thought until recently, which he described as Sanders' proposals to "use taxes for the people not for the corporations, which makes a lot of sense. I think socialism but with capitalism together is the perfect idea for this country. A complete full market and no regulations is really bad. I feel like the Democratic Party has to change, otherwise they're going to lose a whole generation, again."
The WSWS reporter explained, however, that genuine socialism and structuring society to meet the needs of the majority of the population are incompatible with the extreme levels of social inequality under capitalism and the monopolization of wealth and political power by the rich. Jesus agreed. The reporter also explained that the Democratic Party was the oldest capitalist party in modern history, a party of Wall Street and imperialism, and had long put forth various "radical" sounding figures as safety valves in order to trap and smother social opposition.
Asked his thoughts on the previous administration of Democratic President Barack Obama, Jesus responded angrily, "The first two years of his presidency, they had control of both houses [of Congress]. He could have done way more, but they didn't. And Obama deported way more people than Trump. And then he made the whole DACA thing at the end [Deferred Action for Childhood Arrivals, the tenuous legal status for young immigrants], which he knew would get vetoed by a Republican president.
"It's kind of infuriating, you know? He wasn't really hope and change."
Jesus added that he was strongly opposed to the attacks on immigrants. "These people don't do anything but give to this country," he said, "and they always live in fear because they might get deported. I think it's pretty disgusting."
Alexis and Oliver
Alexis is a 21-year-old student from Chicago who studies political science at the University of Illinois at Urbana-Champaign. He spoke of his left-wing views and the need for young people to fight for a better world. "I'm pretty leftist," he said. "This is as close to the collapse of capitalism I'm going to get. I'm doing everything in my power to make the world a better place. The younger generation needs to be mobilized against a system they deem unfair. I definitely want this president out of office."
Alexis came to the rally with Oliver, who is 19, from Quincy, Illinois, and also studies at the University of Illinois at Urbana-Champaign. "The most important issue to me is the environment," Oliver said. "A close second is healthcare, education and inequality. The system should never have allowed this level of inequality." Oliver added, "I'm not a fan of the Democratic Party, but it may be a better of the two options."
Reporters explained to Oliver, however, that the politics of "lesser evilism" has resulted in disasters for the working class every election cycle and a further shift to the right, including under the previous Obama administration. Oliver nodded his head and said, "I'm interested in learning more."
Alexis agreed and also spoke out on his differences with the Democratic Party, noting, "I generally disagree with the Democratic Party." He added, "Socialism appeals to me. A lot of left politics becomes coopted by the Democratic Party and because of the cooption we are never able to realize the ultimate goals that we seek. I think that's very dangerous because it prevents any progress. I think we need to radically depart from capitalism."
Young people also came from the economically depressed city of Rockford, Illinois. The city had one of the highest unemployment rates in the country after the financial crisis of 2008. Thousands of good-paying industrial jobs have been destroyed in the Rockford area, only to be replaced with low-wage jobs, including at the Rockford United Parcel Service (UPS) air hub, where workers make as little as $13 an hour.
Simon is an 18-year-old high school student from Rockford. He spoke of the economic devastation the city has faced. "I've grown up here my entire life," he said. "It is the epitome of the 'Rust-Belt' city. It's really depressing. There's a drug issue there. There's a lot that needs to be fixed. A lot of industrial jobs have left. At the Belvidere Assembly Plant they started laying off 1,400 workers."
Simon and Andrew
Andrew, a 20-year-old worker and friend of Simon's from Rockford, spoke of the impact of the layoffs. "Rockford is a community that had its roots in industry. There's a lot of small manufacturing and a lot of workers are struggling," he said.
"My cousin works at Belvidere Assembly," he added. "The majority of people employed in the last six years are going to get laid off. It's a horrible situation. There's families that get their entire income from the Belvidere Assembly Plant. There's fathers and mothers that work there together. What are they going to do come May? They're going to get laid off and have no income. I guess they will get unemployment, but unemployment will only do so much."
Simon spoke about his desire for free college education. "When Bernie started to run and started talking about free college education for everyone, that is one thing that really struck me," he said. "Student loan debt is horrible. I'm a senior at Rockford East, and it's really stressful and so complicated. It's such a terrible system. If education was free and universal, it would provide equal opportunity for all."
Andrew noted that he could not afford college. He said, "I'm not actually in college right now. Financial issues for college is a big thing. If college was free, I would definitely take advantage of it and further my knowledge."
Louis
Louis is also 22 and is a college student studying communications in Chicago. "I've heard a lot about Sanders, but just wanted to come out and hear what he had to say. I thought he made a lot of good points in his first run."
Louis listed a number of issues he was concerned about, including "inequality financially, our presence in the political realm, violence in our neighborhood. Police brutality definitely needs to be addressed. But I think if we address those things head on they can change."
He said that he did not consider himself a Democrat. "I personally don't put myself in a political party."
Louis said that he had not given much thought to socialism previously, and said he thought that there were ways to address social problems within "each belief system, whether capitalism or socialism."
However, when a reporter explained that there was an objective conflict within society, between a reactionary financial oligarchy and the working class which produces all of society's wealth, he agreed, adding, "I agree with everything you just said. I strongly believe the working class is the whole heart of America, and the world."
Jake is a 23-year-old, originally from Cincinnati, Ohio. "I'm a sales manager in Chicago. Universal healthcare is a big issue for me. Social issues have been quite relevant to me as well. I know Bernie doesn't go as far on a lot of issues, as far as socialism, that I want though.
"Healthcare matters to me because living should be a human right," he noted. "We should care about other human rights. The rise of insulin costs is abhorrent. I have four people in my family that have diabetes. Luckily, they are all fortunate enough to be able to afford it. But I've heard the horror stories. Nobody should die from a treatable disease. It's disgusting that a black market for insulin has to even exist. I am young enough and fortunate enough to get insurance from my father. I haven't gotten any major health issues at this point—and I don't have to in the near future. But what if my dad lost this job?"
Danny and Jake
Danny is a friend of Jake and a worker in Chicago as well. He contrasted the spending on war with spending on social programs in the United States. "The Pentagon misplaced $7 billion and they don't know where it went," he said. "And they can't afford healthcare? I think saving people's lives affordably is more important than invading other countries and destroying lives."
Both Jake and Danny also spoke about Sanders' tacit support for the Trump administration's efforts to oust the Maduro government in Venezuela, which could create a violent civil war. "We should not be involved in that," Jake said. "That's nonsense," Danny added.
Jake also spoke about other issues that were important to him, including education and the recent strikes of teachers. "The other big issues that matter to me are education—public vs. private. I've been following the teacher strikes and I have friends who are teachers in California. My friends were in the Los Angeles teacher strike. Teachers need to be paid a lot more. Education solves a lot of root problems. I'm also really concerned about income inequality."