Illegal Immigrant Accused of Running over Man in Drunk Hit-and-Run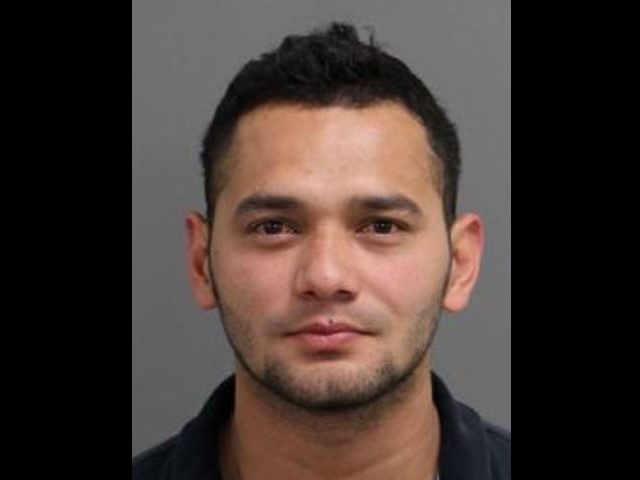 An illegal immigrant is now facing felony charges after allegedly running over a Raleigh, North Carolina, man in a hit-and-run car accident while intoxicated.
Carlos Edilberto Flores-Benitez, 27, allegedly ran over a man while he was drinking and driving, police and eyewitnesses say, according to
WNCN
. Police reports claim the illegal immigrant hit the man at an intersection and then immediately sped off from the scene.
When police responded, Flores-Benitez was cornered into his vehicle by eyewitnesses who reportedly watched the incident.
In their police report, officers said the victim suffered "serious injuries, but he's not gonna die."
Flores-Benitez faces a felony hit-and-run felony charge and a drunk driving charge. Should he be released from prison at any time, U.S. Immigration and Customs Enforcement (ICE) is expected to deport him back to his native country.
The car crash by Flores-Benitez is the latest crime from an individual who entered the U.S. illegally.
This week,
Breitbart Texas
reported first on a 19-year-old illegal immigrant and protectee of the federal Deferred Action for Childhood Arrivals program–created by President Obama–who is accused of murdering a teenage girl in Greenville, South Carolina.
Daniel De Jesus Rangel Sherrer, who has been able to remain in the U.S. because of DACA, is accused of murdering 18-year-old Diana Martinez-Gonzalez in a secluded, wooded area.
Sherrer is now facing first-degree murder charges. More than 2,100 illegal alien DACA recipients were kicked from the program for crimes and gang affiliations.
John Binder is a reporter for Breitbart Texas. Follow him on Twitter at
@JxhnBinder
.
Cheap Labor, Open Borders Swamp Embraces Trump's DHS Pick: 'Experience Being Valued over Outsiders'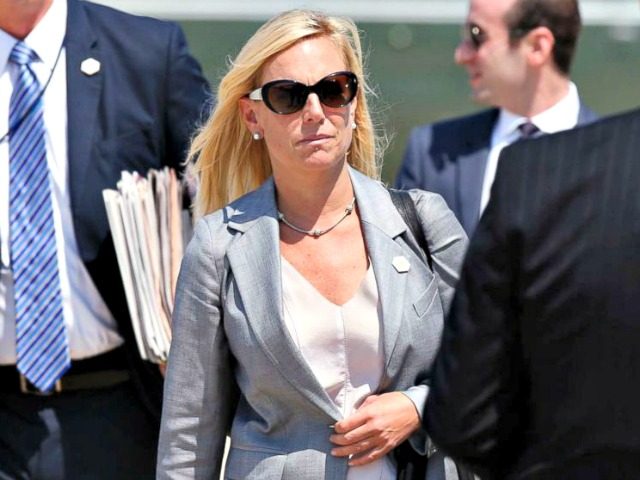 The Washington, D.C. political establishment – which supports a constant inflow of cheap, foreign workers to take American blue-collar jobs – and open border policies, is heaping praise on President Trump's pick to lead the Department of Homeland Security (DHS), Kirstjen Nielsen.
Nielsen, a
donor
to Republican establishment darling Jeb Bush and former DHS official under President George W. Bush, is being praised by pro-open borders Bush allies with whom she's previously worked.
In the Washington Post, former Bush official and lobbyist Stewart Verdery welcomed Trump's choice to pick Nielsen to run DHS because she was not an outsider.
"Nielsen's nomination is a strong signal of competence and experience being valued by the White House over ideologues and outsiders," Verdery told the
Washington Post.
"The homeland mission requires an unusual, diverse set of skills, and she has expertise in almost all of them."
In 2014, Verdery urged House and Senate Republicans to give in to amnesty for the 12 to 30 million illegal aliens living in the U.S., writing for
CNN
how the GOP needed to support the expansion of foreign work visa programs, where cheaper foreigners are brought to the U.S. to take American jobs.
As a lobbyist, Verdery's Monument Policy Group represents tech firms like Microsoft and Amazon, both of which have lobbied the Trump administration for more foreign workers to be imported to the U.S., further driving down the wages of American workers, immigration reformers argue.
Microsoft, which Verdery's lobbying firm
represents
, even admitted to hiring illegal aliens who have been shielded from deportation by the Obama-created Deferred Action for Childhood Arrivals (DACA) program, as
Breitbart Texas
reported.
Also praising Nielsen's appointment to DHS is pro-amnesty Pennsylvania Gov. Tom Ridge, who has a long record of opposing the pro-American immigration agenda that got Trump elected.
In the Washington Post, Ridge said of Nielsen:
Former Pennsylvania Gov. Tom Ridge (R), the first secretary of homeland security, said in a statement that Nielsen was a "homeland security veteran" who was "extremely well versed in the all-hazard threats" challenging the nation's security and resilience.

"Kirstjen can hit the ground running and there won't be a learning curve," Ridge said. "Most importantly, in this hyper-political environment, Kirstjen is not a self-promoter. She is a patriot and takes a mission-focused approach to her work."
When Ridge was serving as the head of DHS under Bush in 2003, he demanded that the entire illegal alien population be "legalized" and allowed to remain in the U.S.
At the time, Trump ally and Rep. Tom Tancredo (R-CO) slammed Ridge for indirectly pushing amnesty, all while potentially creating a surge at the U.S.-Mexico border.
"Mr. Ridge ought to read the laws he is charged with trying to enforce," Tancredo told the
Washington Times
. "We have laws on the books that call for him to find and deport these people, and if he is unwilling to do so, he should resign."
In 2010, Ridge railed against Arizona Gov. Jan Brewer's pro-American immigration enforcement — which Trump ally and Kansas Secretary of State Kris Kobach helped craft — saying that instead of deporting illegal aliens, the federal government should have stepped in and legalized the millions of illegal aliens in the U.S.
"It's ridiculous to think … we're going to identify 12 million to 14 million people and send them back," Ridge told the
Associated Press
at the time.
In 2016, Ridge even went on a media tour to announce that he refused to support Trump's "America First" candidacy, writing in
US News:
My disregard for Donald Trump has been well documented by multiple media outlets over the last several months, so I won't belabor it yet again. Suffice to say that I am disappointed that he is our party's nominee. With a bumper sticker approach to policy, his bombastic tone reflects the traits of a bully, not an American president and statesman. If he cannot unite Republicans, how can he unite America? I simply cannot endorse him.
Nielsen's DHS appointment was additionally cheered by former Bush official Frances Townsend, with the D.C. establishment figure telling the
New York Times
that Nielsen is "competent."
"She is tough as nails, competent and has rightly earned the president's respect," Townsend said.
In 2013, Townsend welcomed the failed effort to give amnesty to millions of illegal aliens — known as the "Gang of Eight" amnesty bill — saying the open borders plan was in-line with the Bush administration's goals on immigration.
"This is a redux of the Bush effort and the underlying principles," Townsend told the
Daily Beast
at the time.
Nielsen has no record of working specifically on immigration-related issues, despite Trump making pro-American immigration reforms the main theme of his administration. The yet-to-be-confirmed DHS head also does not hold any clear record when it comes to supporting initiatives that reduce legal immigration and limit foreign guest worker programs in order to give wage and competitive relief to America's working-class and middle-class workforce.
John Binder is a reporter for Breitbart News. Follow him on Twitter at
@JxhnBinder
.
Half the murders in

Mexifornia are now by Mex

gangs!
Presidential Hopeful Kamala Harris Calls On Republicans to Pass 'Clean' DACA Amnesty Bill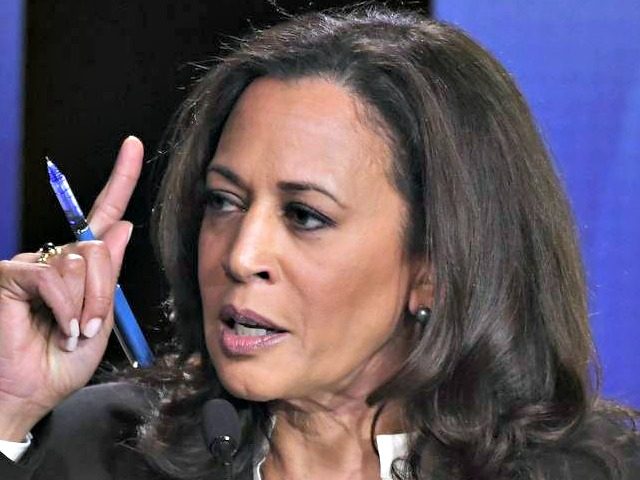 Democrat Presidential hopeful Sen. Kamala Harris spoke at a rally at UC Irvine Wednesday, calling on Congress to pass a "clean" DACA amnesty bill, with no enforcement measures attached.
"This is about a fight for the future of this country, believing in the values upon which this country was founded," Harris said.

"The path right now is rocky. It is difficult. It is hard," Harris said. "We are witnessing things that we can only describe as awful and wrong, and mean-spirited. But that's OK … Because we know this is about doing the right thing. We know this is about all the young people, who were brought here, some before they could walk or talk."

Harris was loudly cheered by the heavily immigrant crowd of roughly 200, while about 15 counter-demonstrators shouted their opposition to new provisions for those in the country illegally as well as their opposition to Harris.
Harris is "clearly seen as an ally by most on hand Wednesday, including the clergy, faculty and DACA students — a blend of Koreans and Latinos," according to the OC Register.
The event was choreographed to pressure the region's Rep. Mimi Walters, R-Laguna Beach, to sign on and co-sponsor the current version of the Dream Act introduced by Sens. Lindsey Graham, R- S.C., and Richard Durbin, D-Ill.
Harris touted her co-sponsorship of the measure, which purports to give "permanent legal status to those covered by DACA and a path to citizenship for those in college, the military or who are otherwise employed."
Her message resonated with those present according to the OC Register article, sparking similar expressions of personal outrage at Trump's ideas on immigration and particularly DACA reform:
"We did not migrate to this country to sabotage this land, but to prosper with it," said Ming Jun "Jenny" Park, a DACA recipient and fourth-year psychological major.
While other leading Democrats including Senate Leader Chuck Schumer and House Democratic Leader Nancy Pelosi issued a joint statement flatly dismissing all Trump's reform "principles", they claim they're open to "reasonable border security measures."
Pelosi was shouted down at her own event last month in her native San Francisco by hardcore progressives and open-border socialists when she expressed essentially the same position about border security—which the activists consider "selling out." To this rising hard left socialist movement, which goes by names like "Indivisible", any acknowledgment of the border is tantamount to endorsing oppression.
They call them principles — unprinciples! —

they are not principles, they are trash — are unacceptable to the dreamers and those of us who fight for them.
Immigration reform must create more jobs, higher wages, and greater security for Americans — now and for future generations. The reforms outlined in the enclosure are necessary to ensure prosperity, opportunity, and safety for every member of our national family.
Mexicans are this nation's biggest terrorist, murderers, rapist, molesters and looters! they carry hundreds of billions of america back over the border yearly and consume that much in our open borders!
CALIFORNIA MOVES CLOSER TO FINAL ANNEXATION BY MEXICO
DE FACTO CITIZENSHIP PER LA RAZA:
NO TEST, NO BACKGROUND CHECKS ON CRIMINALITY, NO BACK TAXES, NO
FINES.... JUST JUMP STRAIGHT TO VOTING BOOTHS! AND VOTE OFTEN!!!
In 2013, California lawmakers passed legislation that allowed illegal aliens to obtain driver's licenses if they can prove to the Department of Motor Vehicle (DMV) their identity and state residency. The plan was one of the largest victories to date by the open borders lobby
.… JOHN BINDER – BREITBART.com
JOE LEGAL
v LA RAZA
JOSE ILLEGAL
Here's how it breaks down; will make you want to be an illegal!