Steve Bannon Declares 'Season of War' Against GOP Establishment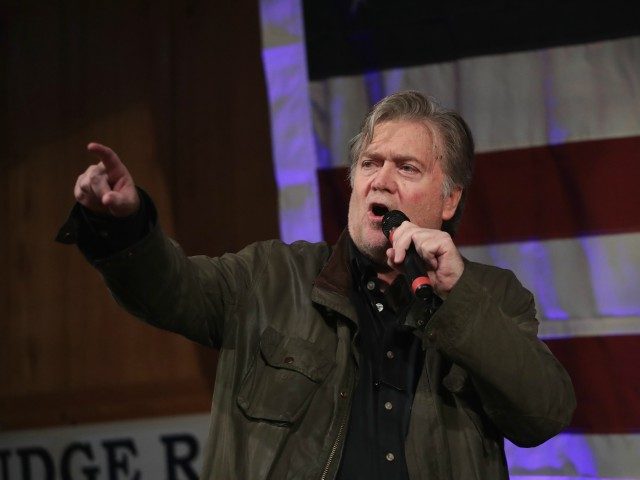 Breitbart News Executive Chairman and former White House Chief Strategist Steve Bannon declared a "season of war" against the GOP establishment in an electrifying speech at the Values Voter Summit Saturday, warning Senate Majority Leader Mitch McConnell: "these folks are coming for you."
"There's a time and season for everything, and now it's a season of war against the GOP establishment," Bannon told the gathering in Washington, DC. "It's no longer acceptable to come and pat you on the head and tell you everything's going to be fine [if you] just get these guys an office."
Bannon is planning a full-scale assault in the 2018 midterms, reportedly planningchallenges on every GOP senator up for re-election (except for Texas Sen. Ted Cruz) and is believed to be eyeing a number of House and gubernatorial races as well.
"This is not my war. This is our war. And y'all didn't start it. The establishment started it," he said.
Some of the potential challenges are likely to be seen as long shots, but Bannon has the wind in his sails after Judge Roy Moore beat establishment-backed Sen. Luther Strange (R-AL) in last month's Alabama Senate primary runoff, despite being outspent 10-1 by forces allied to McConnell.
In his speech Saturday, Bannon basked in that victory and warned McConnell that his position was more precarious than ever.
"Up on Capitol Hill, because I've been getting calls, it's like before the Ides of March. They're just finding out who's going to be Brutus to your Julius Caesar," Bannon said. "Yeah, Mitch, the donors aren't happy, they've all left you."
He told the crowd that Moore's victory has spooked the establishment elites as it shows that money doesn't matter, even going so far as to say that the more money they spend, "the fewer votes they get."
Bannon warned Republicans who think they can hide from backing President Trump that their failure to support him will haunt them in the midterm primary seasons.
"No one can run and hide on this one, these folks are coming for you," he warned. "The day of taking a few conservatives votes and hiding is over. These folks aren't rubes, these folks aren't idiots."
Bannon also argued that the power of the Alabama vote can be shown in recent developments from the White House. He noted that since Moore's Alabama victory, the Trump administration has issued an executive order on religious freedom, stopped the Obamacare insurance bailouts, pulled the U.S. out of UNESCO, decertified Iran's compliance with the Iran nuclear deal, and pushed for a middle-class tax cut.
"Those are not random events folks, that is victory begets victory," he said. "We owe that to Judge Roy Moore and the good men and women in Alabama because that all came from them."
He urged Republican lawmakers who were on the fence on Trump to be more vocal in their support of his agenda as a way to avoid the populist storm brewing ahead of the 2018 midterms:
"You can come to a stick and say 'I am not going to vote for Mitch McConnell for Majority Leader' and you can come to a stick and you can say 'I'm going to do away with the filibuster so the president can implement his program.'"
"But until that time, they're coming for you," he warned.
Adam Shaw is a Breitbart News politics reporter based in New York. Follow Adam on Twitter:
@AdamShawNY
PEW:
Although the overall U.S. poverty rate declined for the second straight year in 2016, the share of the U.S. poor population in

severe

poverty

reached its highest point

in at least 20 years. These families also saw their incomes fall further below the poverty line.

---



OBAMA'S CRONY BANKSTERISM destroyed a TRILLION DOLLARS in home equity… and they're still plundering us!




Barack Obama created more debt for the middle class than any president in US




history, and also had the only huge QE programs: $4.2 Trillion.




OXFAM reported that during Obama's terms, 95% of the wealth created went to the top 1% of the world's wealthy.
IMF report points to financial dangers lurking beneath global growth
By Nick Beams
14 October 2017
The International Monetary Fund (IMF) has forecast the best year for global economic growth since the 2008 crisis, but a rather different picture emerges from its analysis of financial conditions.
In its

Global Financial Stability

(GFS) report issued earlier this week, the IMF points to the build-up of $135 trillion of debt in the G20 economies. It also highlights the difficulties facing the world's major central banks in trying to wind back the quantitative easing programs that have pumped trillion of dollars into the global financial system.
Presenting the report, Tobias Adrian, the head of the IMF's financial department, said while the financial system was stronger, thanks to growth and low interest rates, "dangers in the form of rising financial vulnerabilities are starting to loom."
Central bankers were maintaining easy policies to support growth and this was "breeding complacency and allowing a further build-up of financial excesses," he stated.
"Non-financial borrowers are taking advantage of cheap credit to load up on debt. If left unattended, these growing vulnerabilities will continue to mount, threatening to derail the economic recovery when shocks occur."
Adrian noted that before the financial crisis there were $16 trillion in relatively safe investment-grade bonds yielding more than 4 percent. "That has dwindled to just $2 trillion today. There is simply too much money chasing too few high yielding assets. The result is that investors are taking more risks and exposing themselves to bigger losses if markets tumble."
Further details were provided in the report. It pointed out that today only 5 percent of investment-grade bonds yield more than 4 percent, compared with 80 percent ($15.8 trillion) before the crisis.
"Asset valuations are becoming stretched in some markets as investors are pushed out of their natural habitats, and accept higher credit and liquidity risks to boost returns," it stated.
Indebtedness in major economies is increasing and now stands at 235 percent of gross domestic product for the G20 group of countries that make up about 85 percent of the world economy. Debt servicing pressures and debt levels in the nonfinancial sector were already high in several major economies, with Australia, Canada, China and South Korea singled out for specific mention.
Significantly, given its high and growing debt levels, Australia was one of the few major economies for which the IMF revised its growth outlook downwards.
While the IMF lifted its global growth forecast from 3.5 to 3.6 percent, it slashed its Australian figure to just 2.2 percent, compared to the 3 percent growth anticipated six months ago.
One of the report's key aspects was to draw attention to the contradictions confronting central banks as they move to "normalise" monetary policy and pull back on the stimulus provided by quantitative easing that pumped trillions of dollars into global financial markets.
Central banks, it said, envisaged having to provide continuing economic and financial support with interest rates rising only slowly and the "gradual normalizing" of monetary policy expected to take years.
The "unconventional" monetary policies of the past period—ultra-low, and in some cases even negative interest rates, and the buying of financial assets by central banks under the quantitative easing program—had changed the working of financial markets. They were now "much less predictable than in previous cycles."
That is, the very policies of the central banks have created completely uncharted territory as far as the workings of financial markets are concerned, with no historical precedents to provide a guide. In other words, these key institutions are, to a great extent, flying blind.
According the GFS report: "Abrupt or ill-timed shifts could cause unwanted turbulence in financial markets and reverberate across borders and markets. Yet the prolonged monetary support envisaged for the major economies may lead to the build-up of further financial excesses."
The IMF analysts examined a downside scenario in which the "repricing of risks," that is, rising interest rates, was combined with falling asset prices and a pullback of investment in emerging markets.
Such a situation would lead to a "significant" tightening of financial conditions and a fall in global output of about 1.7 percent relative to current predictions. According to this model, the impact would be about one-third as severe as the global crisis of 2008-2009.
However, given the new conditions that have emerged as a result of the policies since the global meltdown, the outcome could be more severe. In reality, the estimate is not much more than an educated guess.
As far as the banking system is concerned, the report said the health of what it called globally systematically important banks (GSIB) was continuing to improve because of stronger capital and liquidity requirements.
But banks representing about $17 trillion in assets, around one-third of the GSIB total, "may continue to generate unsustainable returns" even by as late as 2019. That is, they still do not have a sound business model and "problems in even a single GSIB could generate systemic stress."
The report drew attention to the state of Chinese banks, warning that the "size, complexity and pace of growth" in the country's financial system "point to elevated financial stability risks." Chinese banking sector assets have risen from 240 percent of GDP at the end of 2012 to 310 percent at present.
Publicly, central banks and financial authorities more generally try to portray themselves as being in control of the capitalist economy. But behind the scenes a very different picture emerges.
For the past three decades and more, central bank monetary policy has been based on the so-called Phillips curve. This purports to establish a relationship between unemployment and inflation: as the jobless rate falls, inflation starts to increase because of increased wage demands. Based on this model, interest rates should be increased as inflation starts to rise.
However, in the period since the global financial crisis, while the headline official rate of unemployment has fallen, wages have either stagnated or declined and inflation remains persistently below the targets adopted by central banks of around 2 percent. This is largely due to the fact that the labour market has undergone a major transformation in all advanced economies with the replacement of full-time jobs with part-time, contract and casual employment.
The perplexity in ruling financial circles under post-2008 conditions was summed up in a major article published in the

Financial Times

(FT) this week. It reported that as central bankers gathered in Washington for the annual IMF meeting "there was a crisis of confidence."
"Their models are failing and there are doubts whether they understand the effects of interest rates and other monetary policies on the economy." The FT warned that the new "masters of the universe" might not understand the workings of the economy and "their well-intentioned actions could prove harmful." While the central banks had always had their critics, "such profound doubts have never been so present in their narrow world."
This assessment points to the fact that, in the period since 2008, far from having overcome the contradictions in the system over which they preside, the ruling financial elites have simply created the conditions for a new and potentially even bigger disaster.
JOE LEGAL
v LA RAZA
JOSE ILLEGAL
Here's how it breaks down; will make you want to be an illegal!
THE DEVASTATING COST OF MEXICO'S WELFARE STATE IN AMERICA'S OPEN BORDERS
TRUMPERNOMICS: THE SUPER RICH
APPLAUD TWITTER'S TAX PLAN!
"The tax overhaul would mean an unprecedented windfall for the super-rich, on top
of the fact that virtually all income gains during the period of the supposed
recovery from the financial crash of 2008 have gone to the top 1 percent income
bracket."
WALL STREET TO THE AMERICAN PEOPLE: DIE YOUNG… your company pension dies with you!
OPOID AND ALCOHOL ADDICTION KILLS OF MIDDLE AMERICA
SOARING POVERTY AND DRUG ADDICTION UNDER OBAMA
"These figures present a scathing indictment of the social order that prevails in America, the world's wealthiest country, whose government proclaims itself to be the globe's leading democracy. They are just one manifestation of the human toll taken by the vast and all-pervasive inequality and mass poverty.
Millions of children go hungry as the super- rich gorge themselves and ILLEGALS SUCK IN BILLIONS IN WELFARE!
"The top 10 percent of Americans now own roughly three-quarters of all household wealth."
"While telling workers there is "not enough money" for wage increases, or to fund social programs, both parties hailed the recent construction of the U.S.S. Gerald Ford, a massive aircraft carrier that cost $13 billion to build, stuffing the pockets of numerous contractors and war profiteers."
Bannon declares 'season of war' on GOP establishment
BY JOSH DELK -

10/14/17 03:49 PM EDT
306
© Greg Nash