Trump Signs Order Cracking Down on Welfare-Dependent Legal Immigration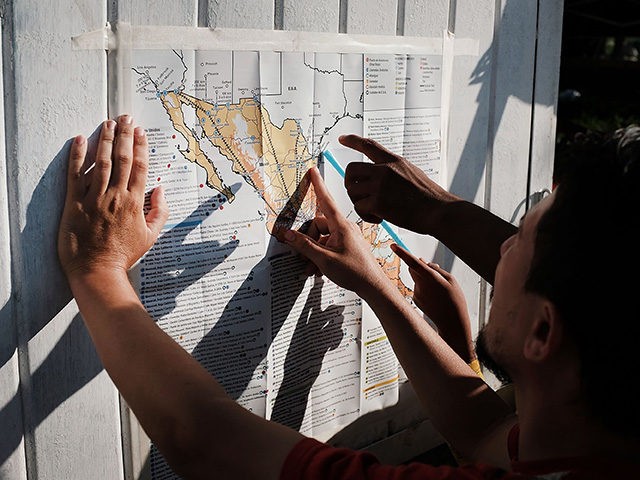 Exclusive–Steve Camarota: Every Illegal Alien Costs Americans $70K Over Their Lifetime
Every illegal alien, over the course of their lifetime, costs American taxpayers about $70,000, Center for Immigration Studies Director of Research Steve Camarota says.
DACA Amnesty Would Render Border Wall Useless, Cost Americans $26B
A deal in which President Trump accepts an amnesty for millions of illegal aliens enrolled and eligible for President Obama's Deferred Action for Childhood Arrivals (DACA) program in exchange for minor border wall funding would be counterproductive to the "America First" goals of the administration, depressing U.S. wages in the process ahead of the 2020 election.
"More than 750 million people want to migrate to another country permanently, according to Gallup research published Monday, as 150 world leaders sign up to the controversial UN global compact which critics say makes migration a human right." VIRGINIA HALE
Reducing the inflow of illegals, such as by building a wall; and

Mandating the departure of others through deportation.
Retirement benefits at the age of 61, instead of the usual 62;

A 10 percent bonus on the Social Security benefit while the beneficiary is abroad;

Free one-way plane tickets for the principal and the dependents; and

Checks totaling $5,000, half on arrival in the home country, and the other half a year later, but only paid in person, at a U.S. consulate or embassy.
Study: More than 7-in-10 California Immigrant
Welfare
More than 7-in-10 households headed by immigrants in the state of California are on taxpayer-funded welfare, a
new study
reveals.
NON-CITIZEN HOUSEHOLDS
ALMOST
TWICE
AS
LIKELY
TO BE ON
WELFARE
Majority of Non-Citizen Households in US Access Welfare Programs, Report Finds
It Pays to be Illegal in California
Majority of Non-Citizen Households in US Access Welfare Programs, Report Finds