Donald Trump Offers Democrats Temporary DACA Amnesty for 230 Miles of Wall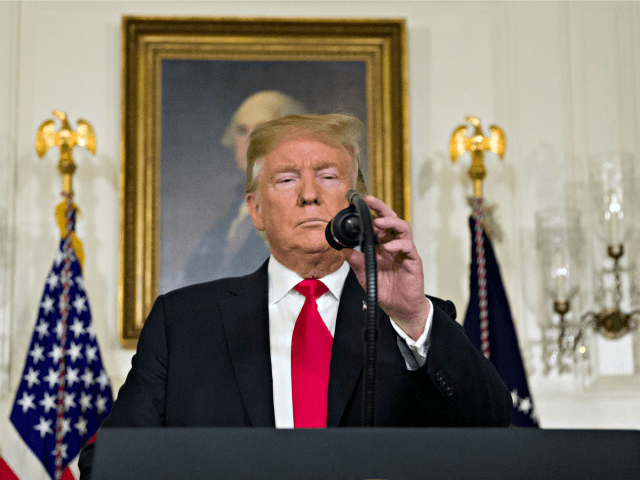 President Donald Trump proposed a compromise plan to reopen the government and get funding for his promised border wall on Saturday.
The president offered to give Democrats a three-year extension of work permits for 700,000 DACA recipients and temporary protected status immigrants together with $805 million in new funding for technology to stop drug smuggling, 2,750 new border security agents and immigration judges, in exchange for $5.7 billion for 230 miles of physical barriers on the Southern border.
"This is not a 2000 mile concrete structure from sea-to-sea," Trump said. "These are steel barriers in high priority locations."
Breitbart TV
The president delivered his remarks in the Diplomatic room at the White House, restating the problems that the country faces with the current immigration system.
Trump presented his plan as a way to "break the logjam" by building a compromise with Democrats.
The president described his plan as "straightforward, fair, reasonable, and common sense with lots of compromise" and said that it was only the beginning of larger immigration reform in his second term.
He again highlighted the difficulties that migrants face as they try to take advantage of a broken immigration system.
"I want this to end, it's got to end now," he said. "These are not talking points, these are the heartbreaking realities."
Trump said that McConnell was in support of the proposed compromise and would hold a vote in the Senate later in the week.
CALIFORNIA and the RISE OF THE LA RAZA MEXICAN FASCIST WELFARE STATE
"The public schools indoctrinate their young charges to hate this country and the rule of law. Illegal aliens continue overwhelming the state, draining California's already depleted public services while endangering our lives, the rule of law, and public safety for all citizens."
MEXICO'S INVASION, OCCUPTION and LOOTING OF AMERICA by INVITATION OF THE LA RAZA SUPREMACY DEMOCRAT PARTY
"Fox's Tucker Carlson noted Thursday that Obrador has previously proposed ranting AMNESTY TO MEXICAN DRUG CARTELS. "America is now Mexico's social safety net, and that's a very good deal for the Mexican ruling class," Carlson added."
"The man likely to be the next president of Mexico just called for mass migration to the US" RICK MORAN


"And soon, very soon — after the victory of our movement — we will defend all the migrants in the American continent and all the migrants in the world," Obrador said, adding that immigrants "must leave their towns and find a life in the United States." RICK MORAN
THE GLOBALIST DEMOCRAT PARTY'S HISPANICAZATION of AMERICA…
first ease millions of illegals over our borders and into our voting booths!
How the Democrat party surrendered America to Mexico:
"The watchdogs at Judicial Watch discovered documents that reveal how the Obama administration's close coordination with the Mexican government entices Mexicans to hop over the fence and on to the American dole." Washington Times
"This is country belongs to Mexico" is said by the Mexican Militant. This is a common teaching that the U.S. is really AZTLAN, belonging to Mexicans, which is taught to Mexican kids in Arizona and California through a LA Raza educational program funded by American Tax Payers via President Obama, when he gave LA RAZA $800,000.00 in March of 2009!
The "zero tolerance" program was dismantled by Attorney General Erc Holder once it had successfully cut the transit of migrants by roughly 95 percent. Initially, officials made 140,000 arrests per year in the mid-2000s, but the northward flow dropped so much that officials only had to make 6,000 arrests in 2013, according to a
2014 letter
by two pro-migration Senators, Sen. Jeff Flake and John McCain.
"

The cost of the Dream Act is far bigger than the Democrats or their media allies admit. Instead of covering 690,000 younger illegals now enrolled in former President Barack Obama's 2012 "DACA" amnesty, the Dream Act would legalize at least
3.3 million illegals
, according to a pro-immigration group, the Migration Policy Institute."
We've got an even more ominous enemy within our borders that promotes "Reconquista of Aztlan" or the reconquest of California, Arizona, New Mexico and Texas into the country of Mexico….. AND THE ENEMY IS THE LA RAZA SUPREMACIST GLOBALIST DEMOCRAT PARTY!
WHO REALLY PAYS THE COST OF OPEN BORDERS?
More than 7-in-10 households headed by immigrants in the state of California are on taxpayer-funded welfare, a
new study
reveals.
The latest Census Bureau data
analyzed
by the

Center for Immigration Studies

(CIS) finds that about 72 percent of households headed by noncitizens and immigrants use one or more forms of taxpayer-funded welfare programs in California — the number one immigrant-receiving state in the U.S. JOHN BINDER
Two groups of Central American migrants made separate marches on the U.S. Consulate in Tijuana Tuesday, demanding that they be processed through the asylum system more quickly and in greater numbers, that deportations be halted and that
President Trump
either let them into the country or pay them $50,000 each to go home. MONICA SHOWALTER
This annual income for an impoverished American family is $10,000 less than the more than $34,500 in federal funds which are spent on each unaccompanied minor border crosser.
A
study
by Tom Wong of the University of California at San Diego discovered that more than 25 percent of DACA-enrolled illegal aliens in the program have anchor babies. That totals about 200,000 anchor babies who are the children of DACA-enrolled illegal aliens. This does not include the anchor babies of DACA-qualified illegal aliens. JOHN BINDER
For EVERY DACA handed amnesty, their entire extended family gets in!
THE GLOBALIST DEMOCRAT PARTY'S DACA DREAMERS HOAX TO DOULBE THE NUMBER OF ILLEGALS AND DEPRESS WAGES EVEN MORE
THE DEM CONSPIRACY HITS SAN DIEGO
Let's briefly review the sordid history of DACA. DACA was a program concocted by the Obama administration to overcome the failure of Congress to pass a massive amnesty program known as Comprehensive Immigration Reform and the follow-up attempt to pass a massive amnesty program known as "The DREAM Act."
By Michael Cutler
The concept behind the DREAM Act and DACA was to exploit the well-known empathy and compassion Americans have for children. Both of those efforts were sold as means of helping children who were brought to the United States by their parents.
By Michael Cutler
A
study
by Tom Wong of the University of California at San Diego discovered that more than 25 percent of DACA-enrolled illegal aliens in the program have anchor babies. That totals about 200,000 anchor babies who are the children of DACA-enrolled illegal aliens. This does not include the anchor babies of DACA-qualified illegal aliens. JOHN BINDER
DACA for a wall?
The Drudge Report features a rare editorial as one of its headers: a call from the Dallas Morning News for President Trump and Congress to swap legalization for DACA recipients for a border wall. It's something that on the surface sounds like a reasonable enough compromise.
The government shutdown is in its fourth week, with no end in sight because our leaders in Washington don't seem to want an end that doesn't amount to political humiliation of the opposition.

But imagine for a moment that President Donald Trump and House Speaker Nancy Pelosi and Senate Minority Leader Chuck Schumer could see their way to a compromise that Americans would support and that would greatly benefit this country.

To us, it would look like this: The president would get the funding he seeks to enhance border security, including some 230 miles of physical barrier, but also with more technologically sophisticated solutions.

In return, the president would agree to a sweeping deal to protect young people who were brought to this country without authorization at ages when they had no say over what happened to them.
It's for sure a compromise, and it's likely that a compromise is going to be required to get the government reopened at all, given the intransigence of the Democrats over this piddly little request from Trump, very small in the scheme of federal funding.
President Trump is expected to give a major address on the shutdown today, so with Drudge running this editorial, one wonders if he knows that this might be what's ahead.
That said, such a swap is going to be a problem.
The wall halts incentives to migrate illegally. Rewarding DACA recipients is going to supercharge the incentive to migrate illegally, even if the compromise specifically says it won't include new migrants. It's an amnesty, and every amnesty brings in more migrants, all of them waiting for the next subway train to stop, because they know it will.
Now consider the impact of an amnesty with a wall. The wall won't completely cover the terrain, given the limits of geography, so the 230-mile or so stretch of it will merely drive migration out to the desert badlands. People will be incentivized to come with kids – in the hands of human-smuggling cartels – through the desert badlands instead of through the areas closer to urban centers with services. That sounds like a recipe for migrant child deaths. There likely will be, and lots of news coverage blaming the wall. None of the focus will be on the bad decisions of the migrants who are acting on the DACA incentive, that draw or pull that makes them want to undertake such a risky journey. If the journey looks risky now, imagine what it will look like with a wall up and the incentives to immigrate illegally still there.
All the same, a compromise means giving up something, so maybe the status quo will be preserved. The Dallas Morning News argues that DACA should be expanded, and all the people who were rejected for it due to their criminal records should be added in. (I don't think so – already DACA recipients are allowed at least two "free" misdemeanors to qualify, which pretty well signals a life of crime ahead.) Far better to allow kids who missed the cutoff for age by a few years than these budding thugs. Instead of expanding it by crime record, it would be better if DACA were narrowed, to strictly non-criminal applicants, with proof they haven't cast an illegal ballot to cancel out the vote of a U.S. citizen as well. There also should be no chain migration to reward the law-breaking parents, who really should be in the dock for child abuse as well as breaking immigration law, given that they've put their children into the hands of pirates on dirty, dangerous desert pathways. Perhaps a new law increasing penalties for such lawbreakers would be appropriate – anyone found bringing kids into illegal migration schemes can never become a citizen. Or perhaps all illegal migrants must provide the names and particulars of the cartel smugglers they paid in order to get any consideration for U.S. residency, whether by asylum or ordinary application. Helping to break up smuggling cartels, which profit so handsomely on the U.S.'s lax and easily manipulated immigration laws, might be a fair exchange for the interests of the U.S. citizens (and Mexican citizens, given the havoc the financially powerful cartels have wrought) if a wall is even to work.
There need to be some checks and balances so the incentive to migrate illegally becomes less attractive than the incentive to come legally. I'd be all in for asking DACA recipients to fly back to their home countries and apply legally, same as all other migrants. They could come back as they waited due to DACA provisions. That would make their immigration more of a normal thing, and we might even get some productive citizens out of it.
The incentive door remains open with a DACA-for-wall deal. If a wall is going to mean anything, that needs to be shut tight.