Los Angeles' Mexican tax-free underground economy is estimated to be in excess of $2 BILLION PER YEAR.
IMPOSE E-VERIFY AND THE MEX OCCUPATION ENDS THE NEXT DAY! PUT EMPLOYERS OF ILLEGALS IN PRISON AND THE MEX OCCUPATION ENDS WITHIN MINUTES!
JOE LEGAL
v LA RAZA
JOSE ILLEGAL
Here's how it breaks down; will make you want to be an illegal!
GOP Bill to Import 1 Million Low-Wage Replacements for U.S. Food Workers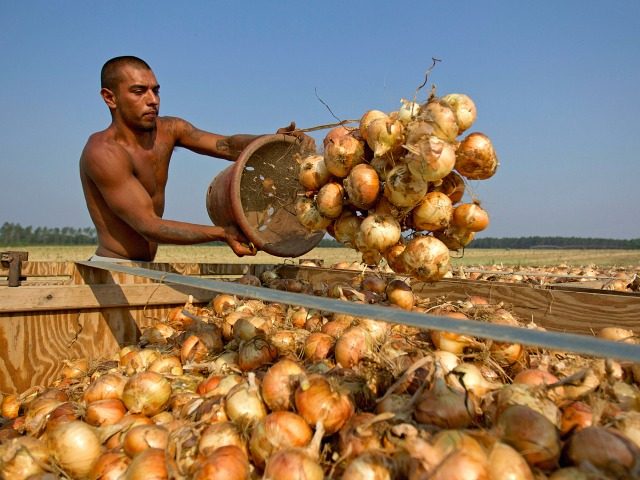 House Republicans are expected to approve a gigantic "H-2C" guest-worker bill on Wednesday that allows the nation's food industry to employ one million low-wage, foreign guest-workers — regardless of how many Americans would lose their skilled or unskilled jobs in fields, orchards, cattle ranches, dairy farms, forests, seafood ports, meat-packing plants, and food processing factories.
For far too long, the broken H-2A guestworker program has buried American farmers in red tape and excessive costs without delivering access to a stable and reliable workforce. It's clear that the current program is outdated and broken for American farmers, and it's well past the time to replace it with a reliable, efficient, and fair program that provides American farmers access to a legal, stable supply of workers, both in the short- and long-term, for seasonal as well as year-round work.
For both cynical and good reasons, they don't want the [guest workers] to be indentured serfs to a tied to a job — which they really are — and at the same time, they want to make them citizens so they vote for Democrats
Not surprisingly, wages for crop production have climbed 13% from 2010 to 2015 — a higher rate than the state average, according to a Los Angeles Times analysis of Labor Department data.
'(2) REPLACEMENT OF ALIENS.—An employer may designate eligible aliens to replace H–2C workers who abandon employment notwithstanding the numerical limitation found in section 214(g)(1)(C).
''(m) COMPLIANCE WITH BIO-SECURITY PROTO- 25 COLS.—Except in the case of an imminent threat to health or safety, any personnel from a Federal agency or Federal grantee seeking to determine the compliance of an employer with the requirements of this section or section 218B shall, when visiting such employer's place of employment, make their presence known to the employer and sign-in in accordance with reasonable bio-security protocols before proceeding to any other area of the place of employment.
extraordinary ability in the sciences, arts, education, business, or athletics which has been demonstrated by sustained national or international acclaim or, with regard to motion picture and television productions a demonstrated record of extraordinary achievement, and whose achievements have been recognized in the field through extensive documentation, and seeks to enter the United States to continue work in the area of extraordinary ability.
Every year, farmers and ranchers face greater challenges in finding enough workers to keep their businesses running. The labor shortage on America's farms and ranches is growing, and the lack of a stable, legal supply of workers places the health of too many farms at risk. We cannot afford to see any more of our nation's food supply lost in the fields.

"The Ag Act's proposed guest worker visa program would bring much needed improvements to the current system while addressing the needs of our current workforce and providing a streamlined visa process for skilled, agricultural workers in the future. Although Farm Bureau members have concerns on certain points, such as capping the number of visas, we stand ready to work with Chairman Goodlatte and members of Congress to refine these provisions for the good of all U.S. agriculture.
"The U.S. pork industry is suffering from a serious labor shortage," said NPPC President Ken Maschhoff, a pork producer from Carlyle, Ill. "We commend Congressman Goodlatte for sponsoring this important legislation, which allows undocumented workers already in the United States to continue working in vital agriculture jobs."

"The U.S. pork industry needs a viable agriculture workforce to remain globally competitive," Maschhoff said. "The current visa programs are not working for pork producers or for the broader agriculture community. The Goodlatte bill will rectify this."