TRUMP'S CRAP ON BORDERS AND HIS PRETEND WALL IS ONLY ONE MORE TRUMP HOAX!
Only a complete fool would believe that Trump is any more for American Legal workers than the Democrat Party for Billionaires and Banksters!
"Trump Administration Betrays Low-Skilled American Workers."
The latest ad from the Federation for American Immigration Reform (FAIR) asks Trump to reject the mass illegal and legal immigration policies supported by Wall Street, corporate executives, and most specifically, the GOP mega-donor Koch brothers.
Efforts by the big business lobby, Chamber of Commerce, Koch brothers, and George W. Bush Center include increasing employment-based legal immigration that would likely crush the
historic wage gains
that Trump has delivered for America's blue collar and working class citizens.
Mark Zuckerberg's Silicon Valley investors are uniting with the Koch network's consumer and industrial investors to demand a huge DACA amnesty
A handful of Republican and Democrat lawmakers are continuing to tout a plan that gives amnesty to nearly a million illegal aliens in exchange for some amount of funding for President Trump's proposed border wall along the U.S.-Mexico border.
THE DEATH OF THE AMERICAN MIDDLE-CLASS
THE ASSAULT ON THE AMERICAN WORKER BY PHONY POPULIST SWAMP KEEPER TRUMP
Companies say they often pay good wages to their imported H-2B workers, often around $15 per hour. But that price is below the wages sought by Americans for the seasonal work which leaves them jobless in the off-season. The lower wages paid to H-2Bs also allows companies to pay lower wages to their American supervisors. NEIL MUNRO
Washington, D.C. (April 17, 2019) -
A new report from the Center for Immigration Studies finds no empirical evidence of a "labor shortage" whereby employers need immigration to fill jobs because they are unable to find American workers.
Jason Richwine, an independent policy analyst and the author of the report, said, "When employers tell us that they cannot find workers, what they really mean is that they cannot find workers willing to work for the low wage they'd like to pay. The percentage of working-age Americans not in the labor force remains significantly below the level from the year 2000, and employers should try to bring those Americans back first before they look to immigration."
View the full report:
https://cis.org/Report/There-No-Labor-Shortage
Key findings in the report:
Shortages should not occur in a free market
Tight labor markets benefit marginalized groups
Wages have been stagnant over the long term
Labor force participation is down over the long term
Domestic industries should hire Americans
Natives participate in all major occupations
Plenty of STEM workers are available
Gains to the economy are not the same as gains to natives
Immigration is not an efficient solution to population aging

Immigration is fundamentally about trade-offs. Unfortunately, advocates have seized on the idea of a "labor shortage" in order to deny those trade-offs, arguing instead that immigration is necessary to fill jobs that cannot be filled by natives. Neither economic theory nor empirical evidence supports the notion of a "labor shortage". It's time to retire this talking point.


Feds: 12M Americans Remain Sidelined, Out of the Workforce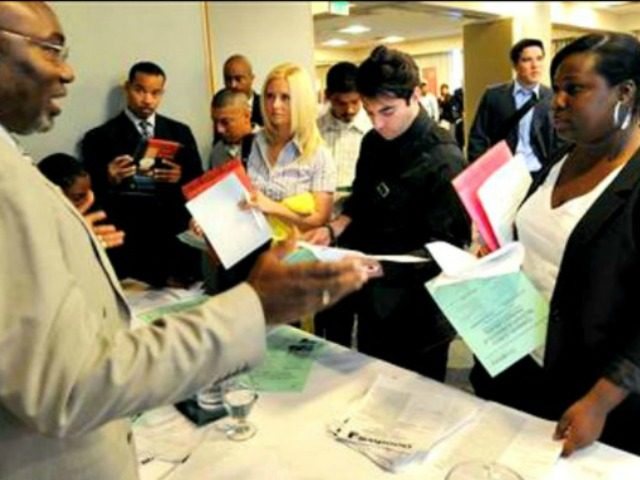 More than 12 million Americans have remain sidelined from the U.S. workforce despite their wanting full-time employment, federal data suggests.
Last month, there were more than 12 million Americans who were either unemployed, forced to work part-time jobs, out of the workforce but wanted jobs, or who were unemployed because they were discouraged by their job prospects.
Overall, about 6.2 million Americans were unemployed, about 13 percent of whom were teenagers and 6.7 percent of whom were black Americans. The unemployment rate for black Americans is more than double the unemployment rate of Asian Americans.
Additionally, about 4.5 million Americans are working part-time jobs despite wanting full-time jobs. These are mostly poor, working and lower-middle class Americans who say the job market has kept them in part-time work though they prefer being a full-time employee.
There are also about 1.4 million Americans who are entirely out of the workforce and thus not counted in the unemployment rate. These are working-age residents who have looked for a job over the last 12 months. Among those out of the workforce are 412,000 Americans who are discouraged by the job market and say they do not believe there are any jobs for them in the current economy.
While millions remain on the sidelines of the workforce, Democrats, some Republicans, and the big business lobby have suggested the U.S. bring more foreign workers to take blue collar and many white collar American jobs. Already, about 1.5 million illegal and legal immigrants are admitted to the country every year, at the detriment of U.S. wages.
Every one percent increase in the immigrant composition of American workers' occupations reduces their weekly wages by about 0.5 percent, researcher Steven Camarotta has found. This means the average native-born American worker today has his weekly wages reduced by perhaps 8.5 percent because of current legal immigration levels.
In a state like Florida, where immigrants make up about 25.4 percent of the labor force, American workers have their weekly wages reduced by about 12.5 percent. In California, where immigrants make up 34 percent of the labor force, American workers' weekly wages are reduced by potentially 17 percent.
Likewise, every one percent increase in the immigrant composition of low-skilled U.S. occupations reduces wages by about 0.8 percent. Should 15 percent of low-skilled jobs be held by foreign-born workers, it would reduce the wages of native-born American workers by perhaps 12 percent.
Senators Tom Cotton (R-AR), David Perdue (R-GA), and Josh Hawley (R-MO), on the other hand, have reintroduced the RAISE Act which would reduce legal immigration levels to about 500,000 admissions a year and end the process known as "chain migration," where newly naturalized citizens are able to bring an unlimited number of foreign relatives to the U.S.
The plan would immediately tighten the labor market, advocates say, and thus boost wages and open job opportunities for America's working and middle class that have struggled to re-enter the workforce.
The Washington, DC-imposed mass legal immigration policy is a boon to corporate executives, Wall Street, big business, and multinational conglomerates, as America's working and middle class have their wealth redistributed to the country's top earners through wage stagnation and increased public costs.
John Binder is a reporter for Breitbart News. Follow him on Twitter at @JxhnBinder.
ANN COULTER