Greece Angered by Erdogan's Proposal to Turn the Hagia Sophia into a Mosque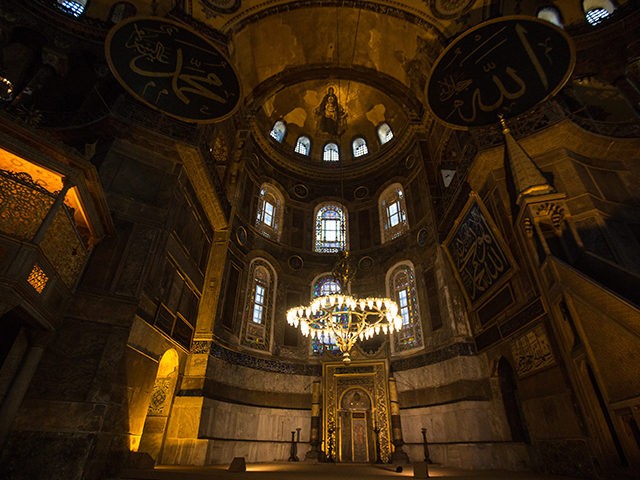 Turkish President Recep Tayyip Erdogan proposed converting the fabled Hagia Sophia into a mosque on Sunday. The Greek government responded with anger on Monday, pointing out that the Hagia Sophia was the seat of Greek Orthodox Christianity for centuries and has been designated a World Heritage Site by the United Nations.
Erdogan said during a television interview on Sunday that the Hagia Sophia might be "reverted" into a mosque, referring to the structure's status as a mosque following the Ottoman conquest of Constantinople in 1453 A.D. The
Hagia Sophia
was constructed as a relatively modest Greek Orthodox church in 360, was destroyed and rebuilt several times, and became the architectural marvel we know today in 537.
When the modern secular Republic of Turkey was founded by Kemal Ataturk, the Hagia Sophia was converted from a mosque to a museum, a status it has held for almost 75 years.
Erdogan, an Islamist who styles himself as heir to the Ottoman empire, disparaged the decision by Ataturk's party to make the Hagia Sophia into a museum, calling it a reflection of their secular "mentality."
"We may as well take a step and change that," he mused.
Turkey's
Daily Sabah
noted some steps have already been taken in that direction: "In 2015, a cleric recited the Quran inside the building, a UNESCO World Heritage site, for the first time in 85 years. The following year, Turkey's religious authority began hosting and broadcasting religious readings during the holy month of Ramadan and the call to prayer was recited inside on the anniversary of the first revelation of the Quran to the Prophet Muhammad."
Erdogan
floated
the mosque conversion in response to a question about whether admission fees to the Hagia Sophia museum might be waived by his government.
"It's not impossible," he replied, "but we would not do it under the name 'museum' but 'Hagia Sophia mosque.'"
"Tourists come and go at the Blue Mosque. Do they pay anything?" he asked. "Well, we will do the same with the Hagia Sofia."
The
Blue Mosque
, formally known as the Sultan Ahmed Mosque, is located directly opposite the Hagia Sophia. It was constructed in 1616 as an
Islamic response
to the majesty of the Hagia Sophia and is regarded as one of the greatest architectural achievements of the Ottoman Empire and among the most elaborate Islamic houses of worship in the world. Its popular name comes from the tens of thousands of handmade blue ceramic tiles covering its floor.
Erdogan's remarks alluded to the fact that the Blue Mosque is both a museum and an active house of worship, permitting tourists when prayer services are not in session.
The
Associated Press
reported on Monday there have been "increasing calls" within Turkey to covert the Hagia Sophia into a mosque, "especially following reports that the gunman who killed Muslim worshippers in New Zealand left a manifesto saying the Hagia Sophia would be 'free of minarets.'"
It is also possible Erdogan floated the mosque proposal as a
populist gambit
to goose turnout for his AKP party in the municipal elections that will be held next week. The Turkish president has been criticized for irresponsibly
using video
of the New Zealand shootings to whip up populist, nationalist, and Islamist fervor ahead of the election.
The Greek government strongly objected to these proposals on Monday. Foreign Minister George Katrougalos
pointed out
that Erdogan explicitly ruled out converting the Hagia Sophia into a mosque in a speech he delivered less than two weeks ago.
"It is not only a great temple of Christendom – the largest for many centuries – it also belongs to humanity. It has been recognized by UNESCO as part of our global cultural heritage," Katrougalos said of the Hagia Sophia.
"Questioning of this status is not just an insult to the sentiments of Christians, it is an insult to the international community and international law," he insisted.
Relations between Turkey and Greece have been strained for years due to such issues as ownership of islands in the Aegean Sea. Those relations became considerably more strained on Monday when two Turkish fighter jets
violated Greek airspace
and harassed a helicopter carrying Greek Prime Minister Alexis Tsipras to the Aegean island of Agathonisi.
"I was harassed by Turkish planes that forced the helicopter I was on to take evasive action, and for what purpose?" Tsipras asked after the incident, which prompted the Greek Foreign Ministry to file a formal complaint with Turkey.
Turkish President Recep Tayyip Erdoğan floated the idea of turning Istanbul's iconic Hagia Sophia back into a mosque in an interview Sunday.
"It is not an abnormal proposal. It is not something impossible, it could be done easily. We could even name it as the Hagia Sophia Mosque instead of a museum so that everybody can visit it without charge," Mr. Erdoğan replied to the question whether the museum could be opened free of charge for Turkish citizens.
"Its status of museum could be stripped off. Actually that status was given by a step taken with the mentality of the [Republican People's Party] CHP. We can take that step taken by the CHP mentality back," he added.
Built as a Christian church in 537 AD, Hagia Sophia served as the seat of the Greek Orthodox Church after the Great Schism of 1054 and became a mosque in 1453 after the Muslim conquest of Constantinople — modern-day Istanbul. The building was later converted into a museum in 1935 as part of the secularization project of Mustafa Kemal Atatürk, founder and first president of the Republic of Turkey, and is a UNESCO World Heritage site since 1985.
Erdoğan began allowing the recitation of verses from the Qur'an in the Hagia Sophia in 2015, at which time, the government of Greece protested, saying that Islamic prayers in the basilica were "not compatible with modern, democratic, and secular societies."
"Hagia Sophia is a UNESCO world heritage site. The attempt to convert it into a mosque—through reading of the Koran, holding of prayers, and a number of other actions—is an affront to the international community, which needs to be duly mobilized and to react," the Greek Foreign Ministry said.
Earlier this month, several hundred Muslim demonstrators protested the New Zealand mosque shootings outside Hagia Sophia, calling for the edifice to be reconverted into a mosque. The demand came in response to a taunt by the Christchurch gunman in his "manifesto," in which he reportedly said "Hagia Sophia will be free of minarets."
In his interview Sunday, Erdoğan pointed to other historic mosques in Istanbul, such as the Blue (Sultanahmet) Mosque, which welcome both visitors and worshippers without charge.
He also said that the attack in Christchurch "was not an individual act of terrorism but an organized act of terrorism," while praising New Zealand Prime Minister Jacinda Ardern for her "applaudable statements" and strong stance after the attacks.
Follow Thomas D. Williams on Twitter
Follow @tdwilliamsrome
Islamists Burn Houses, Murder Nine More Christians in Nigeria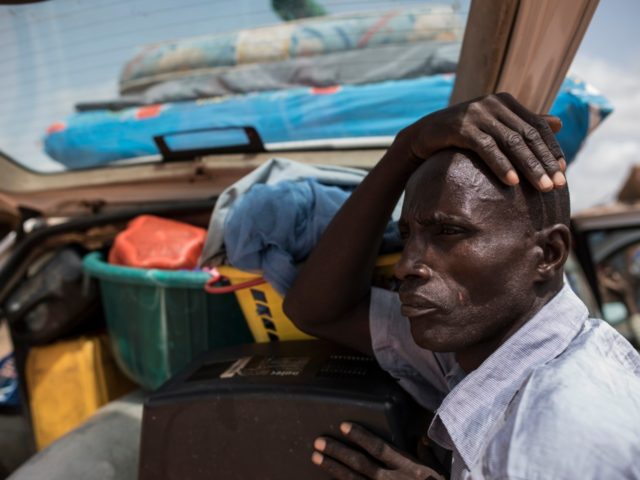 Muslim Fulani militants killed nine more Christians in Nigeria's Middle Belt over the weekend, the latest strike in a string of lethal, religiously motivated attacks.
The governor of Kaduna state, Nasir El-Rufai, confirmed that the assault in the Sanga local government area had claimed at least nine lives, adding to the death toll of 120 Christians massacred in central Nigeria since February.
"The security agencies have so far recovered nine corpses, including children," El-Rufai said. "The attackers also burnt several houses in the village. The government condemns this attack on the lives and security of citizens and appeals to our communities to resist those who do not want peace."
A week ago, the Fulani jihadists, who have become a greater threat to Nigerian Christians than the Islamist terror group Boko Haram, raided the villages of Inkirimi, Dogonnoma, and Ungwan Gora in the Kajuru Local Government Area, destroying 143 homes, killing 52 people, and wounding dozens more.
From June 2015 to June 2018, Fulani militants "killed 8,800 Christians and other non-Muslims," Nigeria's Daily Post reported last year. During that same period, terrorists torched "not less than 1,000″ churches and other places of worship.
Despite the severity of these massacres, they went virtually unreported by international media.
Governor El-Rufai has vowed that the government, security agencies, and religious institutions will work towards creating "sustainable peace."
"In this moment of grief, we must come together to defeat the machinations of those who have no notion of respect for the lives of others," El-Rufai said.
"Violence has left an unacceptable toll of death and injury, loss of livelihoods, pain and fear. We must overcome this by respecting our common humanity, settling differences peacefully and promptly reporting threats and suspicions to the appropriate authorities. Evil will never triumph over our common humanity," he said.
When mainstream media have reported on the slaughter of Christians in central Nigeria, they have downplayed the religious nature of the killings, preferring to attribute the violence to "ethnic tensions," a "battle for land and resources," or even "climate change."
Nigeria's President Muhammadu Buhari, who is himself of the Fulani ethnic group, has encouraged this narrative, minimizing the importance of religion in the conflict.
Two local Catholic bishops, however, along with other Christian leaders, have insisted in calling out the violence for what it is: a "clear agenda for Islamizing the Nigerian Middle Belt" by using armed Fulani jihadists.
One of the bishops, Matthew Ishaya Audu of Lafia, said last year that the ongoing attacks are not random or economically motivated, but purposefully target Christians.
"They want to strike Christians," Bishop Audu said, "and the government does nothing to stop them, because President Buhari is also of the Fulani ethnic group."
Other observers agree that the attacks form part of a larger plan to eliminate Christians from the area.
"The killings are becoming no longer herder and farmer clashes" but a "deliberate attempt to conquer and occupy the land of the people's ancestral heritage," said Dr. Soja Bewarang, while denouncing an attack on a Bible school that trained Christian missionaries in Gana-Ropp village.
Reverend Gideon Para-Mallam, of the International Fellowship of Evangelical Students in Jos, said that the violence is part of a pattern, an emerging agenda, which represents "another Boko Haram in disguise."
The targeted nature of the attacks in central Nigeria is indicative, Para-Mallam said, "because Plateau state is the epicenter of Christianity."
President Buhari condemned the most recent violence and the "ethnic and religious bigotry" in a statement Saturday. He stressed, however, that all "communities involved" must find a "lasting solution."
"[The] lack of cooperation by those involved might frustrate government's efforts towards finding a lasting solution, especially if those efforts are politicized," Buhari said. "If the people resist government's efforts to hold the perpetrators and their sponsors accountable, it would be very difficult to bring the violence to a permanent end."
In its 2018 report, the independent United States Commission for International Religious Freedom (USCIRF) determined that Nigeria should be designated as a "country of particular concern," or CPC, a term for governments "that engage in or tolerate systematic, ongoing, egregious violations of religious freedom."
The USCIRF has designated Nigeria a CPC every year since 2009.
Mentally Disabled Christian Beaten by Muslim Mob in Pakistan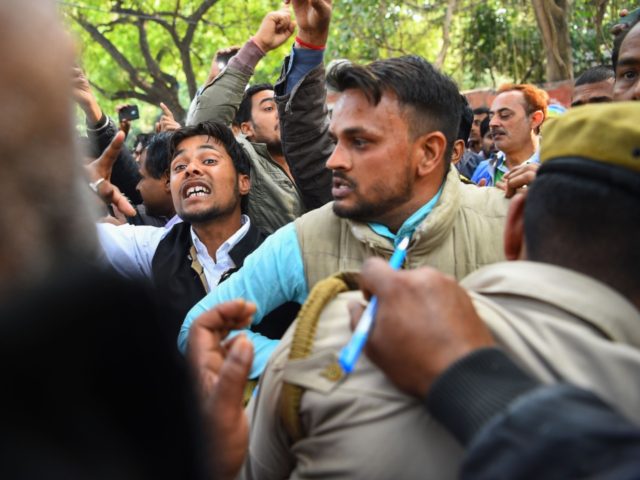 A Pentecostal Christian with a mental disability was beaten up by a Muslim crowd in Pakistan last week, after a neighbor accused him of blasphemy against the prophet Muhammad.
Hafiz Mudassir, a Muslim cleric, reportedly burst into the home of 42-year-old Stephen Masih on the morning of March 11 in the Sialkot District, north of Lahore, accusing the mentally disabled man of blasphemy.
According to Francis Masih, Stephen's older brother, Stephen had become engaged in a heated discussion with a Christian brother-in-law over fasting and prayer during Lent when he became irritated and began shouting. Overhearing the argument, their Muslim neighbor Mr. Mudassir took it upon himself to reprimand him.
"We told Mudassir that it was not right for him to intervene in our family issue, but he took offense and raised hue and cry in the street, alleging that Stephen had committed blasphemy," Masih said.
Mudassir reportedly stormed out of Stephen's house in anger, warning that he would teach Stephen a lesson. Not long afterward, Mudassir returned, leading a mob of angry Muslims.
"Mudassir and Mohammad Rafiq, another neighbor, provoked them to attack Stephen," Masih said. "They not only beat him up mercilessly but also attacked other family members who tried to save him."
Someone eventually called the police, who rescued Stephen from the violent mob, he added.
"The police took my brother away, and it was after some time that we learned that he had been charged with blasphemy," Masih said.
"We have been running from pillar to post, as we are very worried about his condition, especially since he was ruthlessly beaten up by the mob, but the police are not arranging our meeting. They keep telling us that he is safe and being taken care of," he said.
In his testimony to Badiana police, Mudassir said he had been standing outside his house when he heard Stephen Masih shouting insulting words about Muhammad.
"I and another neighbor, Mohammad Rafiq, repeatedly asked Stephen to refrain from uttering blasphemous remarks, but he did not pay heed to our requests," Mudassir told police. "This blasphemous act has caused immense agony to Muslims of the neighborhood, therefore Stephen should be punished as per the law."
According to news media, the report was filed under Section 295-C of Pakistan's blasphemy law, which calls for the death penalty for defaming the prophet Muhammad.
Mohammad Ashraf, the official who registered the case, told Morning Star News that police have not yet determined whether Stephen's diminished mental capacity will be a factor.
"We are investigating the matter, but I cannot yet comment on the family's claim that Stephen is mentally disabled," he said. "It is up to the judge to decide once we present him in court."
Stephen's sister Alia said that when her brother was in the 5th grade, he came down with typhoid fever and became mentally unwell. Stephen had to drop out of school due to his illness, and his behavior began to change.
Around 12 years ago, a doctor from the Civil Hospital declared Stephen mentally disabled, but the family does not have the medical report.
Faraz Masih, the victim's nephew and an eyewitness to the event, said the entire neighborhood is aware of Stephen's mental status and local children often tease and bait him into arguments.
Francis Masih said that when his brother was younger a doctor advised the family to commit Stephen to a mental health facility, but their mother was unwilling to send him away.
"And now we don't even know where he is being kept and in what condition," he said.
At only two to three percent of Pakistan's total population, Christians are particularly vulnerable to persecution under Pakistan's blasphemy laws, which date back to the military dictatorship of General Muhammad Zia-ul-Haq (1978-1988).
In 1980, Pakistan's Penal Code was amended to criminalize derogatory remarks against any Islamic personage, with a punishment of three years in prison. Two years later, a clause was added prescribing life imprisonment for willful desecration of the Qur'an and, in 1986, another clause was added to include blasphemy against the Prophet Muhammad as a crime punishable by death or life imprisonment.
For years, the U.S. Commission on International Religious Freedom (USCIRF) pressed the State Department to issue a stronger condemnation of Pakistan for its grave violations of religious freedom, advising it to add Pakistan to its list of Countries of Particular Concern (CPCs).
Pakistan's "repressive blasphemy laws" continue to "violate religious freedoms and to foster a climate of impunity," the USCIRF said.
In its 2015 annual report, the USCIRF stated that "Pakistan represents one of the worst situations in the world for religious freedom for countries not currently designated by the U.S. government as 'countries of particular concern.'"
In January 2018, the U.S. State Department announced that it would finally add Pakistan to its Special Watch List for severe religious freedom violations, citing the egregious abuse of Christians, Hindus, Ahmadi Muslims, and other minorities in the country.
Soon after, the U.S. State Department warned Americans against travel to Pakistan, citing Islamabad's enforcement of the nation's strict blasphemy laws, which have primarily targeted Christians and other minorities in the Sunni Muslim-majority country.
"Sectarian violence remains a serious threat throughout Pakistan, and the Government of Pakistan continues to enforce blasphemy laws. Religious minority communities have been victims of targeted killings and accusations of blasphemy," it said in a statement.
Follow Thomas D. Williams on Twitter