AS LONG AS THEY ARE SICK THEY WILL NOT BE INVADING AMERICA OR MURDERING PEOPLE!
Islamic State Wives: 'Only Infidels Will Die' of Chinese Coronavirus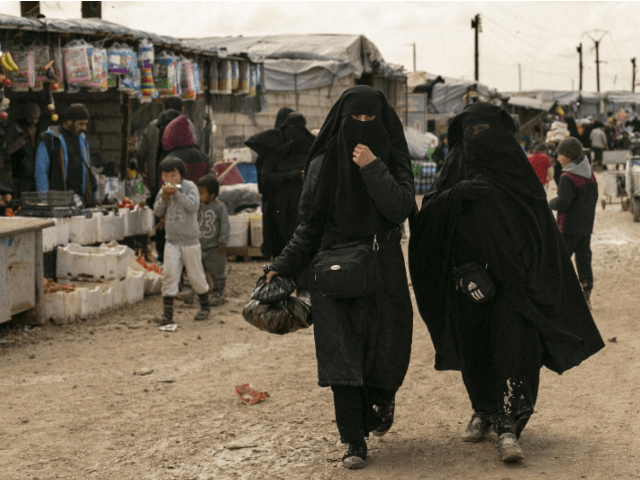 The wives of Islamic State jihadis told Kurdistan's Rudaw news agency on Thursday that they are immune to the Chinese coronavirus, claiming that it is a form of divine retribution from Allah against infidels and non-Muslims.
Rudaw visited the wives and relatives of Islamic State terrorists kept at the al-Hol camp in Syrian Kurdistan. Asking them if they are concerned about the Chinese virus, the jihadis replied the pandemic is a form of divine retribution towards "crusader nations" who reject the teachings of Islam.
"Muslims won't die of this virus, only infidels will," one of the wives explained. "God has sent his army. This is one of God's soldiers."
Northeast Syria has not documented any cases, but those managing the Al-Hol camp do not currently have the necessary equipment to test individuals for the coronavirus. The few individuals tested need to wait for their samples to travel to Damascus and back. Northern Syria is controlled by Kurdish militias, while Damascus is still in the hands of dictator Bashar al-Assad.
According to expert Aymenn Jawad Al-Tamimi, cited by Rudaw, the Islamic State urged their fighters in a newsletter to exploit the fact that most nations on preoccupied with containing its spread.
Al-Tamimi provided both a translation and summary of the newsletter, where the ISIS leadership explain that the "crusader nations have become preoccupied with security in their own lands, deploying some of their own security forces and armies in light of the epidemic and its current and potential ramifications on things like the economy, prices of goods, and the potential for chaos and disorder."
The 'Crusaders' also face the pressures of their external military deployments at a time when they have been seeking to bring their troops home, even as they seek to reduce the likelihood of 'mujahideen' attacks against them inside their own countries and elsewhere. The last thing they want is for their current tribulations with the pandemic to coincide with the attacks in their own countries like the attacks in Paris, London and Brussels, or for the 'mujahideen' to conquer parts of the Earth as occurred in the past.
There is evidence that the pandemic has also failed to slow the current Islamic State insurgency, with the group staging a minor resurgence across Syria. Two Kurdish Peshmerga fighters were killed and another wounded following an attack on Tuesday evening, while on Thursday militants also killed two Popular Mobilization Forces fighters near Al-Sadeq military airport.
According to the London-based Syrian Observatory for Human Rights (SOHR), the caliphate carried out a large scale attack on al-Sokhna town in Syria's eastern province of Homs, killing 27 regime soldiers and loyalist militiamen. At least 22 jihadis were later killed by retaliatory Russian airstrikes, the group added.
Up to 150 members of the Saudi royal family 'are infected with coronavirus': King Salman and Mohammed bin Salman 'have both gone into isolation to avoid the outbreak'
Doctors at the King Faisal Specialist Hospital in Riyadh are preparing 500 beds
Staff were told that 'directives are to be ready for VIPs from around the country'
The country of about 33 million people has reported 2,932 cases and 41 deaths
King Salman and Mohammed bin Salman have both gone into isolation to avoid the outbreak, reports added.
Doctors at the elite King Faisal Specialist Hospital in Riyadh that treats members of the royal family are preparing 500 more beds for an expected influx of patients.
The operators of the facility said: 'Directives are to be ready for VIPs from around the country'.
King Salman (pictured) and Mohammed bin Salman have both gone into isolation to avoid the coronavirus outbreak, it has been reported
This was written in a 'high alert' sent out electronically on Tuesday to senior doctors and later obtained by the Times.
The message said they don't know how many cases they will get but that all chronic patients are to be moved out as soon as possible and only top urgent cases will be accepted.
Any infected staff members will now be treated at a less elite hospital to save room for royals.
Salman, 84, has secluded himself on an island palace near Jeddah, while the crown prince has moved to a remote site on the Red Sea coast.
Salman, 84, has secluded himself on an island palace near Jeddah, while the crown prince (pictured) has moved to a remote site on the Red Sea coast
Doctors at the elite King Faisal Specialist Hospital that treats members of the royal family are preparing 500 more beds for an expected influx of patients. Pictured: two women wearing masks in Qatif
The number of Saudi princes is in the thousands and many travel frequently to Europe where it has been suggested they picked up the virus before bringing it home. The Saudi royal family is estimated to have about 15,000 members.
Saudi Prince Faisal bin Bandar bin Abdulaziz Al Saud - the governor of the capital Riyadh who is in his 70s - is in intensive care after contracting the virus, according to
The New York Times
.
The country of about 33 million people has reported 2,932 cases and 41 deaths.
So far, mostly members of lower branches of the royal family have been infected, a source told the Times.
Saudi Arabia
is expecting up to 200,000
coronavirus
cases within weeks, the country's health minister said on Tuesday.
'Within the next few weeks, studies predict the number of infections will range from a minimum of 10,000 to a maximum of 200,000,' said minister Tawfiq al-Rabiah, according to state media.
Rabiah, who warned the kingdom faces a 'critical moment' in the fight against the virus, said the projection was based on four studies by Saudi and international experts.
Some Saudi cities including the capital Riyadh are under a 24-hour curfew imposed by the interior minister.
Some Saudi cities including the capital Riyadh are under a 24-hour curfew imposed by the interior minister. Pictured: an empty King Fahad main street in the Saudi capital Riyadh
Tabuk, Dammam, Dhahran and Hofuf are also under lockdown, as well as the regions of Jeddah, Taif, Qatif and Khobar.
The Gulf port of Dammam is a major entry point for supplies for the country's oil industry.
The holy cities of Mecca and Medina have also been sealed off, throwing this year's hajj pilgrimage into doubt.
Authorities last week urged Muslims to temporarily defer preparations for the annual pilgrimage, but have yet to say whether the hajj will go ahead.
As in many Middle East countries, Saudi Arabia's first case was a patient who had recently travelled to Iran, which was one of the early hotspots in the pandemic.
Advertisement
Read more:
THESE ARE THE SHITBAG MUSLIMS WHOSE BORDERS WE HAVE DEFENDED FOR TWO YEARS. THE VERY SHITBAG SAUDIS THAT THE BUSH CRIME FAMILY STARTED TWO WARS TO PROTECT AFTER THE SAUDIS INVADED US 9-11
MBS: The Rise to Power of Mohammed bin Salman
Ben Hubbard. Random House/Duggan, $28 (384p) ISBN 978-1-9848-2382-3
Journalist Hubbard debuts with an incisive portrait of modern Saudi Arabia and 34-year-old crown prince Mohammed bin Salman, better known by his initials MBS. Though much about MBS's early years remains unknown, Hubbard details his close relationship with his father, the governor of Riyadh, following the untimely deaths of two of MBS's older half-brothers, and his willingness to threaten with violence those who don't fall in line. After his father's ascension to the throne in 2015, MBS took control of the royal court and became minister of defense. He implemented ambitious social and economic reforms, including rolling back the kingdom's ban on women drivers, and courted Western investors with plans to build a $500 billion "smart city" near the Red Sea. He also declared war on the Houthi rebels in Yemen, escalated tensions with Iran and Qatar, detained hundreds of ministers and royal family members in the Ritz-Carlton hotel in a move billed as an anti-corruption push, and empowered underlings to aggressively silence dissidents—a campaign that led to the slaying of journalist Jamal Khashoggi in Saudi Arabia's Turkish consulate in 2018, severely damaging MBS's international reputation. Hubbard enriches the narrative with informed discussions of Saudi history and culture, illuminating the kingdom's complex blend of religious fundamentalism and technological ambition. This deeply researched and vividly written account provides essential insight into a figure poised to lead the region for the next half century. (Mar.)
Saudi Arabia's crown prince responds to coronavirus by getting rid of enemies
David A. Andelman
Saudi Arabian Crown Prince Mohammed bin Salman is facing some existential problems. He's losing
the war in Yemen
, the coronavirus has forced him to scale back visits by millions to the holy cities of
Mecca and Medina
, and the plummeting price of oil on the back of
a supply war
with Russian President Vladimir Putin are together shaking the most fundamental underpinnings of his leadership — not to mention threatening a global recession.
So what does he do? He takes a leaf out of President Donald Trump's playbook by getting rid of some of his most (allegedly) troublesome opponents. Instead
of a simple purge
,
however, the crown prince, known by his initials, MBS,
took the far more dramatic step of arresting his cousin
, Prince Mohammed bin Nayef; his uncle, Prince Ahmed bin Abdelaziz, as well as one of Nayef's brothers and one of Abdelaziz's sons. The first two have been charged with treason, which carries the death penalty. The crown prince was already in hot water for allegedly ordering the execution-style slaying of
Washington Post columnist Jamal Khashoggi
. But with this escalation, the Saudi leader is pushing the boundaries once again to see what exactly he can get away with.
All these issues have been brewing for some time. The crown prince has given no quarter in five years of war in Yemen, which has turned very much into
a proxy war with Iran
— each power supporting opposing factions for control of this strategic corner of the Arabian peninsula.
The Saudis have long been watching anxiously as
demand for oil ratcheted down
and new energy sources, particularly from the United States, have come online. With the onset of the coronavirus pandemic, demand for oil has plunged even further.
To hold prices in line, the Saudis called an emergency meeting last week of the
OPEC oil cartel
to lower production quotas. Russia balked at
OPEC's demand
, led by Saudi Arabia, to cut 1.5 million barrels a day in output and stabilize prices at $40 a barrel. Putin has no problem with low oil prices, since Russia's cost of production is
under $20 a barrel.
But he would like to see America's fracking efforts — an already costly proposition to — become uneconomical.
Without a deal, Saudi Arabia said it would
sell oil to China
for a discount and potentially raise its own output by as much as 2 million barrels a day — moves that would result in flooding the market with oversupply. Oil prices around the world plummeted more than 25 percent Monday to $31 a barrel. Since oil still underpins the Saudi economy,
accounting for 50 percent of its GDP
and some 70 percent of its export earnings, this is a serious gamble for the crown prince, who has pledged to modernize and diversify his country's financial future.
And then along came the coronavirus. Here the crown prince has been forced to make some of the toughest decisions of his career. The one that has already sent shock waves through the Islamic world was his decision to
suspend the year-round umrah
pilgrimage in which as many as 20 million faithful — most from Saudi Arabia itself — take part every year. This has also raised the question of whether the annual hajj pilgrimage, which attracts millions Muslims more from every corner of the globe, would be allowed at the end of July.
Throughout,
criticism of the crown prince
has quietly been mounting at home. He wants desperately to succeed his father on the throne;
King Salman is now 84
and said to be frail. Still, the day after the arrest of the four princes stunned the kingdom, the king was
shown in photos
released by the royal palace to be in good health, receiving foreign ambassadors and reading state documents. Perhaps the king is anxious to remain in power to welcome world leaders to the G-20 summit in Riyadh in November.
What has allowed the crown prince such a free hand? Certainly he has benefited from the unalloyed support of his father, who seems to accept his son's overt power grabs. Unanimity is vital since the next king is not chosen until the previous one has died. The crown prince clearly wants nothing left to chance.
But he also has innumerable enablers — world leaders and business leaders alike — who have repeatedly failed to confront the leader.
Amazon's Jeff Bezos
was photographed beaming next to him not long before the crown prince was revealed to have ordered the disastrous hacking of Bezos' cellphone.
But the crown prince's manipulations — and Trump's inaction — have a price. In the early morning hours on Tuesday,
the prince and Trump talked on the phone
, according to a White House official. Hours later, the Saudi prince flooded the oil market, hammering world stock, bond and currency markets.
This price war, of course, has implications for Trump's own re-election in November — especially if it threatens the American oil industry, which employs some
9.8 million American workers
and is projected to add as many as 1 million more U.S. fracking jobs in the next five years.
The crown prince and Trump are currently facing a very similar set of challenges: The coronavirus threatening Americans at home and Muslims in Mecca and Medina; oil price and supply disruptions affecting the economies of both nations; unresolved and increasingly expensive wars respectively in Afghanistan and Yemen.
Perhaps now is the time to begin to break that circle of dependency before an impending crisis becomes a real crisis.