Elizabeth Warren Introduces Bill to Combat 'Hunger' on College Campuses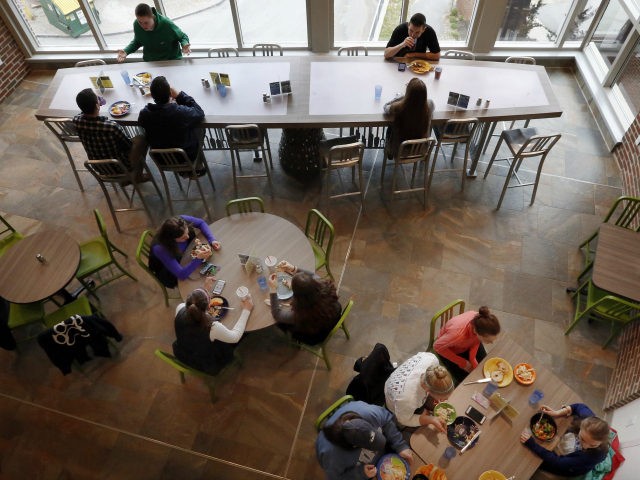 Democrat presidential candidate and Massachusetts Sen. Elizabeth Warren (D-MA) introduced a bill alongside Rep. Al Lawson (D-FL) Wednesday aimed at combatting "hunger" among students on college campuses.
The College Student Hunger Act of 2019 addresses "food-insecurity" by granting greater access to the Supplemental Nutrition Assistance Program (SNAP), often dubbed "food stamps," to low income college students. The bill is largely based on findings from a Government Accountability Office (GAO) report. However, the study admitted that the findings should not be used as a broad brush.
Our review of 31 studies provided some information regarding food insecurity among college students, but all of the studies have limitations and none provide estimates of food insecurity for this population in general. Estimates of food insecurity among college students included in the studies we reviewed ranged from 9 percent to well over 50 percent, with 22 of these of 31 studies estimating food insecurity rates of over 30 percent. These results reflect the studies' different samples and methods, and the estimates from the studies included in our review are not generalizable to the college student population as a whole. None of these studies are based on a sufficiently large or diverse random sample of college students to constitute a representative study.
Despite that, Warren and Lawson asserted that more than 30 percent of students face food insecurity and cited findings that revealed that "almost 2 million at-risk students who are potentially eligible for SNAP did not receive benefits in 2016."
Their bill expands exceptions for part-time and full-time students to receive SNAP benefits "if they receive the maximum Pell Grant award, are in foster care, a veteran of the Armed Forces, or are classified as an unaccompanied youth who is homeless."
In addition to increasing eligibility, the bill focuses on increasing "outreach to eligible students" and "awareness of student eligibility."
"As more and more students struggle to afford colleges without a mountain of student loan debt, nearly one-in-three college students cannot even afford basic necessities like food," Warren said in a statement.
"Our bill will ensure students have the support they need as they work hard toward a better future without going hungry," she added.
Lawson said food insecurity is a "real concern" for many college students. She cited rising tuition costs.
"The significant increase in college tuition over the last decade has forced students to make a choice between buying food or paying for books and housing expenditures," Lawson said.
"This bill will help to relieve some of that financial burden for them. I am proud to work with Sen. Warren to introduce this critical piece of legislation," he added.
Warren's support for the bill does not come as a surprise, as the Democrat presidential candidate has focused a sizable portion of her campaign on promising to wipe out student debt and offering universal free college.
Warren's plan, which would cost roughly $640 billion, would eliminate up to $50,000 in student debt for each person with less than $100,000 in household income. The Massachusetts senators' plan would also lower college debt for those making incomes between $100,000 and $250,000 but at a more gradual rate. Americans with household income over $250,000 would not receive student debt relief.

Sen. Warren would then eliminate tuition and fees fro all two-year and four-year public colleges as a means to restructure the higher education system to ensure that Americans do not accumulate more college debt.
"We can address the student loan crisis and cancel debt for families that are struggling. We can provide truly universal free college," Warren wrote in a Medium post.
"We can fix some of the structural problems that are preventing our higher education system from fairly serving lower-income students and students of color. We can make big structural change and create new opportunities for all Americans," she added.
Washington, D.C. (July 16, 2019) –
A new analysis of government data from the Center for Immigration Studies shows that immigration between 1990 and 2017 added nearly 43 million people to the population — including both immigrants and their progeny. However, it had a minimal impact on the share of the population that is of working age. This is because immigration added to both the working-age population and to those outside of the working-age population in nearly equal proportions. The analysis also finds that post-1990 immigration has had a somewhat larger impact on the ratio of workers to retirees. However, raising the retirement age by one year has as large an impact on the ratio as do the nearly 43 million post-1990.
Steven Camarota, the Center's director of research and co-author of the report, said, "Looking at the large and relatively young population of post-1990 immigrants and their progeny is a good test of the often cited argument that immigration can solve the problem of America getting older. However, this analysis demonstrates something researchers have long known: Immigration can add a lot of people to the population – but it is no fix for an aging society."
View the full report:
https://cis.org/Report/Can-Immigration-Solve-Problem-Aging-Society
Among the findings:
In 2017, there were 30.8 million post-1990 immigrants (legal and illegal) and 12 million of their U.S.-born children and grandchildren in the country — 42.8 million in total, or one in eight U.S. residents.
While adding significantly to the population, the presence of post-1990 immigrants and their progeny only increased the working-age (16-64) share of the population from 63.9 percent to 64.4 percent.
The working-age share can be seen as the best way to think about the ability of society to pay for government or support the economy, as both children and the elderly generally do not work and are supported by the labor of others.
Immigration had a small impact on the working-age share because immigrants arrive at all ages, grow older over time, and have children, so they added to both the working-age and those too old or too young to work in nearly equal proportions.
Even if the number of post-1990 immigrants and their offspring were doubled to almost 86 million—about one in four residents—it would still only have raised the working-age share to 64.8 percent — 0.9 percentage points higher than if there had been no immigration.
Excluding children, and looking only at the number of working-age people (16-64) relative to those of retirement age shows that post 1990-immigration increased the ratio from 3.7 potential workers per potential retiree to 4.1.
If the retirement age was raised by just one year, assuming no immigration, the ratio of workers to retirees would be 4.1, matching the effect of post-1990 immigration.
Increasing the retirement age by two years it would have increased the worker to retiree ratio to 4.5 in 2017, significantly more than the 43 million post-1990 immigrants and their children.
While this analysis is focused on all immigrants (legal and illegal), we roughly estimate that 32 percent (13.8 million) of the people immigration has added to the country since 1990 are illegal immigrants or their progeny. Since legal and illegal immigration together have a modest impact on the working-age share or the worker-to-retiree ratio, the impact of illegal immigration by itself is very small.
In terms of using immigration as a way to pay for entitlement programs, it must also be pointed out that a large share of post-1990 immigrants and their children struggle, living in or near poverty and using welfare programs at relatively high rates, makes it difficult for them to generate a fiscal surplus to pay for social insurance programs.
In 2017, 45 percent of households headed by post-1990 immigrants or their adult children used one or more major welfare programs, compared to 26 percent of native-headed households. The rates of poverty or near poverty for post-1990 immigrants and their children were 50 to 60 percent higher than that of natives.
WATCH: Protesters Replace American Flag with Mexican Flag at ICE Facility
Protesters outside a U.S. Immigration and Customs Enforcement (ICE) facility in Aurora, Colorado, on Friday removed an American flag from its flagpole and replaced it with the Mexican flag.
Reports state that hundreds of people gathered outside the facility where illegal immigrants are housed to protest the ICE raids scheduled to begin on Sunday.
It reads:
Tens of thousands of refugees/asylum seekers – babies, toddlers, children, and adults – are being brutalized in concentration camps across the US. People of good conscience must come together to stop the dehumanization and abuse of all who are being held in these horrific conditions. Join us as we hold all elected officials responsible for the continued mistreatment of asylum seekers and the separation of families.
Rep. Alexandria Ocasio-Cortez (D-NY), who is a self-described Democratic-socialist, also continues to describe the holding facilities as "concentration camps."
"@AOC Concentration camps assured a slave labor supply to help in the Nazi war effort, even as the brutality of life inside the camps helped assure the ultimate goal of 'extermination through labor," they wrote.