388 SHERIFFS FROM 40 STATES SAY BUILD
Mexico says we will simply tunnel under it!
Bristol County, Massachusetts, Sheriff Thomas Hodgson
state in an
open
letter,
issued on March 21, makes clear that the responsibility for the continued carnage of innocent Americans caused by those who shouldn't be present in the country in the first place lies firmly in the lap of Congress. "Because Congress has failed to enact the necessary reforms, our citizens and legal residents face even greater dangers, our national security is more vulnerable, and our enforcement efforts have been seriously compromised"
Report: Opioid Drugs Dragged 1 Million Americans Out of the Workforce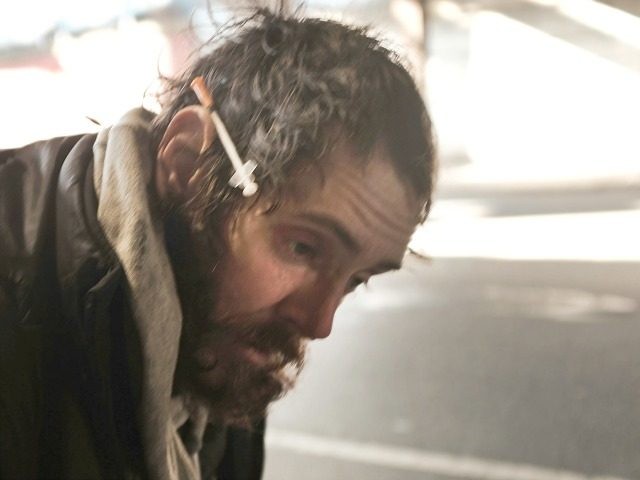 Almost 1 million prime-age Americans were dragged out of the 2015 labor force by Chinese-supplied fentanyl, Mexican heroin and U.S-made prescription opioid drugs, says a report by the American Action Forum, a business-first advocacy group.
The economic impact of this opioid drug disaster adds up to $91 billion in lost productivity during 2015, alongside 42,000 deaths in 2016, says the group, which also advocates for easier migration of foreign workers.
The report shows that 4 million prime American men and women — aged 25 to 54 — left the workforce between 1999 and 2015. The huge departure has been blamed on trade, on technology and the decline in blue-collar wages, and it accelerated in 2008 when the economy collapsed because of the government's risky and bipartisan push to expand home-ownership.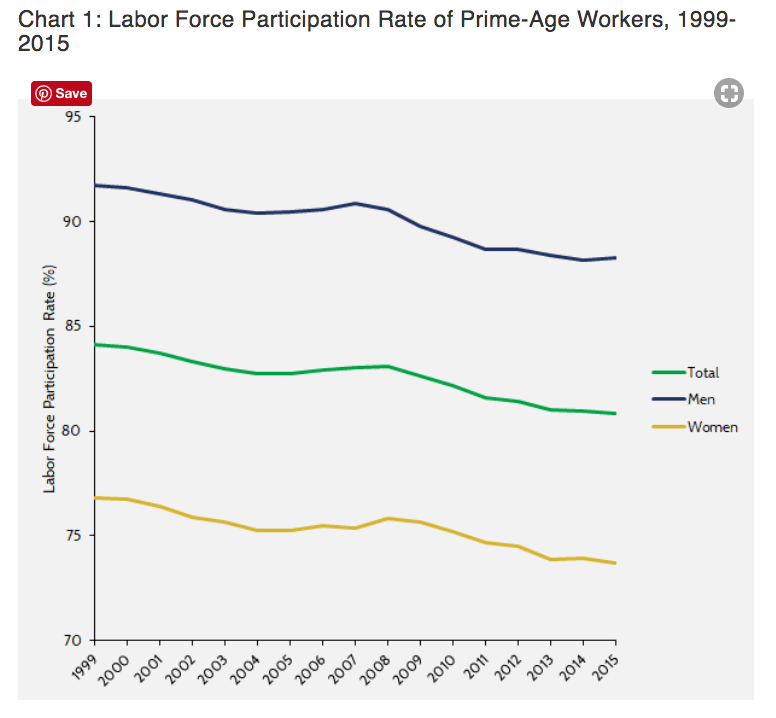 Overall, roughly one-quarter of the 4 million Americans who quit the workforce were also entangled in drugs, says the AAF report, which does not offer any recommendations for fixing the drug-and-workforce problem.
However, President Donald Trump has repeatedly argued that a border wall can reduce the flow of drugs, and that immigration reform will raise wages, drag Americans back to work, and away from drugs.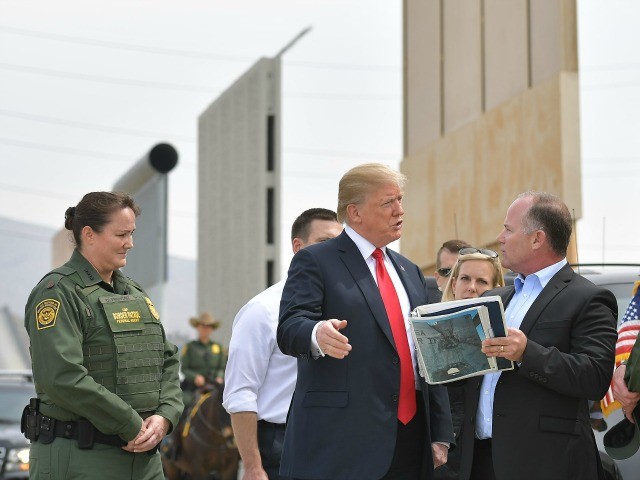 Although labor market shifts that have lowered demand and wages for less skilled workers have not been a focus of this study, policies that raise after-tax wages for low-wage workers, such as an increase in the minimum wage or expansion of the Earned Income Tax Credit, would also likely help raise labor force participation.
Post-2015 data shows Trump's immigration-and-drugs plan seems to be working. For example, since 2014, the number of Americans who say health problems keep them from working has fallen by 1.5 million as CEOs are forced to hire marginalized Americansworkers because populist voters have blocked multiple amnesty bills since 2013.
Disabled Americans are getting more jobs as CEOs try to recruit new workers without raising wages in President Donald Trump's tight labor market …

The number of disabled unemployed has dropped by 1.5 million, down to 6.7 million in 2018. The number had risen from 5 million in 1998 up to 7.2 million in 2014 …

… the 2013 "Gang of Eight" amnesty-and-immigration bill … would have dropped wages for at least a decade by adding up to 30 million legal workers in one decade, according to the June 2013 report by the Congressional Budget Office:

Because the bill would increase the rate of growth of the labor force, average wages would be held down in the first decade after enactment by a reduction in the ratio of capital to labor.
The AAF report carefully explains the economic and civic impact of the drug disaster:
America's growing dependency on painkillers has evolved into a full-blown crisis. In particular, millions of people have developed opioid-related substance abuse disorders, leading to a rapid rise in opioid overdoses. In 2016 alone, over 42,000 people died after overdosing on opioids, a 28 percent increase from 2015.[1] Moreover, in 2016, for every fatal opioid overdose, there were over 30 nonfatal overdoses.[2]

While the opioid crisis poses clear health problems, it is likely also negatively affecting the U.S. economy. The recent decline in the labor force participation rate of prime-age workers (ages 25 to 54) is a major factor restricting long-run economic growth, and research suggests that opioid dependency is a principal reason these individuals are leaving the workforce. This study estimates how many prime-age workers are absent from the labor force due to opioid dependency, the loss of hours at work, and the resulting decline in real (inflation-adjusted) economic output. It finds that from 1999 to 2015, opioids steadily drew workers out of the labor force. By 2015, 919,400 prime-age workers were out of the labor force due to opioids. Between 1999 and 2015, this decline in labor force participation cumulatively cost the U.S. economy 12.1 billion work hours and $702.1 billion in real output ($43.9 billion per year) …

To put these figures in perspective, consider that the average annual lost output of $43.9 billion equates to $140 per U.S. resident. The $91.6 billion lost in 2015 translates to $290 per resident.[27] Moreover, between 1999 and 2015, real GDP grew at an annual compounded rate of 2 percent. Had opioid dependency not drawn so many workers out of the labor force, real GDP would have grown at a 2.2 percent rate, a 0.2 percentage point (or 10 percent) increase in the economy's growth rate.
The report also cites other studies' estimate of the accumulating economic cost of the drug crisis:
Researchers from the Centers for Disease Control (CDC) estimated the economic costs in 2013 of the opioid epidemic to be $78.5 billion.[15] Part of that cost estimate comes from a reduction in productivity due to opioids, an effect that does slow economic growth. But, a large portion of the cost estimate is cost burdens that opioid dependency places on individuals. In particular, the CDC's $78.5 billion cost estimate includes individual spending on health care, substance abuse treatment, and legal expenses …

the Council of Economic Advisers (CEA) estimated the economic costs of the opioid epidemic to be $504 billion in 2015.[16] Yet, most of the CEA's estimate is based on welfare costs associated with drug overdose fatalities. In particular, the CEA employs "value of statistical life" (VSL), a metric that federal agencies often use to quantify the benefits of a regulation that reduce fatalities. VSL represents the value of an individual's life and is measured by estimating the amount that society is willing to pay for a single individual to continue living …

Most recently, Altarum estimated that since 2001 the opioid crisis has imposed over $1 trillion in economic costs.[17] While the study incorporates more economic costs than the CDC and CEA reports, it suffers from the same limitations by combining different kinds of costs. The Altarum estimate contains both the reduction in productivity among those still in the labor force and the lost lifetime production from opioid-related fatalities, both of which negatively impact economic output. Like the other studies, however, Altarum also combines those costs with costs that do not negatively impact GDP: spending on health care, criminal justice, and education.
Trump's pro-American immigration-reform policies, however, are being fought-tooth-and-nail by business-first Republicans, progressive Democrats, business lobbies and their media allies. For example, the Senate blocked Trump's immigration reforms in February, Congress' 2018 omnibus in March only granted $641 million in 2018 to build 33 miles of border fences, and Democratic leaders are threatening to sue if Trump uses the military to build more fencing.
Four million Americans turn 18 each year and begin looking for good jobs in the free market.
But the federal government inflates the supply of new labor by annually accepting roughly 1.1 million new legal immigrants, by providing work-permits to roughly 3 million resident foreigners, and by doing little to block the employment of roughly 8 million illegal immigrants. Nationwide, the resident population of foreign guest workers include
s roughly 1.5 million university-trained guest workers, such as L-1s and H-1Bs.
The Washington-imposed strategy of economic growth via cheap-labor mass-immigration shifts wealth from young people towards older people and to investors.
The strategy floods the labor market with foreign labor; it spikes profits and Wall Street values by cutting salaries for manual and skilled labor offered by blue-collar and white-collar employees. It also drives up real estate prices, widens wealth-gaps, reduces high-tech investment, increases state and local tax burdens, hurts kids' schools and college education, pushes Americans away from high-tech careers, and sidelines at least 5 million marginalized Americans and their families, including many who are now struggling with opioid addictions.
The horror of heroin: Mother of promising former Lloyds TSB banker who died aged 28 'ravaged' by the drug reveals 'the harsh reality' of how it can destroy lives
Danny Hackett, 28, died from a fatal heroin overdose in January 2016
He had a promising career ahead of him when he worked at Lloyds TSB
His mother Donna felt helpless as she watched her son get hooked on heroin
She is sharing her story and pictures to warn children about drug dangers
The mother of a former banker who died from a fatal heroin overdose has shared pictures of her 'ravaged' son to show the reality of drugs.
Danny Hackett had once worked for Lloyds TSB bank but he ended up living on the streets of
Birmingham
as his life spiralled out of control.
His mother Donna said she felt helpless as she watched her son fall with the wrong crowd and become homeless and hooked on heroin.
In January 2016 the 28-year-old died from an overdose and Ms Hackett wants to make her story public so other children can see how drugs destroy lives.
Donna Hackett has released a series of pictures showing Danny (pictured when he was 27 in 2015) after he became hooked on heroin
Danny was living on the streets of Birmingham in September 2015 when he was 27, (left) before he died, but had been a bright and happy boy at school (right) in the 90s.
She has released poignant photographs of her son as a child and ones in later life when Danny became an addict.
She said: 'I know there is nothing we could have done to stop Danny and we tried to stop him getting involved with this one particular person.
'But education has to begin in schools. I think this is the only way to stop them following the same path my son did.
'As harsh as it sounds, children need to see pictures of my son and how drugs changed him.
Danny (pictured) had worked at Lloyds TSB when he was teenager and was said to have a bright future ahead of him
Danny pictured at his home as a child, he was a happy schoolboy but got caught up in the wrong crowd
Danny's mother Donna has called for more support in the community for heroin addicts
'Schools are a place to start and we need to show them real photos of people who used drugs like Danny did.
Ms Hackett also called for 'more support' in the community to get heroin off the streets and bigger prison sentences for dealers.
She added: 'If I had money I would have been able to get him into rehab and he could still be here today.
'There need to be more units to deal with this, to help those stuck in this misery.
'There was nothing we could have done differently.'
She added: 'We loved him and tried to stop seeing the boy who started Danny on the downward spiral.
'He had free will and he was friends with everyone, including those with drugs.'
Ms Hackett recently appeared on an episode of Jeremy Kyle's the Kyle Files, where she talked about the loss of her son and the affect drugs can have on people's live.
The pictures released by his mother Donna show how much he has changed from when he was younger (pictured)
Danny, pictured here with his family, died of a heroin overdose in January 2016
The late-night show explored the effects drugs can have on families and the way drug dealers and gangs operate.
How widespread is heroin use in the UK?
There were 3,744 recorded drug related deaths in England and Wales in 2016, according to the Office of National Statistics (ONS), the highest number on record.
More than 2000 of these deaths were from opiates, and 1,209 from heroin and morphine. That means more than three people a day died in the UK from using heroin in 2016.
The majority of drug misuse deaths (73% in 2016) occur in men. However, drug misuse deaths among women are on a long-term increasing trend.
The use of heroin is widespread in the UK. So far this year, the National Crime Agency has seized 4.5 tonnes of heroin and 16.3 tonnes of other opium.
The amount of heroin estimated to be imported annually into the UK is between 18-23 tonnes.
If you're addicted to heroin and you want to stop, you can ask your GP or local drug treatment service for help.
For free, confidential advice of drug misuse, call FRANK on 0300 123 6600.
Danny had grown up in the Black Country and attended Peters Hill Primary School and Thorns Community College in Brierley Hill.
Friends and former classmates had paid tribute to Danny after his death.
Harley Davies, who worked at The Yardbird in Paradise Circus, said Danny was one of the few people he allowed to ask for change or sell the Big Issue outside the bar.
'It's really sad to hear that Danny has died as he was genuinely friendly and polite,' he added. 'One time I spoke to him, he looked genuinely happy to see me.
'He told me I was the first person to speak to him properly for a few days and I could see that he meant it, and that it really meant something to him.
'It broke my heart at the time, and my attitude towards homeless people was changed forever from that day.'
His former teacher Katharine Redfern said: 'I remember teaching Daniel at Peters Hill where he was a bright, cheeky lad - I loved his mischievous smile.
'I hope he has now found peace and you stay strong for each other.'
Britain's youngest Spice victim: Schoolboy, 14, dies after taking drug at a sleepover with friends
By Charlie Bayliss For MailOnline
Luke Pennington suffered a 'severe reaction' immediately after taking the drug at a house in Stockport, Greater Manchester, on March 17
A 14-year-old schoolboy has died after taking the drug Spice at a sleepover with a friend, an inquest has heard.
Luke Pennington, who is believed to be the youngest person to die after taking the synthetic cannabis, suffered a 'severe reaction' immediately after taking the drug at a house in Stockport, Greater Manchester, on March 17.
An inquest opening at Stockport Coroner's Court heard that Luke and a number of friends had bought the drug earlier that evening.
Luke had taken the drug first, then followed by another friend, a senior police officer told the hearing.
Paramedics rushed to the scene after Luke and his friend fell ill, and the pair were rushed to Wythenshawe Hospital.
Rita Wilkinson, a senior police officer at GMP giving evidence at the inquest opening, said: 'Luke was with some friends at a sleepover.
'They had purchased some Spice and that was taken. Luke had taken it first followed by one of his friends.
'Luke had a severe reaction immediately after and paramedics were called.'
Luke was transferred from Wythenshawe to the intensive care unit at Alder Hey Children's Hospital in Liverpool, but died at 1.55am on March 18.
The court heard his death is being treated as 'unascertained' until toxicology and histology reports have been completed.
The St James Catholic High School student was described by his teachers as 'popular and well-liked'
The St James Catholic High School student was described by his teachers as 'popular and well-liked'.
Earlier this month, the school's headteacher, Tim Beesley, said: 'Our thoughts, prayers and sympathy go out to his family and friends at this very difficult time.
'We are offering support for any of our students who have been affected by his death, particularly those who knew him, as he was a very popular and well-liked member of our school community.'
Greater Manchester Police arrested a 16-year-old boy on suspicion of possession with intent to supply Class A drugs on March 21. He has been released on bail pending further enquiries.
Andrew Bridgman, assistant coroner for south Manchester, set a date for a full inquest on October 3.
MailOnline has contacted the NHS England for comment.
St James's headteacher, Tim Beesley, said earlier this month: 'Our thoughts, prayers and sympathy go out to his family and friends at this very difficult time'
Adios, Sanctuary La Raza Welfare State of California

A fifth-generation Californian laments his state's ongoing economic collapse.

By Steve Baldwin

American Spectator, October 19, 2017

What's clear is that the producers are leaving the state and the takers are coming in. Many of the takers are illegal aliens, now estimated to number over 2.6 million. The Federation for American Immigration Reform estimates that California spends $22 billion on government services for illegal aliens, including welfare, education, Medicaid, and criminal justice system costs.
THE GRUESOME VIOLENCE OF THE MEXICAN… over, under and in our open borders.
WHO WILL RID US OF THE INVADERS?
AMERICAN TRAITOR: JOHN McCAIN AND THE LA RAZA HEROIN CARTELS
McCain has spent his entire political career looking for World War III as he has watched Mexico and their heroin cartels walk over and under the borders of his state of ARIZONA.
SHOCKING IMAGES OF CARTELS ON U.S. BORDERS:
"Heroin is not produced in the United States. Every gram of heroin present in the United States provides unequivocal evidence of a failure of border security because every gram of heroin was smuggled into the United States. Indeed, this is precisely a point that Attorney General Jeff Sessions made during his appearance before the Senate Judiciary Committee hearing on October 18, 2017 when he again raised the need to secure the U.S./Mexican border to protect American lives." Michael Cutler …..FrontPageMag.com
DACA THIEVES: WAVING THEIR MEX FLAGS IN OUR FACES AND THEN CASHING THEIR WELFARE CHECKS
JOBLESS AMERICA: Push 2 for English and go to the end of the line of illegals!
95 MILLION AMERICANS (Legals) HAVE NO WORK AS THE BORDERS ARE FLOODED WITH FOREIGNERS SUCKING UP JOBS, WELFARE AND VOTING DEMOCRAT FOR MORE!
OBAMA'S OPEN BORDERS
SOARING DEATH IN AMERICA: MEXICO DELIVERS THE HEROIN.
AMERICA: MEXICO'S WELFARE STATE
… and in exchange we get 40 million Mexican flag wavers, homelessness, a housing crisis, heroin & opioid crisis and jobs for legals crisis…. ALL THANKS TO THE DEMOCRAT PARTY
"Thirteen years after welfare reform, the share of immigrant-headed households (legal and illegal) with a child (under age 18) using at least one welfare program continues to be very high. This is partly due to the large share of immigrants with low levels of education and their resulting low incomes — not their legal status or an unwillingness to work. The major welfare programs examined in this report include cash assistance, food assistance, Medicaid, and public and subsidized housing." Steven A. Camarota
HIGHLY GRAPHIC VIDEO!
AMERICA'S OPEN AND UNDEFENDED BORDERS:
LA RAZA HEROIN CARTELS CUT HEART OUT OF LIVING MAN AND BEHEAD HIS PARTNER!
MEXICANS ARE THE MOST VIOLENT CULTURE IN THE WESTERN HEMISPHERE!
"A group of cartel gunmen fighting for control of a Mexican coastal state cut out the heart of one of their living victims while another was beheaded. The violence took place not far from the beach resort cities of Acapulco and Ixtapa Zihuatanejo, Guerrero."
Heather Mac Donald of the Manhattan Institute has testified before a Congressional committee that in 2004, 95% of all outstanding warrants for murder in Los Angeles were for illegal aliens; in 2000, 23% of all Los Angeles County jail inmates were illegal aliens and that in 1995, 60% of Los Angeles's largest street gang, the 18th Street gang, were illegal aliens. Granted, those statistics are old, but if you talk to any California law enforcement officer, they will tell you it's much worse today.