Just how bad was Hunter Biden's 'booty from the coup' appointment to Ukrainian gas company?
The Left is making a holy hullabaloo about President Trump's hardly illegal request to Ukraine's new president to find out about Joe Biden's son's weird appointment to the board of natural gas company Burisma with its $50,000 retainer, dismissing any concerns about the setup as irrelevant.
But actually, it's highly relevant because the setup reeks of political corruption — not just on the Ukraine side, but on the Obama administration side, too.
The Washington Post does have a piece on Hunter Biden's journey, attempting to dismiss any corruption implications in its own story about the Biden son as a nothingburger. Nevertheless, it provides a useful synopsis about how Hunter Biden got his Burisma board position:
For Hunter Biden, the job came with risks: Ukraine was in the throes of political upheaval, and there was building scrutiny of former government officials profiting in the lucrative gas industry. His father was the face of the Obama administration's effort to get Ukraine to crack down on corruption.

The region was so unsettled that one of Hunter Biden's investment firm partners at the time — former secretary of state John F. Kerry's stepson — believed that joining the board of Burisma Holdings was a bad idea and ended his business relationship with Biden and another partner, his spokesman told The Washington Post.
That Kerry kid pullout is the only suggestion in the piece that maybe this setup wasn't kosher.
It's useful to know how the Biden kid got appointed, but the Post steers much clearer on the "why," even though that's the reason the reader actually reads the story. There's some hint of problems here:
Inside the vice president's office, there was discussion about whether Hunter's position on the board would be perceived as a conflict of interest, according to several former aides who spoke on the condition of anonymity to discuss private conversations.

One former adviser was concerned enough to mention it to the vice president, according to an adviser, but the conversation was brief, and other aides said they didn't want — or see a need — to raise the issue.

Former U.S. officials who worked with Biden maintain that his son's activities in no way influenced his actions regarding Ukraine as vice president.

"Is there an appearance issue?" a former adviser said. "Of course there's an appearance issue. But did it actually create wrongdoing? No."
That "former adviser" quoted sounds like Ben Rhodes, the Obama administration's deputy national security adviser and it probably was.
Appearance, sure. Criminality, no.
But it leaves a lot of questions unanswered.
Why again was this underachiever son of Joe Biden, whose only credential was being Joe Biden's son, appointed to this corruption-investigated company? Would he have been appointed otherwise? It only could have been a case of cashing in on his dad, getting very rich in Pop's government service. Might Joe Biden's role as the chief point man on Ukraine, a country fresh from a coup with the U.S. players now in, have had something to do with why this ne'er-do-well kid got hired? How could it not? This is a classic Washington swamp game, taken on the road.
And why again was Joe Biden threatening to withhold a billion dollars in aid to Ukraine's newly installed government unless a prosecutor investigating that corruption got fired? Sure enough, the man got fired, so no more investigation of that board. For Hunter, that kept the cash spigot flowing — and in light of the recent coup in Ukraine at the time, which one pro-Russia website called "booty from the coup."
There are lots of denials that despite all those appearance problems, Vice President Joe Biden would never have dreamed of protecting Burisma from corruption investigations. But the facts tell a different story, particularly when the claims of the fired prosecutor, Viktor Shokin, are taken into account. John Solomon has some excellent reporting on the problems with that matter here.
Would Joe Biden have been motivated to protect Hunter?
The Bidenites are denying it, but if the backstory to this backstory is any indication, he certainly would.
Left unmentioned in the story is that at the time Hunter Biden was appointed to the Ukrainian board, in April 2014, he was also serving as a Naval Reserve officer on a mysteriously granted commission.
This writer here, a prominent political cartoonist, Jack Ohman, describes his own efforts to get the same such commission Hunter got and not succeeding. Ohman (probably unlike Biden, who had a lot of black marks against him, including drug use) qualified for the commission in every way but age, yet he still got turned down — even with a bipartisan group of senators pleading for him. Biden didn't.
Biden's kid got in? That would be some pull that would have permitted that. Spotlight on Joe Biden.
By October 2014, Hunter Biden got drummed out of the Navy - for cocaine use after all those waivers - apparently Joe's pull wasn't enough to stop that. He flunked his drug test in 2013, meaning, he was likely a coked up son of a vice president looking for money when he took the $50 grand a month from the Ukrainians, before he got drummed out of the Navy.
Now the picture gets very skeevy. According to the Washington Examiner, activists are angry at the pattern of privilege Biden has used to protect his miscreant kids:
The 76-year-old former vice president's daughter Ashley, now 37, was arrested for marijuana possession at age 17. Records show the prosecutor declined to pursue the charges. A decade later, a "friend" of Ashley Biden attempted to sell the New York Post a 43-minute hidden-camera video purportedly showing Ashley snorting cocaine. The police did not get involved.

Biden's son Hunter, now 49, joined the Navy Reserves in 2012 after receiving two special waivers, one because he was three years over the age limit of 40 and another for a "drug-related incident when he was a young man." A month into his service, he tested positive for cocaine during a random drug test and was discharged.

In 2017 divorce papers, Hunter Biden's then-wife Kathleen stated he spent "extravagantly on his own interests (including drugs, alcohol, prostitutes, strip clubs, and gifts for women with whom he has sexual relations)."
Now we are supposed to think there was nothing corrupt about Hunter's appointment to the money spigot Ukrainian gas board and Joe Biden's demand that a prosecutor be fired had nothing to do with protecting his son?
The son has been protected all his life by Biden, why would Biden suddenly turn all neutral and full of probity, never dreaming of intersecting his son's interests with his own interest in protecting his wayward son?
It's absurd. What we have is a classic pattern of Washington swamp corruption. Biden's the one who should be answering questions about this morass, not President Trump. This goes a long way toward explaining why Democrats are so obsessed with their 'Look! Squirrel! diversion tactics against President Trump with impeachment their long-held goal. Besides hating Trump, they'd do anything to keep this Hunter Biden mess away from the public.


Five Times Hunter Biden's Business Dealings Presented a Conflict of Interest for Joe Biden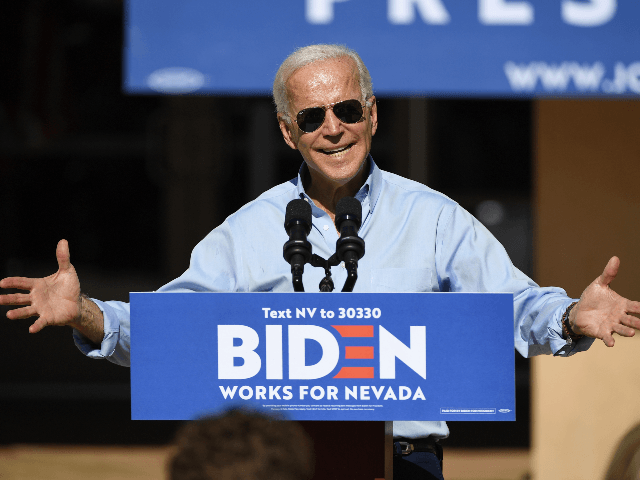 Joe Biden's youngest son, Hunter, has a long and muddled history of profiting from business interests tied to the former vice president's political influence.
The younger Biden, who has a storied history of personal and professional issues, is at the center of controversy after President Donald Trump suggested the Ukrainian government look into his business dealings in the country. Although the Bidens are denying any wrongdoing, even going to the extent of accusing Trump of abusing his power, the situation only underscores the shadowy nature of Hunter Biden's professional life.
Breitbart News is providing an indepth breakdown of instances in which Hunter Biden's business interests directly intersected with his father's position in elective office.
1. Joe Biden's top campaign contributor hired Hunter fresh out of law school.
Shortly after Joe Biden was reelected to the U.S. Senate in 1996, his largest campaign contributor, the credit card issuer MBNA Corp., hired Hunter for an undisclosed role. The job raised eyebrows from ethics watchdogs since MBNA employees had just donated $63,000 to Joe Biden's reelection campaign in what appeared to be a coordinated manner designed to sidestep federal campaign finance regulations.
Clouding the picture even further was the fact that then 26-year-old Hunter Biden was a recent graduate of Yale Law School with no banking or business experience. Both father and son defended the job offer, claiming nothing improper had or would result because of the arrangement.
"Unfortunately, no matter where I went to work, some people would make an issue of it," the younger Biden told the Delaware News Journal in November 1996 when the job was announced.
Despite his role being unknown at the time of his hiring, when Hunter Biden left the company in 1998 to join the Clinton-era Commerce Department it was as a senior vice president.
Throughout the 1990s and early 2000s, Joe Biden was championing bankruptcy reform legislation endorsed by financial interests and credit card companies such as MBNA.
2. Hunter Biden was on MBNA's payroll while Joe Biden was writing bankruptcy reform legislation.
In the early-2000s, Hunter Biden remained on MBNA's payroll as a consultant while his father was writing and pushing the Bankruptcy Abuse Prevention and Consumer Protection Act of 2005. The arrangement, which did not become public until after the law was passed, started in 2001 after Hunter Biden had left his position in the Commerce Department. Hunter Biden was paid monthly consulting fees, with some claiming they ranged upwards of $100,000, to advise the company on online banking issues.
The 2005 bankruptcy law tightened regulations to make it extremely difficult to declare bankruptcy. The law was heavily favored by MBNA and other giants in the banking and finance sectors. Many consumer protection advocates, including Sen. Elizabeth Warren (D-MA), have claimed the bill benefited special interests at the expense of consumers. Some have even suggested the law only served to hasten and aggravate the recession of the late 2000s.
As previously reported by the New York Times, Biden worked against many of his own fellow Democrats in Congress to ensure the final version of the bill was free of provisions opposed by companies such as MBNA.
Biden "was one of five Democrats in March 2005 who voted against a proposal to require credit card companies to provide more effective warnings to consumers about the consequences of paying only the minimum amount due each month," the Times noted.
3. Hunter Biden sought to monetize off his father's political standing on Wall Street.
In 2006, shortly before Joe Biden assumed the chairmanship of the Senate Foreign Relations Committee and launched his second presidential campaign, Hunter purchased a hedge fund called Paradigm Global Advisors with his uncle, James. Although neither had a strong background in finance, James and Hunter believed they could leverage Joe Biden's political connections to their benefit.
"Don't worry about investors," James Biden, the former vice president's younger brother, purportedly told Paradigm's senior leadership upon taking over the fund, as reported by Politico. "We've got people all around the world who want to invest in Joe Biden."
Paradigm's executives claim that James and Hunter Biden saw the hedge fund as a way to "take money from rich foreigners who could not legally give money" to Joe Biden's campaign account.
"We've got investors lined up in a line of 747s filled with cash ready to invest in this company," James Biden allegedly told Paradigm's staff.
As part of their effort to cash in on Joe Biden's political influence, Hunter and James also tried to solicit labor unions to invest their pension funds with Paradigm. The duo's main argument when pitching to unions was their access and ties to Joe Biden, who has a long record of advocating for collective bargaining.
The entire approach proved unsuccessful after a series of bad investments — including a partnership with a Ponzi scheme. James and Hunter eventually chose to strip the hedge fund of all its assets in 2010, selling them to the highest bidder before shuttering it indefinitely.
4. Hunter Biden's firm scored a $1.5 billion deal with the Bank of China only days after his father paid an official visit to the country.
The timing of the lucrative deal has been brought into question as it came only 12 days after Hunter visited China with his father aboard Air Force Two. Officially, the then-vice president was visiting the country amid escalating tensions over islands in the South China Sea and decided to bring his granddaughter and son along. In a March 2018 interview with Breitbart News Tonight, however, Schweizer detailed the political machinations that preceded Hunter Biden's $1.5 billion venture with China. Schweizer said:
In December of 2013, Vice President Joe Biden flies to Asia for a trip, and the centerpiece for that trip is a visit to Beijing, China. To put this into context, in 2013, the Chinese have just exerted air rights over the South Pacific, the South China Sea. They basically have said, 'If you want to fly in this area, you have to get Chinese approval. We are claiming sovereignty over this territory.' Highly controversial in Japan, in the Philippines, and in other countries. Joe Biden is supposed to be going there to confront the Chinese. Well, he gets widely criticized on that trip for going soft on China. So basically, no challenging them, and Japan and other countries are quite upset about this.
Since its creation, BHR has invested heavily in energy and defense projects across the globe. As of June, Hunter Biden is still involved with BHR, sitting on its board of directors and owning a minority stake of the fund estimated to be worth more than $430,000.
5. The Obama-Biden administration helped facilitate the sale of U.S. company with insight into military technology to BHR and a Chinese state-owned defense firm.
In 2015, BHR and the Aviation Industry Corporation of China (AVIC) — an aerospace and defense conglomerate owned and operated by the Chinese government — made a $600 million bid to purchase Henniges, a Michigan-based automotive company.
The sale required approval from the Obama-Biden administration's Committee on Foreign Investment in the United States (CFIUS) as AVIC was a subsidiary of the Chinese government and Henniges produced "dual-use" anti-vibration technology with U.S. "military applications." CFIUS, which is made up of representatives from 16 different federal bodies including the departments of State, Treasury, and Defense, is required to review any transaction with national security implications.
When the AVIC and BHR's bid was first announced, alarm bells went off in certain sectors of the defense industry. In particular, many noted that AVIC was "reportedly involved in stealing sensitive data regarding the Joint Strike Fighter program," which it later "reportedly incorporated … into China's J-20 and J‑31 aircraft."
Despite the national security concerns, CFIUS approved the deal with AVIC purchasing 51 percent of the company and BHR taking ownership of the other 49 percent. Upon purchase, an industry newsletter stated the deal was the "biggest Chinese investment into US automotive manufacturing assets to date."
Although the deal was approved by the Obama administration, it has not escaped congressional scrutiny. In August, Senate Finance Committee Chairman Chuck Grassley (R-IA) launched a probe into whether or not the CFIUS decision was influenced by either Joe Biden or former Secretary of State John Kerry, whose stepson was also involved in the venture.
Corruption blinders of the media and other Democrats
VP Biden threatened (promised) Ukraine that he would cut off a billion dollars in aid to them if they didn't fire the prosecutor investigating a company his son was involved with.

Hunter Biden got paid $50,000 a month as a board member of a corrupt Ukrainian gas company when he had no expertise on the product of the company.

Obama promised the very dangerous Russia and Putin that he would be flexible if he was reelected (somehow no one at FBI or elsewhere was ever concerned that Russia may have tried to influence the 2012 election to elect the flexible president.)

Hillary, Obama and many others violated the nation's security laws by using her non-government computer.

Obama gave kickbacks to union supporters when he violated the nation's bankruptcy law with the bailout of GM.

Obama used taxpayer dollars to reward political supporters like at Solyndra.

Hillary, through her family and foundation, got huge amounts of speech money and donations from foreign countries. Russia, for example, got Uranium for their generosity. (If there is any doubt about whether they were kickbacks, that should have disappeared when the donations dried up and speech fees dropped or dried up when she no longer could return favors)

Obama shipped over $1 billion in taxpayer money in unmarked bills, to Iran tyrants, who still pledge death to America, to get a deal.

Obama dictatorially stopped a years' long investigation into a billion dollar a year drug running ring by terrorists to appease Iranian tyrants because he was more concerned about his legacy than the safety, health and lives of the American people.

Hillary and the DNC paying over $10 billion to buy a fake dossier from a foreign national to destroy Trump. It appears they didn't think they could beat him based on the truth or their policy proposals.

Obama and his administration, including the FBI, Justice Department, the intelligence agencies and the State Department, using the fake dossier as a source for FISA warrants and to infiltrate the Trump campaign with informants. (they obviously didn't believe their record or policies would win the votes). Instead of the media and other Democrats caring about this pure corruption they have participated in perpetuating the lies about Russian collusion for over three years.

The Obama Administration, at the Justice Department, EPA and CFPB using taxpayer money for political purposes and political supporters by creating slush funds from money confiscated from businesses that they pretended would go to victims.
The judge found these releases, together with the publication of Clinton's secret speeches to Wall Street banks, in which she pledged to be their representative, were "matters of the highest public concern." They "allowed the American electorate to look behind the curtain of one of the two major political parties in the United States during a presidential election."
*
Democrats as a protection racket? Ed Buck makes it a trifecta
*
Judicial Watch: Only Crimes in Russia Scandal Are from 'Obama Gang'
THE MAN WHO WOULD BE DICTATOR
Barack Obama's Russia Connection
If Obama was a fully recruited agent of Moscow, tasked with giving Russia a significant military advantage over the United States, and economically weakening and socially dividing the nation, how would he have conducted his presidency (or his post-presidency) any differently? TREVOR LOUDON
*
///
Democrats Allow Communists to Infiltrate Their Party Across the Nation
DESTABILIZE AMERICA TO LAY GROUNDS FOR A MUSLIM-STYLE DICTATORSHIP
*
*
WITH THESE TRAITORS, JUST FOLLOW THE MONEY!