BLOG: LOS ANGELES COUNTY ALONE HANDS MEXICO'S ANCHOR BABY BREEDERS MORE THAN A BILLION DOLLARS PER YEAR IN WELFARE.
"Here's a fun fact: Joaquin "El Chapo" Guzman — the notorious Mexican drug lord, sentenced on July 17 to life plus 30 years for drug trafficking and multiple murder conspiracies — has

two children who are American

, born in sunny California to his wife, who's

an anchor baby herself

." ANN COULTER
Nearly 6,000 Fake Families Found at Border; Illegals Released Into U.S. Within 48 Hours
By R. Cort Kirkwood
The New American, August 1, 2019
. . .
https://www.thenewamerican.com/usnews/immigration/item/32997-nearly-6-000-fake-families-found-at-border-illegals-released-into-u-s-within-48-hours
Hundreds of Illegal Immigrants Have Criminal Records
By Jim Kouri
NewsWithViews.com, August 2, 2019
https://newswithviews.com/hundreds-of-illegal-immigrants-have-criminal-records/
Middle Eastern Terrorism Coming to the US through Its Mexican Border
By Raymond Ibrahim
Gatestone Institute, August 1, 2019
https://www.gatestoneinstitute.org/14632/terrorism-mexico-border
BLOG: LOS ANGELES COUNTY ALONE HANDS MEXICO'S ANCHOR BABY BREEDERS MORE THAN A BILLION DOLLARS PER YEAR IN WELFRE.
"Here's a fun fact: Joaquin "El Chapo" Guzman — the notorious Mexican drug lord, sentenced on July 17 to life plus 30 years for drug trafficking and multiple murder conspiracies — has

two children who are American

, born in sunny California to his wife, who's

an anchor baby herself

."
How We Became the World's Suckers on Immigration
By Ann Coulter
TheHill.com, July 29, 2019
https://thehill.com/opinion/immigration/455126-ann-coulter-how-we-became-the-worlds-suckers-on-immigration
Pro Mass Migration Republicans 'Equally to Blame' for Border Crisis, Say Experts
Experts give the facts on political and economic impacts induced by illegal immigration.
By Natalie Winters
Human Events Online, July 27, 2019
. . .
https://humanevents.com/2019/07/27/pro-mass-migration-republicans-equally-to-blame-for-border-crisis-say-experts/
Dems Refuse to Help Fix Border Crisis Because Bashing Trump Is More Fun
By Karol Markowicz
The New York Post, July 28, 2019
https://nypost.com/2019/07/28/dems-refuse-to-help-fix-border-crisis-because-bashing-trump-is-more-fun/
ANN COULTER
In fact, Trump is steadily moving in the
precise opposite direction of what he
Illegal immigration is on track to hit the highest levels in
more than a decade, and Trump has willfully decided to keep
amnesty advocates Jared, Ivanka, Mick Mulvaney, Marc
Short, and Mercedes Schlapp in the White House. For all his
talk about immigration, did he ever consider hiring people
who share his MAGA vision?
Invasion legislation stalled in Senate by conditional Trump voters who refuse Amnesty
For National Release | August 2, 2019
Share & Discuss this release by e-mail and on (
ALIPAC HERE
) .. (
FACEBOOK HERE
) .. (
TWITTER HERE
) .. (
GAB HERE
)
The chances that legislative Amnesty for illegal immigrants and increased numbers of green cards for cheap workers from India and China will pass into law took a major blow today as Trump voters willing to hold the President accountable for his campaign promises and make their support for GOP candidates conditional pushed major immigration legislation beyond the six week Senate break!
ALIPAC
's strategy next week will be to ensure that immigration issues in the 2020 elections demand the full attention of President Trump and GOP incumbent Senators who are
under major pressure from DC special interests to pass Amnesty bills for illegals which most of their
constitutents
oppose.
DC special interests had a plan to rush through an immigration bill backed by
White House surrogate and life long Democrat Jared Kushner and notorious Amnesty backer Senator Lindsey Graham
earlier this year, but after months of heavy resistance from grass roots groups like ALIPAC, momentum for those Democrat House passed Amnesty bills and green card allocation bills like HR 1044/S. 386 has stalled.
"The chances these unpopular bills on immigration issues will pass into law in 2019 have fallen from high to unlikely thanks to the Trump voters out there who have been willing to make their support for GOP incumbents conditional upon lawmaker actions on immigration issues," declared
William Gheen
, President of ALIPAC. "By mounting activist pressure on Republican offices in DC while raising the specter of lost support in the 2020 election cycle, we have pushed back these immigration bills we oppose. The chances of legislative Amnesty being passed in 2019 by Democrats, Kushner, and RINO Republicans like Graham have just taken a major blow!"
ALIPAC was the
only national organization willing to take President Trump to task for supporting Amnesty legislation for illegals
and breaking many 2
016 campaign promises
on immigration issues such as--
-- failing to secure the border,
-- failing to end Obama's DACA Amnesty,
-- failing to end birthright citizenship,
-- failing to build new miles of border wall,
-- failing to oppose Amnesty for illegals,
-- failing to oppose legal immigration increases,
-- failing to stop illegal alien caravans,
-- failing to end catch and release Presidential policies,
-- failing to stop sanctuary cities and illegal voters,
-- and failing to mass deport illegal immigrants as he promised voters last month, three months ago, and in 2016.
ALIPAC is now the only national organization advocating for the full deportation of illegal immigrants as the current Constitution and laws of America require.
While many Trump voters were unwilling to take a stand against the Trump-Kushner-Graham Amnesty plans in 2019, ALIPAC would like to thank the many supporters who were willing to make their support conditional and send a clear signal to GOP incumbents they will lose massive support from base conservatives if they continue to support and pursue Amnesty for illegal immigrants.
While Amnesty legislation for illegals has been stalled in Washington again, illegal immigration has now reached a historic high under President Trump's watch with m
ore than 1.1 million expected this year, increasing America's illegal alien population by 10%
. This is resulting in increasing reports coming into the
www.ALIPAC.us
archives of more Americans being robbed, raped, injured, and killed by illegal aliens than ever before.
This is not where Trump voters expected to be three years into Trump's presidency.
For more information on how ALIPAC has fought and stopped Amnesty legislation more than ten times in DC since 2004, please visit
www.ALIPAC.us
.
"The Democrats had abandoned their working-class
base to chase what they pretended was a racial group
when what they were actually chasing was the
momentum of unlimited migration".
DANIEL
GREENFIELD
ANN COULTER: WILL THE GLOBALIST DEMOCRAT PARTY FOR BANKSTERS AND BILLIONAIRES DESTROY AMERICA?
I would also go to all of the working class that are in America, construction workers in particular
. Their salaries have not just stagnated, they have gone down in the last 20 years.

These are the least among us. We are the only ones not speaking out of self-interest

. …
Most of the people who are advocating for open borders
… they

have a vested in interest in having either the cheap labor or the Democratic voters

. Their neighborhoods aren't the ones being overwhelmed.

They get the cheap maids, the cheap nannies, and then they strut around like they're Martin Luther King

.
No,

you are talking in your self-interest, Chamber of Commerce, and Koch brothers, and Nancy Pelosi, and Chuck Schumer

. It's Donald Trump and our side who are actually caring about our fellow Americans — the kids who are getting addicted to black tar heroin. …
The heroin problem in this country is 100 percent a problem of not having a wall on the border. And 70,000 Americans are dying every year
. That's more that died in the entire Vietnam War.

That is a national emergency

. ANN COULTER
ANN COULTER EXPOSES TRUMP'S "WALL" HOAX
In fact, Trump is steadily moving in the
precise opposite direction of what he
Illegal immigration is on track to hit the highest levels in
more than a decade, and Trump has willfully decided to keep
amnesty advocates Jared, Ivanka, Mick Mulvaney, Marc
Short, and Mercedes Schlapp in the White House. For all his
talk about immigration, did he ever consider hiring people
who share his MAGA vision?
Slaughterhouse Owner Sentenced 18 Months For Employing Illegal Aliens, Avoiding Millions In Taxes
Source: AP Photo/Ross D. Franklin,
A key component of President Donald J. Trump's crackdown on illegal immigration is also enforcing the law against American citizens who wrongfully employ foreign nationals in order to avoid taxes, have cheap labor, and gain more economic advantages. The latest evidence that business owners might want to think twice before breaking employment law comes from Tennessee. The former owner of a meatpacking plant just received a year and a half in prison for employing more than 100 illegal aliens, avoiding millions in taxes, and underpaying his employees.
The USA Today reports that James Brantley, age 62, employed hundreds of illegal immigrants over the past 20 years and dodged more than $2.5 million in taxes. Brantley also underpaid his employees at Southeastern Provision in Bean Station, Tennessee. He also avoided overtime wages because he paid these foreign nationals under the table.
In April 2018, ICE conducted the largest single-site raid in decades and apprehended 97 men and 1 woman from the meatpacking plant. In September, Brantley pleaded guilty to tax fraud, employment fraud, and paying illegal aliens.
On Wednesday, Senior U.S. District Judge Ronnie Greer said that he could not just "impose a probationary sentence in this case" because "to do so would undermine respect for our court system and create a situation where people would draw the conclusion that a certain class of people are treated more leniently than others."
This is an offense made even more serious in my view because of the political climate of today," Greer added. "The impact has been quite severe for many (of the plant's former workers). Many of them have been separated from their wives, their husbands, their children. Some of them have gone to jail."
"The slaughterhouse's floor supervisors, Carl and Jason Kinser, were sentenced to three years each on probation in June," USA Today reports.
Brantley transferred ownership of the plant to his wife, Pamela.
Business Cheers as Cory Booker Urges More Low-Skilled Immigration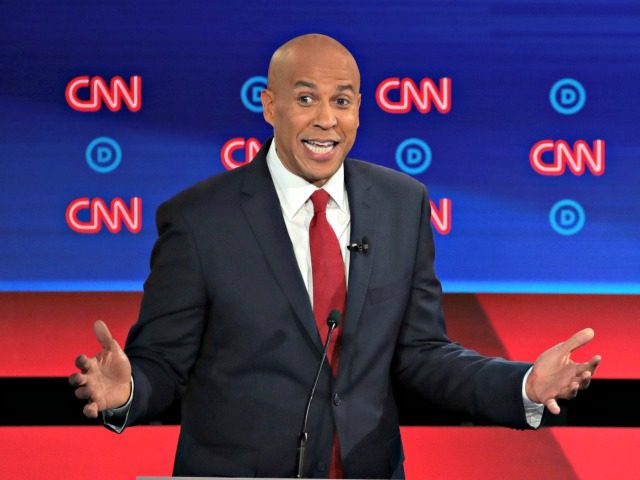 Sen. Cory Booker called for more low-skilled immigration Wednesday night as he tried to cut down Joe Biden in the Democrats' 2020 race.
"I heard the vice president say that if you got a PhD., you can come right into this country," Booker said, adding:
Well that's playing into what the Republicans want, to pit some immigrants against other immigrants. We need to reform this whole immigration system and begin to be the country that says everyone has worth and dignity and this should be a country that honors everyone.
If implemented, Booker's call for more low-skilled immigration would increase competition for blue-collar jobs and cheap apartments in New Jersey, so imposing additional economic pain on lower-skilled Americans in Booker's home state. More migration would also add to the divide-and-rule diversity which hinders Americans from periodically uniting to curb the elites' self-serving policies.
Booker's call for un-skilled immigration got plaudits from advocates for "diverse" immigration into the United States.
"That was solid immigration talk from Booker," said Alex Merced, the "Latinx Vice Chair" of the Libertarian Party. "Merit based immigration is condescending and presumes government can determine our individual potential, I sure as hell don't trust government to do that."
"Booker
speaking truth again on
immigration," tweeted Jonathan Capeheart, a member of the Washington Post's editorial board.
But Booker's call for more unskilled immigration also got him a shout-out from Todd Schulte, who runs FWD.us, a cheap labor lobby shop for Mark Zuckerberg and other
West Coast investors
.
"Appreciate
@CoryBooker," said a tweet from Schulte. "P
ointing out that this [immigration] section of the debate is being dominated by poor assumptions, bad framing and a lack of focus on many of the most critical aspects of immigration — not cutesy gotcha stuff that misses huge aspects of the debate."
Schulte's donors employ many foreign graduates, including both visa workers and immigrants. But his donors also have coherent economic reasons to oppose any cutbacks to the immigration of unskilled workers and family chain migrants, as urged by President Donald Trump's 2018 "Four Pillars" plan.
Unskilled migrants serve as both cheap workers, extra consumers, and predictable renters. Their multi-sided value for investors is spotlighted by FWD.us' support for DoorDash, which hires people to deliver food by auto, scooters, and bikes. In a September 2018 statement, the FWD.us investors denounced Trump's plan to cut unskilled immigration into the United States, saying it would reduce immigrant-driven economic growth:
Immigration powers the American economy, and ensuring that immigrant families living here today can thrive means greater benefits for all U.S. residents and our children in the future. The

earning potential

of immigrants and their contributions to the labor-force and economy grows over time and over generations …

Tony Xu, the founder of DoorDash, embodies this story … in 2013 Tony founded DoorDash, an incredibly successful meal delivery service. Today, DoorDash is

valued at $4 billion

, using recent investment to expand into 1,200 new cities and to

hire 250 new employees

, in addition to over

100,000 part-time gigs

already created for delivery drivers across the country.
DoorDash's
investors
in FWD.us funders include Sequoia Capital, KPCB, SV Angel, CRV, and Y Combinator. In June 2019, Schulte's group also helped persuade New York's legislature to grant drivers' licenses to illegals — so freeing many to join the labor force of delivery drivers.
Booker's televised support for low-skilled immigration also sought to paint an elitist gloss on Biden's call for higher-skilled migration.
But there is little or no evidence that a President Biden would want to reduce lower-skilled immigration. During the TV debate, for example, Biden described Americans' homeland as "a country of immigrants." He continued by crediting immigrants — not skilled immigrants — with creating America, not Americans:
We should … [and] I proposed, significantly increasing the number of legal immigrants who are able to come. This country can tolerate a heck of a lot more people. And the reason we're the country we are is we've been able to cherry-pick from the best of every culture. Immigrants built this country.

…

Some here came against their will; others came because they in fact thought they could fundamentally change their lives … That's what made us great.
Also, Biden strongly supported the 2013 "Gang of Eight" bill, which would have amnestied all illegals. It would also have doubled legal immigration to two million a year — or one migrant for every two American births. That resulting flood of labor would have shifted more of the nation's new wealth from employees over to investors, according to a 2013 study of the bill by the Congressional Budget Office. "The rate of return on capital would be higher [than on labor] under the legislation than under current law throughout the next two decades," says the
report
, titled "The Economic Impact of S. 744."
Immigration Numbers
Each year, roughly four million young Americans join the workforce after graduating from high school or university. This total includes roughly 800,000 Americans who graduate with skilled degrees in business or healthcare, engineering or science, software or statistics.
But the federal government then imports about 1.1 million legal immigrants and refreshes a resident population of roughly 1.5 million white-collar visa workers — including approximately 1 million H-1B workers and spouses —plus roughly 500,000 blue-collar visa workers.
The government also prints out more than one million work permits for foreigners, tolerates about eight million illegal workers, and does not punish companies for employing the hundreds of thousands of illegal migrants who sneak across the border or overstay their legal visas each year.
This policy of inflating the labor supply boosts economic growth for investors because it transfers wages to investors and ensures that employers do not have to compete for American workers by offering higher wages and better working conditions.
This policy of flooding the market with cheap, foreign, white-collar graduates and blue-collar labor also shifts enormous wealth from young employees towards older investors, even as it also widens wealth gaps, reduces high-tech investment, increases state and local tax burdens, and hurts children's schools and college educations.
The cheap-labor economic strategy also pushes Americans away from high-tech careers and sidelines millions of marginalized Americans, including many who are now struggling with fentanyl addictions.
"If there is a growing flood of foreign labor, the American middle class is no longer going to exist, and Republicans will not have a constituency," said Hilarie Gamm, a co-cofounder of the American Workers Coalition.
More than 150,000 healthcare and grocery workers could strike in California and other states
Over 80,000 workers employed by the Kaiser Permanente Health Maintenance Organization are taking a strike vote this week. Nurses, x-ray technicians, phone operators, janitors and other workers, belonging to eleven different unions (under the umbrella Coalition of Kaiser Permanente Unions), are demanding higher wages, decent health benefits and increased staffing.
Kaiser is the largest managed healthcare organization in the US, with 12 million members in nine states and Washington, DC, and 217,000 employees. Kaiser Foundation Health Plan and Kaiser Foundation Hospitals had $79.7 billion in operating revenues in 2018.
Kaiser workers in California point out that emergency rooms are overcrowded, putting patients at risk, and that they are forced to perform two or three jobs.
Voting in the states where Kaiser operates, California, Colorado, Maryland, Oregon, Virginia, Washington and the District of Columbia will take place during the month of August and into September.
The union coalition has offered no explanation of why it will take six weeks for all workers to vote. If a strike were to take place in all the Kaiser clinics and hospitals, it would occur in October, two months after the voting began.
A walkout against the mammoth Kaiser Permanente system would involve the most workers since the 1997 United Parcel strike by 197,000 workers.
The healthcare giant, which claims to be a non-profit institution, collected over $3.2 billion in income during the first quarter of this year, an increase of 127% relative to $1.4 billion in the first three months of 2018, from a combination of 150,000 more subscribers and lower costs from a weak 2019 flu season. In 2018, the hospital and healthcare plan made $2.5 billion in income.
Kaiser, like other HMOs, profits by limiting the provision of medical services, which have been pre-paid by health insurance; it uses a variety of techniques, such as deductibles and out-of-pocket charges, to manage and lower demand. Its doctors are pressured and encouraged through profit-sharing schemes to limit their time with patients.
The issues being raised by Kaiser health workers are long-standing.
Beginning in 2003, Kaiser turned to technology design firms to study how healthcare workers interact with each other and with patients in order to reduce time spent on so-called "high value activities," such as dispensing medications.
Kaiser workers have been without a contract since last September. There is no doubt that they are ready to fight. The biggest obstacle, however, are the unions that claim to represent them, which have done everything to prevent a unified and sustained struggle against the healthcare giant. Instead the unions have called isolated protests, largely public relations stunts, and isolated and made impotent strikes of short duration.
In March 2018, 18,000 Kaiser registered nurses voted overwhelmingly to strike at California hospitals and clinics to protest eroding patient care standards and increased workloads.
In December 2018, Kaiser mental health workers held a five-day strike, protesting long delays in the provision of mental health care, and calling for the formation of crisis teams to respond to health emergencies.
In June 2019, Kaiser unions called off a strike by 4,000 California health workers, clinical social workers, therapists, psychologists, nurses and others, claiming that there had been "progress at the bargaining table in recent weeks."
Whatever was meant by "progress" turned out to be insignificant. Mental health workers report that the same issues over which the strike was called still persist today.
Undoubtedly, the present prolonged voting procedure that postpones any possible strike action until October at the earliest, is just another means saddling Kaiser workers with a contract worked out behind their backs.
Supermarket workers
At the same time, California supermarket workers overwhelmingly approved a strike on June 24 and 25. The strike by 60,000 grocery workers would target four chains: Vons/Safeway, Albertsons, Pavilions and Ralphs/Kroger. Over 10,000 supermarket workers in Oregon also voted overwhelmingly to authorize a strike.
The chains are offering less than one percent annual wage increases coupled with givebacks in health benefits. Management claims that these four chains need to keep labor costs down because of increased competition from non-union chains, such as Walmart.
This would be the first strike since the four-month walkout of 2003 and 2004, which resulted in a
sell-out
by the United Food and Commercial Workers aided by the national AFL-CIO and its President Richard Trumka.
In that struggle, the unions did nothing to stop the supermarkets from hiring scab labor at stores and distribution centers. The union allowed health benefits to expire; it then slashed already inadequate strike benefits. In the meantime, it worked out a deal that saved the supermarket chains over $400 million in the course of the contract.
The 2004 betrayal became a model for similar sellout deals elsewhere, dismantling health benefits and worsening working conditions for new hires in Washington, DC, Baltimore and other cities.
The AFL-CIO and other unions are doing everything to prevent a strike by 150,000 healthcare and supermarket workers, along with another 150,000 GM, Ford and Fiat Chrysler workers whose contracts expire in mid-September. Tied to the Democratic Party and the defense of American capitalism, the unions have sought to suppress every expression of resistance of the working class in order to keep wage increases at or below the rate of inflation and continue the expansion of the stock market bubble.
The AFL-CIO is particularly concerned that a strike would quickly evolve into a political confrontation between the working class and California Governor Gavin Newsom, Washington Governor Jay Inslee and other Democrats who are posturing as supposed friends of workers for the 2020 presidential elections.
The union executives whose salaries put them in the top five percent of income earners or higher live in a different universe than healthcare and supermarket workers who are barely scraping by in cities that have some of the highest cost of living in the US. UFCW International President Anthony Perrone, for example, pocketed $341,398 in salary and union disbursements last year, nearly 20 times what a "courtesy associate" makes at a Vons supermarket in southern California.
In the first six months of the year, there have been 15 major work stoppages in the US, compared to 20 all last year, with teachers and healthcare workers leading the fight against years of stagnant and declining real wages. This is part of a resurgence of the class struggle internationally against austerity and social inequality.
In this fight, workers are increasingly coming into conflict with unions. That is why Kaiser Permanente and supermarket workers must take these struggles out of the hands of the trade unions by forming rank-and-file committees to prepare a nationwide strike. At the same time these committees must reach out to workers and youth in their communities and link up their struggles with the autoworkers and other workers across the US and Puerto Rico, in Mexico and around the world.