Cancun Suffers 30 Executions in January 2018 amid Rising Cartel Violence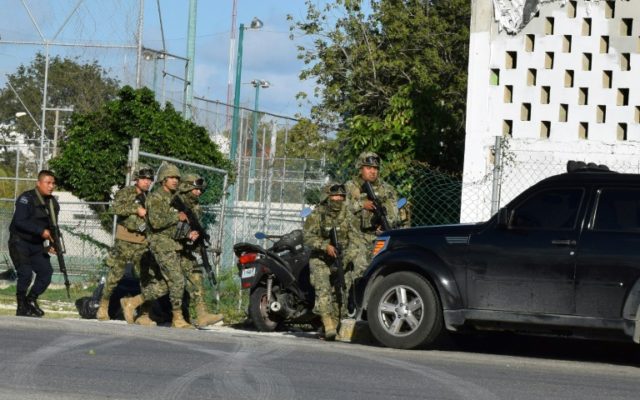 Violence at various businesses in Cancun has not slowed with at least 30 cartel-linked executions taking place in January.
In the most recent execution, a team of gunmen entered Oasis Bar, killing three customers and injuring five others. The gunmen managed a complete escape. Two of the fatal victims died inside the bar while the third passed en route to a local hospital. The bar is in the popular tourist area called El Crucero.
The attack at the local bar is not an isolated case. Earlier this month, a team of five gunmen entered a bar called "La Palapa de Chucky" and killed two men while injuring seven other victims. One of the victims was identified as a local drug distributor.
Editor's Note: Breitbart Texas traveled to the Mexican States of Tamaulipas, Coahuila, and Nuevo León to recruit citizen journalists willing to risk their lives and expose the cartels silencing their communities. The writers would face certain death at the hands of the various cartels that operate in those areas including the Gulf Cartel and Los Zetas if a pseudonym were not used.
Breitbart Texas' Cartel Chronicles
are published in both English and in their original
Spanish
. This article was written by Tony Aranda from Nuevo León.
Enough Fentanyl to Kill Millions Found En Route to U.S. South of Border
A traffic stop led Mexican authorities to seize enough fentanyl to kill millions of people as well as almost 1,000 pounds of crystal methamphetamine and other drugs that were headed to the California border.
Mexico drug cartels stealing billions of dollars in oil from Pemex
GRAPHIC — Mexican Cartel Cuts Out Living Victim's Heart near Acapulco
A group of cartel gunmen fighting for control of a Mexican coastal state cut out the heart of one of their living victims while another was beheaded. The violence took place not far from the beach resort cities of Acapulco and Ixtapa Zihuatanejo, Guerrero.
A year ago, President Trump committed to the American people to build a wall along the United States-Mexico border to stop illegal immigration and the flow of drugs into the country.
Border City near Texas Considered Mexico's Most Dangerous, Finds Survey
Family Unit Border Crossings Up 625 Percent from April 2017 Low
The number of families apprehended by Border Patrol agents grew by 625 percent from a low point in April 2017. The figure fell sharply during the first four months of the Trump Administration but has risen steadily thereafter.
A surge of illegal immigration at the U.S.-Mexico border that could reach up to one million border-crossings is "guaranteed" following a possible amnesty for nearly 800,000 illegal aliens, says Kansas Secretary of State and gubernatorial candidate Kris Kobach.
Criminal illegals, tax cheats, sanctuary cities OK'd in Gang of Six immigration deal