ROMNEY = WALL = END OF LA RAZA HEROIN CARTELS IN OUR OPEN BORDERS
388 SHERIFFS FROM 40 STATES SAY BUILD
THE FREAKING WALL!!!
Mexico says we will simply tunnel under it! Bristol County, Massachusetts, Sheriff Thomas Hodgson state in an open letter, issued on March 21, makes clear that the responsibility for the continued carnage of innocent Americans caused by those who shouldn't be present in the country in the first place lies firmly in the lap of Congress. "Because Congress has failed to enact the necessary reforms, our citizens and legal residents face even greater dangers, our national security is more vulnerable, and our enforcement efforts have been seriously compromised"
http://mexicanoccupation.blogspot.com/2018/03/dave-ray-388-sheriffs-in-40-states.html
WHAT IF NANCY PELOSI


AND CHUCK SCHUMER


WORKED AS HARD FOR


LEGALS AS THEY DO


ILLEGALS???
Schumer Threatens Lawsuits If Trump Uses Pentagon for Border Wall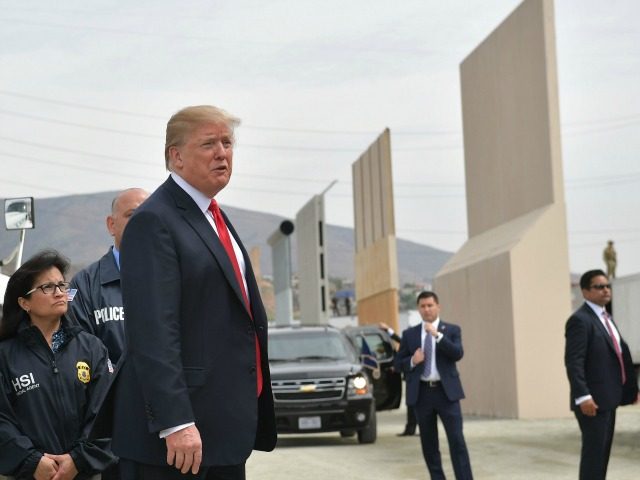 Democratic leader Sen. Chuck Schumer says any effort by President Donald Trump to use military funding to build his border wall be blocked by lawsuits, according to theWashington Post.
The Washington Post reported that Trump is pushing military officials to shift a very small portion of their $700 billion 2018 budget to build up border defenses, and quoted Schumer saying:
This would be a blatant misuse of military funds and tied up in court for years. [Defense] Secretary Mattis ought not bother and instead use the money to help our troops, rather than advance the president's political fantasies.
Schumer's threat came after he worked with GOP leaders to allocate only $641 million for the construction of new border fences in the 2018 omnibus bill. The bill also includes language which bars Trump from spending money on the concrete-and-metal prototype walls which he touted in early March. According to the Post:
Trump, who told advisers he was spurned in a large spending bill last week when lawmakers only appropriated $1.6 billion for the border wall, has begun suggesting the Pentagon could fund the sprawling construction, citing a "national security" risk.

After floating the notion to several advisers last week, he told Speaker Paul D. Ryan (R-Wis.) that the military should pay for the wall in a meeting last Wednesday in the White House residence, according to three people familiar with the meeting. Ryan offered little reaction to the notion, these people said, but senior Capitol Hill officials later said it was an unlikely prospect.
Long-standing laws sharply restrict what "reprogramming" Presidents can do with appropriated funds. For example, President must spend most of the funds allocated by Congress, and can only shift a small percentage of each program's funds to another program.
However, Trump is also the Commander in Chief of the military, and he has begun arguing that border defenses are a national security need which falls outside Congress' direct control. On March 25, for example, he argued that the wall should be built by the military, dubbed "M"
Trump's push to enlist the military in his wall-building plans are likely to be resisted by Defense Secretary Jame Mattis, who has successfully avoided most partisan disputes. Also, Pentagon leaders do not want to divert troops and funding to a police-style mission on the border.
Former Sen. Jeff Sessions, now the Attorney General, may also oppose the reprogramming effort, in part, because he spent much time trying to block former President Barack Obama from evading Congress' controls, such as Obama's attempted 2012 'DACA' amnesty.
But any dispute with Washington may help Trump show his political distance from Washington D.C., especially after D.C. insiders united to block his immigration reforms in the February Senate debate and in the March omnibus spending plan.
Coulter Slams Trump: We Thought We Were Getting A Negotiator
"There was only one guy who said at every speech, at every rally, for two years that he would build the wall," Coulter said. "He has now signed a bill to prohibit building the wall."
Pirro defended the president, saying that the omnibus bill passed last week turned out the way it did not because of Trump but because "the Republicans didn't care enough."
"But we knew that. We knew that from Trump's campaign. We knew they were swine," Coulter responded. Coulter, a supporter of Trump during the campaign, has since become an outspoken critic.
Ingraham: 'This Is Like Christmas for Democrats'
|
Posted: Mar 24, 2018 9:10 PM
On Friday night, Fox News' Laura Ingraham railed against President Donald J. Trump for failing to veto the $1.3 trillion omnibus spending bill. Her comments were the latest in a long line of conservatives criticizing the president.
"…Trump says he signed the omnibus because of the desperate need to fund the military and then he had no choice because of a looming government shutdown. Let's face it. It pains me to say this, the president did have a choice," the conservative host of 'The Ingraham Angle'
said
after replaying remarks from President Trump's press conference.
"He could have called Congress back to town and made them pass a continuing resolution until his priorities were funded and we explain this mess to the American people. I tried in vain to warn him many times this week," she added.
She then laid into the "swamp," and condemned Republicans, going so far as to wonder if they should even be in leadership.
"An omnibus spending bill is this is what you have to know, a legislative scam. It's a business as usual spendorama at a time when voters expected just the opposite from a president who campaigned against the corruptocrats in D.C. As I see it right now tonight, the wall is never going to happen. Because, as we dug into this and really looked into this, this bill doesn't fund the wall at all. We can do better. We must do better or Republicans do not deserve to be in the majority."
Finally, Ingraham echoed the frustrations that so many conservative Americans have with their Republican representatives.
"Well, voters elected Republicans to both houses of Congress and gave them the presidency to shrink government spending, and to shake up the system. Not expand government and give in to the system. This is like Christmas for Democrats," Ingraham lamented.
Its worth noting that Ingraham spoke for President Donald J. Trump during the 2016 Republican convention. Her statements last night typify the Conservative base's frustrations with Big Government establishment Republicans, and it appears those frustrations now extend to President Trump as well.
The full clip can be viewed below.
'Drain the Swamp' Becomes 'Remove the Cancer'
It is easy to dismiss Donald Trump's "Drain the Swamp" rhetoric as a campaign gimmick. Many believed that's all it was. Clearly, it was a message never before heard from an elected politician.
Even when he was a long shot, a "could never be elected" candidate, his message struck fear in the hearts and minds of the establishment. Oh, never mind – he didn't have a snowball's chance in Hell of winning. But still, what if he did, and what if he meant what he said? The video below nicely tracks the ebbs and flows of the last presidential campaign. As it points out, as the impossible began to look possible, the corruption increased.
BLOG: WATCH THIS VIDEO!
Imagine the horror as Trump went from impossible to the Republican nominee. Some in the Democratic Party were delighted, believing that it made for a sure win for their candidate. Why Hillary had trouble beating Old Crazy Bernie despite her illegal tactics never seemed to register with them or their allies in the media.
Many in this country still do not believe how corrupt their government is. To many, Trump is merely a baboon – not intelligent enough to manage government and not proper or politically correct enough to represent them.
To the horde of thieves inside the Beltway, he is the million-in-one shot. As such, he is now a threat that cannot be tolerated. His tenure has already highlighted and uncovered inefficiencies and illegalities. And he is just getting started and beginning to focus on the really criminal stuff.
"Drain the swamp" was a catchy campaign phrase, but it was inaccurate in the sense that swamps do not metastasize. They can become more dangerous over time, but generally, they do not become bigger. Washington is more like a cancer, which does grow in size.
The election of Trump has revived the cancer called Washington and caused it to metastasize. To be sure, if untreated, it would have killed the country. The fact that Trump's election uncovered it and made it virulent is a positive. It must be excised, or it will kill Trump and whatever freedom is left.
"Drain the swamp" has morphed into "remove the cancer."
Trump is a threat to the wealth accumulation of the criminals. Members of both parties are against him, although Republicans are more cautious and sneaky in their opposition. The wealth of many inside the Beltway is at stake. So too is their freedom from prosecution. Ditto for very, very powerful beneficiaries outside the Beltway.
Trump is no longer viewed as a baboon. Instead, he is an existential threat that must be stopped. Up to this point, he has shown himself to be more clever and smarter than the criminals arrayed against him. The cancer must kill Trump, or Trump will remove the cancer.
Trump has now entered the critical phase of his presidency. His very presence threatens this crooked establishment in ways never before seen. He presents risks to both Democrats and Republicans.
If I could purchase a life insurance policy on him, I would consider doing so. Most voters probably think such talk is ridiculous. Perhaps, but that is likely because they don't understand the stakes.
Perhaps I am overstating the case, but I think not. Trump has taken on the biggest and most powerful criminal cartel in the world. This cartel includes the police at least at the federal level (FBI, CIA, NSA). It consists of well dressed, quasi-educated types who gain office and then plunder the people they are supposed to represent. It also consists of a Pravda-like media out to protect the existing criminal cartel.
Major businesses are at risk. They provide both hidden and unhidden benefits to officeholders as the quid for the quo of favorable legislation. It is never out of respect that a business contributes to a politician. These "contributions" are investments made only because they yield profitable returns for the provider.
The Mueller investigation is supported by both parties. It should never have begun, but it was necessary to remove Trump from office. It also was necessary to protect the criminals in Washington who are Mueller's friends. For those who admire the "integrity" of Mueller, check out his history. It is one of bumbling investigations. Further, Mueller was at the center of some of the shady dealings in the Obama administration. Mueller has integrity compared to the rest of the swamp-dwellers in the same way that the Unabomber could claim to have integrity compared to Jack the Ripper. Integrity in Washington means something different outside the Beltway.
As the Mueller investigation is increasingly viewed as a fraud, the Establishment must co-opt Donald Trump to their side. This possibility seems remote. That means they must take him out. If Mueller cannot do it, other means must be found. The stakes are too high to allow him to continue in office.
Illegal Alien Accused of $150,000 Pittsburgh Crime Spree Found in St. Louis
WPXI News
out of Cranberry Township, PA reports that an illegal alien suspected of committing a string of home break ins has finally been arrested. But, the woman was not apprehended in the Commonwealth of Pennsylvania, but St. Louis, Missouri.
Monica Coria-Olvera is accused of stealing more than $150,000 from a slew of Pittsburgh homes last September.
Coria-Olvera, along with two other accomplices, targeted five different communities within Cranberry Township. Each robbery had the same technique; cracking the back door open and ransacking the house.
"On Sept. 14, 2017, we had a breakthrough in our investigation. It led us to this suspect found in St. Louis," Sgt. Chuck Mascellino, of the Cranberry Township police, told the media.
Apparently, Coria-Olvera committed similar crimes in Missouri. According to the local news station, police have no idea why she chose Pittsburgh, but it is apparent she is tied to organize crime. In just four days, she broke into seven different homes.
The woman does not speak English and has a Mexican passport.
"We went and got her and brought her back here to face these many charges," Mascellino added
She is being held without bond in the Butler County Jail. The case is particularly confusing as to who orchestrated the scheme.
Coria-Olvera's arrest comes at a time when America's lawmakers are debating the hotly contested border wall. Though candidate Trump's cornerstone promise, there has been zero miles of the wall built that could potentially prevent future would-be robbers, such as Coria-Olvera, from entering the country.
Mexicans cheat, distribute drugs, lie,
forge documents
, STEAL and kill as if it's a normal way of life. For them, it is. Mexico's civilization stands diametrically opposed to America's culture. FROSTY WOOLDRIDGE
UNDERSTANDING AMERICA'S LA RAZA MEX OCCUPIERS AND THEIR CULTURE THEY IMPOSE BUT WE PAY FOR:
AMERICA vs MEXICO: CLASHING CULTURES
By Frosty Wooldridge
Mexicans cheat, distribute drugs, lie, forge documents, steal and kill as if it's a normal way of life. For them, it is. Mexico's civilization stands diametrically opposed to America's culture.