Joe Biden Choosing a Presidential Transition Team over Six Months Before Election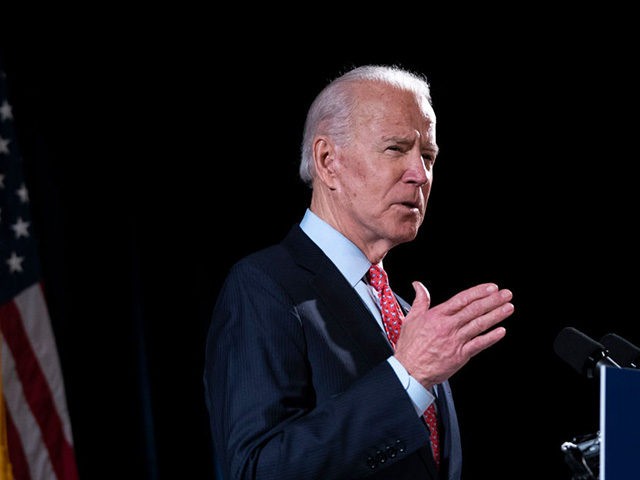 Joe Biden (D), the Democrat Party's presumptive nominee,
said
on Thursday that he is undergoing the process of choosing a presidential transition team, over six months prior to the general election.
Biden made the admission during a virtual fundraiser on Thursday, revealing that the process has been underway for "several weeks," according to the Washington Post:
Discussions are underway about the prospect of elevating some White House offices to Cabinet-level positions, Biden said. Among those that will be under consideration for the Cabinet: The Office of Science and Technology Policy; the global health security pandemic office; and a separate climate change operation that "goes beyond the EPA," he said.
The former vice president also told viewers that he would, indeed, consider announcing cabinet members before November's election, although he emphasized that he was not making a commitment. However, he signaled that he already has several choices in mind.
"If the Lord Almighty said 'Joe, I tell you what. You have to decide in three hours what your cabinet is or you're going to be bounced out of the race,' I could write down who could be in the cabinet," Biden stated, adding that there are "at least two or three people qualified for every one of those positions."
"I have had literally several hundred serious, serious players who have held positions in every department in the federal government who have said, including some Republicans, who have said if you win, I want to come back. I'm ready to serve," Biden claimed.
Axios reported last month that Biden was already discussing potential Cabinet picks, many of whom served during the Obama administration, including former Secretary of State John Kerry.
Former National Security Advisor Susan Rice — who was never nominated for Secretary of State because of fears she would not survive confirmation after misleading the nation about the Benghazi attacks — could find her way to that position in a potential Biden administration, Axios claims.

There would also be room in the Biden Cabinet for some of his former 2020 rivals, including former South Bend, Indiana, Mayor Pete Buttigieg, who could be UN ambassador, or U.S. trade representative.

Several are also currently under consideration, Axios reports, to be Biden's running mate, including Sens. Amy Klobuchar (D-MN) and Kamala Harris (D-CA). The final choice may be up to Rep. James Clyburn (D-SC), who delivered the key endorsement that helped Biden win South Carolina and change the direction of the entire Democratic primary.
Meanwhile, Biden has
committed
to choosing a woman as a running mate and also touted his plan to choose a diverse Cabinet that looks "like the country."
"Men, women, gay, straight, center, across the board. Black, white, Asian," he said during a virtual fundraiser this month. "It really matters that you look like the country, because everyone brings a slightly different perspective."
A Double Game behind the Biden Double Standard?
On April 12, the Washington Post and New York Times broke – and really carefully soft-pedaled -- a story that a woman named Tara Reade had accused Joe Biden of a sexual assault dating from 1993. Some other mainstream news outlets covered the story as well (e.g., "NBC News Online" but evidently not broadcast) in a similarly dismissive manner. The Post put the small headline below the fold in its April 13 print edition.
Conservative media immediately noted the obvious double standard between this skeptical reportage, and the hysterical "She must be believed!" coverage by the same outlets of much less credible accusations against Brett Kavanaugh in 2018. That's a story in and of itself. But it is also worth asking why these outlets bothered to report Reade's claim at all, given that some major outlets (such as CNN) ignored the story entirely. Their readership would not care, and the mainstream media routinely effectively controls what many Americans "know" simply by what it chooses report, and what it doesn't. The coronavirus "crisis" being exhibit number one.
Vanity Fair breathlessly announced on April 14 that the "media floodgates" had opened on the story, but that's certainly an exaggeration. For example, on the "NBC Nightly News" April 15, the coverage was entirely about the coronavirus outbreak, including a long and frankly embarrassing interview with a weeping middle-aged male nurse insisting the country remain on lockdown. There was no mention of the Biden allegations.
The decision by the Times, Post, and a few other mainstream outlets to report the story at all is worth examining given their power to drive national events and public attention. Let's consider three possibilities.
First, as responsible news organizations run by highly ethical journalists they had a duty to report the allegations, given their seriousness, so that the American people could remain informed. Okay -- I'll give you a minute to stop laughing before we move on to possibility number two.
Second, they wanted to air the accusation, undermine it and then dismiss it, in order to inoculate Biden from Reade in the general election campaign. This presumption is entirely true to a degree. We know this because the Times executive editor, Dean Baquet, admitted as much in an extraordinary and humiliating interview with the Times' own media reporter, who questioned Baquet about the evident double-standard in reporting. At the request of the Biden campaign, the Times edited the story to omit prior accusations that Biden's touchy-feely habits and hair-sniffing violated the women subjected to it.
Baquet's coordination with the Biden campaign leaves little doubt that the Times story served the political purpose described above. We can also assume that the Post and "NBC Online" ran their own stories for similar reasons. Indeed, all the stories read almost exactly the same, as if written by drones programed in similar left-wing journalism schools. They all begin with excuses as to why it took three weeks to come out with the story after Reade's most serious allegations went public. Then skeptical reporting of the allegation, followed by digressions into similar accusations against President Trump, followed by trumpeting of alleged inconsistencies and denials from the Biden camp.
Quite a difference from the frenzied and credulous reportage by all these outlets of Christine Blasey Ford's thin and completely unsubstantiated accusations against Kavanaugh, not to mention the uncritical parroting of even more outlandish claims, such as those promoted by convicted fraudster Michael Avenatti.
And it might be coincidental that the news about Reade came out at roughly the same time Biden's former rivals (Bernie Sanders and Elizabeth Warren), and former boss (Barack Obama) finally deigned to deliver endorsements, but it might not. The endorsements helped to tamp down further any damage the Reade accusations might do, and seemed to indicate that these Democrat worthies were unbothered by them.
However, while it's fun to mock pseudo-journalists like Baquet, it is also unwise to underestimate them. Baquet is clearly well-connected to the Biden campaign. But it is also safe to assume he and his fellow travelers at the Post are similarly well-connected to the Democrat power brokers that ultimately will decide whether or not Joe Biden will be the nominee.
This finally brings us to possibility number three, which is that airing and pooh-poohing Reade's accusations now, doesn't mean that they can't be amplified and used against Biden later on, should that become necessary. Reporting the accusations now, however much these outlets soft-pedal it, will enhance their credibility later, should the Times and the Post want to take Biden down.
It's hard to think of a recent Democrat presidential candidate less enthusiastically supported by the mainstream press and his party than Biden. Sanders, Warren, and especially Obama took a good long time to deliver their endorsements, which were lukewarm at best. And the party's hard left, as represented by Alexandria Ocasio-Cortez, has yet to fall in line.
Biden's many failings, but especially his utter lack of dynamism and mental lapses, still leave many wondering whether he will ultimately be the Democrat standard bearer. So speculation continues to run that the Democrats remain hungry for an alternative, be that Andrew Cuomo or someone else.
The Reade accusations could, properly hyped up by the same press that's protecting Biden now, help usher him out of the way, should the Democrat powers-that-be determine it's necessary.
Joe Biden drifts off into incoherence in MSNBC softball interview, as wife Jill tries hard to look unconcerned
Do Democrats really believe that they can push to victory a presidential candidate who is incapable of one full minute of coherent discourse, even in a friendly environment? With more than half a year before Election Day, Joe Biden is rapidly mentally deteriorating, and it is increasingly sad watching him and his wife trying to cope with responsibilities that even in his salad days were beyond his capacity. (Remember when he plagiarized campaign speeches decades ago?)
Yesterday, his friends on MSNBC's Morning Joe metaphorically threw him a softball and he fumbled it, and then kept dropping it, having it roll away, stumbling, tripping, and then just giving up… with a disturbing, off-kilter smiling face, as if he were about to play a third banjo in Deliverance.
It will take a minute of your life to watch the sad spectacle. As you do, keep an eye on his wife, Jill, who tries very hard to look unconcerned, but can't help looking at him from time to time. Watch her eyes for clues about what's going on in her heart:
Kudos to Stephen Green of PJ Media for transcribing the stream of consciousness mishmash of words:
I sat with a guy on, on a telephone and he's telling me, he said, "I don't always," he said, "Look, I, I, I, I, I, I'm, I, I worked at the hospital." And he said, "Then I, I got, I got myself a position where I got the virus so they quarantined me and, and they put me in the hospital, and I made it out and so I'm out [slurp]. But they don't want me with my family. I'm on the third floor. I spent 15 minutes on the phone with them saying,' he said, 'I have a three-year-old and a four-year-old. They come to the door outside and they just knock on the door and say 'Daddy, Daddy, can I see you Daddy, can I see you Daddy?''"

So we spent time going through it [slurp], I used to do with my kids when they were little and I couldn't see them and we'd play games. I said, "Knock, make up a game, knock, knock on the door and say this is, you know [slurp]." [incomprehensible] This is practical things, the guy's scared to death. And he's worried about his children, he's worried about his wie [sic]. I mean, these are practical things. And the president talks about this like, "OK, it's gonna be OK. We're gonna open… tomorrow. We're gonna do this."

I mean, it just, I must tell you, it drives me crazy. I don't know what he doesn't understand.
I notice that the corporate media has stopped calling his wife "Dr Jill Biden" so much, lately. Is that because the false impression she has medical expertise (her doctorate is in education) now suggests her spouse is in need of treatment?
"A third theory is that Obama and his minions never wanted to leave power; they felt entitled to it, the minions, at least, and Biden might just be the best actual front man for making Obama the power behind the throne."
Obama squirms about that Biden endorsement
Now that the Democratic Party has all but
consolidated
behind decrepit Joe Biden to keep unelectable socialist Bernie Sanders off the top of its ticket, it's worth a snicker to consider President Obama, behind the scenes, suddenly realizing he's going to have to endorse idiot Joe Biden for president, a man he considers unfit for the office.
Obama had withheld his endorsement for his faithful former vice president, which was pretty humiliating for Joe, a man Joe had touted as his "best friend" to the NAACP. Biden claimed he asked for no endorsement, which no one believed. Obama claimed he was waiting till after primaries. The real reason leaked out, though: that Obama doesn't think Biden is up to the job.
"You don't have to do this, Joe, you really don't," the former president told Biden before the front-runner entered the race, insiders
told the New York Times
.
Biden has repeatedly cited his relationship with his old boss as he touts his credentials on the campaign trail — but Obama has asked Biden staffers to make sure the gaffe-prone veep does not "damage his legacy" or "embarrass himself" during his run.
The former president has told insiders of his worries that Biden's top aides are "too old and out of touch with the current political climate."
Worse still, Obama
said this
to Democratic leaders last November and word got out: "You know who really doesn't have it? Joe Biden."
Now it's endorsement time, tiger, so buckle up.
Obama is still squirming, delivering a congratulations but
no endorsement
. The
last reported news of his doings
comes from Pete Buttigieg, who says Obama called him up during the dropout consolidation and told him to "use the leverage you amassed."
Two things might be going on here.
One, Obama hasn't endorsed Biden because he still thinks Joe isn't up to the job and wants to keep his hands off the whole matter until he has to.
Maybe he's waiting for the convention in order to make a grand appearance for the endorsement — knowing Obama's ego, that's pretty likely.
The importance of an endorsement for Biden is reinforced by the fact that Rep. James Clyburn's
endorsement handed the South Carolina primary to Joe
in a dramatic turnaround for the otherwise washed up gaffemaster, paving the way to his Super Tuesday wins. If Clyburn's endorsement could do that for Joe, think what an Obama endorsement could do for Joe. But he won't give it.
Two, despite his contempt for incompetent Joe, Obama might just be behind the consolidation behind the scenes, given his pen-and-phone stuff with the assorted Democratic candidates such as Buttigieg, someone he had a
soft spot for early on
(along with Beto O'Rourke). Despite his distaste for Joe, Obama realizes that Joe might just be the best hope for preserving his legacy, something that's always foremost in his mind. He hates Sanders and knows that Sanders would blow up his legacy far more decisively than Trump, turning America into the shambles of Venezuela, a
vast 5,000-mile blue city
full of corruption, unemployment, homeless blight, opioid addiction, rigged elections, illegals, high rents, high costs, collapsing markets, shriveling 401(k)s, greenie oppression, men-only sports prizes, state bankruptcy, zero oil, and crime.
Biden, though, is malleable, easily manipulated, desperate for love, a political hack of no principles — and easy to lead by the nose.
Just as Obama told Pete, to exert "leverage" on Biden, Obama knows he can get anything he wants from Biden for that slavered-after Obama endorsement. This makes Biden the perfect puppet. It's said that someone's pulling Biden's puppet strings. Obama's as good a guess as any for who the puppetmaster is.
A third theory is that Obama and his minions never wanted to leave power; they felt entitled to it, the minions, at least, and Biden might just be the best actual front man for making Obama the power behind the throne.
It's doubtful that Obama, occupied as he is with golf and billionaire-paid vacays, and as lazy as he is, really wants to do the governing. But his minions certainly don't like being on the outs.
This picture, remember, told us everything.
These Obama minions are so desperate to cling to power they launched a coup attempt against President Trump through the use of Obama holdovers and the Deep State. Some, such as the political appointees at Voice of America, one such agency, still refuse to leave office. Others have found their way into the FISA courts, the leaky press, and the offices of Adam Schiff. It may well be that professional power behind the throne Valerie Jarrett is plotting her comeback.
But it all comes down to the significant hurdle of having to endorse Joe Biden, something that must make Obama gag. Instead of get it over with, he's exerting leverage for sure. But if and when he does, we all know it will be a joke: word's already out about what Obama really thinks of Biden in private.
28 Million

Mail-In Ballots

Have Gone Missing
Sure, let's do mail-in voting. What's the worst that could happen? It's not like mail-in voting isn't a massive
dead letter office of fraud
.
The Public Interest Legal Foundation (PILF) today released a research brief detailing national figures for mail balloting failures, according to previous federal surveys.

Roughly 1 in 5 ballots never completed the mail voting process in the past decade.

"Putting the election in the hands of the United States Postal Service would be a catastrophe. Over the recent decade, there were 28 million missing and misdirected ballots," PILF President and General Counsel J. Christian Adams said. "These represent 28 million opportunities for someone to cheat. Absentee ballot fraud is the most common; the most expensive to investigate; and can never be reversed after an election. The status quo was already bad for mail balloting. The proposed emergency fix is worse."

The EAC defines "unknown" ballots as those that "were not returned by voter, spoiled, returned as undeliverable, or otherwise unable to be tracked by your office."
The full number of unknown ballots stands at 28,359,530. Not like those kinds of numbers could make an impact on the election.
Of course we wouldn't need to have these ridiculous conversations if we, like every civilized country, actually verified the ID of the people voting, instead of treating voting as if it were less important than buying cough syrup or beer.
We have the technology to actually let everyone securely buy products from their phone. Yet our elections run on systems that are built to enable fraud. And you don't have to speculate very hard as to who benefits from that fraud. It's the same political movement that keeps blocking and fighting any voter ID measure even when it's supported by their own voters.
JOHN BINDER
JAMES WALSH
THE OBAMA-BIDEN HISPANICAZATION of AMERICA…
first ease millions of illegals over our borders and into our voting booths!
Joel Pollak/ Breitbart News
JOEL B. POLLAK
Surge in Illegal Aliens, 500% Increase in Some U.S. Ports of Entry
THE OBAMA MARXIST-MUSLIM BANKSTER-FUNDED THIRD TERM for life:
Democrats Allow Communists to Infiltrate Their Party Across the Nation
Democrats Allow Communists to Infiltrate Their Party Across the Nation
DESTABILIZE AMERICA TO LAY GROUNDS FOR A MUSLIM-STYLE DICTATORSHIP
THE MAN WHO WOULD BE DICTATOR
Barack Obama's Russia Connection
If Obama was a fully recruited agent of Moscow, tasked with giving Russia a significant military advantage over the United States, and economically weakening and socially dividing the nation, how would he have conducted his presidency (or his post-presidency) any differently? TREVOR LOUDON
We are all victims of the Obama cabal's collusion with Russia – President Trump's voters and all Americans who believe in our free and fair election process.
Eric Holder: Coronavirus 'An Opportunity' to Permanently Change America's Voting System
CALIFORNIA COMRADES CHOOSE COMRADE HOLDER
by Michelle Malkin
Editorial Reviews
• ISBN-10: 1596981091
• ISBN-13: 978-1596981096
Michelle Malkin
Federal Data: 16.4M Mail-In Ballots Went Missing in 2016, 2018 Elections
The data from the U.S. Election Assistance Commission and the Election Administration and Voting Surveys for 2016 and 2018, provided by the Public Interest Legal Foundation (PILF), shows that between the 2016 and 2018 elections, roughly 16.4 million ballots mailed to registered voters went missing.
In the 2018 election, about 42.4 million ballots were mailed to registered voters. Of those mailed, more than one million were undeliverable, more than 430,000 were rejected, and nearly 10.5 million went missing.
The 2016 election showed similar discrepancies. That year, about 41.6 million ballots were mailed to registered voters. Of those mailed, more than 568,000 were undeliverable, nearly 320,000 were rejected, and close to six million went missing.
"Putting the election in the hands of the United States Postal Service would be a catastrophe. In 2018 and 2016, there were 16 million missing and misdirected ballots," PILF President J. Christian Adams said in a statement. He went on:
These represent 16 million opportunities for someone to cheat. Absentee ballot fraud is the most common; the most expensive to investigate; and can never be reversed after an election. The status quo was already bad for mail balloting. The proposed emergency fix is worse.
Los Angeles County, California, for instance, had nearly 1.4 million mail-in ballots go missing in the 2018 election, while Maricopa County, Arizona saw 408,000 mail-in ballots go missing.
Likewise, Orange County, California, had 374,000 mail-in ballots go missing in 2018 and King County, Washington, had 353,000 mail-in ballots go missing.
San Diego County, Sacramento County, Riverside County, San Bernardino County, Alameda County, Santa Clara County — all located in California — saw a combined 1.6 million mail-in ballots go missing in the 2018 election.
"Launched in 2018 by co-chairs Michelle Obama, Tom Hanks, Lin-Manuel Miranda, Janelle Monae, Chris Paul, Faith Hill and Tim McGraw, When We All Vote is changing the culture around voting using a data-driven and multifaceted approach to increase participation in elections," the organization's website states.
Axios reported on the development, saying that "it comes as Democrats await the Obamas' return to the political stage to help Joe Biden":
"We all saw those lines" of Wisconsin voters putting their health at risk to vote, said adviser and family friend Valerie Jarrett, who is board chair of When We All Vote, Axios reported. "It was just deeply, profoundly concerning."
"Our goal is to just try to make sure we maximize the number of citizens who can participate in that most fundamental and important responsibility," Jarrett said.
Hans von Spakovsky: DOJ Should Sue States Registering Non-Citizens to Vote
ROBERT KRAYCHIK
FINISHING AMERICA OFF: THE FOREIGN INVASION FOR "CHEAP" LABOR
Open the floodgates of our welfare state to the uneducated, impoverished, and unskilled masses of the world and in a generation or three America, as we know it, will be gone. JOHN BINDER
But many less-skilled migrants play their largest role by simply shifting small slices of wealth from person to person, for example, by competing up rents in their neighborhood or by competing down wages in their workplace. The crudest examples can be seen in agriculture.
Overall, the Washington-imposed economic policy of economic growth via immigration shifts wealth from young people towards older people by
flooding
the market with
cheap white-collar and blue-collar foreign labor
.
IMMIGRATION AS ECONOMIC WAR ON THE AMERICAN MIDDLE-CLASS.
The "
mother of all caravans
" is forming in Central America, and our border-enforcement system is
at "the breaking point"
— all because Democrats in Congress rejects any effort to plug the
legal loopholes
that drive the accelerating flood at the border. In effect, Nancy Pelosi and Chuck Schumer are doing just what Cesar Chavez complained about 40 years ago: placating employers by allowing the unhindered importation of cheap labor to undermine the efforts of American workers to negotiate higher wages. MARK KRIKORIAN
THE AMNESTY HOAX
But the business community will have little reason to defend Trump, partly because they have gotten their double-shot of tax cuts and cheap labor. In fact, the legislation does not sunset the amnesty, meaning it can be quietly expanded with a few legal tweaks that can be attached to any of the myriad obscure bills annually passed by Congress.
The U.S.-born baby is, of course, a U.S. citizen, whose illegal alien parents are eligible to receive, on the baby's behalf, food stamps, nutrition from the Women, Infants, and Children (WIC) program, and numerous tax benefits, including the EITC.
US now has more Spanish speakers than Spain – only Mexico has more
AMNESTY AND WIDE OPEN BORDERS IN THE AGE OF INTERNATIONAL TERRORISM: It's all about keeping wages depressed!
THE INVASION!
MEXICO UNDER, OVER AND OCCUPYING AMERICA AT STAGGERING COSTS
https://mexicanoccupation.blogspot.com/2019/04/mexico-in-meltdown-narco-state-pouring.html
"While other witnesses at Mr. Guzmán's trial in Federal District Court in Brooklyn have testified about huge payoffs from traffickers to the Mexican police and public officials, the testimony about Mr. Peña Nieto was the most egregious allegation yet. If true, it suggests that corruption by drug cartels had reached into the highest level of Mexico's political establishment."