Asylum Loopholes Deliver 400,000 Migrants to U.S. Employers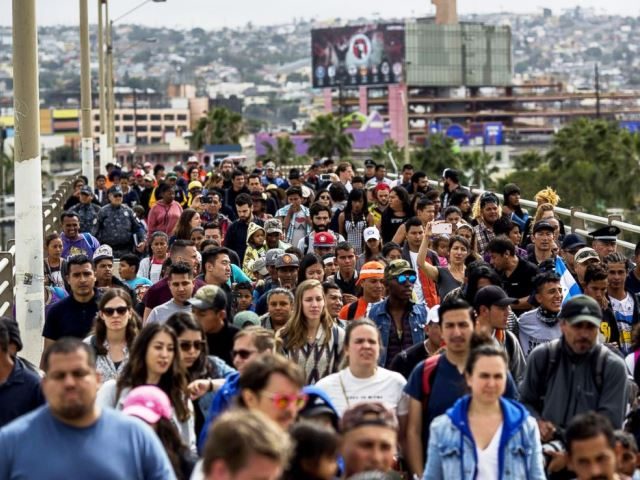 Congress' border loopholes for asylum seekers have delivered more than 400,000 additional migrants into Americans' workplaces, reducing free-market pressure on employers and investors to raise wages for blue-collar Americans.
The 400,000-strong population of asylum seekers "is a huge thing — it is almost half of our legal immigration flow per year," said Rosemary Jenks, policy director at NumbersUSA.
"It is more than the number of agricultural guest-workers [H-2as] that we hand out [each year], plus the number of H-2Bs [visa workers], plus the annual number of H-1Bs [visa workers]," she said.
The asylum seekers "are competing for construction jobs and service-industry jobs against the poorest Americans — including the recent legal immigrants — and of course the employers gain," she said.
The 400,000 number was provided by an official to Breitbart News, and it is equal to one-tenth of the 4 million young Americans who join the workforce each year.
All told, the resident population of illegals, guest-workers, visa workers and asylum-seekers adds at least 11 million workers to a national labor force of roughly 161.5 million. That is almost 7 percent of the workforce, and the resulting wage-competition transfers a huge amount of wealth each year from white-collar and blue-collar employees to the nation's employers, investors and urban professionals.
In fiscal 2017, which started October 2016, officials at the Department of Homeland Security approved 403,000 work permits for migrants based on pending asylum claims. This (c)(8) process allows officials to give "Employment Authorization Documents" to migrants 150 days after they file for asylum. During fiscal 2017, officials declined to give EADs to an additional 76,000 applicants.
The EADs work permits stretch for two years. Additional two-year permits are being awarded in Fiscal 2018, starting October 2017.
The total number of asylum-seekers with EADs is likely around "half a million," said Jenks.
THE MEX INVASION WILL END THE DAY EMPLOYERS OF ILLEGALS ARE PUT IN PRISON!!!
The Battle Over Illegal Immigration Will be Won or Lost With Employers
By Nicholas Waddy
The Daily Caller, May 20, 2018
Every year, hundreds of workplaces are raided by ICE, and millions of dollars in fines are meted out to employers. Under President Trump, these enforcement actions are multiplying, but given the scale of the private sector economy – and the sheer numbers of illegal immigrants employed – this traditional approach simply won't yield significant results. What is needed is a change in the culture of American business. As it stands now, frequently U.S. companies are more afraid of liberal activists than they are of federal authorities. This is outrageous.
Two simple steps could turn this situation around. First, ICE should reward informants who provide tips about employers who routinely hire illegal immigrants. The flow of intel that this unlocks could be used to prosecute hiring managers who knowingly violate the law. Such white-collar criminals should face serious jail time. The mental calculus of hiring managers and HR departments across America would change overnight if this tactic were utilized.
Secondly, the fines assessed on companies violating immigration and labor laws need to be dramatically increased.
If one were to add three zeros to the aggregate amount of fines collected by immigration authorities from U.S. businesses every year, one would undoubtedly change their attitudes and behavior. We would be hitting these rogue businesses where it hurts: their bottom line.
. . .
http://dailycaller.com/2018/05/20/illegal-immigration-battle-won-or-lost-with-employers/
The Lies About Immigration Keeping the Borders Open
By Fabius Maximus
InvestmentWatch Blog, May 23, 2018
Summary: Advocates for open borders rely on a series of fallacies. They are unquestioned in the major news media, but easily debunked.
The second reason is more fundamental. An increasing population boosts GDP. That's arithmetic. That's nice for the people that own America, who benefit directly from rising GDP. But the rest of us care nothing about national GDP. We care about
per capita
GDP. How much does GDP rise for the average person?
The evidence shows that bringing in vast numbers of unskilled and poorly educated migrants does little for us. Why would anyone believe otherwise?
This is the big lie. It is daft, but a major assumption of most arguments for massive immigration — or even open borders. Migrants are migrants, a boon to the host no matter if they come from a functioning society or a failed state. If they are educated or illiterate. If they bring valuable resources or flood a nation with unneeded unskilled labor. If they are willing to assimilate or determined not to do so. If we intend to foster integration (as America did during the early 20th century) or spurned assimilation (
multiculturalism
).
http://www.investmentwatchblog.com/the-lies-about-immigration-keeping-the-borders-open/
ICE Nets 127 in Philadelphia and Midwest Operations
By Preston Huennekens
CIS Immigration Blog, May 25, 2018
In a separate operation, ICE agents arrested 49 individuals in Philadelphia, which the Department of Justice identified in 2106 as one of the worst sanctuary cities in the entire country. Of those, 31 had criminal convictions or pending charges and six had re-entered the country after a previous deportation.
ICE previously issued detainer notices for 14 of these individuals in local custody. Instead of honoring the detainers, Philadelphia officials released them back into the community, forcing ICE to make potentially dangerous at-large arrests, which can endanger agents and bystanders.
ERO Philadelphia Acting Field Office Director Gregory Brawley remarked that "some of these dangerous individuals had been released to the streets instead of being turned over to ICE on our detainers, which compromises the safety of the homeland that ICE officers strive to protect every day."
In each of the news releases, ICE pushed back against criticism that its agents indiscriminately target random aliens. Rather, "[these] operations targeted public safety threats, such as convicted criminal aliens, gang members, and individuals who have violated our nation's immigration laws, including those who re-entered the country after being deported and immigration fugitives ordered deported by federal immigration judges. Reports to the contrary create panic and put communities and law enforcement personnel in unnecessary danger. Any groups falsely reporting such activities are doing a disservice to those they claim to support."
https://cis.org/Huennekens/ICE-Nets-127-Philadelphia-and-Midwest-Operations
IMPOSE E-VERIFY AND YOU INSTANTLY CREATE MILLIONS MORE JOBS AND FORCE WAGES UP!
WE COULD END MEXICO'S INVASION IF WE PUT EMPLOYERS OF ILLEGALS IN JAIL
NumbersUSA's Rosemary Jenks:
E-Verify Ignored in DACA Negotiations Because 'Members of Congress Know It Will Work'
Members of Congress broadly oppose a legislative nationwide E-Verify mandate for employers because "they know it will work," said NumbersUSA's Rosemary Jenks, explaining why E-Verify is not being pushed in congressional negotiations for an amnesty deal for recipients of the Obama administration's Deferred Action for Childhood Arrivals (DACA). Jenks further noted that both parties are beholden to special interests supportive of "mass migration."
JOE LEGAL
v LA RAZA
JOSE ILLEGAL
Here's how it breaks down; will make you want to be an illegal!
THE TAX-FREE MEXICAN UNDERGROUND ECONOMY IN LOS ANGELES COUNTY IS ESTIMATED TO BE IN EXCESS OF $2 BILLION YEARLY!
Staggering expensive "cheap" Mexican labor did not build this once great nation! Look what it has done to Mexico. It's all about keeping wages depressed and passing along the true cost of the invasion, their welfare, and crime tidal wave costs to the backs of the American people!