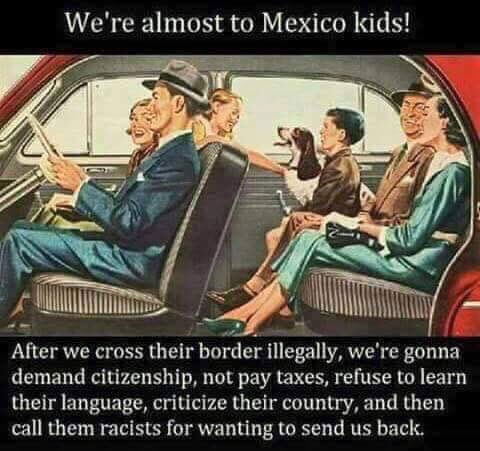 MEXICO'S INVASION, OCCUPATION and LOOTING OF AMERICA by INVITATION OF THE GLOBALIST LA RAZA SUPREMACY DEMOCRAT PARTY for WIDER OPEN BORDERS TO KEEP WAGES DEPRESSED
"Fox's Tucker Carlson noted Thursday that Obrador has previously proposed ranting AMNESTY TO MEXICAN DRUG CARTELS. "America is now Mexico's social safety net, and that's a very good deal for the Mexican ruling class," Carlson added."
"The man likely to be the next president of Mexico just called for mass migration to the US" RICK MORAN
"And soon, very soon — after the victory of our movement — we will defend all the migrants in the American continent and all the migrants in the world," Obrador said, adding that immigrants "must leave their towns and find a life in the United States." RICK MORAN
FACTS ON THE "REAL LATINO AMERICA" OF MEXICAN OCCUPIED LOS ANGELES:
(these are highly DATED stats on Mexico's second largest city)
This is another "fact" spun from the 2004 op-ed by Heather Mac Donald, whose article refers to a single Los Angeles gang and the conjecture of an unnamed federal prosecutor.
1.
"40% of all workers in L.A. County are working for cash and not paying taxes. . . . This is because they are predominantly illegal immigrants working without a green card." The Mexican tax-free economy in Los Angeles County is estimated to be in excess of $2 billion dollars a year.
2.
"95% of warrants for murder in Los Angeles are for illegal aliens . . . "
3.
"75% of people on the most wanted list in Los Angeles are illegal aliens."
4.
"Over 2/3 of all births in Los Angeles County are to illegal alien Mexicans on Medi-Cal, whose births were paid for by taxpayers." The County of Los Angeles hands Mexico's anchor baby breeders more than a BILLION DOLLARS a year in welfare.
5.
"Nearly 35% of all inmates in California detention centers are Mexican nationals here illegally." California has the largest and most expensive prison system in the country. Half the inmates are now Mexicans. Half the murders in California are by Mexican gangs.
6.
Over 300,000 illegal aliens in Los Angeles County are living in garages.
7. "The FBI reports half of all gang members in Los Angeles are most likely illegal aliens from south of the border."
8. "Nearly 60% of all occupants of HUD properties are illegal."
9. 21 radio stations in L. A. are Spanish speaking.
10. In L. A. County 5.1 million people speak English, 3.9 million speak Spanish.
THE NEW PRIVILEGED CLASS: Illegals (unregistered democrats)!
This is why you work From Jan - May paying taxes to the government ....with the rest of the calendar year is money for you and your family.
Take, for example, an illegal alien with a wife and five children. He takes a job for $5.00 or 6.00/hour. At that wage, with six dependents, he pays no income tax, yet at the end of the year, if he files an Income Tax Return, with his fake Social Security number, he gets an "earned income credit" of up to $3,200..... free.
He qualifies for Section 8 housing and subsidized rent.
He qualifies for food stamps.
He qualifies for free (no deductible, no co-pay) health care.
His children get free breakfasts and lunches at school.
He requires bilingual teachers and books.
He qualifies for relief from high energy bills.
If they are or become, aged, blind or disabled, they qualify for SSI.
Once qualified for SSI they can qualify for Medicare. All of this is at (our) taxpayer's expense.
He doesn't worry about car insurance, life insurance, or homeowners insurance.
Taxpayers provide Spanish language signs, bulletins and printed material.
He and his family receive the equivalent of $20.00 to $30.00/hour in benefits.
Working Americans are lucky to have $5.00 or $6.00/hour left after Paying their bills and his.
The American taxpayers also pay for increased crime, graffiti and trash clean-up.
Cheap labor? YEAH RIGHT! Wake up people!
LA RAZA AMERICA: A Mexicans welfare state
MEXICO INVADES, OCCUPIES, PLUNDERS AND VOTED DEM FOR MORE!
There is also financial and political carnage perpetrated against our nation:
(FIGURES ARE HIGHLY DATED AND GOING UP EVERY WAVE OF INVASION)

1. $11 Billion to $22 Billion is spent on welfare to illegal immigrants each year by state governments (CALIFORNIA SPENDS $30 BILLION PER YEAR IN SOCIAL SERVICES TO ILLEGALS. LOS ANGELES COUNTY CHIPS IN A BILLION PER YEAR FOR THE LA RAZA ANCHOR BABY BREEDERS).
*
2. $22 Billion dollars a year is spent on food Assistance programs such as
food stamps, WIC, and free school lunches for illegal immigrants.
*
3. $2.5 Billion dollars a year is spent on Medicaid for illegal immigrants.
*
4. $12 Billion dollars a year is spent on Primary and secondary school
education for children here illegally and they cannot speak a word of
English!
*
5. $17 Billion dollars a year is spent for Education for the American-born
Children of illegal immigrants, known as Anchor babies.
*
6. $3 Million Dollars a DAY is spent to incarcerate illegal immigrants.
*
7. 30% percent of all Federal Prison Inmates are illegal immigrants. Nearly half the inmates in CA are Mexicans.
*
8. $130 Billion Dollars a year is spent on Illegal immigrants for Welfare & Social Services by the American taxpayers.
*
9. $400 Billion dollars a year in suppressed American wages are caused by the illegal immigrants.
*
10. In 2006, illegal immigrants sent home $45 BILLION in remittances to their Countries of origin.
*
11. The Dark Side of Illegal Immigration: Nearly One million sex crimes committed By Illegal Immigrants In The United States.
12. From $40 to $60 billion hauled back to Mexico from heroin sales!
WORST LOWER EDUCATION SCHOOLS IN THE NATION
"The public schools indoctrinate their young charges to hate this country and the rule of law. Illegal aliens continue overwhelming the state, draining California's already depleted public services while endangering our lives, the rule of law, and public safety for all citizens."
Least-Educated State: California No. 1 in Percentage of Residents 25 and Older Who Never Finished 9th Grade; No. 50 in High School Graduates
TERENCE P. JEFFREY
*
California's public education system, once the envy of the world, now ranks 49th in the nation.

ROBERT J. CRISTANO
*
Pollak: Educating Illegal Aliens and Their Children Costs L.A. Schools
Hundreds of Millions Per Year.
Steven A. Camarota, director of research, at the Center for Immigration Studies, told Breitbart News on Friday that "between one-fifth and one-fourth of the students in LAUSD are the children of illegal immigrants — though most of those were born in the U.S." He said that a smaller percentage of the students ("in the single digits") are illegal immigrants themselves. Robyn Beck
WHO ARE AMERICA'S OCCUPIERS?
THE LA RAZA "THE RACE" INVADERS:
AMERICA vs MEXICO: CLASHING CULTURES
Illegals cheat, distribute drugs, lie, forge documents, steal and kill as if it's a normal way of life. For them, it is. Mexico's civilization stands diametrically opposed to America's culture.
The legal age of sexual consent in Mexico is 12 years old. Sex with children at this age and younger is socially acceptable in Mexico. For example: A Mexican Lopez-Mendez pleaded guilty to sexual assault on a 10 year old girl in West Virginia.
ANOTHER MEXICAN GANG RAPE of A CHILD TODAY IN LA RAZA-OCCUPIED CA… really want more of Obama's OPEN BORDERS agenda???
After she refused sex with her attackers, authorities say she was raped, robbed and beaten unconscious in a sustained sexual assault that some investigators called the worst they had ever seen. Though as many as two dozen people stood and watched, the attack ended when a woman in the neighborhood heard what was happening and called 911.