Immigrants Sent $140 Billion From U.S. Back To Homelands in 2016
Legal and illegal immigrants wired almost $140 billion from the United States back to their home countries and foreign relatives in 2016.
The huge loss of domestic spending by of immigrants' remittances is spotlighted in a new report by the Pew Research Center, which also noted that $6.5 billion was sent back to the United States by foreign-based U.S. workers. That is a 21-fold difference and is enough money to support 2.6 million additional $50,000 jobs in the United States.
The remittance number is based on calculations by the World Bank.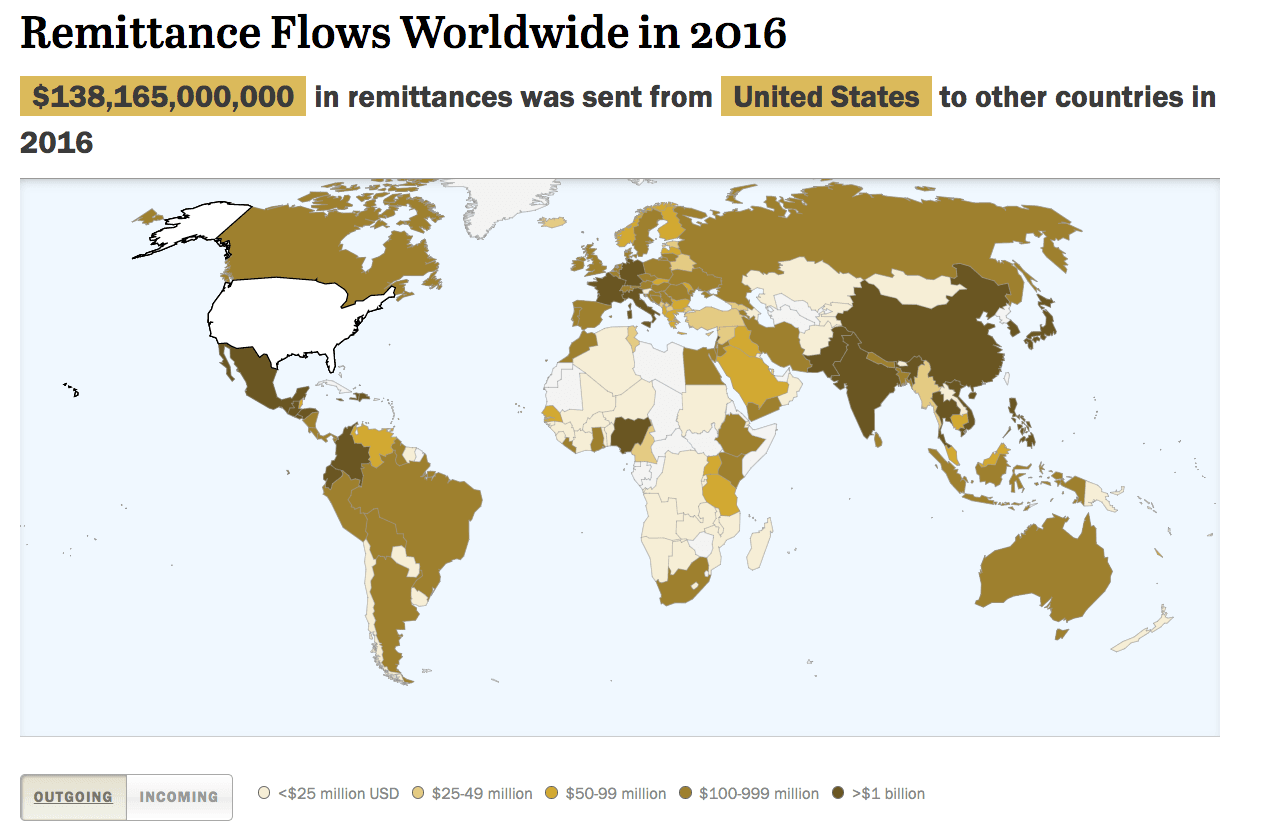 The leading recipients of the exported remittances are people in Mexico, China, and India, reflecting the growing size of Chinese and Indian migration into the United States. Many of the Chinese and Indian migrants work in once-prestigious, but now lower-wage, white-collar science or computer jobs.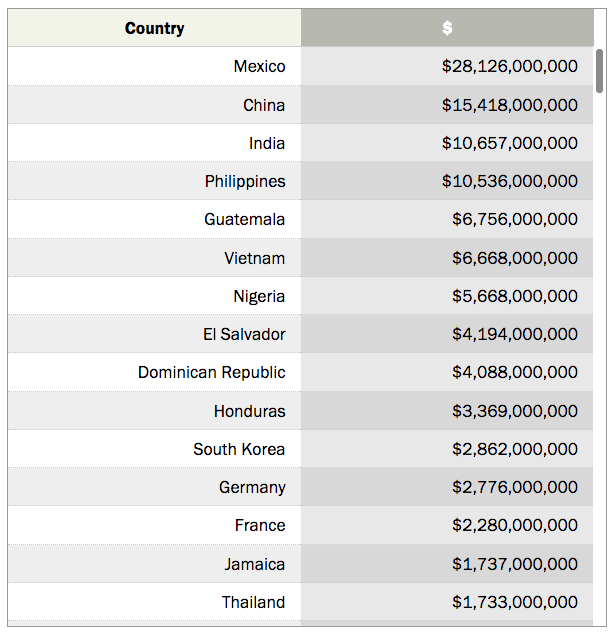 The annual drain of $140 billion is only 0.75 percent of the $18,624 billion U.S. economy in 2016. Also, the money does eventually zigzag its way back to the United States as foreign families spend those dollars to buy products, some of which are American.
But the huge scale of foreign remittances adds to the economic losses and redistributions imposed by the federal policy of goosing economic growth with the large-scale immigration of 1 million workers and consumers every year.
Four million Americans turn 18 each year and begin looking for good jobs in the free market.
But the federal government inflates the supply of new labor by annually accepting roughly 1.1 million new legal immigrants (including roughly 750,000 working-age migrants), by providing work-permits to roughly 3 million resident foreigners, and by doing little to block the employment of roughly 8 million illegal immigrants.

The cheap-labor policy has also reduced investment and job creation in many interior states because the coastal cities have a surplus of imported labor. For example, almost 27 percent of zip codes in Missouri had fewer jobs or businesses in 2015 than in 2000, according to a new report by the Economic Innovation Group. In Kansas, almost 29 percent of zip codes had fewer jobs and businesses in 2015 compared to 2000, which was a two-decade period of massive cheap-labor immigration.
Because of the successful cheap-labor strategy, wages for men have remained flat since 1973, and a large percentage of the nation's annual income has shifted from employees to investors.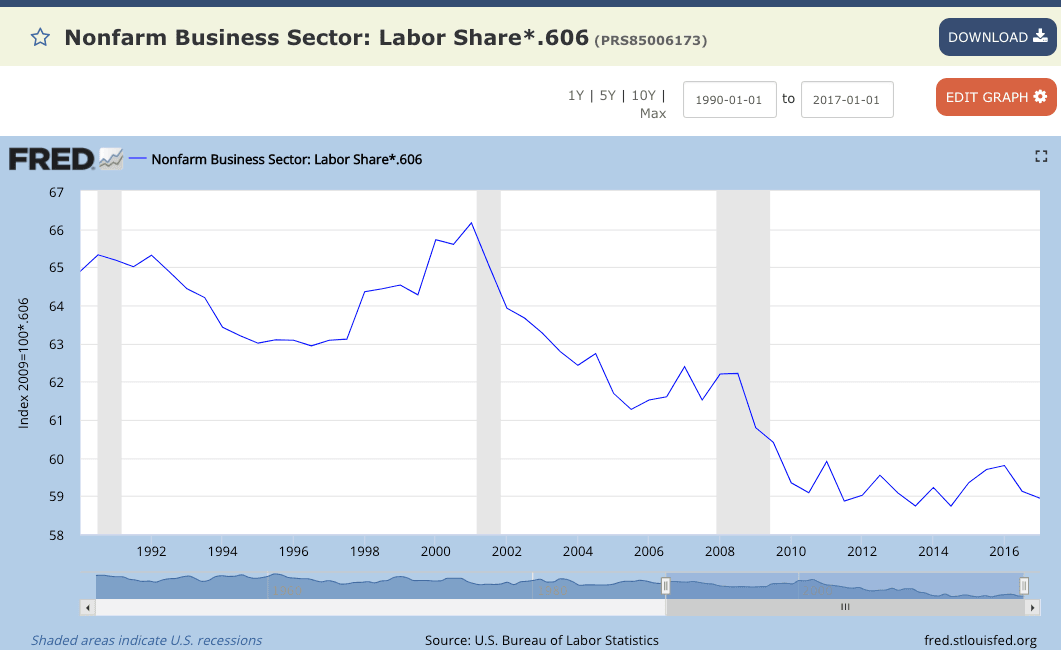 THE TRUMP AMNESTY TO LEGALIZE MEXICO'S LOOTING AND KEEP WAGES FOR LEGALS DEPRESSED
The draft amnesty will also serve as complete proof in November that Trump's voters' wrongly placed their trust in his August 2016 promise to block any amnesty: (SEE LINK).
"But the taxpayers' costs also act as a $26 billion stimulus for business which will provide the migrants with medical services, apartments, entertainment, food, and transport. The continued inflow of the 4 million chain-migrants, however, is a vastly greater benefit for business and burden for American workers." NEIL MUNRO
A county by county chart:
According to the nonpartisan Center for Immigration Studies, the deportations occurred between October 2008 and February 2015. The
three counties
with the most deportations during this period were Los Angeles County, Calif.; Maricopa County, Ariz.; and Harris County, Texas.
Heather Mac Donald of the Manhattan Institute has testified before a Congressional committee that in 2004, 95% of all outstanding warrants for murder in Los Angeles were for illegal aliens; in 2000, 23% of all Los Angeles County jail inmates were illegal aliens and that in 1995, 60% of Los Angeles's largest street gang, the 18th Street gang, were illegal aliens.
ILLEGALS CLIMBING CALIFORNIA'S BORDERS FOR JOBS AND WELFARE: SAN DIEGO …
Mexicans (registered democrat anchor baby breeders (1,877).
In just the month of October 2017 CBP Border Patrol San Diego border sector
reported
apprehension of individuals from Bangladesh (12), Brazil (1), Camaroon (3), Chad (1), China (16), El Salvador (76), Eritrea (7), Gambia (4), Guatemala (178), Honduras (54), India (101), Iran (1),
Mexico (1,877),
Nepal (31), Nicaragua (1), Pakistan (13), Peru (1), Somalia (1), and "Unknown" (1) — a total of 2,379 individuals. These numbers are similar to
volumes
seen in this sector for October since 2012. MICHELLE MOONS
Adios, Sanctuary La Raza Welfare State of California
A fifth-generation Californian laments his state's ongoing economic collapse.
By Steve Baldwin
American Spectator, October 19, 2017
What's clear is that the producers are leaving the state and the takers are coming in. Many of the takers are illegal aliens, now estimated to number over 2.6 million.
The Federation for American Immigration Reform estimates that California spends $22 billion on government services for illegal aliens, including welfare, education, Medicaid, and criminal justice system costs.
BLOG: MANY DISPUTE CALIFORNIA'S EXPENDITURES FOR THE LA RAZA WELFARE STATE IN MEXIFORNIA JUST AS THEY DISPUTE THE NUMBER OF ILLEGALS. APPROXIMATELY HALF THE POPULATION OF CA IS NOW MEXICAN AND BREEDING ANCHOR BABIES FOR WELFARE LIKE BUNNIES. THE $22 BILLION IS STATE EXPENDITURE ONLY. COUNTIES PAY OUT MORE WITH LOS ANGELES COUNTY LEADING AT OVER A BILLION DOLLARS PAID OUT YEARLY TO MEXICO'S ANCHOR BABY BREEDERS. NOW MULTIPLY THAT BY THE NUMBER OF COUNTIES IN CA AND YOU START TO GET AN IDEA OF THE STAGGERING WELFARE STATE MEXICO AND THE DEMOCRAT PARTY HAVE ERECTED SANS ANY LEGALS VOTES. ADD TO THIS THE FREE ENTERPRISE HOSPITAL AND CLINIC COST FOR LA RAZA'S "FREE" MEDICAL WHICH IS ESTIMATED TO BE ABOUT $1.5 BILLION PER YEAR.
Liberals claim they more than make that up with taxes paid, but that's simply not true. It's not even close. FAIR estimates illegal aliens in California contribute only $1.21 billion in tax revenue, which means they cost California $20.6 billion, or at least $1,800 per household.
Nonetheless, open border advocates, such as Facebook Chairman Mark Zuckerberg, claim illegal aliens are a net benefit to California with little evidence to support such an assertion. As the Center for Immigration Studies has documented, the vast majority of illegals are poor, uneducated, and with few skills. How does accepting millions of illegal aliens and then granting them access to dozens of welfare programs benefit California's economy? If illegal aliens were contributing to the economy in any meaningful way, California, with its 2.6 million illegal aliens, would be booming.
Furthermore, the complexion of illegal aliens has changed with far more on welfare and committing crimes than those who entered the country in the 1980s.
Heather Mac Donald of the Manhattan Institute has testified before a Congressional committee that in 2004, 95% of all outstanding warrants for murder in Los Angeles were for illegal aliens; in 2000, 23% of all Los Angeles County jail inmates were illegal aliens and that in 1995, 60% of Los Angeles's largest street gang, the 18th Street gang, were illegal aliens.
Granted, those statistics are old, but if you talk to any California law enforcement officer, they will tell you it's much worse today. The problem is that the Brown administration will not release any statewide data on illegal alien crimes. That would be insensitive. And now that California has declared itself a "sanctuary state," there is little doubt this sends a message south of the border that will further escalate illegal immigration into the state.
"If the racist "Sensenbrenner Legislation" passes the US Senate, there is no doubt that a massive civil disobedience movement will emerge. Eventually labor union power can merge with the immigrant civil rights and "Immigrant Sanctuary" movements to enable us to either form a new political party or to do heavy duty reforming of the existing Democratic Party. The next and final steps would follow and that is to elect our own governors of all the states within Aztlan."
Indeed, California goes out of its way to attract illegal aliens. The state has even created government programs that cater exclusively to illegal aliens. For example, the State Department of Motor Vehicles has offices that only process driver licenses for illegal aliens. With over a million illegal aliens now driving in California, the state felt compelled to help them avoid the long lines the rest of us must endure at the DMV.
And just recently, the state-funded University of California system announced it will spend $27 million on financial aid for illegal aliens.
They've even taken out radio spots on stations all along the border, just to make sure other potential illegal border crossers hear about this program.
I can't afford college education for all my four sons, but my taxes will pay for illegals to get a college education.