ILLEGALS VOTING IN MASSIVE NUMBERS IN MEX-OCCUPIED CA
''California is going to be a Hispanic state," said Mario Obeldo, former head of MALDEF. "Anyone who does not like it should leave."
(THIS IS DATED. MEXICO NOW HAS INVADED ALL STATES )
And M.E.Ch.A's goal is even more radical: an independent ''Aztlan,'' the collective name this organization gives to the seven states of the U.S. Southwest – Arizona, California, Colorado, Nevada, New Mexico, Texas and Utah." NOW ADD THE OTHER STATES!
Big Latino Turnout Prediction in California Could Help Villaraigosa and De León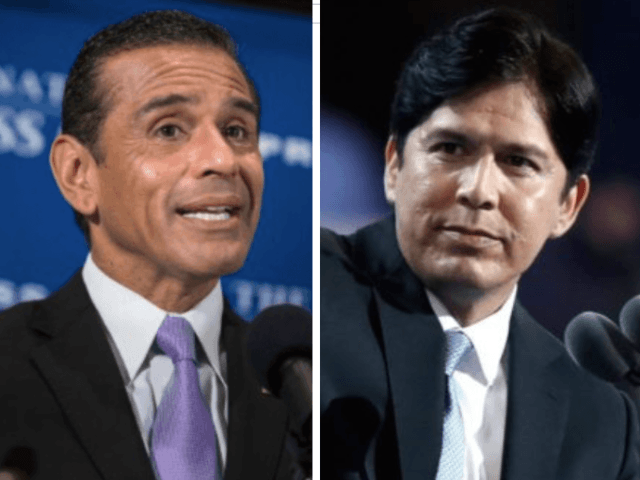 A new survey of 900 registered Latino voters released Wednesday suggests that a record number of Hispanics intend to turnout to vote in California's upcoming June primary.
That could help former Los Angeles Mayor and gubernatorial candidate Antonio Villaraigosa, as well State Senate President Pro-tem Kevin de León (D-Los Angeles), who is running for the U.S. Senate.
Latinos appear to be responding to fears over President Donald Trump's crackdown on illegal immigration and his promise to overhaul immigration policies.
According to the poll, conducted by the Latino Community Foundation, Villaraigosa is slated to receive 31 percent of votes from registered Latino voters, compared with 14 percent for Lt. Gov. Gavin Newsom, who is the frontrunner in the crowded race.
However, 36% — the largest number — said they were still undecided. Of those polled, 68 percent said they were 100 percent going to vote.
The poll was conducted between January 6-14.
Speaking at a Mexican restaurant in Bell on Wednesday, Villaraigosa reportedly took a shot at gubernatorial frontrunner Newsom, according to the Los Angeles Times: "In the debate the other day, one of the candidates talked about how great his county had done on education, on test scores and the like. And he goes on and on about his county, San Francisco County." Newsom was mayor of San Francisco before becoming lieutenant governor of California.
Villaraigosa continued, "When he was finished, I had to jump in and [say], 'You know what he didn't say? It's the worst county for African-American students in the entire state.'"
Despite Newsom's lead in the polls, many are calling the race — which is less than six months away — "undecided" as there is still a significant percentage of registered voters who have not locked in their choice.
Strong Latino turnout could also benefit De León, who is running against incumbent Sen. Dianne Feinstein (D-CA) in the "jungle" primary.
Last month, De León warned Feinstein "don't come back to California" unless she and fellow Democrats forced Congress to approve the DACA (Deferred Action for Childhood Arrivals) program.
California, a sanctuary state, is home to more undocumented, or illegal, aliens than anywhere else in the United States.
Adelle Nazarian is a politics and national security reporter for Breitbart News. Follow her on Facebook and Twitter.
A county by county chart:
According to the nonpartisan Center for Immigration Studies, the deportations occurred between October 2008 and February 2015. The
three counties
with the most deportations during this period were Los Angeles County, Calif.; Maricopa County, Ariz.; and Harris County, Texas.
Heather Mac Donald of the Manhattan Institute has testified before a Congressional committee that in 2004, 95% of all outstanding warrants for murder in Los Angeles were for illegal aliens; in 2000, 23% of all Los Angeles County jail inmates were illegal aliens and that in 1995, 60% of Los Angeles's largest street gang, the 18th Street gang, were illegal aliens.
ILLEGALS CLIMBING CALIFORNIA'S BORDERS FOR JOBS AND WELFARE: SAN DIEGO …
Mexicans (registered democrat anchor baby breeders (1,877).
In just the month of October 2017 CBP Border Patrol San Diego border sector
reported
apprehension of individuals from Bangladesh (12), Brazil (1), Camaroon (3), Chad (1), China (16), El Salvador (76), Eritrea (7), Gambia (4), Guatemala (178), Honduras (54), India (101), Iran (1),
Mexico (1,877),
Nepal (31), Nicaragua (1), Pakistan (13), Peru (1), Somalia (1), and "Unknown" (1) — a total of 2,379 individuals. These numbers are similar to
volumes
seen in this sector for October since 2012. MICHELLE MOONS
CALIFORNIA MOVES CLOSER TO FINAL SURRENDER TO LA RAZA SUPREMACY
DE FACTO CITIZENSHIP PER LA RAZA:
NO TEST, NO BACKGROUND CHECKS ON CRIMINALITY, NO BACK TAXES, NO
FINES.... JUST JUMP STRAIGHT TO VOTING BOOTHS! AND VOTE OFTEN!!!
In 2013, California lawmakers passed legislation that allowed illegal aliens to obtain driver's licenses if they can prove to the Department of Motor Vehicle (DMV) their identity and state residency. The plan was one of the largest victories to date by the open borders lobby
.… JOHN BINDER – BREITBART.com
WILL MEXICO ELECT ALL FUTURE U.S. PRESIDENTS?
"Mexicans cheat, distribute drugs, lie, forge documents, steal and kill as if it's a normal way of life. For them, it is. Mexico's civilization stands diametrically opposed to America's culture." FROSTY WOOLDRIDGE
THE LA RAZA SUPREMACY
DEMOCRAT PARTY:
Getting LA RAZA illegals into the voting booths will assure endless hordes of "cheap" labor and destroy the GOP to make America a one-party country and massive, border to open border LA RAZA welfare state.
'California has the highest rate of inactive registrations of any state in the country. Los Angeles County has the highest number of inactive registrations of any single county in the country'
The letter notes that the percentage in L.A.
Country may be as high as 144%.
Judicial Watch Warns California: 11 Counties Have More Voters than Voting-Age Citizens
The Pew Research Center
found
in 2012 that a plurality of Hispanic illegal aliens are Democrats, while only 4 percent said they identified with the Republican Party.
Everyday there are 12 Americans murdered and 8 children molested by Mexicans!
Steinle's murderer, Jose Zarate and been deported 5xs!
"While walking with her father on a pier in San Francisco in 2015, Steinle was shot by the illegal alien. Steinle pleaded with her father to not let her die, but she soon passed in her father's arms."
Adios, Sanctuary La Raza Welfare State of California
A fifth-generation Californian laments his state's ongoing economic collapse.
By Steve Baldwin
American Spectator, October 19, 2017
What's clear is that the producers are leaving the state and the takers are coming in. Many of the takers are illegal aliens, now estimated to number over 2.6 million.
The Federation for American Immigration Reform estimates that California spends $22 billion on government services for illegal aliens, including welfare, education, Medicaid, and criminal justice system costs.
Liberals claim they more than make that up with taxes paid, but that's simply not true. It's not even close. FAIR estimates illegal aliens in California contribute only $1.21 billion in tax revenue, which means they cost California $20.6 billion, or at least $1,800 per household.
Nonetheless, open border advocates, such as Facebook Chairman Mark Zuckerberg, claim illegal aliens are a net benefit to California with little evidence to support such an assertion. As the Center for Immigration Studies has documented, the vast majority of illegals are poor, uneducated, and with few skills. How does accepting millions of illegal aliens and then granting them access to dozens of welfare programs benefit California's economy? If illegal aliens were contributing to the economy in any meaningful way, California, with its 2.6 million illegal aliens, would be booming.
Furthermore, the complexion of illegal aliens has changed with far more on welfare and committing crimes than those who entered the country in the 1980s.
Heather Mac Donald of the Manhattan Institute has testified before a Congressional committee that in 2004, 95% of all outstanding warrants for murder in Los Angeles were for illegal aliens; in 2000, 23% of all Los Angeles County jail inmates were illegal aliens and that in 1995, 60% of Los Angeles's largest street gang, the 18th Street gang, were illegal aliens.
Granted, those statistics are old, but if you talk to any California law enforcement officer, they will tell you it's much worse today. The problem is that the Brown administration will not release any statewide data on illegal alien crimes. That would be insensitive. And now that California has declared itself a "sanctuary state," there is little doubt this sends a message south of the border that will further escalate illegal immigration into the state.
"If the racist "Sensenbrenner Legislation" passes the US Senate, there is no doubt that a massive civil disobedience movement will emerge. Eventually labor union power can merge with the immigrant civil rights and "Immigrant Sanctuary" movements to enable us to either form a new political party or to do heavy duty reforming of the existing Democratic Party. The next and final steps would follow and that is to elect our own governors of all the states within Aztlan."
Indeed, California goes out of its way to attract illegal aliens. The state has even created government programs that cater exclusively to illegal aliens. For example, the State Department of Motor Vehicles has offices that only process driver licenses for illegal aliens. With over a million illegal aliens now driving in California, the state felt compelled to help them avoid the long lines the rest of us must endure at the DMV.
And just recently, the state-funded University of California system announced it will spend $27 million on financial aid for illegal aliens.
They've even taken out radio spots on stations all along the border, just to make sure other potential illegal border crossers hear about this program.
I can't afford college education for all my four sons, but my taxes will pay for illegals to get a college education.
America builds the La Raza "The Race" Mexican welfare state