THE UNIDIOSus MAP OF LA RAZA-OCCUPIED AMERICA
They claim all of North America for Mexico!
(WARNING! THE BELOW LINK IS GRAPHIC ON MEXICAN HATRED OF LEGALS)
Dems Grumble: Perez Tanking At The DNC
Democrats have a legitimate gripe
about their new party chair — and probably his deputy, too. Despite having what should be a great environment for fundraising, neither Tom Perez nor Rep. Keith Ellison have performed nearly as well at the DNC as
other party organs have in 2017
. The DCCC has outraised the NRCC by tens of millions in direct contributions, while the DSCC has outpaced the NRSC by just about $10 million. Not only has the RNC outraised Perez and Ellison, they've beaten them in small donations alone this year by $12 million — normally a Democratic strength.
As The Hill's Amie Parnes reports, Democrats are starting to revolt:
As the party undergoes a facelift after last year's disastrous election, some DNC members and fundraisers say Perez hasn't done enough to improve fundraising or build enthusiasm since taking the helm in February.

In July, the DNC raised just $3.8 million, its worst fundraising month since 2007. Meanwhile, the Republican National Committee raised $10.2 million the same month. The DNC also added $154,000 to its debt, bringing its total debt load to $3.4 million.

"A lot of us feel like there's nothing exciting, nothing invigorating coming from that building and particularly from Tom Perez," said one top Democratic bundler, who complained that the DNC chairman didn't even coordinate the first meeting for fundraisers until several weeks ago.

"I've never heard from him. Not once," the bundler said. "If you want to show strength, you personally reach out to all the big fundraisers."
So what gives? "Being DNC chair is a full time job," a Democrat source told The Hill's . "There isn't time for side gigs." Really? Seemed to work out all right for Debbie Wasserman Schultz during her unbroken string of success in Congressional elections — oh, wait ….
Perez and Ellison are both odd choices for these positions anyway. As Parnes and some of her sources point out, neither came up through the party organization in the same manner that Reince Priebus did at the RNC, or Ronna Romney McDaniel for that matter. Ellison got elected in a hard-Left district and has a lot of baggage that might discourage some big donors from engaging, but at least he's run his own Congressional campaigns and has some experience at fundraising and donor engagement.
Perez, on the other hand, has only run for two offices — a successful campaign for Montgomery County (MD) council, and an aborted attempt to run for state attorney general despite not meeting the prerequisites for the job. Ever since, Perez has served in bureaucracies, not campaigns. Perez won on the strength of his service to Barack Obama, but shows little if any of Obama's talent for outreach and electoral organization. His idea of talking to people outside the Democratic Party's urban core is mainly to express himself in scatalogical and profane vocabulary. Unsurprisingly, that approach has not resulted in an avalanche of donations, even in an environment as ripe for success as Democrats have at the moment.
Perez' allies insist he's working hard, and that Democrats need to be patient. Republicans would probably concur.
Billionaire Mexicans tell their poor to JUMP U.S. OPEN
BORDERS and LOOT THE STUPID GRINGO… and loot they do!
Billions of dollars are sucked out of America from Mexico's looting!
THE MEXICAN INVASION of AMERICA'S OPEN and UNDEFENDED BORDERS
One in every
eleven persons
born in Mexico has gone to the U.S. The National Review reported that
in 2014
$1.87 billion was spent on incarcerating illegal immigrant criminals….Now add hundreds of billions for welfare and remittances! MICHAEL BARGO, Jr…… for the AMERICAN THINKER.COM
Donald Trump: Prototypes for the Wall 'Looking Really Good'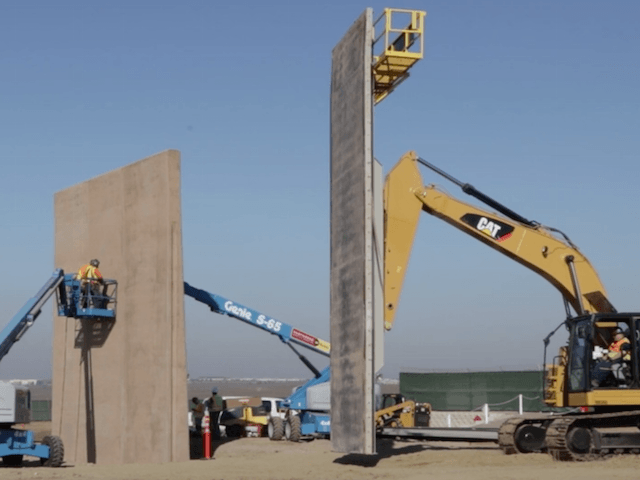 President Donald Trump updated supporters about the wall during an interview with Fox News host Sean Hannity on Wednesday.
"Right now, we've built five prototypes," he explained. "They are going up, and some are already finished, and I will say they are really looking good."
After Trump issued an executive order to the Department of Homeland Security to begin building "a physical wall" on the southern border, officials responded by requesting prototypes for the best kind of border security.
Construction for the prototypes began in September for solid wall models and barriers made of "other materials." According to DHS officials, the prototypes will help officials choose the best kind of infrastructure for different areas on the border.
The U.S. Customs and Border Protection has released videos of some of the prototypes under construction:
When asked if the wall would be see-through, Trump referred to the prototypes.
"We'll see," he said.
He confirmed that he wanted to work out a DACA deal with Democrats but that funding the wall was a big part of any agreement.
"I fully understand it, but if we are going to do something, we have to get something in return, and what I want is tremendous border regulation. I want the wall, and we're going to get other things," he said.
Illegal Alien Accused of Murdering Teen Girl Was in DACA Program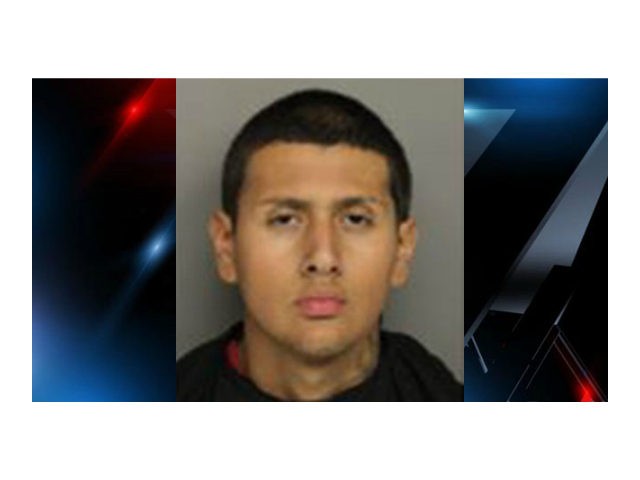 An illegal alien accused of murdering a teenage girl in Greenville County, South Carolina, was shielded from deportation as he was a beneficiary of the Obama-created DACA amnesty program.
Daniel De Jesus Rangel Sherrer, 19, was one of the nearly 800,000 illegal aliens shielded from deportation and given a work permit under the Deferred Action for Childhood Arrivals (DACA) program, U.S. Citizenship and Immigration Services (USCIS) confirmed to Breitbart Texas.
Sherrer, as Breitbart News
reported
, was charged in connection with the murder of 18-year-old Diana Martinez-Gonzalez after she was found shot to death in a wooded area in the town of Easley, South Carolina.
During a press conference, Master Deputy Ryan Flood said the DACA recipient confessed to a deputy about his alleged murder of Martinez-Gonzalez, a high school student.
Sherrer allegedly murdered the girl in the wooded area because she had spread false rumors about him, the illegal alien told deputies. Police say the DACA recipient had also held another teenage girl against her will, but that she escaped the scene.
Sherrer is now facing first-degree murder charges and should he be released from prison at any time, he will be deported.
Under DACA, created by Obama in 2012, hundreds of thousands of illegal aliens were prevented from being deported by receiving temporary amnesty in the U.S.
President Trump's administration, via Attorney General Jeff Sessions, announced that the program will officially end in March 2018, though the Republican establishment and Democrats are pushing to give permanent amnesty to the recipients.
Most recently, Ivanka Trump called DACA recipients "innocent people",
Breitbart News
reported.
More than 2,100 illegal alien DACA recipients were kicked from the program for crimes and gang affiliations.
John Binder is a reporter for Breitbart Texas. Follow him on Twitter at
@JxhnBinder
.
HOW "CHEAP" IS ALL THAT INVADING "CHEAP" LABOR?
Natalio Vitervo-Vasquez was deported twice but returned to provide "cheap" labor. He can't read or write and raped his 10-year-old daughter.
Illegal Aliens Escalate Amnesty Demands, Claim Racism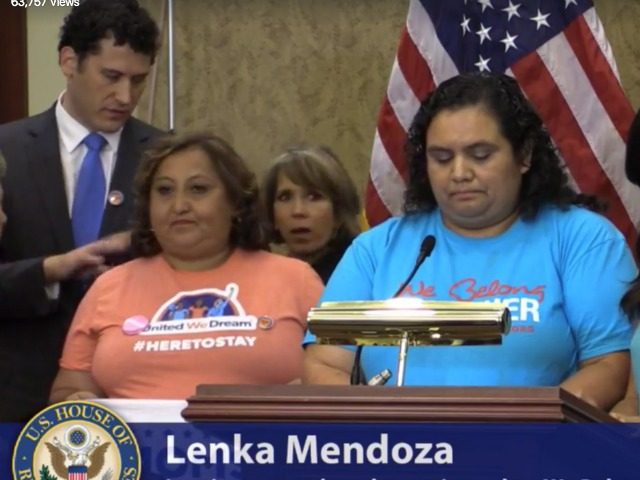 Top Democrats and business allies invited reporters to a Capitol Hill event to watch illegal immigrants demand amnesty and smear Republicans as racist, in Spanish and broken English.
"I'm here representing all the immigrant mothers like myself, will not allow the government to tear down our sons' and daughters' dreams while they try to separate our families," said Lenka Mendoza, an unskilled illegal alien who has been living in the United States for 17 years since the year President Geoge W. Bush was elected. She continued, using a translator, saying:
The president does not care about our children and our families. Trump and his government supposed priorities are nothing else but an anti-immigrant and white-supremacist agenda that don't solve anything … need clean act now."
Mendoza was welcomed to the podium by Todd Schulte, a Democratic political activist who is president of
FWD.us
, a lobbying group formed by Facebook's Mark Zuckerberg, Venture Capitalists and software CEOs. Nine of the group's
15 founders
are investors who would gain from cheaper white-collar labor and a larger population of customers in the United States.
Schulte hosted the event to showcase Democrats' opposition to President Trump's new immigration principles, which balance business' demands for more workers and customers against Americans' worries that they and their children will be unfairly outsourced, sidelined and ignored amid mass immigration.
In his October 8 letter to Congress, Trump
said
:
These findings outline reforms that must be included as part of any legislation addressing the status of Deferred Action for Childhood Arrivals (DACA) recipients. Without these reforms, illegal immigration and chain migration, which severely and unfairly burden American workers and taxpayers, will continue without end.

Immigration reform must create more jobs, higher wages, and greater security for Americans — now and for future generations. The reforms outlined in the enclosure are necessary to ensure prosperity, opportunity, and safety for every member of our national family.
Instead of urging compromise, Schulte's speakers upped their demands, saying they want an amnesty for young 'dreamer' illegals plus an amnesty for their parents, to be delivered immediately and without any compromises, such as the improved border defenses sought by a supermajority of Americans.
The illegals were invited to speak alongside leadership speakers at the event, including the House Democrats' leader, Rep. Nancy Pelosi — who described Trump's immigration proposals as "
trash
" — and the chairwoman of the Democrats' Hispanic caucus.
The escalating demands and aggressive rhetoric from Schulte's illegals were
much sharper
than the prior soft-spoken claims by Democratic leaders who say they want to protect 'dreamers' from deportation. That soft, poll-tested language has been damaged by
simple questions
from reporters who have shown the bigger-than-expected
scale
,
cost
and
demographic impact
of what started out as supposedly modest demand to save 690,000 DACA illegals from repatriation.
The new language from Mendoza included a claim that immigration-enforcement officers of "terrorizing" people.
"Congress can solve today the young people's situation without using them as an excuse to deport their mothers or spending more money terrorizing people that live near the border," said Mendoza, an unskilled migrant who cleans houses for a living.
"Many people think ending DACA or approving the Dream Act will only affect young people, but this is not true. This is something that effects all of us – mothers, our families and all of our communities," Mendoza said.
A second illegal, Ingrid Vaca, said she arrived in the United States from Bolivia in 2000. "I came to this country with dreams to protect my sons and to give them a better future," she said in heavily accented English, adding: I would not let anything stand in their way."
Vaca continued:
DACA away was taken away by Trump and his racist advisors, Jeff Sessions and Steven Miller … We will not let racist men negotiate with our kids' lives … We will not allow our families to be broken up … A mother's love is stronger than the racists from the White House.
The escalated demands from the illegal aliens are compatible with Schulte's goals, which primarily include a defeat of the popular
RAISE Act
, authorized by Goerge Sen. David Perdue and Arkansas Sen. Tom Cotton.
The RAISE Act is a problem for Schulte's investors because it would halve the inflow of new customers and workers, and –worse — it would prevent the investors from pushing Congress to pass the so-called "staple" green card proposal.
The proposed "
staple
" visa program would allow foreign students at U.S. universities to receive a green card stapled to their graduate degree. It is very popular among business groups because it would create a huge wave of salary-cutting white-collar competition in the skilled job sectors where young Americans hope to earn a good living. The salary-cutting competition would be intensified by the government's offer of the very valuable prize of citizenship to foreign graduates who take jobs sought by the 800,000 Americans who graduate from college each year with skilled degrees in business and medicine, engineering, architecture and science, technology, math and chemical engineering.
But Schulte's investors won't get their staple proposal — or any increase in
white-collar H-1B
outsourcing — if Trump and the voters pressure Democrats to accept Trump's
popular
immigration principles
in exchange for a limited amnesty.
The third illegal alien introduced by Schulte was Luis
Condorimay, who migrated to the United States from Peru at age 13 and earned a 2016 degree in chemical engineering.
An amnesty for just younger illegals is unacceptable if it does not also include their parents, he insisted. "T
his is just not something I can do. Would you accept a law where you protect yourself … but hurt your father and mother?"
He also spoke against any border and enforcement upgrades, and described the illegal-alien communities as the victims:
There are politicians in power right now who want to deport my father and my mother, who want to separate me from my little sister. Those politicians are the same ones who killed DACA and put the lives of immigrants on the line. They want now to use my life and the life of my sister, who also has DACA, as a bargaining chip to get a wall built on the Southern border and to militarize our border, to increase the number of immigrants agents in our cities and continue to terrorize and separate our families. They say they have heart for us, they say they understand our pain, but all they really want to do is hurt our families and continue to sperate us as they have done for the past many years … I ask you all here today to put yourself in our shoes, just for one moment: Haven't we suffered enough already?"
"We need [amnesty] now, we need it right now because too many families have already been separated," he said.
Four million Americans turn 18 each year and begin looking for good jobs in the free market.
The cheap-labor policy has also reduced investment and job creation in many interior states because the coastal cities have a surplus of imported labor. For example, almost 27 percent of zip codes in Missouri had fewer jobs or businesses in 2015 than in 2000, according to a new report by the Economic Innovation Group. In Kansas, almost 29 percent of zip codes had fewer jobs and businesses in 2015 compared to 2000, which was a two-decade period of massive cheap-labor immigration.
Americans tell pollsters that they strongly oppose amnesties and cheap-labor immigration, even as most Americans also want to favor legal immigrants, and many sympathize with illegals.
Because of the successful cheap-labor strategy, wages for men have remained flat since 1973, and a growing percentage of the nation's annual income is shifting to investors and away from employees.
"Prosecutors say the girl, who was 11-years-old at the time, went to a medical center where it was determined she was pregnant. Officials say she would have conceived the child at ten years of age."
70% OF ILLEGALS GET WELFARE!
"According to the Centers for Immigration Studies, April '11, at least 70% of Mexican illegal alien families receive some type of welfare in the US!!! cis.org"
So when cities across the country declare that they will NOT be sanctuary, guess where ALL the illegals, criminals, gang members fleeing ICE will go???? straight to your welcoming city. So ironically the people fighting for sanctuary city status, may have an unprecedented crime wave to deal with along with the additional expense.
$17 Billion dollars a year is spent for education for the American-born children of illegal aliens, known as anchor babies.
$12 Billion dollars a year is spent on primary and secondary school education for children here illegally and they cannot speak a word of English.
$22 billion is spent on (AFDC) welfare to illegal aliens each year.
$2.2 Billion dollars a year is spent on food assistance programs such as (SNAP) food stamps, WIC, and free school lunches for illegal aliens.
$3 Million Dollars a DAY is spent to incarcerate illegal aliens.
30% percent of all Federal Prison inmates are illegal aliens. Does not include local jails and State Prisons.
2012 illegal aliens sent home $62 BILLION in remittances back to their countries of origin. This is why Mexico is getting involved in our politics.
$200 Billion Dollars a year in suppressed American wages are caused by the illegal aliens.
Nearly One Million Sex Crimes Committed by Illegal Immigrants In The United States.
Eight 'MS-13 gang members sold cocaine and marijuana, murdered a rival gang leader, and extorted illegal businesses to get cash which was sent to El-Salvador'
Eight alleged MS-13 gang members are being charged with murder, racketeering, extortion of business owners, and selling drugs and weapons
The eight men, whose ages range from 18 to 22, are alleged to be members of the so-called 'Sailors Clique' of MS-13
The suspects are alleged to have taken part in four murders, extortions, and drug and gun trafficking in Maryland from 2015 to 2017
Authorities allege that 'Sailors Clique' extorted money from the owners of illegal businesses and sent the money back to MS-13 leaders in El-Salvador
Rolando Aristides Juarez-Vasquez, 22, of Hyattsville, Maryland is being charged with gang-related activities. He is one of eight suspects named in a federal indictment
Eight alleged MS-13 gang members are being charged with murder, racketeering, extortion of business owners, and selling drugs and weapons, it was reported on Thursday.
The eight men, whose ages range from 18 to 22, are alleged to be members of the so-called 'Sailors Clique' of MS-13, the Central America-based criminal outfit.
The suspects are alleged to have taken part in four murders, extortions, and drug and gun trafficking in Maryland from 2015 to 2017, according to
WJLA-TV
.
The eight men have been identified as Carlos Roberto Cruz, 20, from Beltsville, Maryland; Kevin Alexis Hernandez-Guevara, 20, of Landover Hills; Rolando Aristides Juarez-Vasquez, 22, of Hyattsville; Jeffry Rodriguez, 21, of Beltsville; Junior Noe Alvarado-Requeno, 20, of Landover; Michael Eduardo Contreras, 22, of Silver Spring; Luis Fernando Orellana-Estrada, 18, of Hyatsville; and Donald Roberto Mendez-Lopez, 18, of Hyattsville.
Authorities allege that 'Sailors Clique' extorted money from the owners of illegal businesses and sent the money back to MS-13 leaders in El-Salvador.
The suspects are also alleged to have sold marijuana and cocaine in Langley Park.
Alvarado-Requino, Tejada-Cruz, Hernandez-Guevara, and Juarez-Vasquez face a maximum sentence of life in prison, according to the
Justice Department
.
Led by Alvarado-Requeno, on June 16, 2016 members of the clique murdered an individual believed to be a member of the rival 18th Street gang in Gaithersburg, Maryland, according to the indictment.
On March 27, 2017, Contreras directed Sailors Clique members to go to Lynchburg in Bedford County, Virginia and murder a victim, according to the indictment.
Rodriguez, Contreras, Orellana-Estrada and Mendez-Lopez face a maximum sentence of twenty years in prison for 'conspiring to participate in a racketeering enterprise.'
Tejada-Cruz and Hernandez-Guevara also face a maximum sentence of 10 years in prison for conspiracy to commit murder in aid of racketeering, the Justice Department said.
The eight men, whose ages range from 18 to 22, are alleged to be members of the so-called 'Sailors Clique' of MS-13, the Central America-based criminal outfit. Police above question and detain a member of MS-13 in Langley Park, Maryland, in this 2006 file photo
'Orellana-Estrada and Mendez-Lopez also face a maximum of twenty years in prison for conspiring to interfere with interstate commerce by extortion,' according to the indictment.
Contreras is also alleged to have dealt drugs. He faces an additional 20 years behind bars.
Orellana-Estrada and Mendez-Lopez are charged with conspiracy to interfere with interstate commerce by extortion, a crime that could land them 20 years behind bars.