Border Patrol Rescues Four Migrants in South Texas as Four Others Die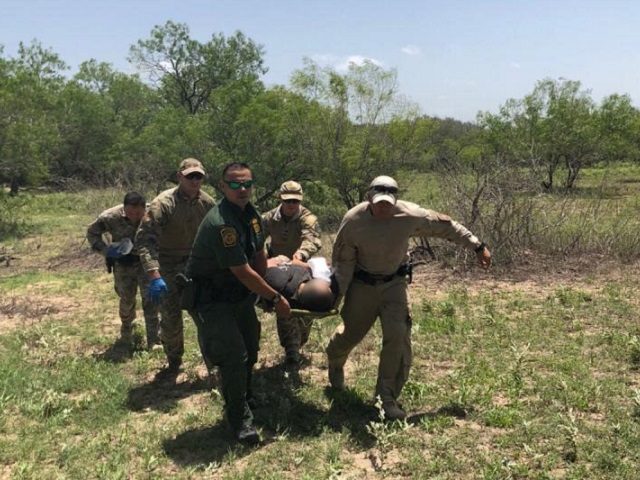 Border Patrol agents in the Rio Grande Valley Sector saved the lives of four illegal immigrants this week. Unfortunately, four other migrants died during human smuggling operations in South Texas.
Heavy rains took the life of one migrant Kenedy County, about 80 miles from the Texas-Mexico border. Agents assigned to the Kingsville station came upon a group of illegal aliens on June 22 who were attempting to circumvent the Sarita Border Patrol Checkpoint located on U.S. Highway 77 between Brownsville and Kingsville. The illegal aliens told the agents that one member of their group was swept away while crossing the rain-swollen Los Olmos Creek, according to information obtained by Breitbart Texas from U.S. Customs and Border Protection officials on Friday.
The agents conducted an extensive search of the area and eventually found the body of a deceased man that appeared to match the description given by the other migrants.
On June 26, Brownsville Riverine agents rescued a man who struggled to stay afloat in the Rio Grande River after attempting to flee apprehension by other agents. The agents took the man into custody and transported him to the Brownsville Station for processing on immigration charges.
The following day, agents assigned to the McAllen Station came across the body of another man while they were patrolling on a ranch near Sullivan City, Texas. The man was apparently abandoned by human smugglers and succumbed to the heat and lack of water.
A few hours later, a National Guard helicopter assigned to assist Border Patrol agents under Operation Guardian Support spotted what they believed to be a body floating in the Rio Grande River near Peñitas, Texas. McAllen Station agents responded and confirmed the death.
Deputies from the Hidalgo County Sheriff's Office came to both death scenes and took custody of the remains.
Brooks County Sheriff's Office deputies contacted Border Patrol agents assigned to the Falfurrias Station on Thursday after they received a call about two migrants who were lost on a ranch about 80 miles from the border. The agents responded and found two migrants who had been abandoned and left to die by their human smugglers. The agents saved one of the Guatemalan nationals. However, the second man did not have a pulse. A justice of the peace declared the man to be deceased and deputies took custody of the man's remains.
Brooks County deputies received another 911 call on Friday regarding two more lost migrants. The caller said one of the men was unable to walk due to exhaustion. The soil in this region is extremely soft said that makes the march around the Falfurrias Checkpoint even more strenuous, Brooks County Sheriff Benny Martinez told Breitbart Texas previously.
Agents from the Special Operations Detachment and an Air and Marine Operations (AMO) helicopter responded and found the two men. The AMO aircrew transported the ailing man to the Falfurrias Checkpoint.
There, agents provided medical assistance to the two men, identified as brothers who are Salvadoran nationals. One of the brothers required additional medical treatment and a Texas Air Med ambulance arrived and flew the man to a regional hospital for evaluation and treatment.
'
Abolish ICE' Zealots Occupy Fantasy Island
National Review Online, June 27, 2018
And New York actress–turned–Democratic gubernatorial candidate Cynthia Nixon declared that "ICE is a terrorist organization."
I don't just question their patriotism. I question their sanity.
Silly Cindy is campaigning to destroy ICE's entire 20,000-person work force, which handles not only enforcement and removal operations, but also homeland-security investigations that combat criminal organizations illegally exploiting our travel, trade, financial, and immigration systems. That includes international smugglers of women and children, drugs, weapons, and cash.
So how exactly do these ICE-melters propose to deal with criminal alien fugitives, such as the estimated 300,000 deportation absconders who've been ordered by immigration judges to leave the country?
How about the 40 percent of illegal aliens, from the pool of between 11 million and 30 million immigration law-breakers, who overstayed their visas and are on the loose doing heaven knows what?
And when will these noble 21st-century abolitionists be stepping up to open their homes to the members of the ICE Most Wanted list, which includes illegal aliens wanted for murder, aggravated homicide, narcotics and human trafficking, and membership in terrorist organizations?
I don't just question their patriotism. I question their sanity.
In FY 2012, ICE says it
removed 409,849 illegal aliens
. Fifty-five percent of them (or 225,390) were convicted criminal aliens, the largest number of criminal aliens removed in agency history, ICE said.
MICHELLE MALKIN: another brutal murder
by another illegal criminal long on the loose in
Non-deportation rate drops — to 99.2 percent
The Homeland Security Department has granted legal status to 99.2 percent of all illegal immigrants who have applied under President Obama's new non-deportation policy for young adults, according to the latest numbers released Friday.
PAUL KRUGMAN
The disintegration of California, a Mexican satellite welfare state of poverty, crime and high taxes
ICE's June Enforcement Actions Net 540 Arrests
CIS Immigration Blog, June 27, 2018
The month of June has been a busy one for Immigration and Customs Enforcement (ICE). According to publicly available news releases from the agency's newsroom, large-scale operations resulted in over 500 arrests across the United States. These operations included targeted enforcement and removal procedures, worksite investigations, and human smuggling cases.
ICE is also involved in other non-immigration-related law enforcement responsibilities such as investigating and arresting producers and consumers of child pornography. Those arrests are not included in this post since they are unrelated to immigration, but are nonetheless an important part of ICE's day-to-day duties.
https://cis.org/Huennekens/ICEs-June-Enforcement-Actions-Net-540-Arrests
Trump Administration Combats Discrimination Against American Workers
ICE investigation uncovers company that defrauded Americans out of jobs.
FrontPageMag.com, June 28, 2018
While globalists frequently attempt to play the "compassion card" there is nothing compassionate about exploiting foreign workers or screwing American workers out of their jobs.

The Democratic Party that used to represent American blue collar workers have sold them out by advocating for the flooding of America with huge numbers of foreign workers. Often American and lawful immigrants pay for this betrayal with their jobs and their ability to support themselves and their families. All too often this results in these American and lawful immigrants becoming homeless.

Homelessness has soared to record levels, often engendering the separation of children from their parents. Ironically while the Democrats vociferously wailed about the administration prosecuting illegal aliens who are caught entering the United States covertly, without inspection and hence separating the children from their parents, these same politicians completely ignore the way that American kids have been taken from their homeless parents.

The investigation into the discriminatory hiring practices of Triple H Services addressed in the DOJ press release uncovered apparent fraud.

Undoubtedly there are many, many other companies operating throughout the United States who defraud various elements of the immigration system to displace American workers to drive down wages and, perhaps, force their workers to work under illegally dangerous conditions.
. . .
https://www.frontpagemag.com/fpm/270570/trump-administration-combats-discrimination-michael-cutler
How would the Democrats respond to a law that would grant amnesty to illegal immigrants on one condition –- They would not be able to vote for a minimum of eight years from the date they received their amnesty? I think we all know how that would play out...
June 29, 2018
Illegal Aliens: The New Black Vote for Democrats