Washington, D.C. (May 23, 2018) – The Center for Immigration Studies has focused on MS-13 crime on Long Island, New York, where President Trump spoke today to highlight the presence and notoriously brutal violence of the MS-13. Surrounded by law enforcement, local leaders, and victims of MS-13 crime, the president called for Congress to close the deadly loopholes that have allowed MS-13, a gang with U.S. membership dominated by Central American illegal aliens, to illegally enter the country.
Earlier in the day, the White House issued a briefing statement outlining the recent successes in the fight against MS-13. "ICE Homeland Security Investigations (HIS) arrested 796 MS-13 members and associates in FY2017, an 83 percent increase from FY2016," while "U.S. Border Patrol agents arrested 228 illegal aliens affiliated with MS-13 in FY2017."
The Center for Immigration Studies has written and spoken extensively about the MS-13 presence in the U.S. and the need for the strategic use of immigration enforcement to disrupt and dismantle the transnational criminal organization operating in our communities.
See a selection of our work below:
Bill Would Move to Control Gang Violence
MS-13 Resurgence: Immigration Enforcement Needed to Take Back Our Streets
Taking Back the Streets: ICE and Local Law Enforcement Target Immigrant Gangs
Video Immigration Brief: MS-13 Resurgence
Testimony: Restoring Enforcement of Our Nation's Immigration Laws
MS-13 and Sex Trafficking
An MS-13 Horror Story that the Press Has Largely Ignored
Brentwood, NY: A Case Study of How Flawed Immigration Policy Begets Gang Violence
ICE Offensive on Long Island against MS-13 Getting results
In a Time of Criminal Crisis, Long Island UAC Placements on Track for Four-Year High
ICE chief refuses to back down from lawmakers' complaints about stepped up immigration enforcement
Acting director of Immigration and Customs Enforcement (ICE) Thomas Homan informed a House subcommittee Tuesday they should expect increase deportation of family units and sharply defended his agency from criticism from political attacks.
"One thing ICE is in the process of doing is we are going to step up our enforcement of family units that have final orders of removal," he bluntly told a House Border Security and Maritime subcommittee hearing.
According to Homan, approximately 71,500 members of family units were apprehended in FY 2017 and that number is "on track to increase significantly in FY 2018."
In order to clear a growing backlog, it is necessary to act to deport those who've had their due process and have been ordered removed by an immigration judge, stated Homan, who announced his retirement in April.
The interim chief anticipated actual enforcement of the law would result in "a lot of letters" asking why ICE is targeting families and not criminals.
"But if they are given their due process and a federal judge makes a decision, if we don't execute those decisions there is no integrity in the system," Homan asserted.
Homan's assertion that lawbreakers, not law enforcement, are at fault was warranted as the curtain on the political theater went up before the gavel was brought down.
Rep. Nanette Barragan (D-Calif.) appealed to her radical base by posting a photo of a group of protesters who'd positioned themselves behind Homan with raised "Refugees Welcome Here" signs.
And her antics continued. First, she insinuated subcommittee chairman Rep. Martha McSally (R-Ariz.) was seeking to gain political points in her campaign to replace retiring Sen. Jeff Flake by holding the hearing.
Then she opened her questions of Acting Deputy Commissioner of the U.S. Customs and Border Protection Ronald Vitiello with a speech about how it made her "sick to my stomach" to hear illegal immigrants described as criminals.
"We love to talk about this issue of MS-13 gangs. We love to paint immigrants as criminals. That is not the complete facts and that is very offensive for me to see continuing to happen," she complained.
Before the next member spoke, Homan asked for a chance to respond to Barragan.
"First of all, no one on this panel is anti-immigrant. We're law enforcement officers enforcing the laws that you all enacted. So to sit there and say that we're anti-immigrant is wrong. We are enforcing laws," said Homan, acting ICE director.
He continued: "If you think it's OK to enter this country illegally — you shouldn't be arrested, that's just wrong. The laws clearly state, 'You enter here illegally, it is a crime.'"
Barragan was not the only California Democrat whose griping about enforcing existing laws got under Homan's skin.
Rep. Lou Correa started by incorrectly accusing Homan of calling all immigrants "dangerous," then complained to the ICE chief that farmers in his district were calling his office demanding more workers for the fields.
A clearly frustrated Homan responded, "The statement I made is entering this country is illegally is a crime, it is a violation of Federal law."
Correa interrupted to say "they are needed at these farms."
Unimpressed, Homan reminded the lawmaker that "it's up to Congress to make changes in the guest worker program" if they are needed.
"But violating the laws of this country isn't the answer," he snapped.
MS-13 Gang Member Nicknamed 'Animal' Sentenced for Stabbing Boy to Death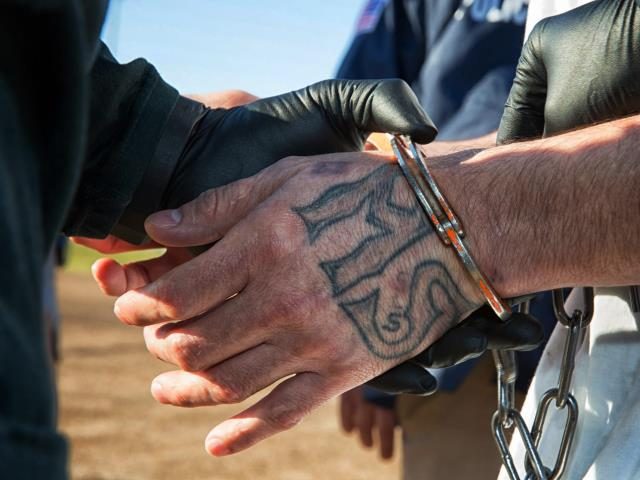 An MS-13 gang member nicknamed "Animal" has been convicted and sentenced to prison for the murder of a 15-year-old boy in East Boston.
Joel Martinez, also known as "Animal," is a 23-year-old national from El Salvador and a member of the
violent
MS-13 street gang,
according
to the
Boston Herald
.
In September 2015, Martinez told a federal informant that he stabbed 15-year-old Irvin Depaz three times and left him for dead on the street in order to be fully inducted into the MS-13 gang.
"I stabbed the [coward] three times," Martinez told the informant of the murder.
"He stared at me and he asked me if I was going to — if I was going to stab him. I told him, 'Yes, the [gang] rules you,'" Martinez said.
The gang member will now receive 40 years in prison and deportation from the U.S. once his sentence is served. Martinez was not charged with murder, but rather with RICO conspiracy.
President Trump most recently called MS-13 gang members "animals," prompting the establishment media and
Democrats
to defend the gang, as
Breitbart News
reported.
John Binder is a reporter for Breitbart News. Follow him on Twitter at
@JxhnBinder
.
Border Patrol Agents Arrest Deported Child Molester En Route to San Francisco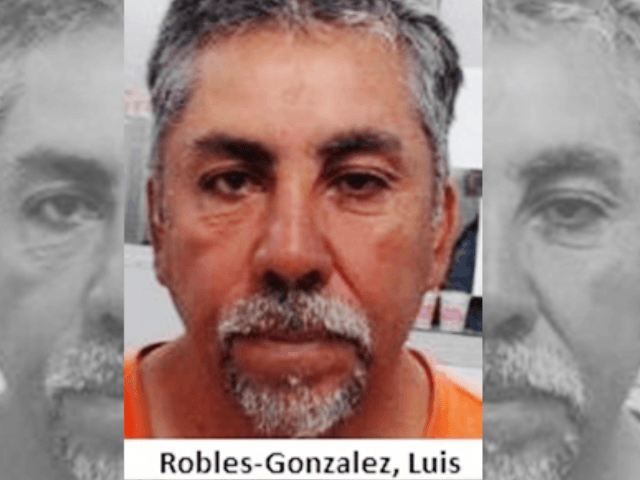 Yuma Sector Border Patrol agents arrested a previously deported child molester who said he illegally crossed the border to live and work in the sanctuary city of San Francisco. Immigration officials deported the Mexican national on May 12 for failing to register as a sex offender.
Saturday afternoon (May 19), Border Patrol agents assigned to the Yuma Station arrested a man who had just crossed the border from Mexico into California. The man illegally crossed the Colorado River east of the Andrade Port of Entry, according to Yuma Sector Border Patrol officials.
The agents arrested the man and took him to the station for identification and processing. A biometric background investigation revealed a criminal history for the 55-year-old Mexican national identified as Luis Robles-Gonzalez. The records also indicated that immigration officials had previously deported him to Mexico.
A court in Santa Rosa, California, convicted Robles-Gonzalez for indecent exposure and molestation of a child under the age of 18, Border Patrol officials stated. U.S. Immigration and Customs Enforcement (ICE) Enforcement and Removal Operations (ERO) officers deported the man through the San Luis, Arizona, Port of Entry on May 12, one week before this arrest. During the investigation, the previously deported Mexican national said that he was headed to San Francisco where he planned to live and work.
San Francisco is a sanctuary city that has long been known as a safe haven for illegal immigrants. It is the city that released the seven-time convicted felon, five times deported, Jose Ines Garcia Zarate, who went on to shoot and kill Kate Steinle in 2015. A California jury convicted him again for illegal possession of a firearm after acquitting him on the charge of murdering the young woman, Breitbart News reported. Zarate told officials he picked San Francisco because of its status as a sanctuary city.
Robles-Gonzalez now faces new federal charges for aggravated re-entry after removal as a sex offender. If convicted, the Mexican national could face up to 20 years in federal prison.
Bob Price serves as associate editor and senior political news contributor for Breitbart Texas. He is a founding member of the Breitbart Texas team. Follow him on Twitter
@BobPriceBBTX
,
GAB
, and
Facebook
.
AMERICA vs MEXICO: CLASHING CULTURES
By Frosty Wooldridge
Mexicans cheat, distribute drugs, lie, forge documents, steal and kill as if it's a normal way of life. For them, it is. Mexico's civilization stands diametrically opposed to America's culture.
The legal age of sexual consent in Mexico is 12 years old. Sex with children at this age and younger is socially acceptable in Mexico. For example: A Mexican Lopez-Mendez pleaded guilty to sexual assault on a 10 year old girl in West Virginia.
MEX GIVES 7-YEAR-OLD CHILD HERPES AFTER REPEATEDLY RAPING HER
"The molestation was reported after the child was taken to a hospital for an outbreak of genital herpes early this month. When asked how she might have contracted the disease, the child claimed that Morales had molested her "a lot of times."
"The legal age of sexual consent in Mexico is 12 years old. Sex with children at this age and younger is socially acceptable in Mexico. For example: A Mexican Lopez-Mendez pleaded guilty to sexual assault on a 10-year-old-girl in West Virginia." FROSTY WOOLDRIGE
WH Lists 'Unthinkable Violence of MS-13's Animals'
"The violent animals of MS-13 have committed heinous, violent attacks in communities across America," a White House statement posted Monday declares.
"Too many innocent Americans have fallen victim to the unthinkable violence of MS-13's animals," the statement says, listing some of the vicious crimes attributed to MS-13 gang members:
Young girls chased down and brutally murdered by MS-13 gang members on Long Island, New York in an act Suffolk County Police Commissioner said displayed "a level of brutality that is close to unmatched."

A man stabbed more than 100 times, then decapitated and dismembered, who had his heart ripped out of his body, in Maryland,

A 15-year-old human trafficking victim savagely beaten with a bat as gang members took turns beating her nearly 30 times in total.

One Texas girl kidnapped and sexually assaulted and anther murdered. The two MS-13 animals laughed, smiled, and waved for cameras in court as they faced the charges.

A teenager killed and hacked up in New York.

Four young men were brutally murdered by MS-13 animals on Long Island,

Nearly 40 percent of all murders in Suffolk County, New York between January 2016 and June 2017 were tied to MS-13.
Last month, MS-13 reportedly called for its members on Long Island to kill a police officer simply for the sake of making a statement, the White House says, adding that, with more than 10,000 gang members in the U.S., MS-13 "commits shocking acts of violence to instill fear, including machete attacks, executions, gang rape, human trafficking, and more" in the name of the gang's motto of "kill, rape, control."
"President Trump's entire administration is working tirelessly to bring these violent animals to justice," the White House statement promises.
Please support CNSNews today! (a 501c3 non-profit production of the Media Research Center)
May 18, 2018
Pro-choice Pelosi touts 'spark of divinity' within MS-13
Someone must have let Nancy Pelosi out on a weekend pass, because the woman is losing it. At her press conference this week, the House minority leader mumbled, zoned out, and chuckled inappropriately. The only thing missing from the event was drool dripping out the corner of Nancy's mouth onto her expensive silk scarf.
The most peculiar thing Nancy had to say concerned the "spark of divinity" she believes resides within the violent street gang, MS-13.
Currently, most of these so-called Salvadoran "divine creatures" roam the streets of America illegally. According to Robert Hur, an official with the Justice Department, the culturally diverse MS-13's motto is "mata, viola, controla" – which translates "kill, rape, control."
Notorious for their hand signs, machetes, and full body tattoos, MS-13 participatein activities that involve things like human- and drug-trafficking, child prostitution, kidnapping, gun-smuggling, murder, and gruesome styles of retribution.
In the Northeast, on Long Island alone, MS-13 committed 25 killings in the past two years.
Recently, President Donald Trump, a man who calls it like it is, referred to MS-13 residing in U.S. prisons as "animals." Based on the bedlam the gang has wrought within America's borders, Trump calling them "animals" was more a compliment than an insult.
Simply put, MS-13 is a band of marauding illegals from Central America who threaten members with death if they attempt to leave the ranks and who wreak havoc wherever they go.
Speaking on behalf of the Democratic Party, Nancy Pelosi said Trump calling illegal rapists and murderers "animals" is offensive and harsh.
So, in between holding up five fingers while referring to the number six and staring out into space mid-sentence, during Pelosi's press conference, the House minority leader also chided the POTUS for insulting MS-13.
Waxing spiritual, it happened during the former Speaker's comments on "food insecurity." After mentioning "God's children," Nancy had this to say about Trump's MS-13 comments:
When the President of the United States says about undocumented immigrants, "These aren't people; these are animals," you have to wonder: does he not believe in the spark of divinity? The dignity and worth of every person?
Democrats are the ones who justify bestowing immigrant status on illegals while denying human status to unborn humans, and now Mrs. Pelosi is suddenly touting the "dignity and worth of every person"?
Nancy Pelosi must have forgotten that she advocates for the unfettered slaughter of 3,000 American babies per day. Based on Nancy Pelosi's own words, if a "spark of divinity" is infused into a fertilized egg, then supporting abortion is far worse than Trump calling MS-13 names.
Either way, House minority leader Nancy Pelosi is still the official spokesperson for a political party that publicly honors the "spark of divinity" in vicious street gangs and does it while disregarding the "spark of divinity" residing within the guiltless unborn.
In other words, when it comes to shedding innocent blood, pro-choice liberals and Central American street gangs are similar. Therefore, before accusing Trump of being hostile toward violent gang members, maybe loopy Nancy Pelosi and her ilk need to acknowledge that the gruesome procedure that ends the life of the innocent and helpless inside the womb is on par with the murder and mayhem MS-13 inflicts on enemies outside the womb.
Nancy Pelosi on Trump Calling MS-13 Gang Members 'Animals:' 'Does He Not Believe in the Spark of Divinity?'
House Minority Leader Nancy Pelosi (D-CA) twisted President Trump's attack on MS-13 gang members during her Thursday press conference.
On Wednesday, during a meeting at the White House, Trump blasted violent illegal alien MS-13 gang members who have entered the country posing as unaccompanied minor children, calling them "animals," as Breitbart News reported.
"These aren't people. These are animals," Trump said of MS-13 gang members. "And we're taking them out of the country at a level and at a rate that's never happened before. And because of the weak laws, they come in fast, we get them, we release them, we get them again, we bring them out. It's crazy."
Immediately after the remarks, the mainstream media and Democrats began twisting Trump's words, taking the comments out of context to claim that he was referring to all 12 to 30 million illegal aliens living in the U.S.
In her Thursday press conference, Pelosi followed suit, claiming Trump was referring to illegal aliens and border-crossers when he called MS-13 gang members "animals."
PELOSI: We believe, some of us that are attracted to the political arena, to government and public service, that we're all God's children. There's a spark of divinity in every person on earth and that we all have to recognize that. as we respect the dignity and worth of every person. And as we recognize our responsibilities with that spark of divinity within us. [Emphasis added]

And so when the president of the United States says about undocumented immigrants, 'These aren't people, these are animals,' you have to wonder: Does he not believe in the spark of divinity, the dignity and worth of every person? 'These are not people, these are animals.' The president of the United States. [Emphasis added]
Senate Minority Leader Chuck Schumer (D-NY) similarly twisted Trump's attack on MS-13 gang members, going as far as to compare his "great-great-grandparents" to illegal aliens.