Previously Deported Child Rapist Arrested On Long Island
Immigration and Customs Enforcement announced the arrest of a previously deported child rapist in Central Islip, New York this week. Alcides Acosta-Euceda, a 31-year-old citizen of El Salvador, was arrested after Enforcement and Removal Operations initiated an investigation in January 2019 to track down the pervert after learning he had re-entered the country earlier this year which led to his apprehension on March 26.
According to a press release issued by authorities, "ICE previously removed Acosta-Euceda to El Salvador on June 6, 2018, following a July 2017 felony conviction, for Rape 3rd Degree: victim less than 17 years, perpetrator 21 years or more, in Suffolk County (NY) Superior Court. On Sept. 29, 2017, Acosta-Euceda was sentenced to 10 years of probation supervision and required to register as a sexual offender." he was then subsequently deported from the United States.
"Acosta-Euceda had already been removed from this country once before following a rape conviction. It is unfathomable that there is anyone who would want an illegal alien, previously convicted of rape, living in their neighborhood," Thomas R. Decker, field office director for ERO New York,

said in a statement.
"The men and women of ICE have the vital role of arresting and removing criminal aliens from this country, and will continue to perform their duties as intended by Congress with veracity, courage, and professionalism," Decker added.
Decker's statement comes after ICE
announced that the agency had deported "258,085
aliens in fiscal year 2018. Enforcement and
Removal Operations arrested 158,581 aliens, 90
percent of whom had criminal convictions,
pending criminal charges, or previously issued
As Trump vows to shut the border to
illegals,
Gavin Newsom makes a suspicious
https://www.americanthinker.com/blog/2019/03/as_trump_vows_to_shut_the_border_to_illegals_gavin_newsom_makes_a_suspicious_trip_to_el_salvador.html
With 1.5 million illegal immigrants from Central America rolling into the U.S., President Trump has declared an emergency in order to construct a badly needed wall at the border, and now has threatened to shut the gates of the border down, too, unless Mexico's government quits enabling the problem. It's a major issue, and a recent poll shows that many Americans want it dealt with as a top priority.
Who should show up to throw a stick into these turning wheels but California's Gov. Gavin Newsom, who's announced his first gubernatorial trip abroad to El Salvador for the purpose of "lifting up our immigrant communities and understanding the root causes of migration."
Oh, really? Here's his tell-nothing statement about it for the press:
"While the Trump Administration demonizes those who are fleeing violence from Central America, California is committed to lifting up our immigrant communities and understanding the root causes of migration," Newsom said in a statement. "I am looking forward to traveling to El Salvador in April to talk with the nation's leaders and activists while deepening the bond between our families and communities."
One can just picture how this trip looks from the Salvadoran side of things. Here come Big Daddy, the California governor, the gringo who's already laid out a banquet of goodies for Salvadorans in California, from free health care to free education, to sanctuary state protections to enable illegals to work, coming there supposedly to find out how he can offer ... even more goodies to Salvador's uneducated lower middle classes. The idea of course is to get even more of them to come over. Big Daddy comes down with the Santa sack full of goodies.
From the Salvadoran perspective, his reception is likely to be very warm from the Salvadoran government, which benefits hugely from the remittances sent home by El Salvador's mostly illegal immigrants, allowing it to finance itself and employ ever larger numbers of bureaucrats without having to house, educate, or medically care for its nationals. This is one reason why remittance economies tends to underdevelop a country, according to the World Bank.
Last year in fact, that game was going full speed. El Salvador's remittances hit arecord $5.47 billion. Literally one out of six Salvadorans now lives in the U.S., and 680,000 of those make their home in benefit-rich California. Salvadoran politicians actually campaign for office in California, owing to the sizable number of Salvadoran voters, many of whom are here illegally., signalling that there's a lot of work to be had for the newest (and least likely to be legal) migrants in the states now, most of which is coming from California.
From the Salvadoran private sector, maybe not so much, given that the country is losing a critical component of its work force and is already looking at labor shortages even as the government grows bigger and more powerful from the remittances. Big California Daddy coming in to scoop up more of the Salvadoran labor force may well prompt some anger and disgust in those quarters.
Newsom doesn't care about any of that, because that's economics, and he's a leftist.
Obviously, his mission is domestic: To undercut President Trump's effort to control the border at a time of national emergency, with very large numbers of Salvadorans now planning to come to the U.S. without authorization. The technical infrastructure has emerged with new (and supercharged) phenomenon of the caravans, aided also by the fact that the U.S. is legally powerless to stop them, so the numbers are projected to soar. Why not goose them up a bit? It leaves the question on the table of what Newsom's plotting with the foreigners, and why this isn't classified as subversion.
Newsom's already signalled his strong support for "sanctuary state" policies, as well as pulled U.S. National Guard troops from the California border, creating a good entry point for the caravans on the long stretches of California's wide open border. This, in addition to all the free health care, housing, education, drivers licenses, and legal privileges he's set up for the Salvadorans and other illegal migrants. What more can he offer them? He's met with the farthest of the far-left Salvadoran "community leaders" here, excluding any reasonably minded Salvadorans, and now he's going down to El Salvador to find out how.
It's nothing but a bid to trawl for votes, legal or otherwise, since legality no longer seems to matter to California's ruling class.
It's worth noting that Newsom has already pulled this stunt once before, shortly before he was sworn in to office, right when President Trump shut the border last November. Remember this one, reported by Politico?
As President Donald Trump threatens to shut down the Mexican border access and demands $5 billion from Congress to build a wall, Gov.-elect Gavin Newsom, Attorney General Xavier Becerra and state lawmakers are heading to Mexico City this week to celebrate the inauguration of Mexican President Andrés Manuel López Obrador.

The message: The country's most populous state wants to work with Mexico despite the president's rhetoric.
The purpose was declared to be this:
"We're ushering in new leadership and there is a vital strategic interest for the state of California for continued economic growth on both sides of the border, with collaboration and cooperation that benefits both California and Mexico, regardless of Washington's lack of leadership," said state Sen. Kevin de León, the former Senate leader who authored California's "sanctuary state" law. "A lot of folks view foreign policy through the prism of Washington, D.C., however, because California has the fifth-largest economy in the world and because we share a border with our neighbor to the south, we have many shared interests."
He's as transparent as crystal glassware on that. It's about time he be called out on it - and maybe sanctioned, too - at the national level.
Trump Halts Aid to El Salvador, Guatemala, Honduras as Flood of Migrants Overwhelms Border Patrol
Pedro Pardo/AFP/Getty Images
President Donald Trump on Friday night halted all direct foreign aid to El Salvador, Honduras, and Guatemala, fulfilling a longstanding threat to end payments to so-called "Northern Triangle" countries if they failed to halt migrant caravans headed for the United States.
"At the secretary's instruction, we are carrying out the President's direction and ending FY 2017 and FY 2018 foreign assistance programs for the Northern Triangle. We will be engaging Congress as part of this process," a State Department spokesperson

said

on Saturday.

ABC News

on Friday called the development a "stunning about-face," citing White House advisers who have described direct financial assistance as an important tool in reducing illegal immigration. Homeland Security Secretary Kirstjen Nielsen was in Honduras just last week and

signed

a landmark partnership agreement with the Northern Triangle governments on Thursday.

Pompeo testified in the House on Wednesday about U.S. funding for programs to reduce migration.

The

Washington Post estimated $500 million in 2018 funds would be affected by President Trump's order, plus millions left over from the 2017 fiscal year. President Trump cited the same figure in his remarks to reporters on Friday night on his way to Florida:

I'm not playing games. I've ended payments to Guatemala, to Honduras and El Salvador. No more money is going there anymore. We were giving them $500 million. We were paying them tremendous amounts of money, and we're not paying them anymore because they haven't done a thing for us.

The

Post

said a debate over the aid program for the Northern Triangle, which "grew substantially under the Obama administration," has been raging within the Trump administration for months. Those in favor of terminating the program argued that it was not achieving the anticipated results.

The abrupt end of the debate was said by the Washington Post

to "take many people by surprise," even though President Trump has publicly discussed the idea of ending the program. An anonymous "former U.S. official" said there was "chaos" in the State Department over the weekend as "officials tried to figure out whether they had to cancel existing contracts or simply not renew them."

Trump's most recent threats to cut off aid was in December when he said the Northern Triangle countries were "doing nothing for the United States but taking our money." Reports last week

indicated

a new migrant caravan is forming in Honduras, possibly the largest one to date. Honduran officials disputed these reports.

Border Patrol officials have

said

they are overwhelmed by the number of migrants illegally crossing the border this year, forcing them to release thousands of illegal aliens who could not be held or returned to their home countries. The migrants have cannily exploited U.S. political arguments by bringing children with them, making detention and deportation much more problematic.

"We are beyond the breaking point," U.S. Customs and Border Protection Deputy Commissioner Robert Perez

said

in an interview on Friday.

DHS Secretary Nielsen

wrote a letter

to Congress on Thursday warning of a "system-wide meltdown" caused by the flood of illegal aliens hitting the border. She asked for authority to return unaccompanied alien minors to family members in their home countries "if they have no legal right to stay" before adding:

We need additional temporary facilities as soon as possible in order to process arriving aliens, especially those entering illegally between ports of entry. We are witnessing the real-time dissolution of the immigration system.

Our men and women on the frontlines are simply not resourced to handle these levels, and I report to you today that we are struggling to transport and process – let alone adequately care for – this many individuals coming into our custody.

President Trump on Friday

threatened

to close "large sections of the border" next week in response to the crisis.

As the statement from the State Department indicated, Congress will be involved in making permanent cuts to foreign aid. Democrat leaders signaled on Saturday they would oppose President Trump on the issue.

Sen. Bob Menendez (D-NJ), the ranking Democrat on the Foreign Relations Committee,

blasted

Trump's order to cut off payments to the Northern Triangle as an "irresponsible decision." He said:

U.S. foreign assistance is not charity; it advances our strategic interests and funds initiatives that protect American citizens. This latest reported move shows the Administration still does not understand that the United States cuts foreign aid to Central America at our own peril.

Rep. Nita Lowey (D-NY), chair of the House Appropriations Committee,

said

Trump's order is "immoral and more likely to deteriorate conditions that push people into the kind of poverty and despair that exacerbates migration."

House Foreign Affairs chairman Rep. Eliot Engel (D-NY) and House Judiciary chair Jerrold Nadler (D-NY), both in El Salvador on Saturday as part of a congressional delegation, said cutting off aid would be "counterproductive" and they will "do everything in our power to push back on the president's misguided approach to Central America."
Immigration to America Is Not What It Used to Be
S
peaking at a naturalization ceremony in Texas on March 18, former President George W. Bush said immigration to America "is a blessing and a strength." He also said that "borders need to be respected," and praised the work of border patrol agents, but that's not what the media seized upon.
The Washington Post inserted "blessing and strength" into the lead of its story, headlined "George W. Bush: 'May we never forget that immigration is a blessing and a strength'," also working into the first sentence the following dig at Donald Trump: "a message that sharply contrasts with President Trump's rhetoric on the issue."
CNN Politics covered the speech, making sure to note "the rhetoric and policy positions from Bush came in contrast to much of the modern Republican Party and President Donald Trump." The BBC said, "Mr Bush's comments were seen as an implicit rebuke to President Donald Trump's administration."
And on and on. CBS News: "Bush urges politicians to 'dial down rhetoric' on immigration." The Boston Globe: "described immigration as 'a blessing and a strength,' a message that sharply contrasts with President Trump's rhetoric on the issue." People: "it was a soft rebuke of the prevailing anti-immigrant position of some members of the Republican Party, including President Donald Trump."
Get it? George W. Bush has won his grim battle with history. Various photos showed him inviting dozens of new citizens up to the podium, including Muslims in headscarves, Hispanics, and Africans. Apparently including anyone of European descent would have been bad optics.
And never mind that if Bush II hadn't bombed, invaded and occupied Iraq, the Middle East might be relatively stable today. Iraq, for all its problems, would nonetheless provide a strategic counterweight to Iran. We would have saved trillions of dollars and spared millions of lives, and additional millions of refugees would have stayed home.
What's Really Happening
The problem with all this media-spun anti-Trump "wisdom" from Bush is simple: President Trump is right, and the spin is wrong.
It is true that America was enriched in the past by waves of new immigrants. It is true that in the past, these waves of new immigrants benefited the economy. And it is true that even now, if immigration were brought under control, reduced somewhat, and reformed so that only highly skilled immigrants with a commitment to learning English were vetted and admitted, it would again be beneficial to our economy and enrich our culture. But that's not what's happening.
According to CarryingCapacity.org, the United States "now accepts over one million legal immigrants each year, which is more than all of the other industrialized nations in the world, combined." Additionally, according to ImmigrationCounters.com, nearly 28 million illegal immigrants currently live in the United States.
Attempting to quantify the costs and benefits of immigration into the United States is not easy. According to a study conducted by the Federation for American Immigration Reform, the cost to America taxpayers to provide illegal immigrants government funded education, health care, justice and law enforcement, public assistance, and general government services is estimated at $135 billion per year. According to the Center for Immigration Studies, "63% of non-citizen households access welfare programs compared to 35% of native households."
Statistics abound—and for every study suggesting that America's immigration is creating a burden on the economy, there is another that concludes the opposite, that immigrants continue to provide a net economic benefit to the economy. So rather than provide yet another regurgitation of battling statistics, it is important to note some crucial qualitative differences between immigration trends in America today, compared with past centuries in America.
Why Immigration to America Today Is Different
Immigrants today are not coming from nations of equal or greater economic achievement. In the past, immigrants from Europe, for the most part, were emigrating from nations that were as advanced as the United States was, if not more so. Today the overwhelming majority of immigrants are coming from developing nations.

Immigrants in the past came primarily from European nations which had cultural values—educational, religious, and political—that were, if not nearly identical to American cultural values, at shared a similar trajectory towards achieving those values. Immigrants today come from nations that, relatively speaking, have far fewer cultural similarities to America than past waves of immigrants.

Immigrants today, for the most part, are coming from nations that are rapidly increasing in population and, in aggregate, dwarf the United States in population. Related to this is the fact that in the past, the people already in America were themselves rapidly increasing in population, but this is no longer the case, except among populations of recently arrived immigrants.

Immigrants today arrive via 10-hour hops on an airliner. In the past, waves of immigrants spent 10 months traversing land and sea in a journey of staggering expense and significant dangers. While this isn't universally true, particularly for the overland migrants that cross America's southern border, the general point stands: coming to America today does not require the commitment it required in the past.

Similarly, in the past, immigrants pretty much renounced their countries of origin. They made a one-way trip and they adopted the language and values of America. Today, retaining cultural unity with one's country of origin is a few clicks on the internet, a cheap telephone call, an affordable airfare. Technology has greatly eroded the forces that used to impel immigrants to become Americans.

Immigrants in the past arrived in an America that had a voracious need for unskilled workers. Today the American economy is relentlessly automating jobs that used to require unskilled labor, and the American population already has a surplus of unskilled workers.

Immigrants today are arriving in a welfare state, where they are assured of food, shelter, and medical care that are, in general, orders of magnitude better than anything available to them in their native countries. This creates a completely different incentive to today's immigrants. In past centuries, immigrants came to America to find freedom and to work. Today they are offered a smorgasbord of taxpayer-funded social services.

Immigrant students today—especially in the coastal urban centers where most of them settle—enter a public education system that teaches them with a reverse-racist, anti-capitalist bias. They are taught in our public schools not to assimilate, but to "celebrate diversity"; not to earn opportunities through hard work, but through fighting discrimination. They are taught, often in their native language, that they have arrived in a nation dominated by racist and sexist white males, who exploit the world to amass evil profits.
Recipes for Disaster
These final three points are the most troublesome. If immigration reform advocates made those a priority and addressed them decisively with new policies, the other concerns might be manageable. But we must address the problems caused by immigrants with low job-skills, who encounter the welfare state, and are subjected to anti-Western cultural messaging.
To suggest Americans should resist competing with highly skilled immigrants, for example, is not only xenophobic, but it smacks of an entitlement mentality. Allowing immigrants into the United States who are qualified to join our ranks of scientists, engineers, researchers and doctors will only help our economy and overall standard of living. Allowing unskilled immigrants into this country, however, when we already have tens of millions of unskilled workers who are either in our prisons or unemployed and collecting welfare—who themselves could perform this work—is much more likely to constitute a drain on our economy.
Similarly, it is a recipe for disaster to allow immigrants into an America where the curricula in K-12 schools and universities—beholden to powerful left-wing teachers and faculty unions—indoctrinates immigrants to resent the alleged evils of capitalism and the incorrigible racist, sexist core of our American culture. This is particularly true when accompanying this siren song of corruption is easy access to social services of all kinds, including welfare. If new immigrants are taught the cards are stacked against them, and at the same time they are offered a free ride that provides a standard of living many times greater than what they knew in the countries they came from, why work?
Clearly an increasing population, all else held equal, does cause overall economic expansion. It isn't clear at all, however, that this is the optimal way to create economic expansion. First of all, global human population is destined to level off by 2050 anyway, so rather than expanding the population through immigration, economic policy needs to search for the answer as to how to continue to experience economic growth despite a stable, aging population. In Japan, they have already made this policy decision—with zero net immigration and the oldest population on earth, Japan leads the world in the development of androids that will, presumably, become caregivers to the elderly. Economic growth oriented towards improving the quality of life for the elderly is one example of a sustainable growth sector—economic growth dependent on an immigrant-fueled population expansion is not sustainable.
There is another factor, of course, that makes immigration today far more problematic than it was in previous generations. Now more than ever, mass immigration of unskilled economic migrants and political refugees has become a strategy to move America sharply to the Left by dramatically transforming the electorate.
What the establishment uniparty is doing in America today is a deliberate devaluation of American votes, and a deliberate thwarting of the political rule of Americans who have lived and worked in America for generations. Trump's bellicosity may scare the soccer moms, but they along with everyone else who loves America ought to reflect on his actions instead of his tone. He is the only major politician in modern times who has tried to do anything to stop this. George W. Bush, God bless him, should stop letting the media use his words as weapons in their war against Trump.
Content created by the Center for American Greatness, Inc. is available without charge to any eligible news publisher that can provide a significant audience. For licensing opportunities for our original content, please contact licensing@centerforamericangreatness.com.
Photo Credit:

Mandel Ngan/AFP/Getty Images
WE CAN'T TAKE CARE OF OUR OWN, AND YET WE LET MEXICO BUILD THEIR BILLION DOLLAR WELFARE STATE ON OUR BACKS!!!
70% OF ILLEGALS GET WELFARE!
"According to the Centers for Immigration Studies, April '11, at least 70% of Mexican illegal alien families receive some type of welfare in the US!!! cis.org"
So when cities across the country declare that they will NOT be sanctuary, guess where ALL the illegals, criminals, gang members fleeing ICE will go???? straight to your welcoming city. So ironically the people fighting for sanctuary city status, may have an unprecedented crime wave to deal with along with the additional expense.
$17 Billion dollars a year is spent for education for the American-born children of illegal aliens, known as anchor babies.
$12 Billion dollars a year is spent on primary and secondary school education for children here illegally and they cannot speak a word of English.
$22 billion is spent on (AFDC) welfare to illegal aliens each year.
$2.2 Billion dollars a year is spent on food assistance programs such as (SNAP) food stamps, WIC, and free school lunches for illegal aliens.
$3 Million Dollars a DAY is spent to incarcerate illegal aliens.
30% percent of all Federal Prison inmates are illegal aliens. Does not include local jails and State Prisons.
2012 illegal aliens sent home $62 BILLION in remittances back to their countries of origin. This is why Mexico is getting involved in our politics.
$200 Billion Dollars a year in suppressed American wages are caused by the illegal aliens.
THE SLOW DEATH OF CALIFORNIA, A WELFARE STATE AND COLONY OF MEXICO
With crime soaring, rampant homelessness, sanctuary state status attracting the highest illegal immigrant population in the country and its "
worst state in the U.S. to do business
" ranking for more than a decade, California and its expansive, debt-ridden, progressive government is devolving into a third-world country. JANET LEVY
AMERICA: THE WORLD'S WELFARE OFFICE
With crime soaring, rampant homelessness, sanctuary state status attracting the highest illegal immigrant population in the country and its "
worst state in the U.S. to do business
" ranking for more than a decade, California and its expansive, debt-ridden, progressive government is devolving into a third-world country. JANET LEVY
"This is how they will destroy America from within. The leftist billionaires who orchestrate these plans are wealthy. Those tasked with representing us in Congress will never be exposed to the cost of the invasion of millions of migrants. They have nothing but contempt for those of us who must endure the consequences of our communities being intruded upon by gang members, drug dealers and human traffickers. These people have no intention of becoming Americans; like the Democrats who welcome them, they have contempt for us."
PATRICIA McCARTHY
"Most Californians, who have seen their taxes increase while public services deteriorate, already know the impact that mass illegal immigration is having on their communities, but even they may be shocked when they learn just how much of a drain illegal immigration has become." FAIR President Dan Stein
WE SAT AND WATCHED WHILE THEY DESTROYED OUR COUNTRY!
We are now in the process of destabilizing our own country. FROSTY WOOLDRIGE
Welfare for Refugees Cost Americans $123 Billion in 10 Years ….
YOUR TAX DOLLARS AT WORK!
THE CONSPIRACY TO SABOTAGE HOMELAND SECURITY
The Democrat Party's secret agenda for wider open borders, more welfare for invading illegals, more jobs and free anything they illegally vote for…. All to destroy the two-party system and build the GLOBALISTS' DEMOCRAT PARTY FOR WIDER OPEN BORDERS TO KEEP WAGES DEPRESSED.
Demonstrably and irrefutably the Democrat Party became the party whose principle objective is to thoroughly transform the nature of the American electorate by means of open borders and the mass, unchecked importation of illiterate third world peasants who will vote in overwhelming numbers for Democrats and their La Raza welfare state. FRONTPAGE MAG

AMERICA, THE ANCHOR BABIES FOR WELFARE STATE

"Through love of having children we're going to take over." Augustin Cebada, Information Minister of Brown Berets, militant para-military soldiers of Aztlan shouting at U.S. citizens at an Independence Day rally in Los Angeles, 7/4/96

"The children of illegal aliens are commonly known as "anchor babies," as they anchor their illegal alien and noncitizen parents in the U.S. There are

at least 4.5 million

anchor babies in the country,

a population that exceeds

the total number of annual American births." JOHN BINDER

'Unbridled Immigration, Legal and Illegal, Is Taking the Country Down'
This annual income for an impoverished American family is $10,000 less than the more than $34,500 in federal funds which are spent on each unaccompanied minor border crosser.
A
study
by Tom Wong of the University of California at San Diego discovered that more than 25 percent of DACA-enrolled illegal aliens in the program have anchor babies. That totals about 200,000 anchor babies who are the children of DACA-enrolled illegal aliens. This does not include the anchor babies of DACA-qualified illegal aliens. JOHN BINDER
"As
Breitbart News
recently reported, there are more anchor baby births in the Los Angeles, California metro area than the total U.S. births in 14 states and the District of Colombia. Every year, American taxpayers are billed about
$2.4 billion
to pay for the births of illegal aliens." JOHN BINDER
'Get Serious and Stop Rewarding Illegal Immigration,' Border Patrol Agent Says to Congress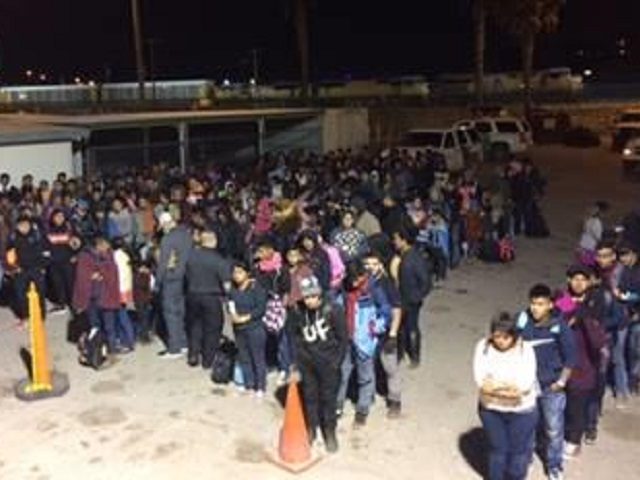 Border Patrol Agent Hector Garza told Fox News that Congress needs to "get serious and stop rewarding illegal immigration." His comments follow one of the busiest weeks in Texas immigration history that saw nearly 1,700 migrants illegally cross the border in the Rio Grande Valley Sector in a single day.
"We have lost the ability to know who or what is coming across the border," Agent Garza told Fox & Friends during an interview on Thursday morning. The agent spoke to Fox News in his capacity as Vice President of the National Border Patrol Council.
"If you live in a poor country like those in Central America and you make your way into the United States knowing that you are going to be released into the United States," Garza stated, "why wouldn't these people come? That's why Congress needs to get serious about this — they need to change the laws so that people are not encouraged to come into the United States (illegally)."
Garza's comments come during a week where Border Patrol agents in the Rio Grande Valley Sector apprehended nearly 1,700 migrants in a single day, Breitbart News reported. Border Patrol officials said the apprehensions represented the largest single-day total for the sector since 2014.
"We don't know who or what is coming across because now our agents are having to process these people, transport them, feed them, care for them, and now we can't even do our job of border security," the veteran Border Patrol agent stated. "That's unacceptable."
Border Patrol officials reported that during the month of February, more than 66,000 migrants were apprehended after illegally crossing the border from Mexico. Officials are now predicting that more than 100,000 will be apprehended in March.
During a speech at the Texas-Mexico border near El Paso, U.S. Customs and Border Protection Commissioner Kevin K. McAleenan said,

"On Monday, we saw the highest total of apprehensions and encounters in over a decade, with 4,000 migrants either apprehended or encountered at Ports of Entry in a single day. That was Monday."
"Yesterday, we broke the record again with 4,117," the commissioner stated. "We are now on pace for over 100 thousand apprehensions and encounters with migrants in March, with 90 percent of those, 90 thousand people, crossing the border illegally between Ports of Entry. March will be the highest month since 2008. The arriving flows are made up primarily of Central American families and unaccompanied children."
Garza explained the impact of new Border Patrol policies calling for the near-immediate release of most of the migrants that are currently being apprehended. "Out of those 100,000 that are going to be coming in during the month of March, 90 percent are being released into the community." He said that many of those being released have violent criminal records.
"A lot of these people do commit dangerous crimes," he explained. "A lot of these people do bring serious diseases into our communities." He went on to say that agents have been faced with many diseases in the processing centers.
"Congress needs to stop playing politics," Garza concluded. "They need to make sure that they pass laws and that they provide resources for Border Patrol agents so that we can prevent all of thes mayhem that is happening on the border."
Bob Price
serves as associate editor and senior political news contributor for the Breitbart Border team. He is an original member of the Breitbart Texas team. Follow him on Twitter
@BobPriceBBTX
and
Facebook
.
The Koch network's economic libertarian, anti-populist agenda of free trade, mass legal immigration, and entitlement reform has
little-to-no support
among the American electorate.
The economic libertarian agenda, once fronted by former House Speaker Paul Ryan,
failed to sway voters
in the 2018 midterm elections.
Mo Brooks: Illegal Alien-Flooded States Diluting Votes of Red States
Illegal immigration is draining red states like Alabama — with a small illegal alien population — of their congressional representation, Rep. Mo Brooks (R-AL) says.
During testimony at a House Oversight and Reform Committee this week, Brooks saidasking United States residents on the upcoming 2020 Census is necessary to know the number of illegal aliens living in the country and to ensure that congressional districts are drawn based on the number of American citizens, rather than entire populations, including citizens, noncitizens, and illegal aliens.
"I submit the inclusion of the citizenship question on the next census is not only common sense, it is a Constitutionally required," Brooks said.
After the 2010 Census, illegal aliens were counted for reapportioning Congressional districts

and electoral college votes. Hence,

states that had fewer illegal aliens saw a shift of their political power to states that had more illegal aliens

. [Emphasis added]

Law-abiding states lost not only Congressional representation in Congress, they also lost electoral college votes

that elect the president of the United States. I submit

the citizenship power of citizens in low illegal alien count states was diluted as their Congressional seats and electoral college representation was disproportionately cut

. [Emphasis added]

Similarly,

the counting of illegal aliens for reapportionment of political power purposes violates the 14th Amendment's equal protection clause

by unconstitutionally diluting the representative and political power of citizens who live in low illegal alien population states. [Emphasis added]
As Breitbart News has reported, the counting of only American citizens to divide up congressional districts and electoral college votes would shift power away from the affluent, metropolitan coastal cities of the U.S. and towards middle America.
If congressional districts were set by the number of citizens, the overall average population needed per congressional seat could decrease to about 670,000 citizens per district. This would give a stronger advantage for states with small illegal alien populations to gain and keep their current number of congressional seats.
For instance, if by only counting citizens, a state like Ohio, with few illegal aliens, could possibly gain a congressional seat, increasing the state's total number of representatives to 17. Current projections suggest Ohio will lose a congressional seat.
In West Virginia, which is also slated to lose a congressional seat, the state could keep their three districts if the redistricting is counted by citizens. Indiana, as well, — with less than 180,000 noncitizen residents — would potentially increase its congressional seats from nine to ten if apportionment is based on the number of citizens in the state.
On the other hand, deep blue states with affluent coastal cities are set to make major gains in terms of congressional representation. California has an estimated three million illegal aliens, a total of about 5.3 million noncitizens, and a total population of about 39.5 million residents. Currently, California has 53 congressional seats, the most in the country.
If California's congressional districts were set by the number of citizens in the state, it would potentially lose three to five congressional seats, leaving the state with about 48 to 50 seats.
"Congressional districts with lower percentages of citizens — because of higher illegal alien concentrations — grant their citizens an unequal representative power when compared to citizens in districts with higher percentages of citizens and lower percentages of illegal aliens," Brooks said.
The U.S. Supreme Court is set to decide in the coming months the constitutionality of asking American residents their citizenship status on the 2020 Census.
Currently, the U.S. admits more than 1.5 million legal and illegal immigrants every year, with more than 70 percent coming to the country through the process known as "chain migration," whereby newly naturalized citizens can bring an unlimited number of foreign relatives to the U.S. In the next 20 years, the current U.S. legal immigration system is on track to import roughly 15 million new foreign born voters. Between seven and eight million of those foreign born voters will arrive in the U.S. through chain migration.
John Binder is a reporter for Breitbart News. Follow him on Twitter at @JxhnBinder.
The nation's Washington, DC-imposed mass legal and illegal immigration policy — whereby at least 1.5 million unskilled foreign nationals are admitted to the U.S. every year — is a boon to corporate executives, Wall Street, big business, and multinational conglomerates, as America's working and middle class have their wealth redistributed to the country's top earners through wage stagnation.