TRUMP'S SECRET AMNESTY, WIDER OPEN BORDERS DOCTRINE TO KEEP WAGES DEPRESSED.
"During the same month that Schlafly had backed Trump for his "America First"
agenda, Nielsen's committee released an ideologically-globalist
report
, promoting
the European migrant crisis as a win for big business who would profit greatly
from a never-ending stream of
cheap
, foreign migrants."
OPEN BORDERS... it's all about keeping wages depressed.
Trump immigration crackdown harms economy, US CEOs warn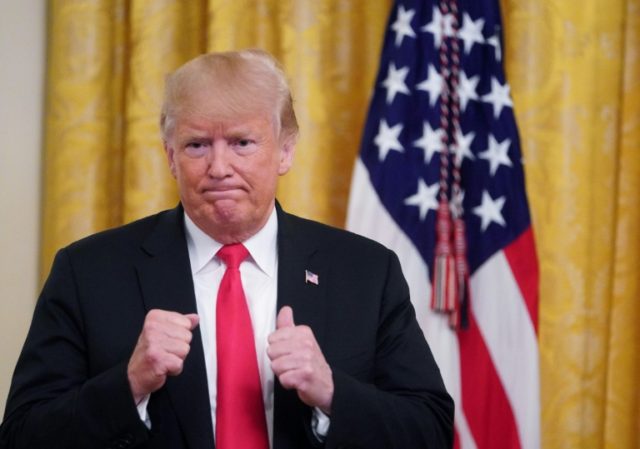 New York (AFP) – Vague and unpredictable Trump administration immigration policies threaten the US economy amid a tightening labor market, CEOs from major American companies warned Thursday.
In a letter to Department of Homeland Security Secretary Kirstjen Nielsen, the Business Roundtable urged a rethink of recent directives from Washington that have thrown the status of workers into doubt and are damaging the recruitment of talent.
"Few (workers) will move their family and settle in a new country if, at any time and without notice, the government can force their immediate departure — often without explanation," the roundtable said in the letter.
"At a time when the number of job vacancies are reaching historic highs due to labor shortages, now is not the time restrict access to talent."
The Business Roundtable represents most of the biggest US companies. The group has criticized the Trump administration before on immigration, while praising the White House for cutting taxes and regulation.
Among those chief executives signing the letter: Apple's Tim Cook, JPMorgan Chase's Jamie Dimon, Coca-Cola's James Quincey, IBM's Ginni Rometty and Marriott's Arne Sorenson.
The executives faulted US Citizenship and Immigration Services, which is under Nielsen's authority, for having inconsistent determinations that can result in sudden denials to employees who have been successfully permitted for years.
In other cases, the department has revoked work permits to spouses of legal immigrant workers. In some cases, these problems affect employees permitted under at the H-1B program, which lets firms hire skilled foreign recruits to fill specialized positions.
"Out of fairness to these employees — and to avoid unnecessary costs and complications for American businesses — the US government should not change the rules in the middle of the process," the letter said.
The roundtable in June joined a plethora of critics of the Trump administration's "zero tolerance" policy that separated children from parents, calling the practice "cruel and contrary to American values." Trump eventually rescinded the policy following a public uproar.
No Justice for Taxpaying Americans
By Howie Carr
The Boston Herald, August 08, 2018
But the real double standard kicks in when the undocumented Democrat gets to the courtroom. A taxpaying American can only dream of the kid-gloves treatment these Third World fiends get.
Here's a 2016 headline: "If Springfield market owner illegally cashing food stamps had been U.S. citizen punishment would have been greater, judge says."
This one involved a 56-year-old Dominican bodega owner who was running an EBT-card scam for illegal immigrants in Springfield — stop me if you've heard this one before. He stole $38,000 and didn't do a day in jail. As Judge Tina Page said, "Had he been a citizen of the U.S. he would in all likelihood be serving a substantial sentence."
But if he'd been imprisoned he'd have been deported, and God knows we don't want to deport Dominican welfare fraudsters — or Dominican heroin dealers.
Freeing Dominican heroin dealers (and future cop killers) is the specialty of Superior Court Judge Timothy Feeley, who cut loose a Dominican heroin dealer with no prison time, as the prosecutor put it, "to help him avoid deportation."
Are you starting to notice a pattern here? Sometimes law-abiding taxpayers get murdered because of this double standard of justice for welfare-collecting noncitizens.
http://www.bostonherald.com/news/columnists/howie_carr/2018/08/carr_no_justice_for_taxpaying_americans
Get rid of 40 million looting Mexicans and we resolve our housing and jobs crisis and end the $150 billion Mex welfare state in our open borders!
Our government is too busy easing illegals over the borders!
THE NEW PRIVILEGED CLASS: Illegals!
This is why you work From Jan - May paying taxes to the government ....with the rest of the calendar year is money for you and your family.
Take, for example, an illegal alien with a wife and five children. He takes a job for
$5.00 or 6.00/hour. At that wage, with six dependents, he pays no income tax, yet at the end of the year, if he files an Income Tax Return, with his fake Social Security number, he gets an "earned income credit" of up to $3,200..... free.
He qualifies for Section 8 housing and subsidized rent.
He qualifies for food stamps.
He qualifies for free (no deductible, no co-pay) health care.
His children get free breakfasts and lunches at school.
He requires bilingual teachers and books.
He qualifies for relief from high energy bills.
If they are or become, aged, blind or disabled, they qualify for SSI.
Once qualified for SSI they can qualify for Medicare. All of this is at (our) taxpayer's expense.
He doesn't worry about car insurance, life insurance, or homeowners insurance.
Taxpayers provide Spanish language signs, bulletins and printed material.
He and his family receive the equivalent of $20.00 to $30.00/hour in benefits.
Working Americans are lucky to have $5.00 or $6.00/hour left after Paying their bills and his.
The American taxpayers also pay for increased crime, graffiti and trash clean-up.
Cheap labor? YEAH RIGHT! Wake up people!
THE TRUMP AMNESTY TO LEGALIZE MEXICO'S LOOTING AND KEEP WAGES FOR LEGALS DEPRESSED
The draft amnesty will also serve as complete proof in November that Trump's voters' wrongly placed their trust in his August 2016 promise to block any amnesty: (SEE LINK).
"But the taxpayers' costs also act as a $26 billion stimulus for business which will provide the migrants with medical services, apartments, entertainment, food, and transport. The continued inflow of the 4 million chain-migrants, however, is a vastly greater benefit for business and burden for American workers." NEIL MUNRO
THE AMNESTY HOAX
But the business community will have little reason to defend Trump, partly because they have gotten their double-shot of tax cuts and cheap labor. In fact, the legislation does not sunset the amnesty, meaning it can be quietly expanded with a few legal tweaks that can be attached to any of the myriad obscure bills annually passed by Congress.
AMERICA: MEXICO'S WELFARE STATE
… and in exchange we get 40 million Mexican flag wavers, homelessness, a housing crisis, heroin & opioid crisis and jobs for legals crisis…. ALL THANKS TO THE DEMOCRAT PARTY
"Thirteen years after welfare reform, the share of immigrant-headed households (legal and illegal) with a child (under age 18) using at least one welfare program continues to be very high. This is partly due to the large share of immigrants with low levels of education and their resulting low incomes — not their legal status or an unwillingness to work. The major welfare programs examined in this report include cash assistance, food assistance, Medicaid, and public and subsidized housing." Steven A. Camarota