Common Sense Immigration for the 21st Century
By Robert J. Samuelson
Investors Business Daily
As for legal immigration, there would be a ceiling of about 1 million annually, which until recently was roughly the level of admissions. But there would be a fundamental change in the criteria for legal immigration, from family connections to workplace skills. The better educated immigrants are, the easier for them to adapt to a new society.
There are at least three reasons to support this sort of system.
First, the existing system has increased U.S. poverty, driven by inflows of poorly skilled legal and illegal workers. It's as if there were an agency called the Unskilled Workers Bureau dedicated to increasing U.S. poverty.
. . .
https://www.investors.com/politics/columnists/immigration-reform-skills-based-dreamers/
ICE Union 'Unable to Support' White House Immigration Plan, Citing Lack of Pro-American Reforms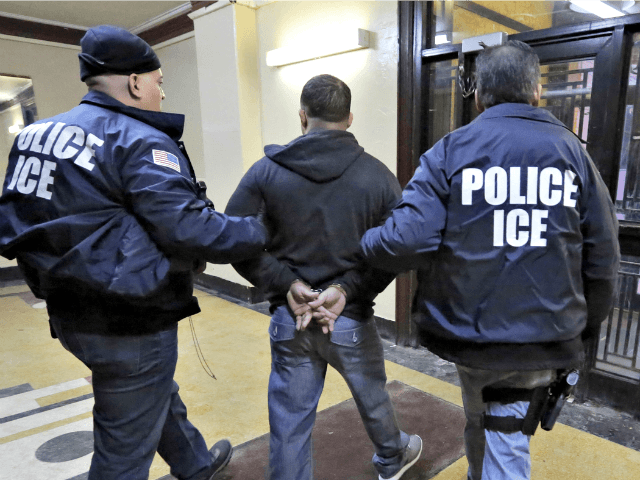 The National Immigration and Customs Enforcement (ICE) Council wrote in a letter to President Trump that the union is "unable to support" an immigration plan crafted by at least four White House advisers.
The ICE union's President, Chris Crane, stated that while the council is supportive of Trump's "America First" immigration agenda, they are unable to support the White House's latest immigration plan.

The plan
, crafted by officials including former Koch Brothers executive Marc Short, Chief of Staff Gen. John Kelly, Department of Homeland Security (DHS) Kirstjen Nielsen, and senior adviser Stephen Miller, would begin by giving a pathway to U.S. citizenship to at least 1.8 million illegal aliens who are enrolled or eligible for the President Obama-created Deferred Action for Childhood Arrivals (DACA) program.
Additionally, the plan would
not immediately
end the process of "chain migration," which allows newly naturalized citizens to bring an unlimited number of foreign relatives to the U.S. with them.
Since 2005, chain migration has imported more than nine million foreign nationals to the country.
Under the Short/Kelly/Nielsen/Miller immigration plan, the entire chain migration backlog of about four million foreign nationals would be allowed to still enter the U.S., meaning America's working and middle class would not be relieved from mass immigration for ten to potentially 20 years.
The ICE union said in their letter that their biggest concerns with the White House's proposal is the plan's lack of pro-American reforms dealing with sanctuary cities and child-smuggling across the U.S.-Mexico border.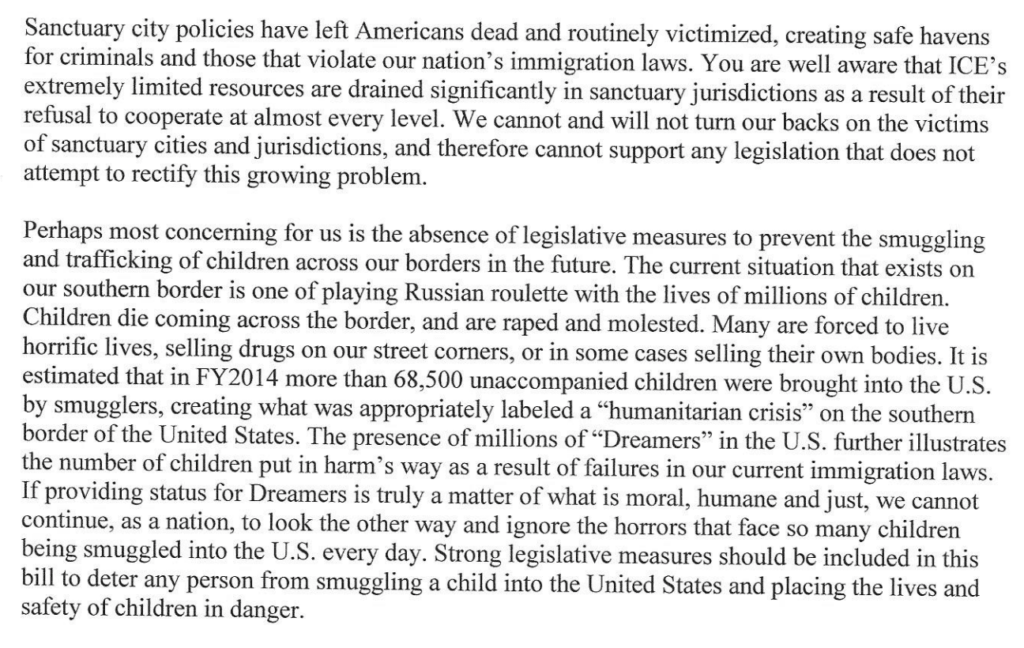 Breitbart News
exclusively reported
on the Short/Kelly/Nielsen/Miller immigration plan's exclusion of reforms that would penalize sanctuary cities. In a draft of the plan obtained by Breitbart News, the sanctuary cities provisions are crossed out with red ink.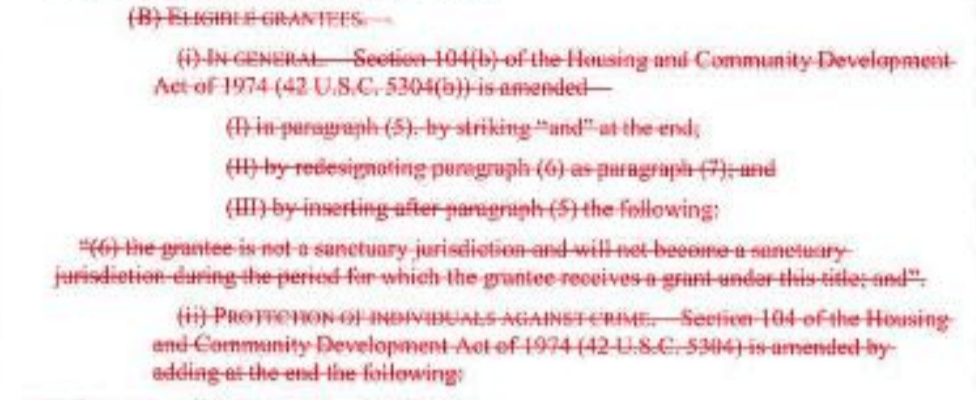 The White House draft plan includes:
A pathway to U.S. citizenship from anywhere between 1.8 million and 4.5 million illegal aliens enrolled and eligible for President Obama's Deferred Action for Childhood Arrivals (DACA) program
A more than 10-year wait before legal immigration levels are reduced to provide much-needed relief and wage increases to America's working and middle class
No immediate end to the wage-crushing importation of blue-collar and white-collar foreign workers
A repurposing of the 50,000 visas that currently import foreign nationals through the Visa Lottery
$25 billion to fund the construction of a wall along the U.S.-Mexico border
No provisions to enact mandatory E-Verify, which would ban employers from hiring illegal aliens
No provisions to deal with the issue of ending birthright citizenship, where at least 4.5 million children have received U.S. citizenship despite their parents being illegal aliens
Every year, the U.S. admits more than 1.5 foreign nationals, with the vast majority deriving from family-based chain migration, whereby newly naturalized citizens can bring an unlimited number of foreign relatives to the U.S. In 2016, the legal and illegal immigrant population reached a record high 44 million. By 2023, the Center for Immigration Studies estimates that the legal and illegal immigrant population of the U.S. will make up nearly 15 percent of the entire U.S. population.
Mass immigration has come at the expense of America's working and middle class, which has suffered from poor job growth, stagnant wages, and increased public costs to offset the importation of millions of low-skilled foreign nationals.
John Binder is a reporter for Breitbart News. Follow him on Twitter at @JxhnBinder
.
154,430,000: U.S. Hits Record Employment in January; But Record 95,665,000 Not in Labor Force
(CNSNews.com) - The new year is off to a strong start on the employment front.
The Labor Department's Bureau of Labor Statistics reported on Friday that a record 154,430,000 people were employed in January, a gain of 309,000 from December.
The number of employed Americans has broken seven records since Donald Trump took office.
The nation's unemployment rate remained at a 17-year low of 4.1 percent for a fourth straight month in January, but the number of Americans not in the labor force also set a new record at 95,665,000 – the fourth such record since Trump took office.
In January, the nation's civilian noninstitutionalized population, consisting of all people age 16 or older who were not in the military or an institution, reached 256,780,000. Of those, 161,115,000 participated in the labor force by either holding a job or actively seeking one.

The 161,115,000 who participated in the labor force equaled 62.7 percent of the 256,780,000 civilian noninstitutionalized population.
The labor force participation rate has been stuck at 62.7 percent for four straight months.
Congressional Budget Office Director Keith Hall told Congress last week that the nation's labor supply is growing slowly because of the aging population.
In other positive news, wages are rising: In January, average hourly earnings for all employees on private nonfarm payrolls rose by 9 cents to $26.74, following an 11-cent gain in December. Over the year, average hourly earnings have risen by 75 cents, or 2.9 percent.
And the economy added a strong 200,000 jobs last month. After revisions for the December and November jobs-added totals, job gains have averaged 192,000 over the last 3 months.
Among the major worker groups, the unemployment rate for Blacks increased to 7.7 percent in January, up from last month's record low of 6.8 percent; and the rate for Whites edged down to 3.5 percent. The jobless rates for adult men (3.9 percent), adult women (3.6 percent), teenagers (13.9 percent), Asians (3.0 percent), and Hispanics (5.0 percent) showed little change.

Trump expects 'numbers that get even better'
"Already since the election, we've created 2.4 million jobs," President Trump told Republicans gathered in West Virginia on Thursday.
"That's unthinkable. And that doesn't include all of the things that are happening. You're going to see numbers that get even better.

"The stock market has added more than $8 trillion in new wealth. Unemployment claims are at a 45-year low, which is something. After years of wage stagnation, we are finally seeing rising wages.
African-American and Hispanic unemployment have both reached the lowest levels ever recorded. That's something very, very special."
Trump noted that upon hearing that news at the State of the Union speech, "There was zero movement from the Democrats. They sat there stone cold, no smile, no applause. You would've thought that on that one, they would've sort of at least clapped a little bit.
"Which tells you perhaps they'd rather see us not do well than see our country do great, and that's not good. That's not good."