Homeless In Seattle, Part 1: High-Tech & The Homeless
Big Tech and the other multinationals are exacerbating the problem of homelessness in Washington state. For these stateless corporations are the major importers, into King County and the surrounds, of a high-tech, feudal elite, thus compounding the homeless quagmire.
The corporations who straddle the globe rely on immigration ignoramuses to perpetuate the single-cause theory of homelessness: addiction or mental illness.
However, even if drug addiction and mental illness are seen as necessary in causing homelessness, they are seldom sufficient. Substance abuse and mental anguish can, in themselves, be the consequence of other exogenous, existential and intractable circumstances.
Like being priced out of your homeland's housing market. For good.
Big Tech must be quite pleased to see homelessness attributed exclusively, by the usual cast on TV, to addiction and mental illness—when, in fact, homelessness is driven, primarily, by the systematic and permanent eviction from the housing market of vulnerable, working-class people.
In truth, our country is consigning its economically weakest members to the homeless encampment, through the never-ending importation of a high-rolling, high-tech elite, which, in turn, artificially inflates the price of housing. In perpetuity.
"We must no longer allow politicians, policy influencers and the media to get away with the laziness of conflating substance abuse and homelessness,"

inveighs

Lola E. Peters.
Peters, a local writer, is correct. Alas, while implicating the tech-driven population explosion in our state's housing crisis, Ms. Peters frames the unrelenting influx from China and India as though it were organic; a natural, made-in-America population explosion.
It isn't! Seventy-one percent of Washington state's population growth is attributed to net migration!
It isn't! Seventy-one percent of Washington state's population growth is attributed to net migration!
It isn't! Seventy-one percent of Washington state's population growth is attributed to net migration!
It isn't! Seventy-one percent of Washington state's population growth is attributed to net migration!
In guarded language, the Washington State Office of Financial Management

divulges

that, "Migration
continues to be the primary driver behind Washington [State's] population growth. From 2017 to 2018, net migration (people moving in versus people moving out) to Washington totaled 83,700, … … The state has grown by an average of 87,900 persons per year this decade, exceeding that of 83,000 in the previous decade."
King County, where the aforementioned "global beasts with vast balance sheets" live, "is the main contributor, with a total growth of 259,000 persons over eight years, compared to 194,200 persons between 2000 and 2010," the report adds.
Fueled in large part by the technology industry, an average of 236 people are moving to the Seattle area each day,"

seconds

Geekwire.com, a Seattle-based website that covers tech news.
Only those unfamiliar with America's work-visa labyrinth would claim that the unremitting population influx comes mainly from other states in the Union, rather than from other countries in the universe.
Certainly, the town where I live is unrecognizable. What was a small and friendly hamlet is flooded with newly imported H-1B labor, living on six-figure salaries, while young Washingtonians struggle to pay the mortgage, or are evicted when their rental units are demolished to make way for fields of

pricey, garish condominiums

, to house

Satya Nadella's

preferred—and privileged—workforce.
Currently, there is an estimated record high of
44.5 million
foreign-born residents living in the U.S. This is nearly quadruple the immigrant population in 2000. The vast majority of those arriving every year arrive through the process known as "chain migration," whereby newly naturalized citizens can bring an unlimited number of foreign relatives to the
country.
Investor Lobbyists, Senators Demand More Imported Workers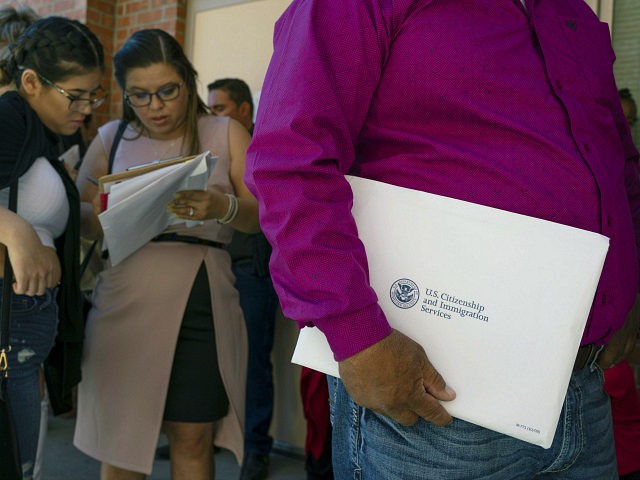 Business groups and cheap labor advocates are denouncing President Donald Trump's plan to shrink the inflow of invited refugees down to 18,000 in 2020.
"In a community, you want to make sure you have workers … employers want to see that and people who work in economic development want to see that there are plenty of workers in the area, because it attracts business and entrepreneurship," Hubbard said. "With communities like Salt Lake City, they have seen a decrease in the number of new refugees arriving … and that's creating problems of finding enough workers for future ventures and for entrepreneurship and things like that."
Trump's new goal of 18,000 invited refugees is far less than President Barack Obama's 2017 push to invite more than 100,000 refugees from Africa, the Middle East, Asia, and South America.
Throughout his eight years, Obama worked with several government-funded groups to send new refugees into town with labor-intensive meatpacking plants — usually without any regard for the wishes of the local Americans.
So Trump's 18,000 goal was released with a new policy that would give Americans the authority to block the drop-off of new refugees into their communities.
The drop-off policy does not try to prevent settled refugees from moving to other towns and cities, but FWD.us still denounced it:
Further, the idea that we would allow states or localities to block people who have been vetted and approved to live in the US, from resettling in certain communities is wrong. Segregating immigrant populations will only serve to further divide our country.
Trump allowed up to 30,000 refugees to be imported into 2018. So, the new goal of 18,000 is a drop of just 12,000 refugees, or maybe 5,000 workers.
That is a tiny number in an economy of roughly 165,000 million workers, so the complaints by businesses are part of a broad public relations pushback against Trump's overall immigration policies.
Since 2016, business groups have set up a wide variety of legal, activist, legislative, and public relations efforts to block and frustrate Trump's planned immigration reforms, which are expected to boost wages for blue-collar Americans.
Some GOP politicians joined the public relations chorus.
The job issue is an interesting issue, because those individuals are already in the job market. Many of these DACA students are actually DACA young adults, they already have access to the job market right now because they've been given deferred action. So they are in higher education, they are in the job market, they are currently a part of our economy, currently. That continual competition in our economy doesn't hurt us, that continues to help us. It actually hurts us to put those individuals out of the economy.
Trump reduces the number of invited refugees partly because border officials also expect 350,000 migrants to arrive at U.S. border to appeal for asylum and refuge. That estimate of 350,000 new migrants is roughly equal to one new refugee for every ten Americans who turn 18 in 2009.
In August, Lankford and 17 other Democratic and GOP Senators urged Trump to invite more refugee labor, saying, "we urge you to increase the refugee resettlement cap and to admit as many refugees as possible within that cap."
The GOP senators have repeatedly voted against Trump's immigration reforms. The GOP signers were Sens. James Lankford (R-OK), John Thune (R-SD), Lisa Murkowski (R-AK), Mike Rounds (R-SD), Rob Portman (R-OH), Susan Collins (R-ME), Roy Blunt (R-MO), Marco Rubio (R-FL), and Cory Gardner (R-CO).
Lobbyists' objections to the new policy are presented as concerns about civil rights and humanitarianism.
But invited refugees increase the supply of extra labor and so help to cut wages for Americans.
So far, Trump has helped to raise Americans wages by repeatedly refusing business demands for extra imported labor.
Business lobbyists argue that extra imported labor does not reduce Americans' wages. But numerous economists quietly acknowledge that imported labor shrinks Americans' wages and salaries — even as the extra labor, consumers, and renters grow the economy and Wall Street's values.
This is probably the main reason that immigration generally is good for an overall economy … It increases the supply of workers in various fields, and often reduces the labor costs in those fields for two reasons. Number one … some immigrants are willing to work for less than their native-born counterparts. But also, it's just extra supply, and an extra supply of workers reduces the costs.

If the immigrants weren't there, the wages would likely be rising … And that might be better for some of the native-born folks.
Wages do not rise to reflect the shortfall [of American workers], U.S. employees do not pursue these fields because of that, and employers then become completely dependent on H-1B workers to fill them. We have seen this play out in earlier periods where nurses and mid-level programming jobs were almost completely filled by foreign workers on these visas.
Each year, roughly four million young Americans join the workforce after graduating from high school or a university. This total includes about 800,000 Americans who graduate with skilled degrees in business or health care, engineering or science, software, or statistics.
But President Donald Trump's "Hire American" policy is boosting wages by capping immigration within a growing economy.